Chocolate Stout Cheesecake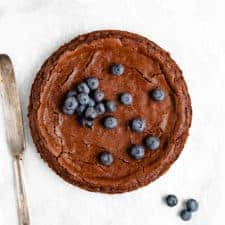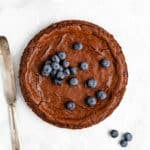 The ultimate St. Patrick's Day dessert – Chocolate Stout Cheesecake is a creamy, rich, and decadent cheesecake on top of a chocolate-cookie crust.
Ingredients
Crust
5 1/2 oz (150 g) chocolate sandwich cookies, about 10 cookies
1/3 cup (45 g) cocoa powder
1 tbsp (15 g) sugar
2 tbsp (30 g) butter, melted
Cheesecake
5 1/2 oz (150 g) dark chocolate, chopped
1 tbsp (15 g) heavy cream
4 oz (110 g) cream cheese, room temperature
1/2 cup (90 g) sugar
1/4 cup (60 g) sour cream
2 eggs
2 tsp vanilla
1/2 cup (125 ml) stout
Preheat oven to 350 degrees F. Line the sides and bottom of a 7-inch cake pan with aluminum foil.
Add chocolate cookies, cocoa powder, and sugar to a food processor and blend until completely crushed. Add the melted butter and process until evenly distributed. Press the crumb mixture into the bottom of the prepared pan. Refrigerate while you prepare the batter.
Melt chopped chocolate with heavy cream over a double boiler. Remove from heat and cool slightly.
In the bowl of a stand mixer, or a large mixing bowl with a hand mixer, beat together the cream cheese and sugar at medium low speed until smooth and creamy. Scrape the sides and bottom of the bowl and add cooled chocolate/cream mixture, and sour cream. Beat until well combined.
Add the eggs one at a time, beating to combine after each one. Stir in the vanilla and stout. Scrape the sides and bottom of the bowl, and beat until smooth.
Pour the batter over the crust in the pan and bake 50-55 minutes. Turn off the oven, crack the door open a few inches, and allow the cheesecake to cool in the oven for 1 hour. Remove the cheesecake from the oven, and set it on the counter to finish cooling. When it's completely cool, refrigerate the cheesecake for at least 4 hours or overnight. 
Keywords: cheesecake, chocolate, st. patrick's day, stout