Quick and easy to assemble, this Ultimate Cheese Board is perfect for entertaining.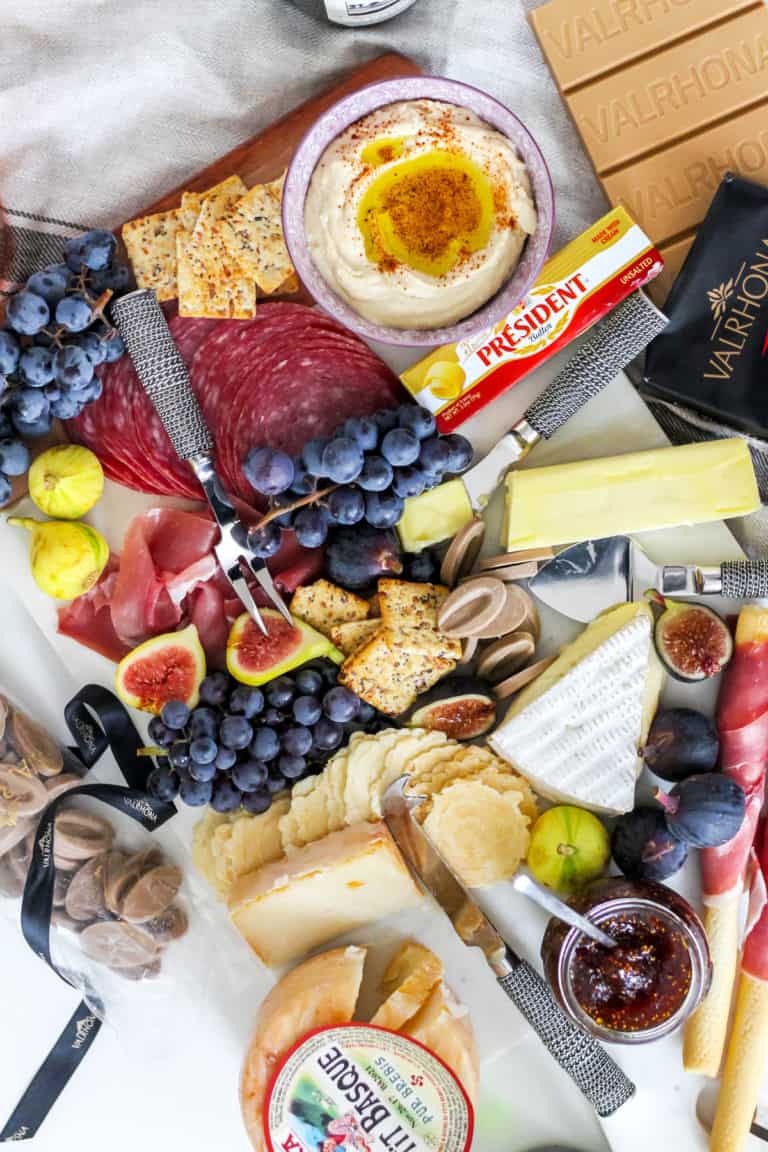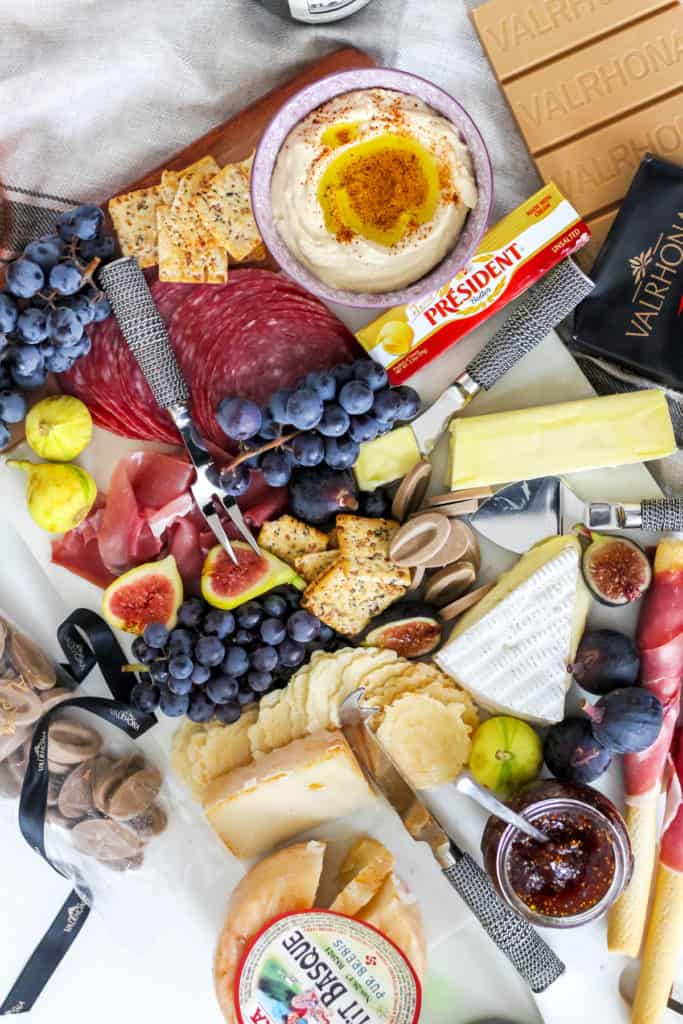 I'm taking you to France today … with lots of wine and cheese!
Who's in??!
OK, we're not actually going to France, but I'm sharing my favorite French products that you can find in the U.S. with you so that you can create amazing cheese boards to entertain guests this holiday season.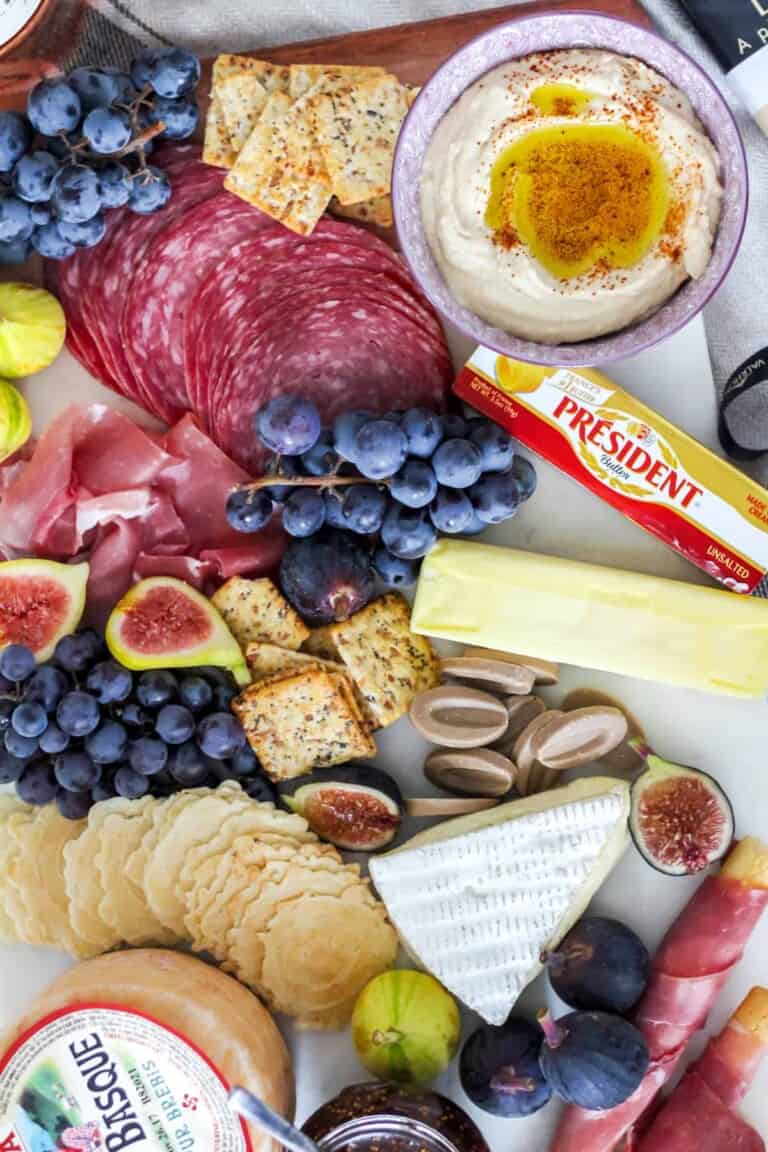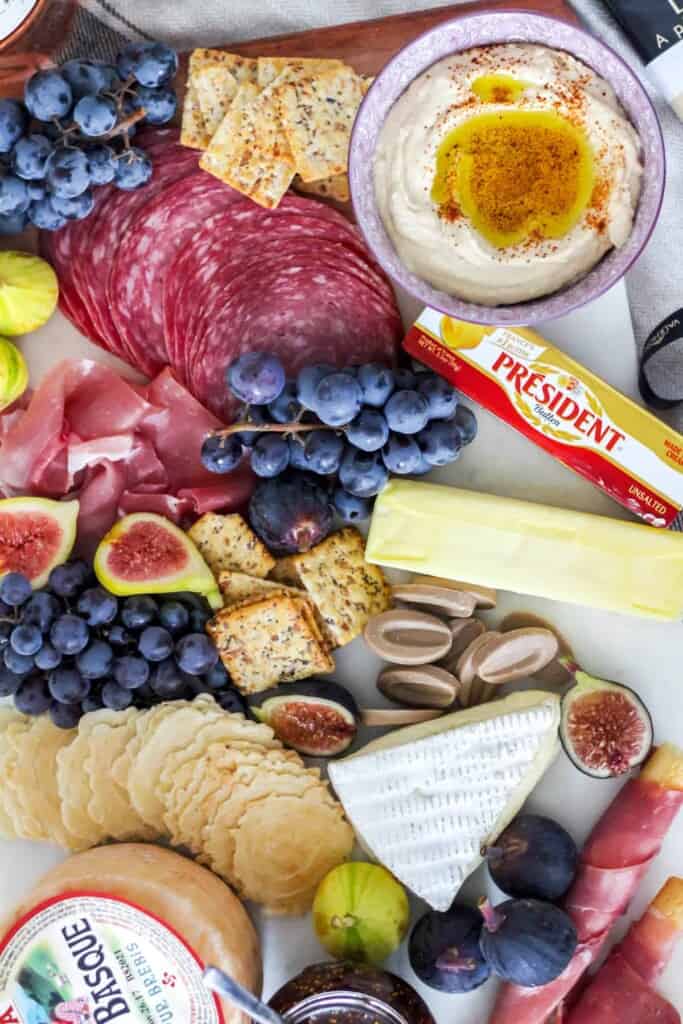 This is not exactly a recipe post, but it's my go-to method for a stunning cheese plate that's almost too pretty to eat!
Not kidding, jaws will drop when you bring this out at your next party.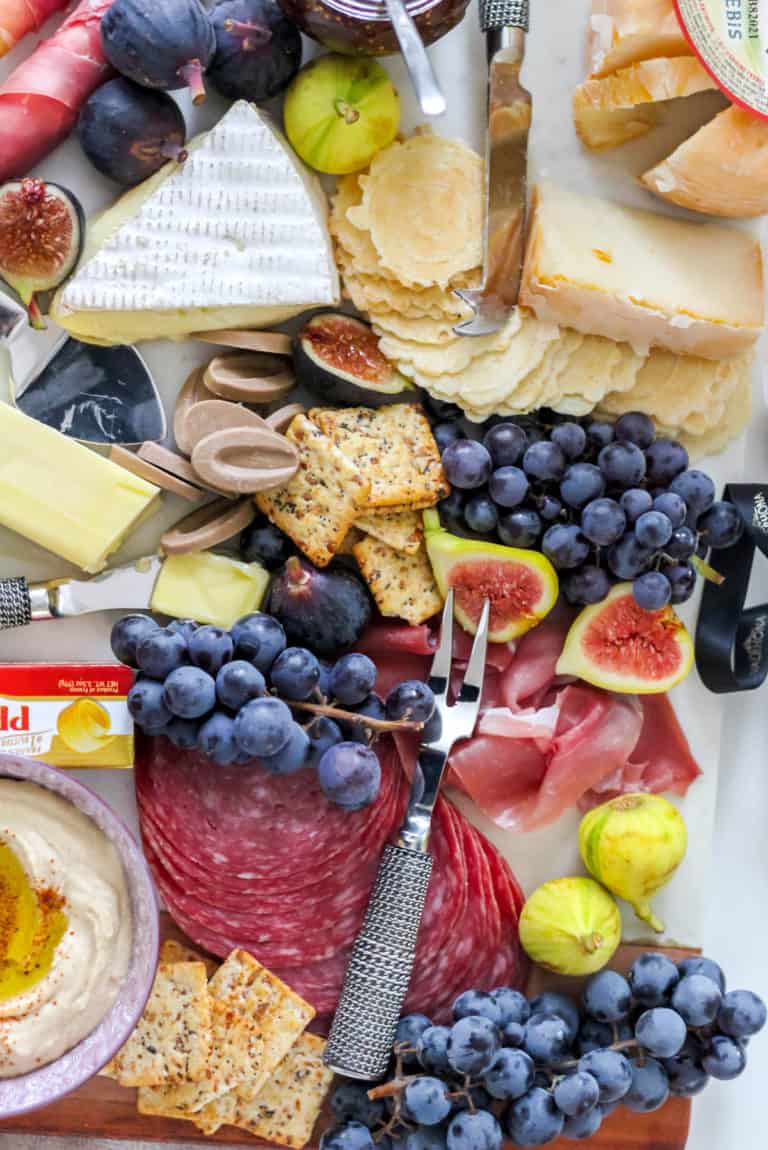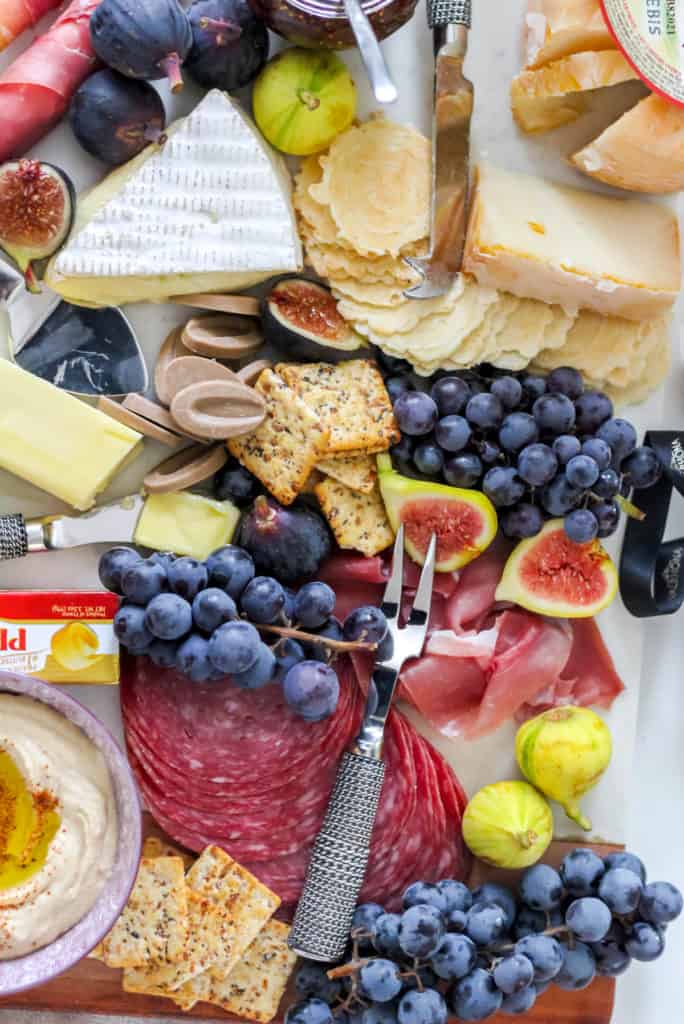 I love a giant cheese plate to start whenever I'm entertaining. It's so easy to make, there's no actual cooking involved, and let's be real – who doesn't love cheese and wine?! (CONFESSION: I'm not a particular fan of cheese, but don't worry I add lots of other options to my cheese boards for picky eaters like myself!) So, basically, you just arrange a bunch of cheeses, meats, crackers, and fruits on a board or platter and voilà your appetizer is ready.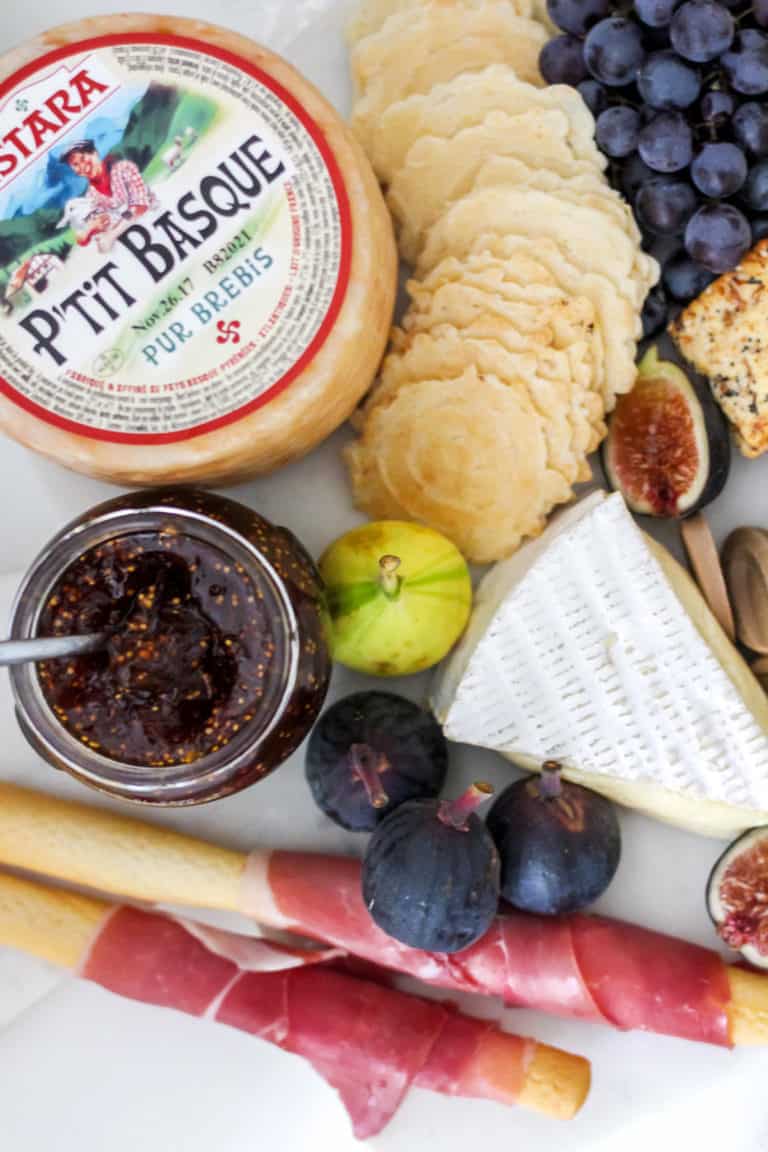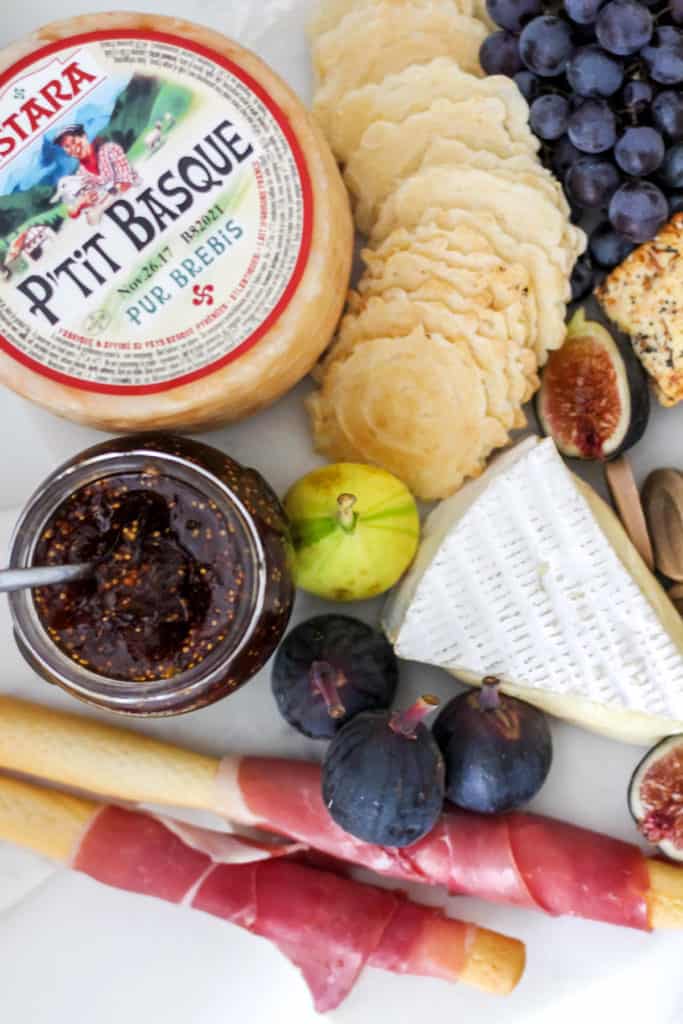 I always begin assembling my platter with the cheese. You want to make sure that you have a variety of textures and flavors – mix it up! For this particular cheese board, I used brie and P'tit Basque. P'tit Basque is 100% pure sheep's milk cheese produced in France's Basque region. It's a smooth cheese with a sweet flavor and a nutty finish. It is amazing with jam, fresh fruit, cured meats, and even in salads. It pairs perfectly with a classic red or white wine.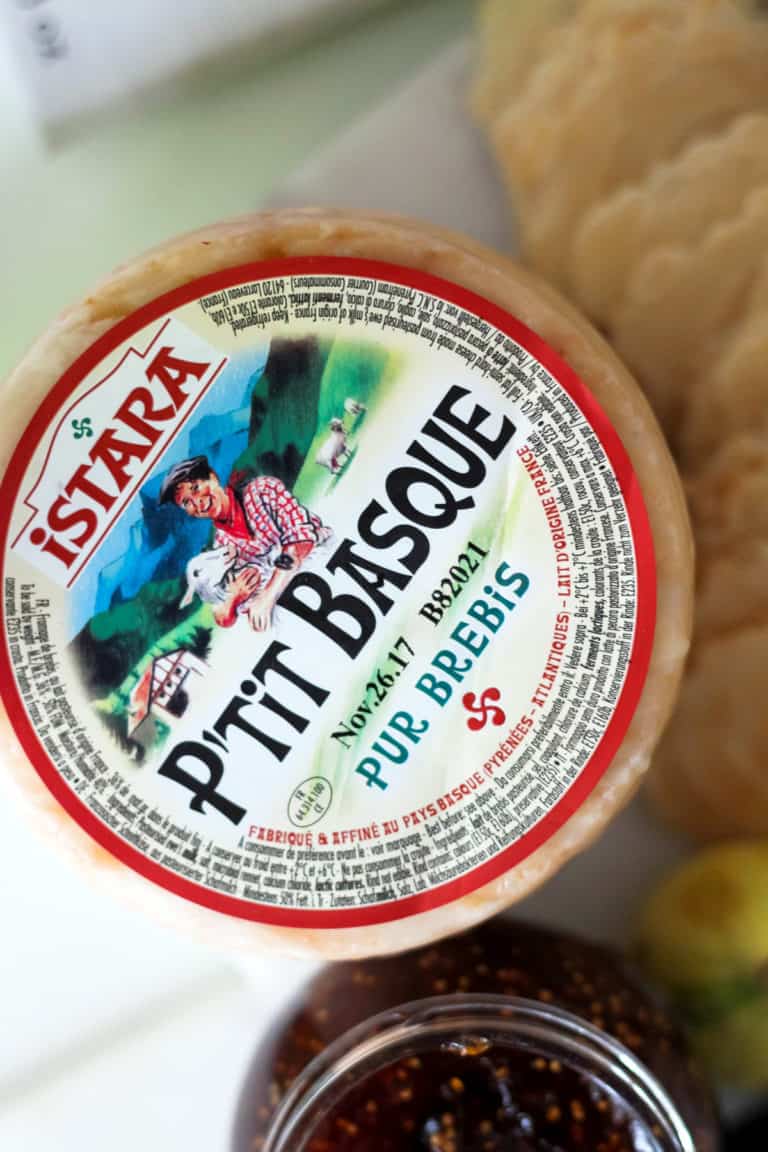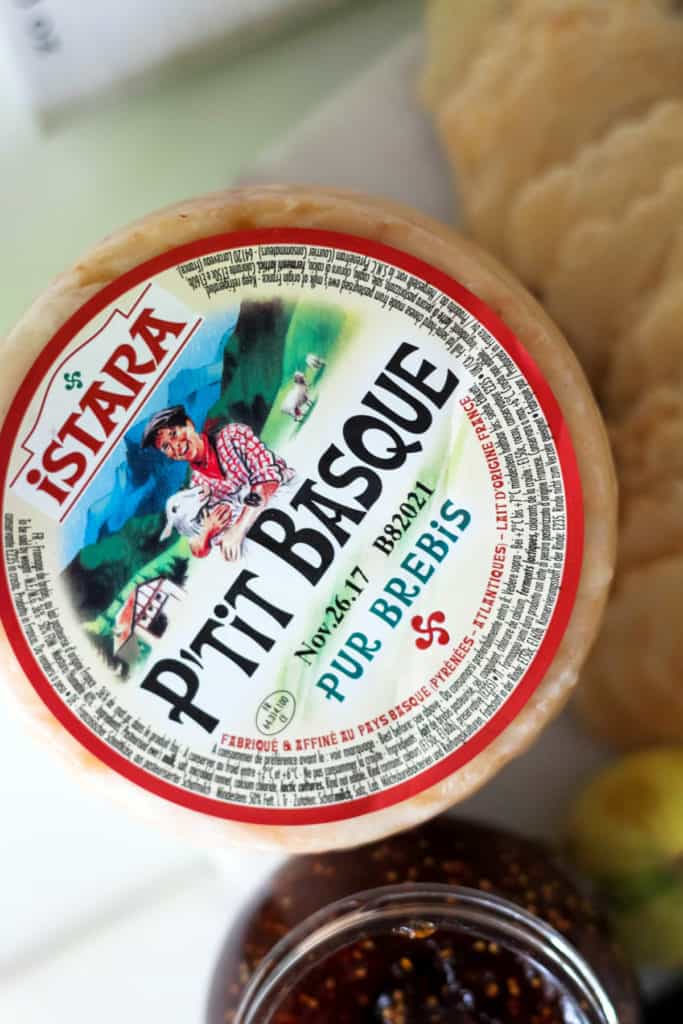 While we're on the dairy subject, I always add a high quality butter to my cheese boards. For a couple of reasons – butter + crackers is life, and it's a great alternative for people, like me, who can't bare the smell or taste of cheese. My favorite is President butter. It's freshly crafted from cultured cream in the heart of Normandy. It has the most perfect smooth texture and rich taste. Plus, it's super versatile. I use it for spreads, cooking, and baking.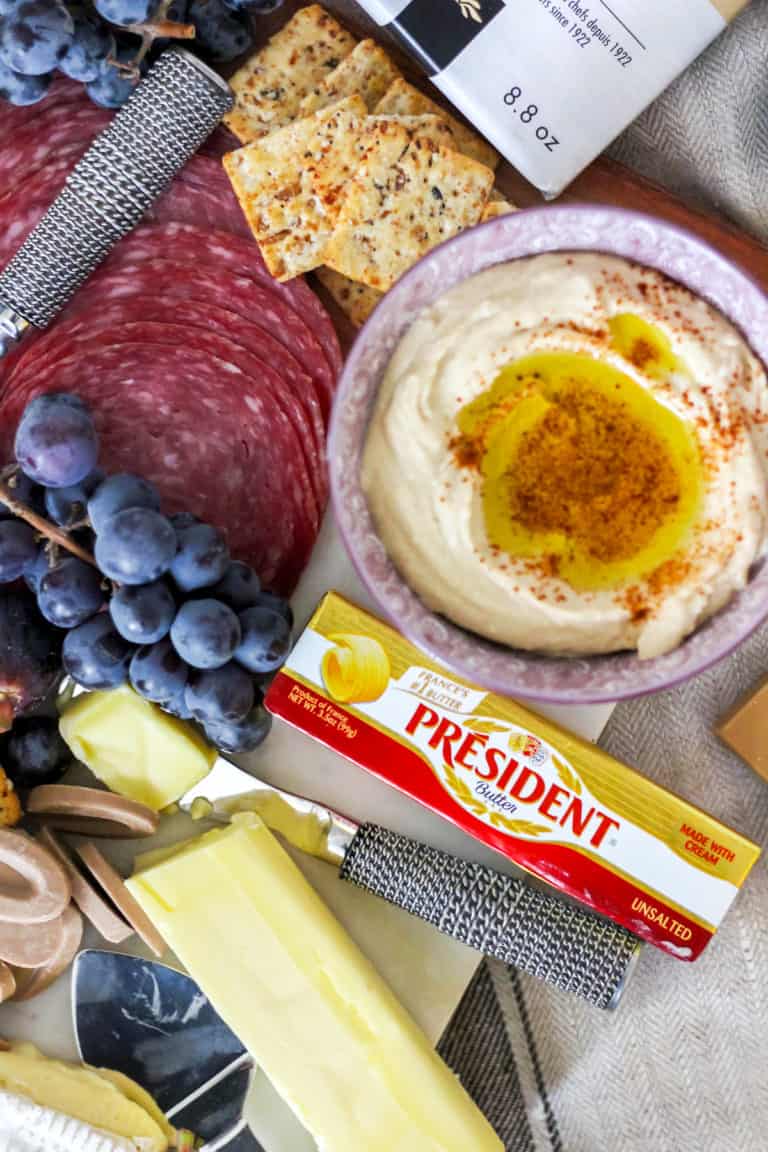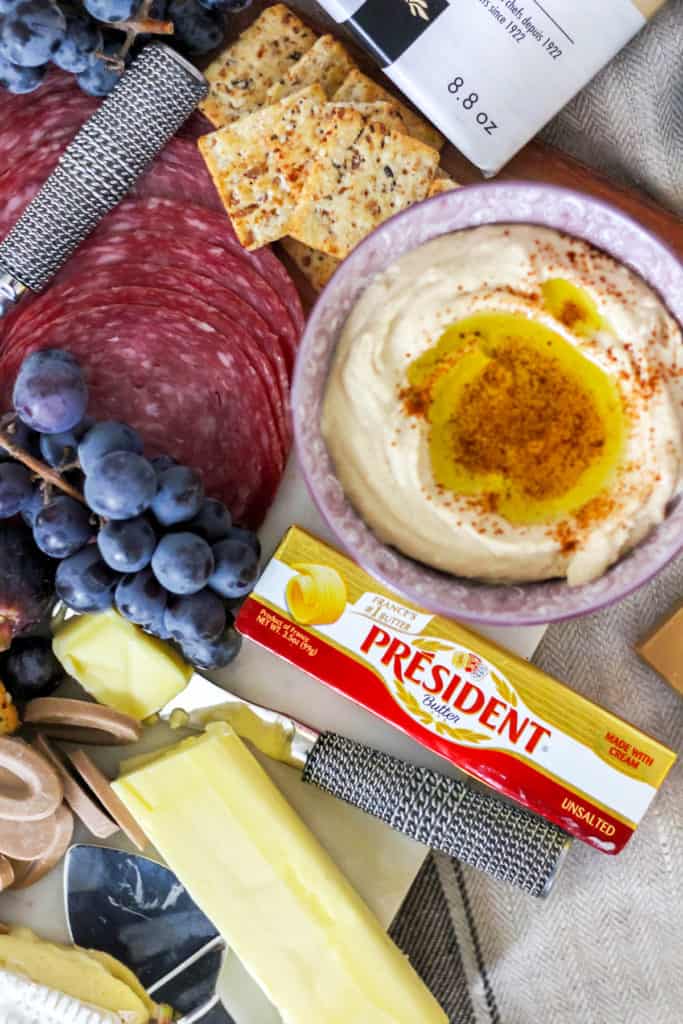 Next comes the meats. You can always find salami and prosciutto on my cheese boards (I know, not French but close neighbors) but it is totally optional!
Once the cheese and meats are arranged on the platter, I lay out a variety of crackers and bread sticks. Then come the fruits, dried fruits, nuts, fruit spread, dips, and honey! Always go with what's in season.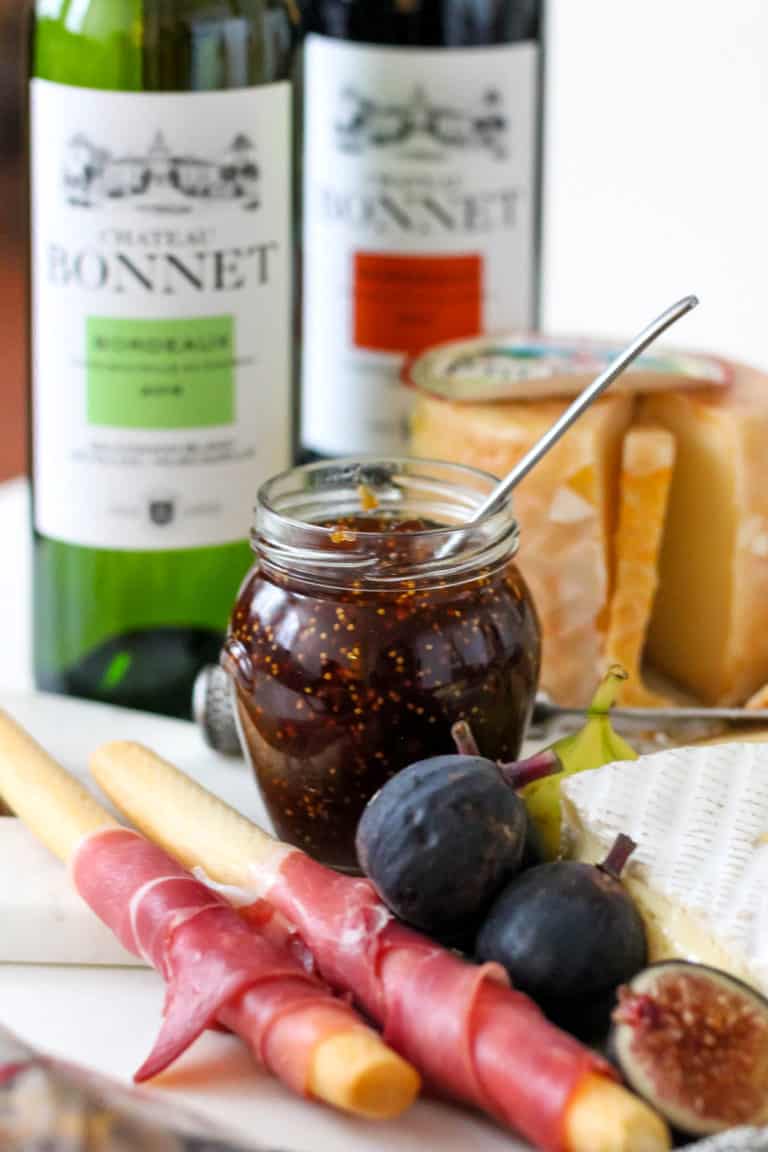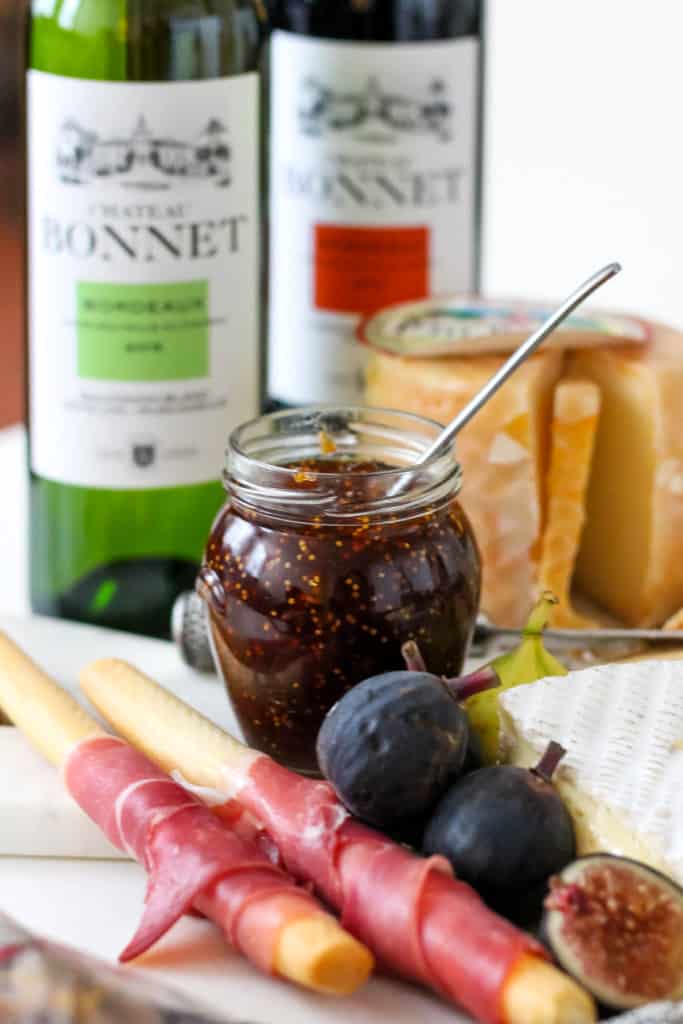 The final addition to the Ultimate Cheese Board is CHOCOLATE. Yes, it's perfectly acceptable to have cheese, chocolate, and wine together. I'm convinced this must be the French women's secret to looking flawless! Valrhona is a French bean to bar chocolate maker that has been around since 1922. They create unique chocolates for pastry chefs and are committed to taste and quality as well as their community, environmental stewardship and sustainable business practices.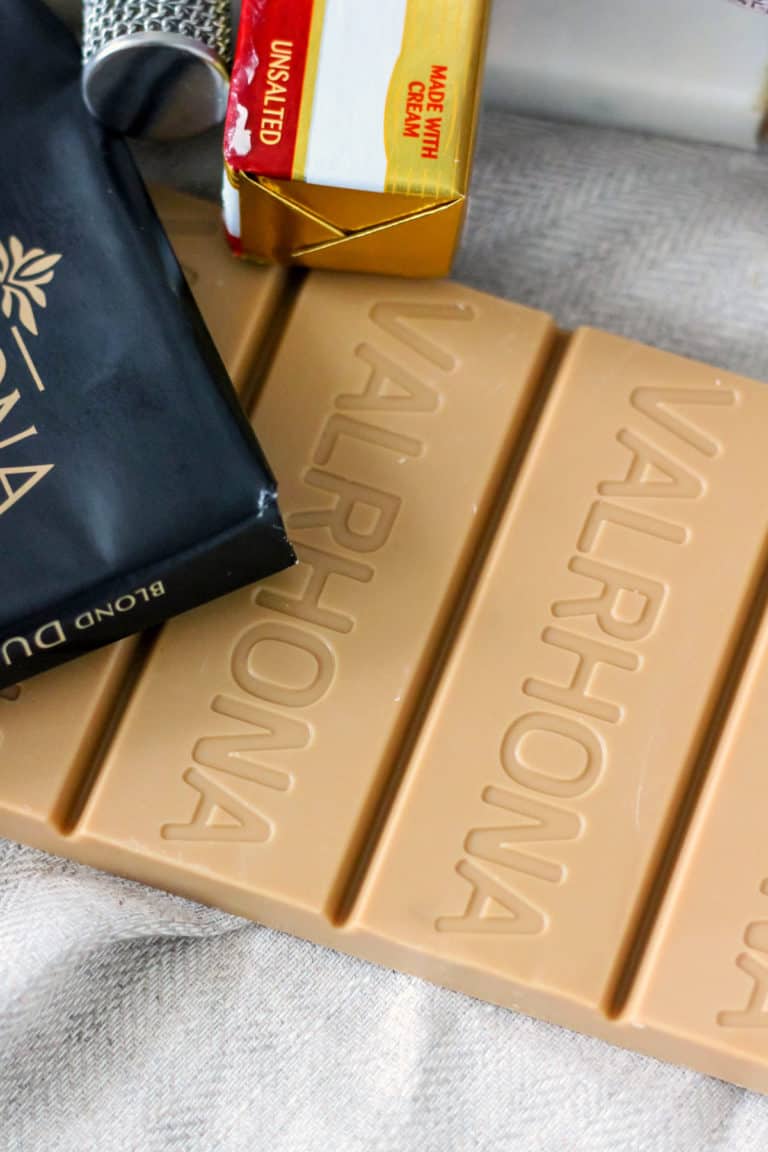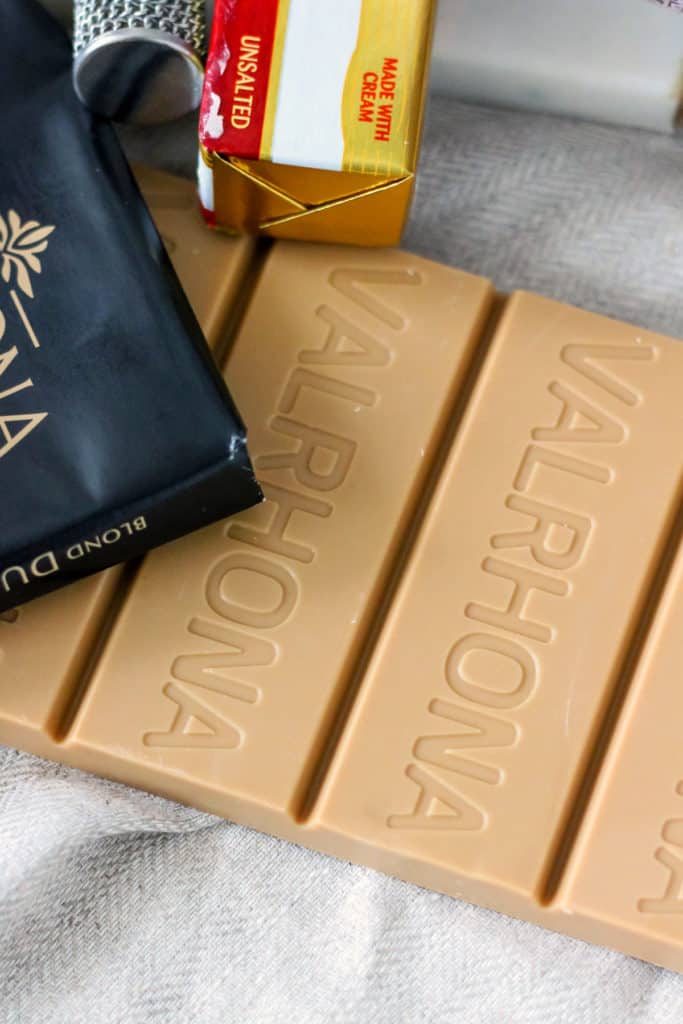 Valrhona Dulcey Chocolate is considered the 4th color of chocolate – blond – (after white, milk, and dark chocolate). It has a creamy texture, a subtle blond color, and the most delicious and unique taste that isn't too sweet with notes of freshly baked shortbread and caramelized milk. Valrhona Orelys chocolate is a blond chocolate made with with muscovado sugar. The muscovado sugar gives the chocolate a rich brown color and delicate earthy notes.
OK, now onto my favorite part. WINE.
I always have a variety of wines for my guests to choose from. These French wines are a few of my favorites:
Mas de Daumas Gassac are produced in the Languedoc region in the South of France. The grapes are cultivated without any chemicals or pesticides on an animal ran vineyard. Mas de Daumas Gassac White is made with 4 noble grape varieties which gives the wine a pure, fresh, and fruity notes with a rich texture. The wine pairs well with all goats' or sheep milk cheese.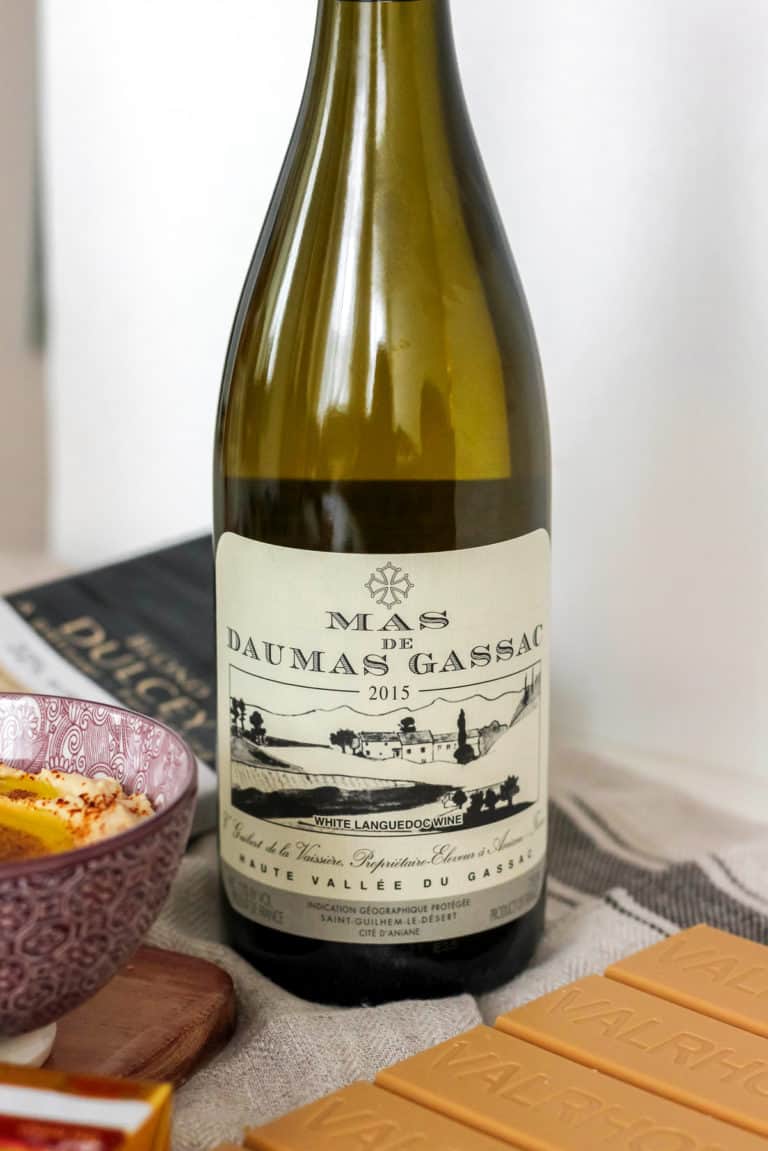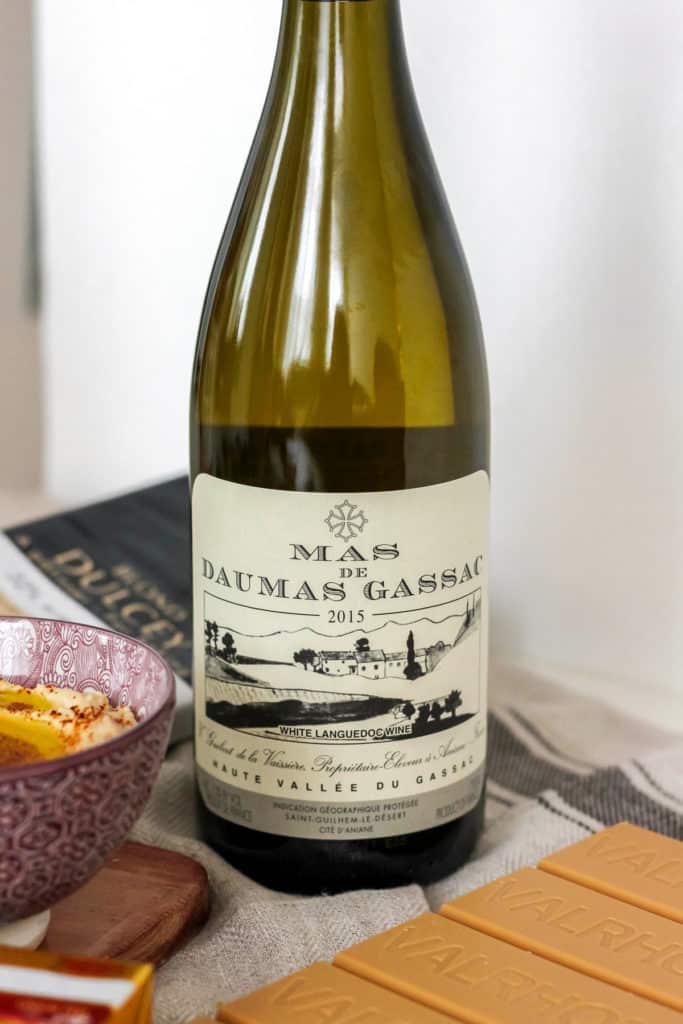 Moulin de Gassac Guilhem rosé is one of my favorites! It is smooth with delicious red fruit and berry aromas and flavors. It is very versatile and can be enjoyed with appetizers, salads, flatbreads, and grilled meats.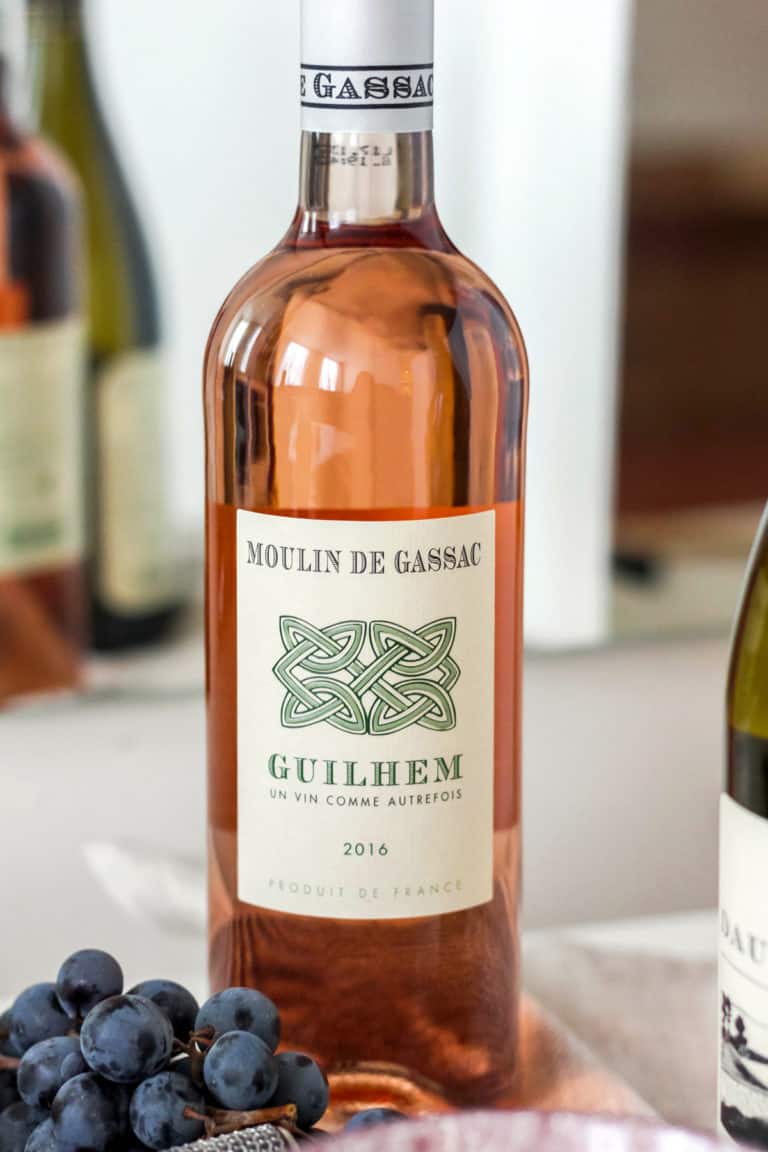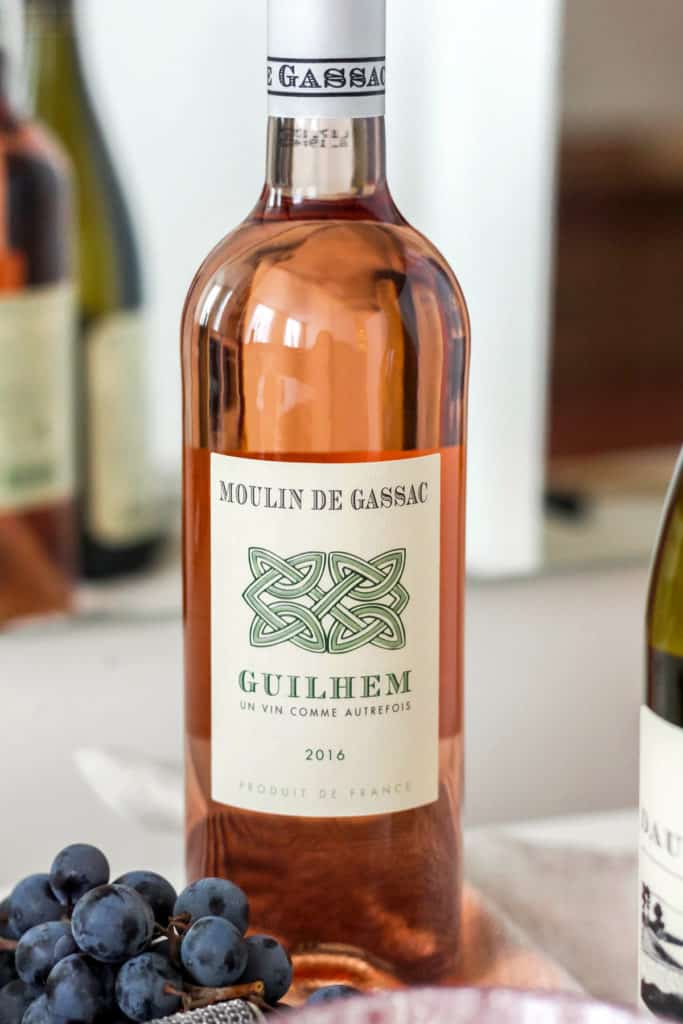 Les Vignobles André Lurton is one of the largest wineries in the Bordeaux region. Their Château Bonnet White is a fresh and fruity medium bodied wine with peach and lemon aromas. It pairs well with starters, cheese, salads, and seafood.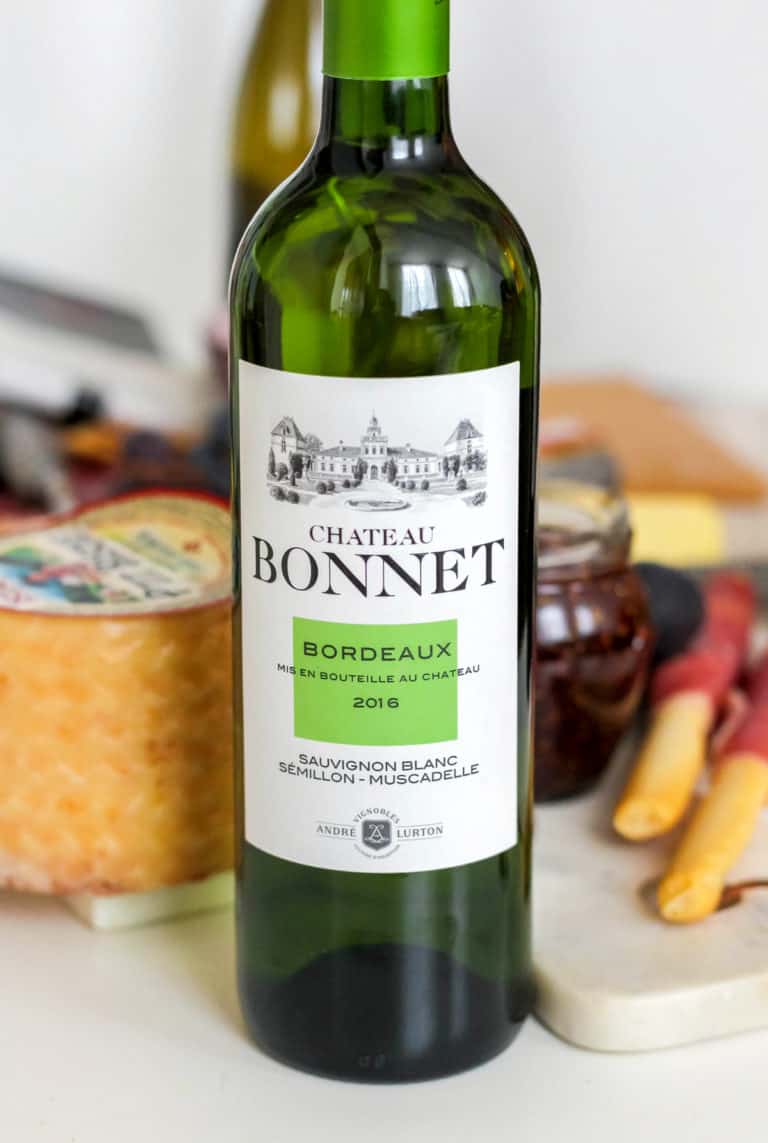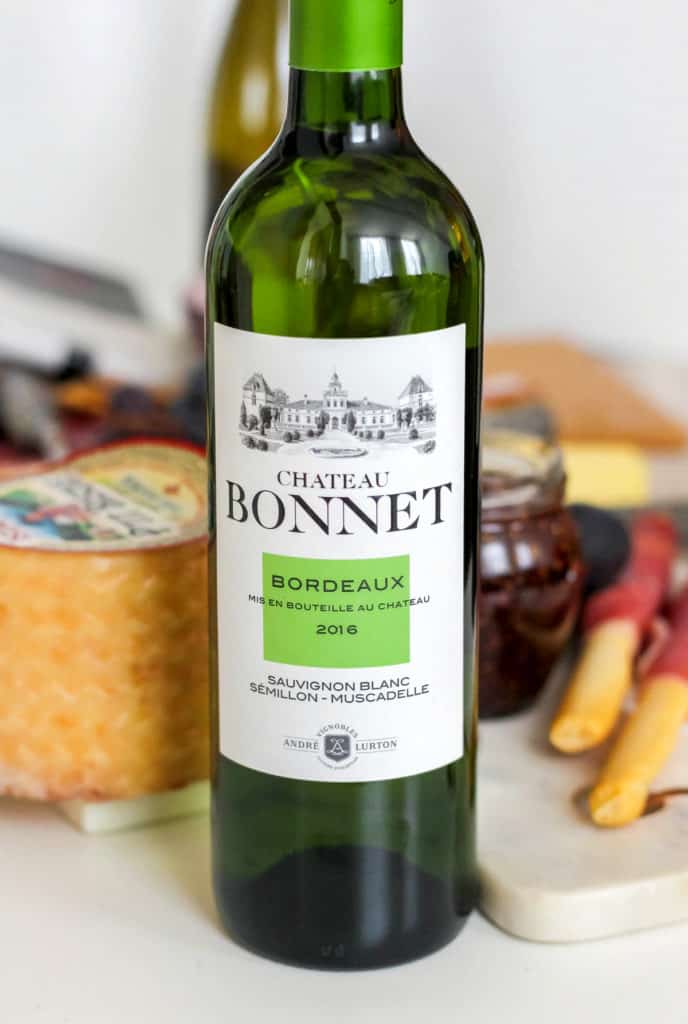 Château Bonnet Red has notes of  fresh red fruit accompanied by smoky, vanilla aromas. This wonderfully balanced wine pairs well with appetizers, white meats, game, and vegetables.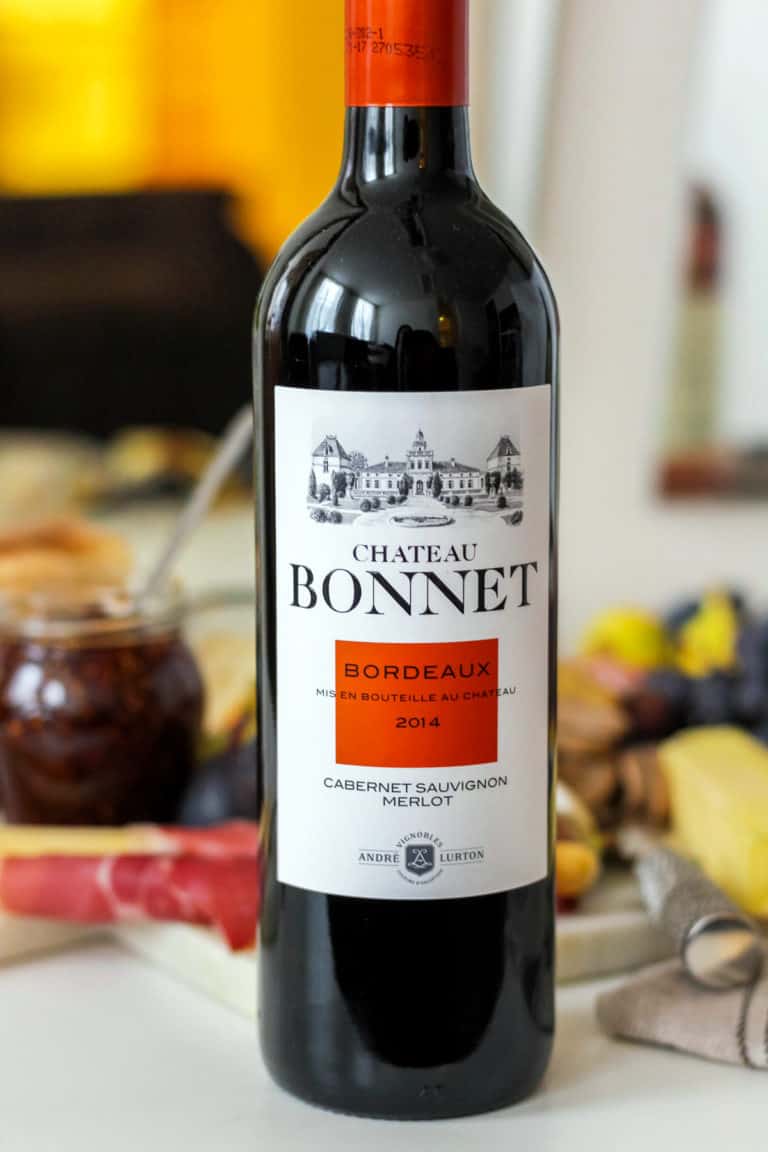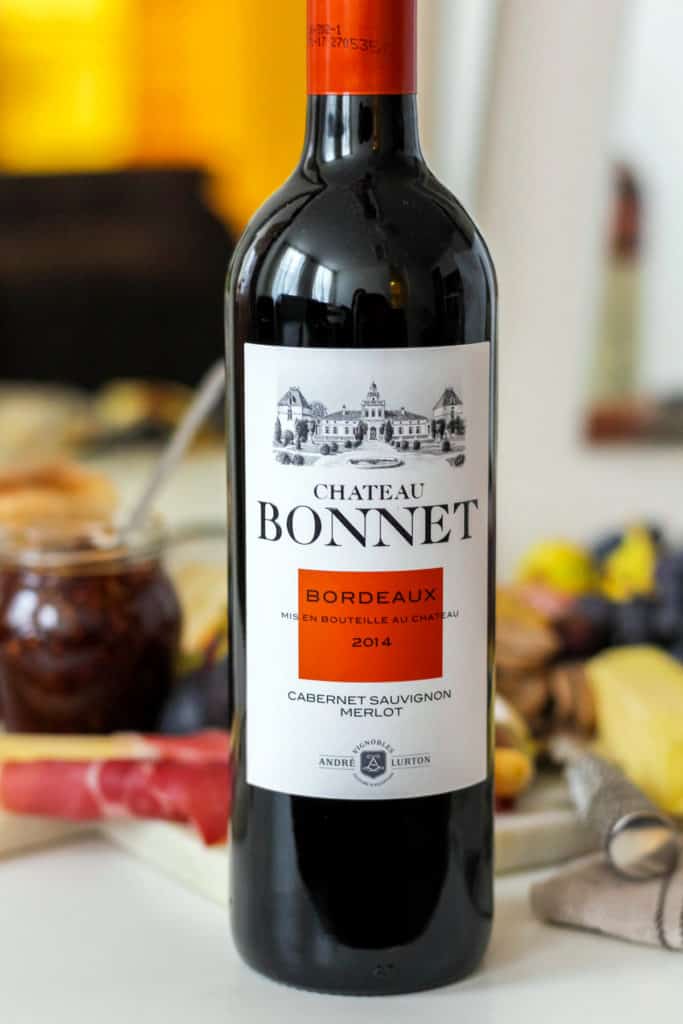 Now that you have the ins-and-outs of preparing the Ultimate Cheese Board, invite some friends over for a fun night of delicious French cheese, wine, laughter, & good company!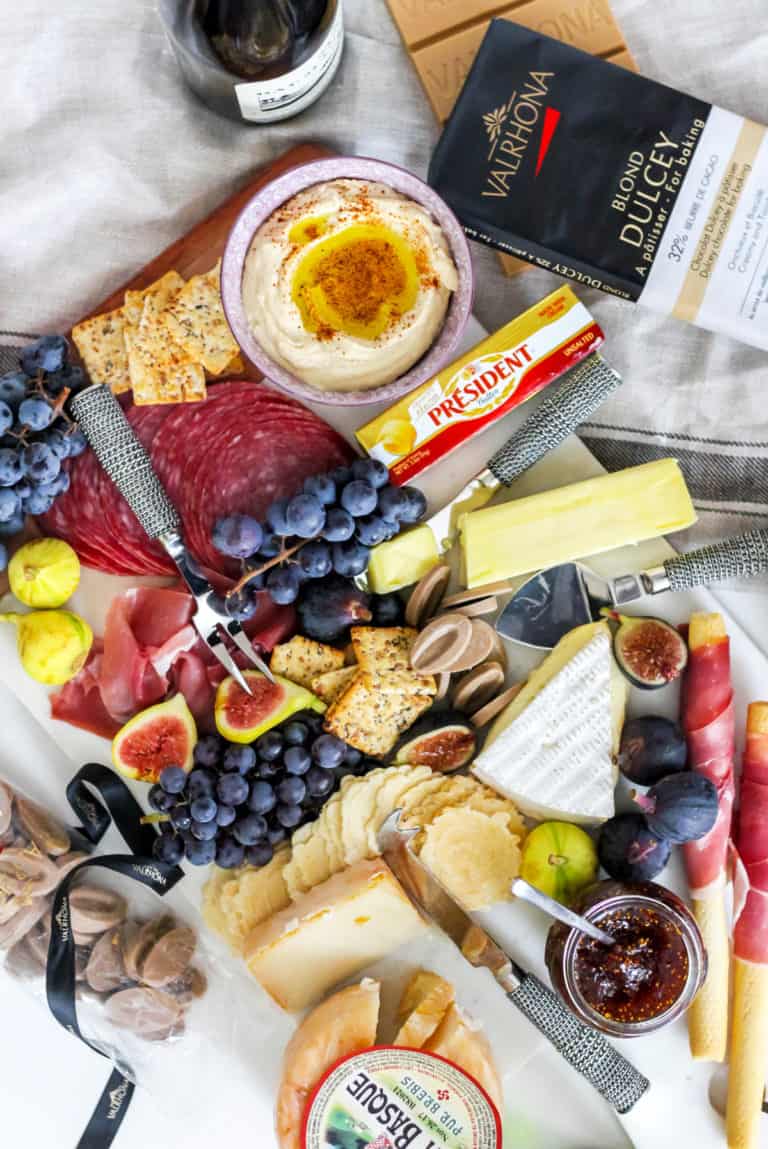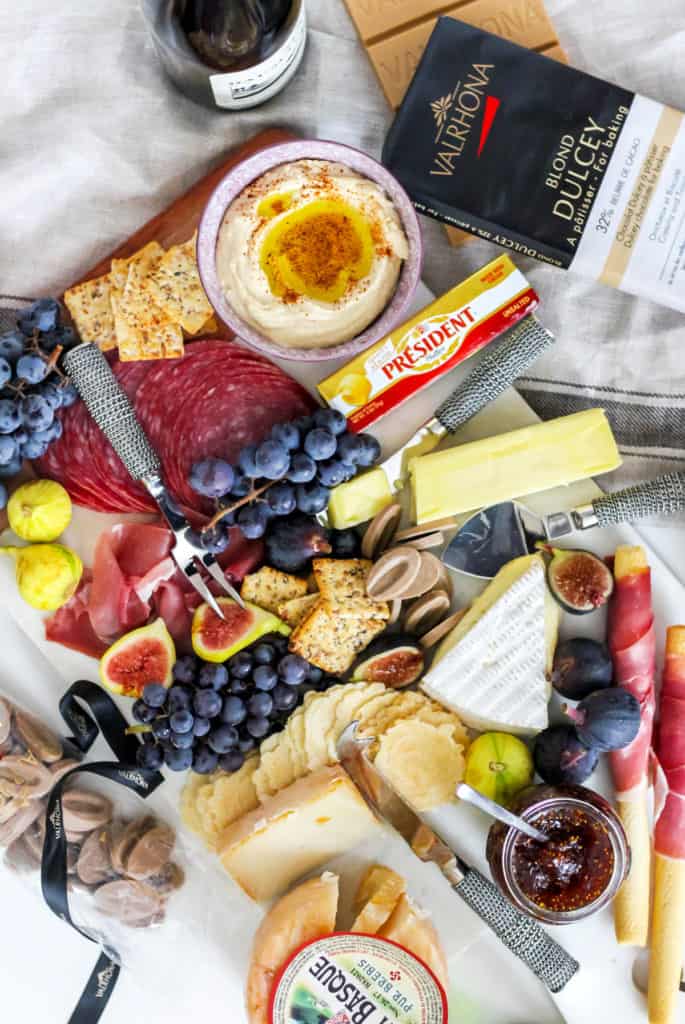 "Made in France, made with love" ♡.
Print
The Ultimate Cheese Board for Fall Entertaining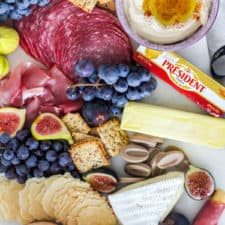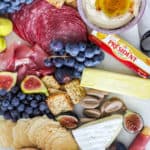 Quick and easy to assemble, this Ultimate Cheese Board is perfect for entertaining.
Author:
Category:

Appetizer

Cuisine:

French
Ingredients
Wedge of Brie
Hummus
Salami
Prosciutto
Grapes
Fresh Figs
Fig Preserves
Bread Sticks
Variety of crackers
Wines
Instructions
Begin by arranging cheese, butter, meats, hummus, and preserves on a large board or platter. Add crackers and breadsticks. Fill in empty spaces with grapes, figs, and chocolate pieces.
Serve with wine.
Recipe Card powered by