Banana Coconut Cashew Granola
This homemade healthy Banana Coconut Cashew Granola is crunchy, tropical, and completely addicting – made with just a few healthy ingredients! (gluten free + vegan)
oh hey!!!
We have Banana Coconut Cashew Granola for you today, and it smells A-MAZING!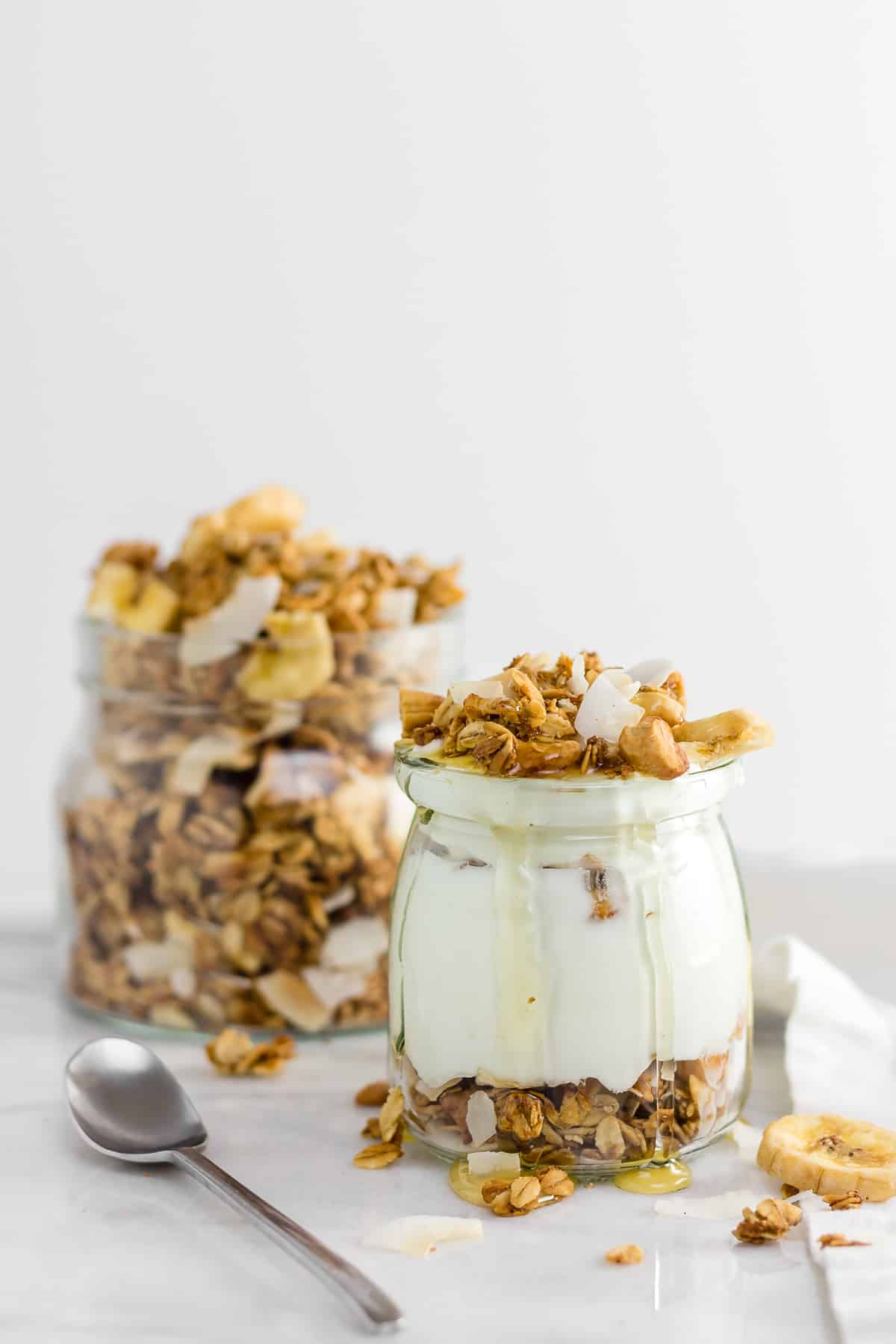 This granola is the granola of your tropical dreams. Bananas, toasted coconut, roasted cashews, maple syrup. Think tropical banana bread but in granola form. I'm totally addicted.
And I'm not the only one addicted to it. My sister and Steve have been munching on this granola too … and, well let's just say that it only lasted about a day and a half in our house.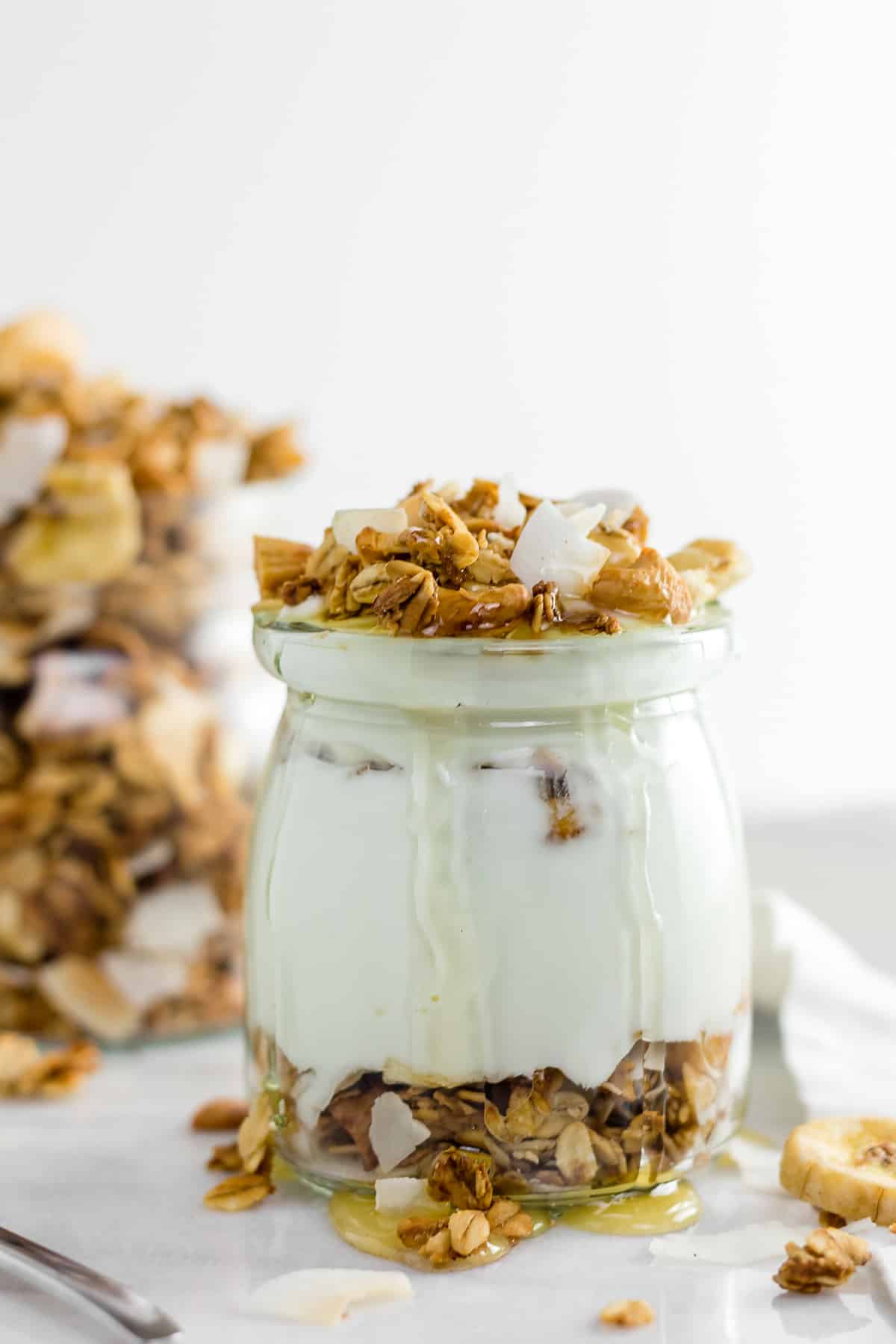 This granola is embarrassingly easy to make and a lot healthier than your typical store-bought granola. It doesn't have all of those added sugars because bananas are the main sweetener here (extra ripe bananas work best here). The bananas are mashed and heated up with coconut oil, maple syrup, a sprinkle of coconut sugar (aka the secret to extra crispy granola clusters), and a touch of vanilla.
Then, you pour liquid-y mixture over your old fashioned oats and cashews and mix until everything is well coated. Once everything is well combined, you spread the oat mixture onto a baking sheet and stick into the oven. About 30 minutes later, you add the coconut flakes and banana chips and bake another 15 minutes. You see?? Easy!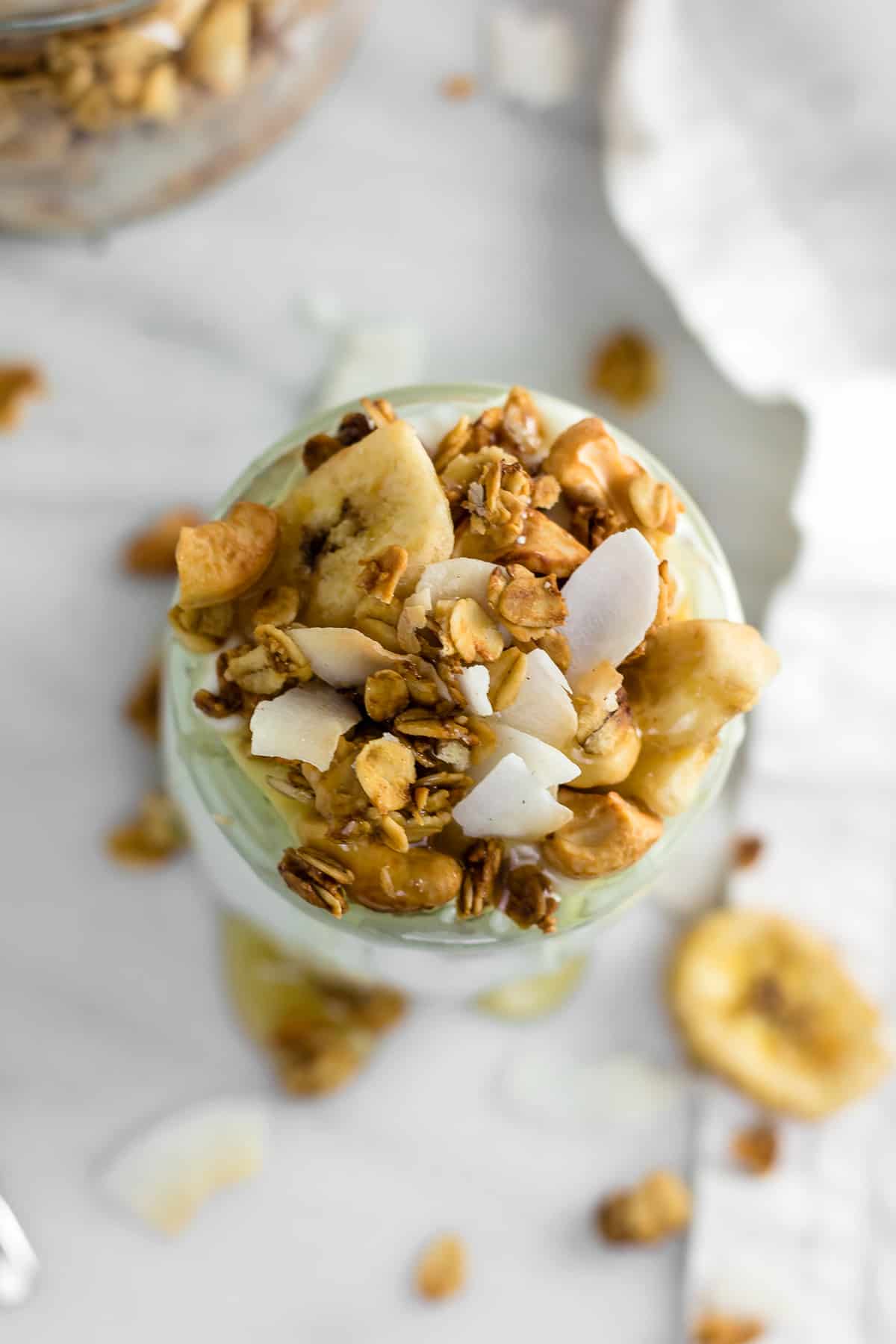 The hardest part comes at the very end … you have to let the granola cool COMPLETELY and try to resist eating it all before it does. The granola will harden up as it cools, so this step is extra important.
Enjoy the granola with a splash of milk, with some yogurt, or just snack on it by the handful!
If you make this recipe, take a photo and tag #bakedambrosia on Instagram and Facebook so that I can see your creations and feature them on Instagram! To stay up to date with the latest recipes, follow Baked Ambrosia on Pinterest, Facebook, Instagram, and Youtube. ♡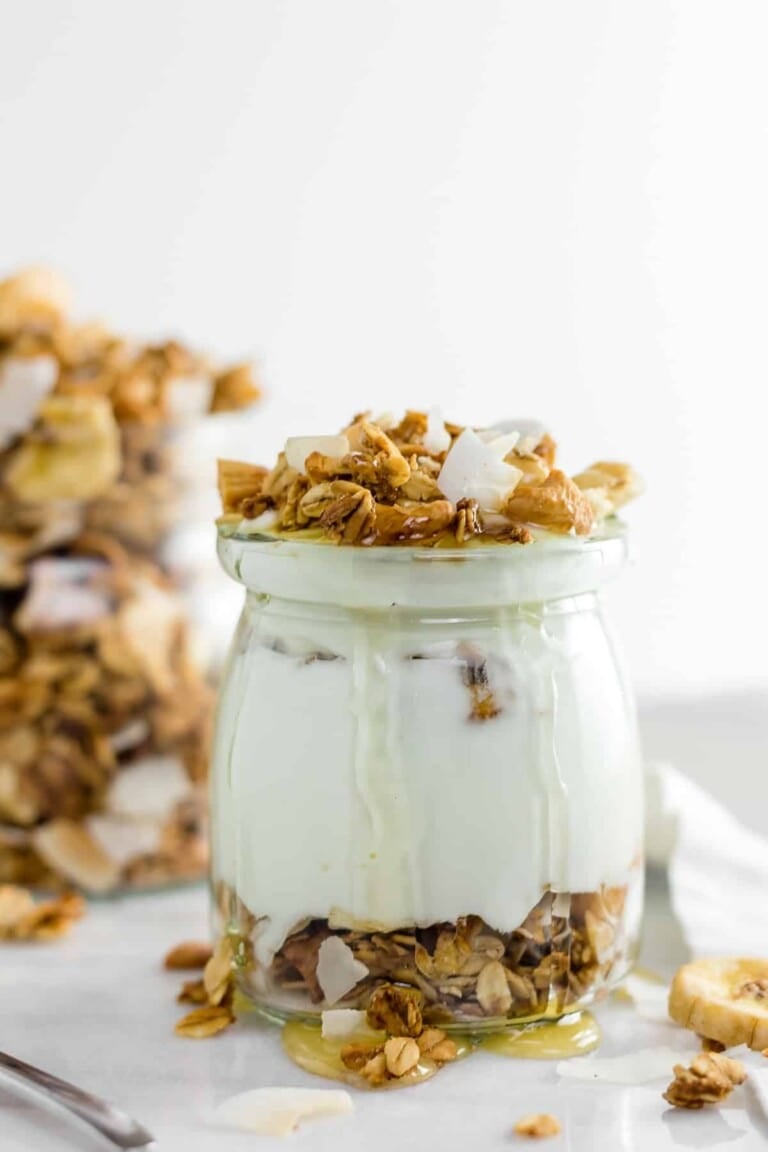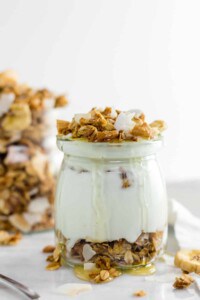 Healthy Banana Coconut Cashew Granola (gluten free + vegan)
This homemade healthy Banana Coconut Cashew Granola is crunchy, tropical, and completely addicting - made with just a few healthy ingredients!
Instructions
Preheat oven to 325 degrees F. Line a baking sheet with parchment paper and set aside.

In a large bowl, combine oats, cashews, and salt.

In a medium saucepan, heat mashed bananas, coconut oil, maple syrup, and coconut sugar over medium-low heat. Once coconut oil melts, remove from heat and stir in vanilla. Pour over oat/cashew mixture and stir to combine.

Spread the mixture onto the prepared baking sheet and bake for 30 minutes.

After 30 minutes, remove from oven and gently stir in coconut flakes and banana chips. Return to oven and bake for another 10-15 minutes, or until golden brown.

Remove from oven and let cool completely.

Store granola in an air tight container.
Tried this recipe?
Let us know how it was and tag @bakedambrosia on Instagram