Paleo Blueberry Pop Tarts
Homemade Paleo Blueberry Pop Tarts Recipe- Just like the originals you ate as a kid, without all of the processed ingredients! (gluten free, grain free, refined sugar free)
Pop tarts!! Filled with blueberries and topped with blueberry glaze! Hellooooo antioxidants.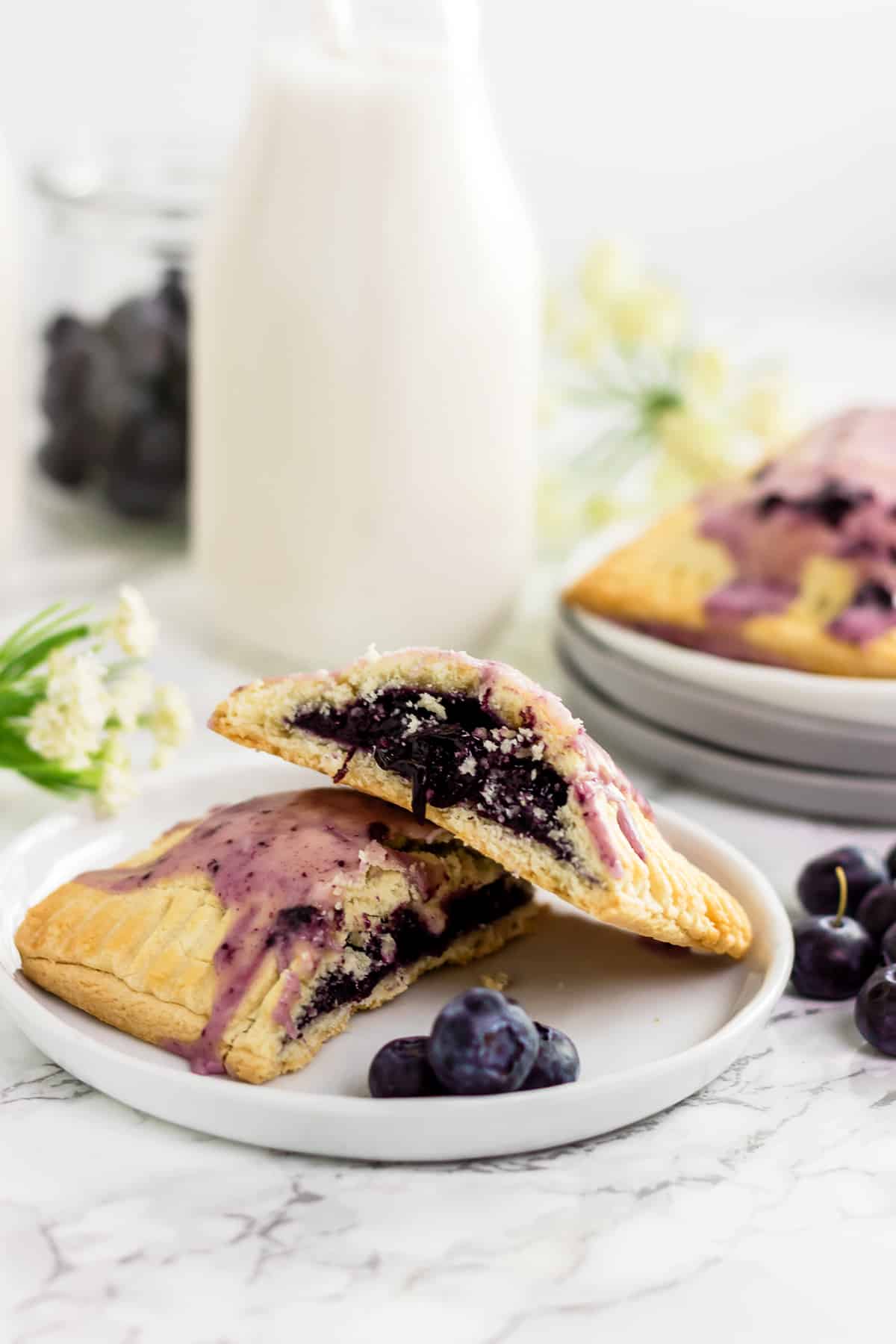 Who ate pop tarts as a kid? Growing up, my mom rarely bought processed, sugar-filled breakfasts or snacks so, whenever I got my hands on a Pop Tart, it was as if I struck gold.
Now, that I am older and a lot more conscious of what I put into my body, I wanted to recreate the old childhood favorite. A pop tart healthy enough that I could every morning. I began experimenting, and once I realized how easy it was to make my own, I began making homemade pop tarts all the time.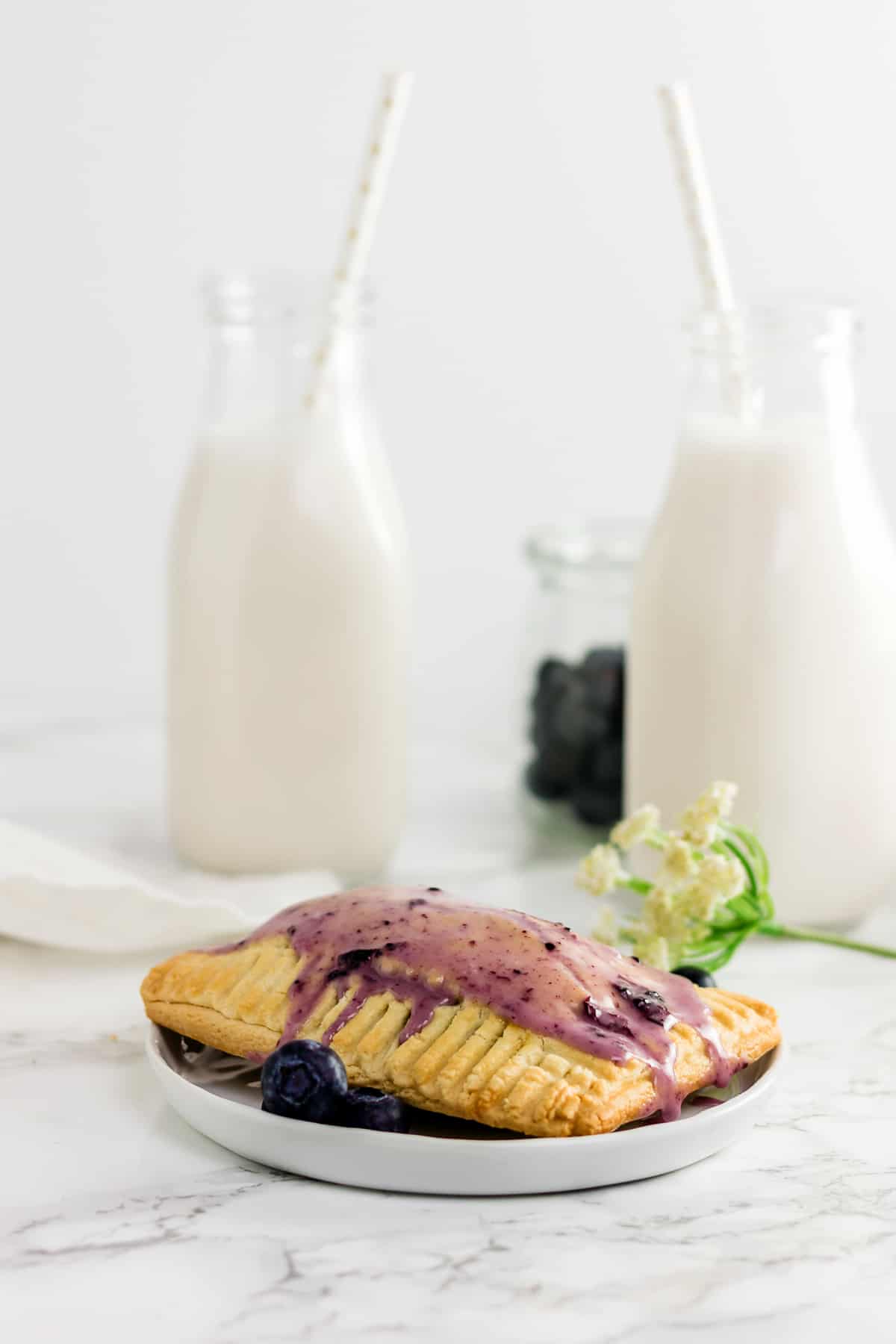 So, Paleo Blueberry Pop Tarts. They are gluten free, grain free, and made with no refined sugar but, you will never be able to tell!
The crust is tender and buttery.
The filling is fruity and not too sweet.
And the blueberry glaze will send you straight back to your childhood, without the artificial blue coloring!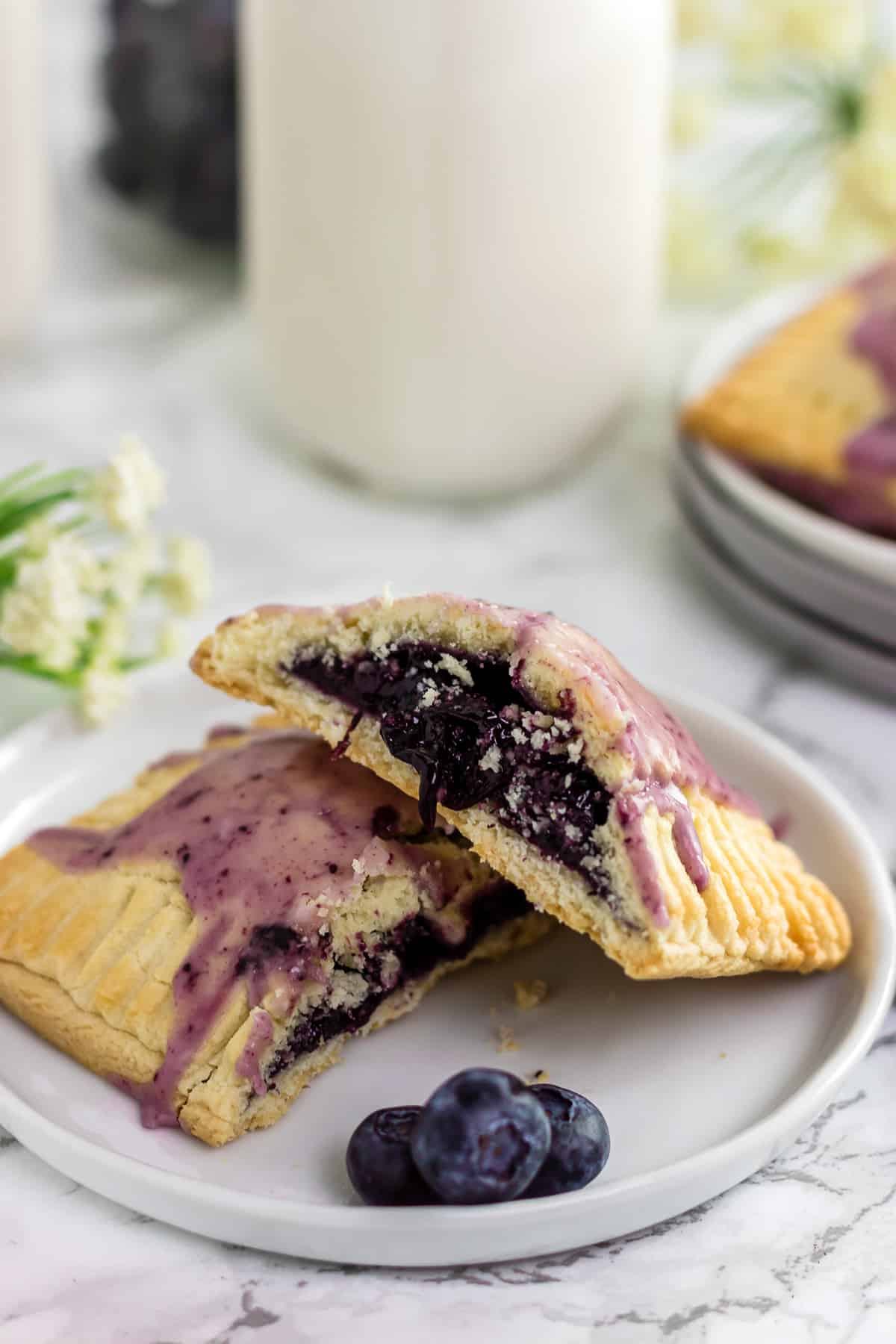 You will love these breakfast pastries.
These delicious little hand held pies are so simple to make. All you need is 7 ingredients and in less than 1 hour, you will have your own homemade pop tarts!
Here's to happy mornings, with healthy pop tarts!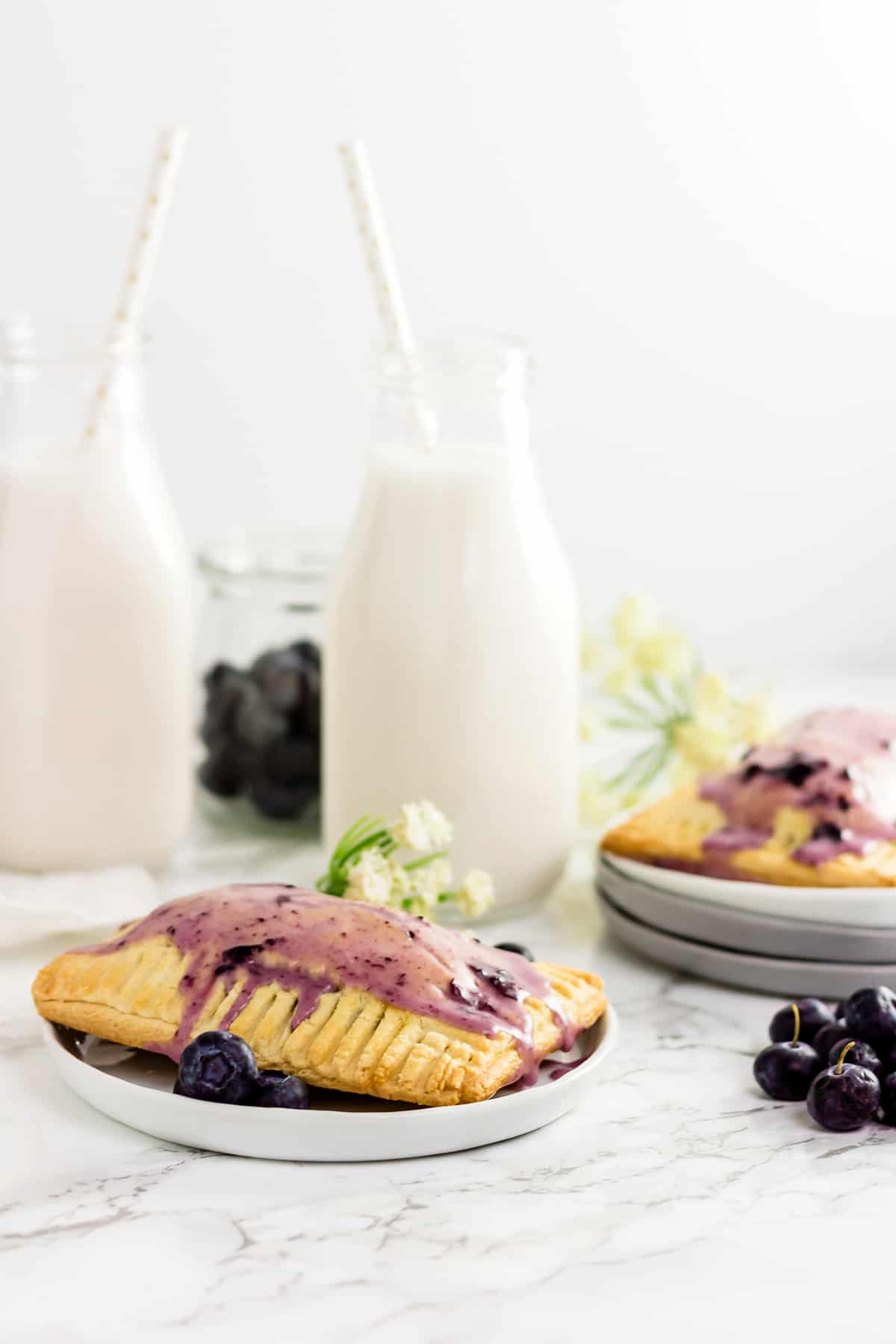 More Recipes You'll Love!
Paleo Brown Sugar Pop Tarts – much better than breakfast out of an aluminum wrapper.
Paleo Chocolate Covered Strawberry Pop Tarts – healthy make-ahead breakfast, snack or dessert.
Baked Lemon Poppy Seed Donuts – soft, fluffy, and bursting with fresh lemon flavor.
Vegan Walnut Ricotta Toasts – with strawberries and sweet dukkah.
Breakfast Bulgur with Blueberry Sauce – warm, nutritious, and filling!
If you make this recipe, take a photo and tag #bakedambrosia on Instagram and Facebook so that I can see your creations and feature them on Instagram! To stay up to date with the latest recipes, follow Baked Ambrosia on Pinterest, Facebook, Instagram, and Youtube. ♡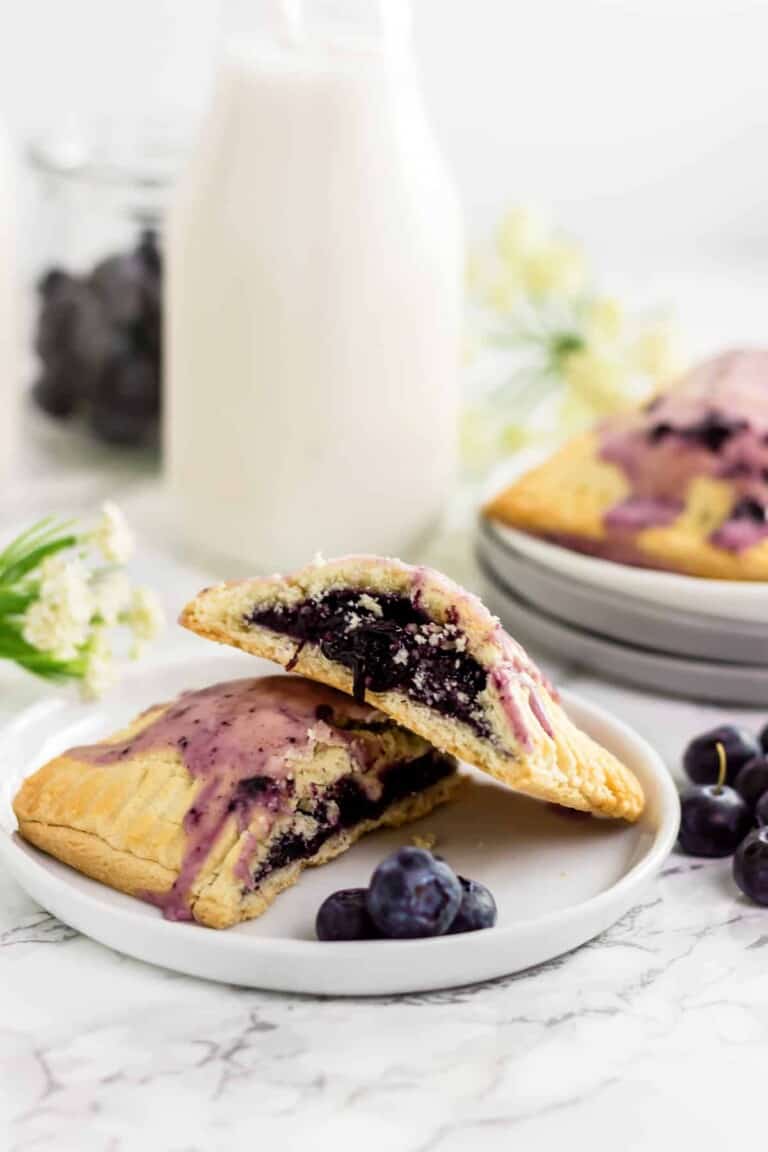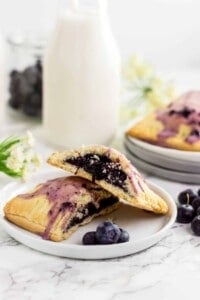 Paleo Blueberry Pop Tarts (gluten free, grain free, refined sugar free)
Homemade Paleo Blueberry Pop Tarts Recipe- Just like the originals you ate as a kid, without all of the processed ingredients! (gluten free, grain free, refined sugar free)
Ingredients
1 1/4

cup

almond flour

1

cup

tapioca starch

pinch

of salt

4

tbsp

coconut oil

solid or grass-fed butter cut into cubes

1

egg

2

tbsp

maple syrup
Filling
12

oz

blueberries

1/4

cup

maple syrup

2

tbsp

tapioca starch
Glaze, optional
1/2

cup

coconut sugar

1

tsp

tapioca starch

2

tbsp

blueberry filling
Instructions
Prepare the filling first, by heating blueberries and maple syrup in a small saucepan over medium heat. Bring to a simmer and continue cooking until blueberries begin to burst. Stir in tapioca starch and cook another 3-4 minutes, or until blueberry mixture begins to thicken. Remove from heat and set aside to cool.

Preheat oven to 350 degrees F.

Line a baking sheet with parchment paper and set aside.

Add almond flour, tapioca starch, and salt to the bowl of a food processor and pulse to combine. Add coconut oil or butter and pulse until a sand-like consistency.

Add egg and maple syrup. Process until a dough forms.

Transfer dough onto your work surface that has been lined with parchment paper or a silicone mat. Roll out dough to about 1/4-in thick. Cut into 8 5x3-in rectangles. Spoon 1-2 tablespoons of filling onto half of the rectangles, then cover with remaining half. Use a fork to crimp the edges together on all sides.

Transfer the pop tarts to the prepared baking sheet and bake 15-20 minutes, until golden. Cool.

To make the glaze, add coconut sugar and tapioca starch to a high power blender. Begin on low speed and gradually increase to high and blend until light and powdery consistency.

Transfer powdered sugar to a bowl and whisk together with blueberry filling.

Spoon glaze over each pop tart and allow to dry.

Store pop tarts in an air tight container for up to 5 days, or freeze for up to 3 months.
Tried this recipe?
Let us know how it was and tag @bakedambrosia on Instagram