Healthy Seed and Nut Bread (gluten free + vegan)
Healthy Seed and Nut Bread – one mixing bowl, whole grain, gluten free, no-knead, good-for-you bread – loaded with seeds, nuts, and grains. (gluten free + vegan)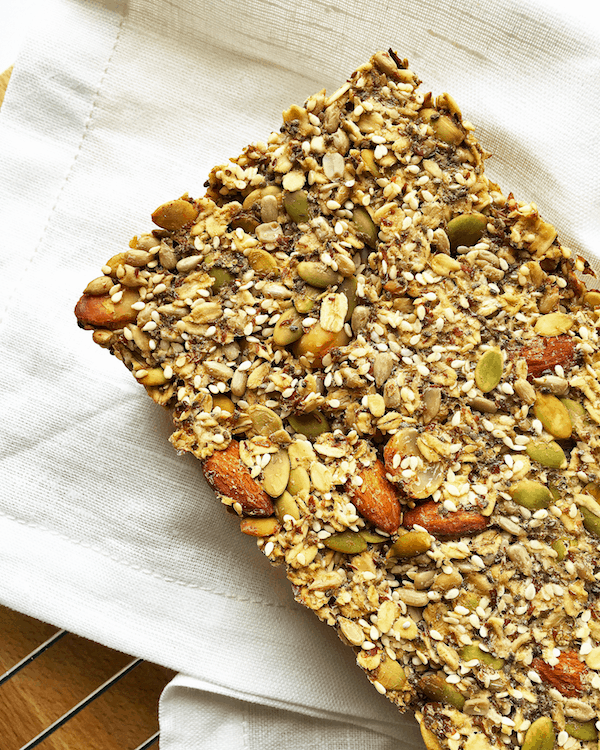 Whenever someone tells me they are going on a diet, their biggest concern is cutting down on carbs; specifically, bread. I'm not saying that bread is necessarily bad for you (especially if you opt for a whole-grain option instead of white bread) but, it is all about moderation. I mean, who can resist cutting through a thick-crusted loaf of bread? And the smell! The aroma of freshly baked bread provides a sort of warming and comfort feeling that's difficult to stay away from.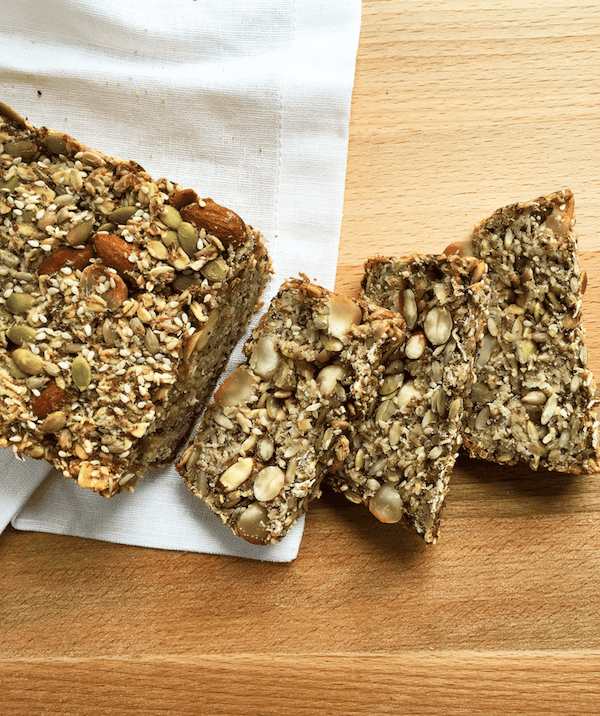 However, your every-day loaf of bread is really not that healthy.Unless you are eating whole grain bread, your typical loaf is often made out of white flour, which is heavily processed and has been stripped from its natural occurring nutrients that are found in the bran and germ of the wheat kernel (fiber, B-vitamins, minerals, and healthy fats). It is high in carbohydrates that spike blood glucose levels, and low in protein. Many times there are added ingredients like high fructose corn syrup, food coloring, and preservatives (always read the labels!)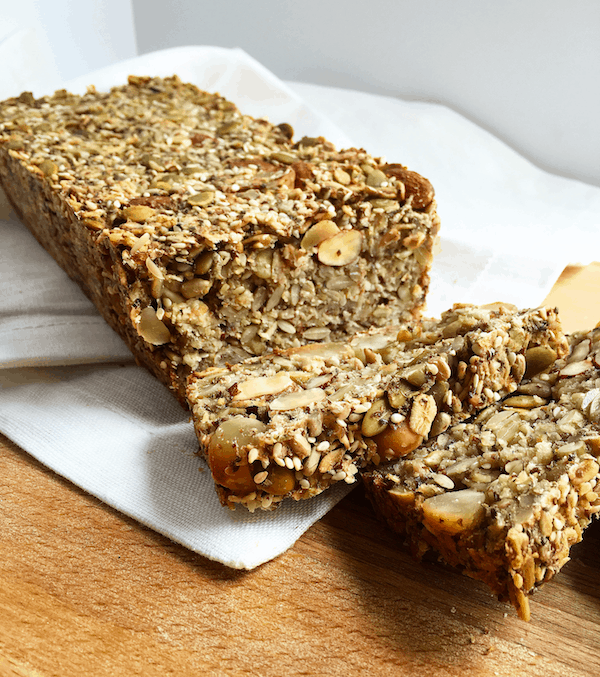 This Seed and Nut Bread contains no wheat (yes, it's gluten-free), it is high in protein and fiber, and contains healthy fats. All of the ingredients get soaked for better digestion and nutrient absorption. This recipe is adapted from My New Roots' Life Changing Loaf of Bread. It is full of nuts, seeds, and oats – and might actually change your life!
This bread is so simple to make and only requires one mixing bowl, a measuring cup, and a loaf pan. The best part about this recipe is that you can mix and match most of the ingredients. Other than the psyllium husks which are non-negotiable (they act as the "glue" to hold the bread together), you can adapt this recipe according to whatever nuts, seeds, and grains you have in your pantry. Just make sure you use the same proportions.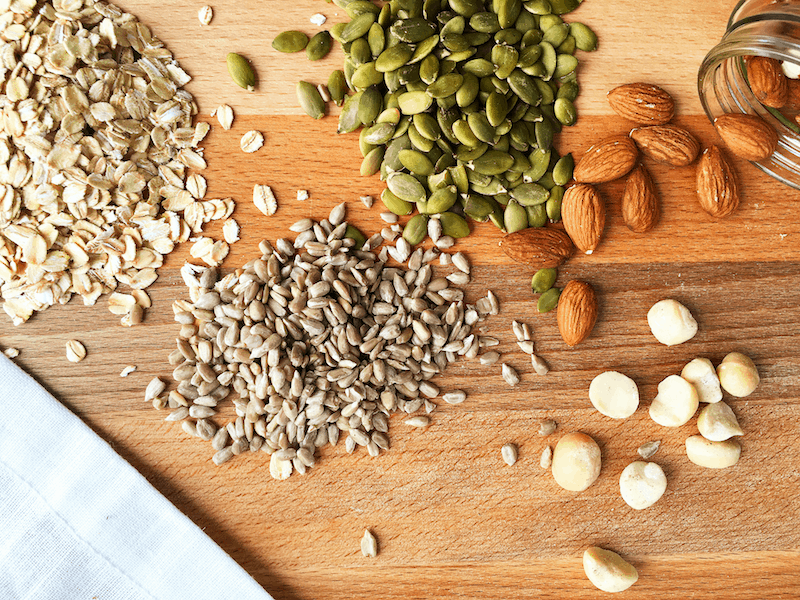 Oh yeah, I can't forget to mention that your whole house will smell amazing by the time the bread is done baking.
If you are trying to cut down on carbs or just live a healthier life, this bread is the perfect choice for you. It makes the best toast and you can dress it up however you want. Spread a little almond butter and top it off with a few banana slices. Or you can have it with some hummus, tomato, and spinach leaves. My personal favorite is to serve it with a fried egg and some avocado slices. Let your imagination run wild!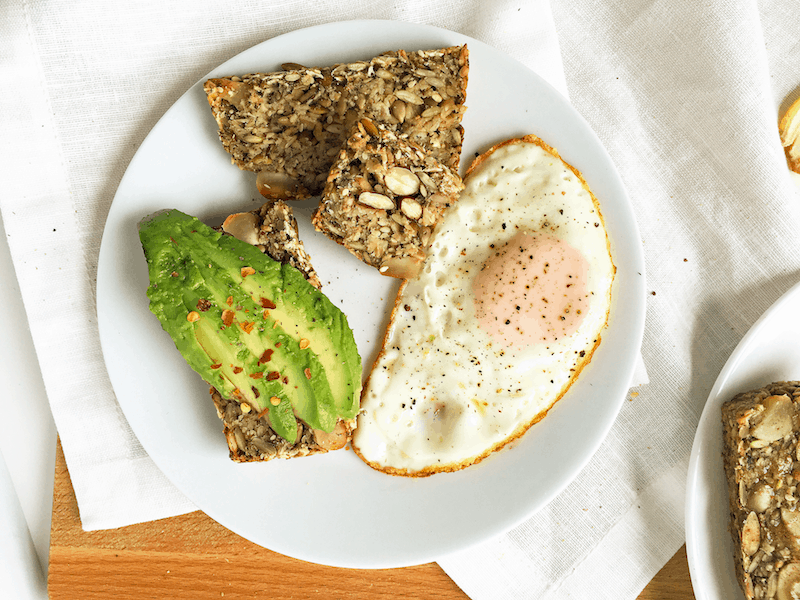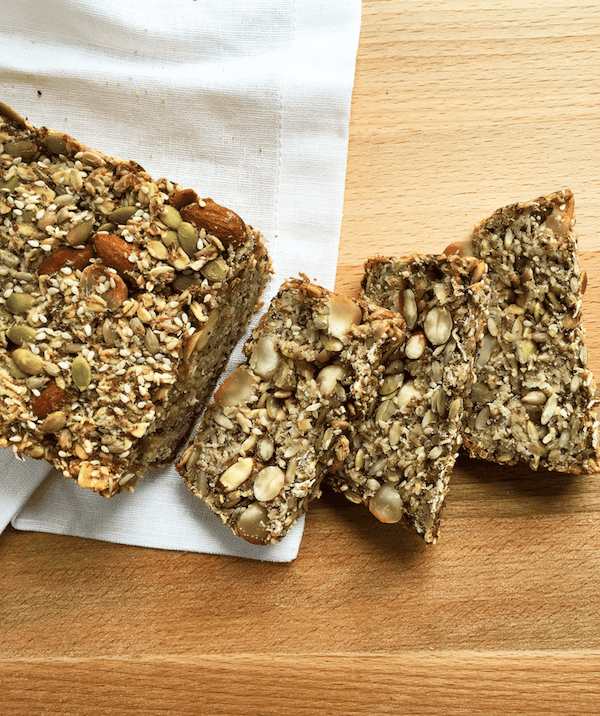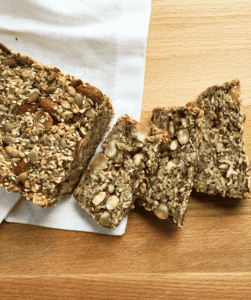 Healthy Seed and Nut Bread (gluten free + vegan)
Adapted from
My New Roots
Healthy Seed and Nut Bread - one mixing bowl, whole grain, gluten free, no-knead, good-for-you bread - loaded with seeds, nuts, and grains. (gluten free + vegan)
Ingredients
1 1/2

cups

/ 145 g Rolled Oats

1/2

cup

/ 70 g Raw Pumpkin Seeds

1/2

cup

/ 70 g Raw Sunflower Seeds

1/2

cup

/ 55 g Raw Hazelnuts

Filberts

1/4

cup

/ 35 g Raw Almonds

1/3

cup

/ 50 g Sesame Seeds

1/4

cup

/ 20 g Ground Flaxseed Meal

2

tbsp

Chia Seeds

3

tbsp

Whole Psyllium Husks *

1 1/2

tsp

salt

2

tbsp

Maple Syrup

3

tbsp

Melted Coconut Oil

1 1/2

cups

/ 350 ml water
Instructions
In a large bowl, combine all dry ingredients, stirring well.

In a small bowl, whisk maple syrup, coconut oil, and water.

Add wet ingredients to dry and mix very well until everything is completely soaked. (If the dough is too thick to stir, add 1 or 2 more tbsp of water)

Transfer mixture to a loaf pan )greased and lined with parchment paper). Smooth out the top and let sit out on counter for at least 2 hours or overnight.

Preheat oven to 375 degrees F.

Place loaf pan in the oven and bake 20 minutes. After 20 minutes, remove bread from loaf pan and place it upside down directly on oven rack. Bake another 30-40 minutes.

Let bread cool completely before slicing.
Notes
* Psyllium husks are sold in the natural section of grocery stores, in health food stores, or online.
Bread can be stored in an air tight container for up to 5 days. You can also slice the bread and freeze it for an easy toast!
Nutrition
Serving:
1
/1
Calories:
247
kcal
Carbohydrates:
15
g
Protein:
8
g
Fat:
18
g
Saturated Fat:
5
g
Sodium:
250
mg
Fiber:
5
g
Sugar:
3
g
Tried this recipe?
Let us know how it was and tag @bakedambrosia on Instagram