Sweet Potato Hash with Poached Eggs
Hearty Sweet Potato Hash with Caramelized Onions, Sausage, Feta, and Poached Eggs. A one-skillet meal that can be enjoyed for breakfast, lunch, or dinner.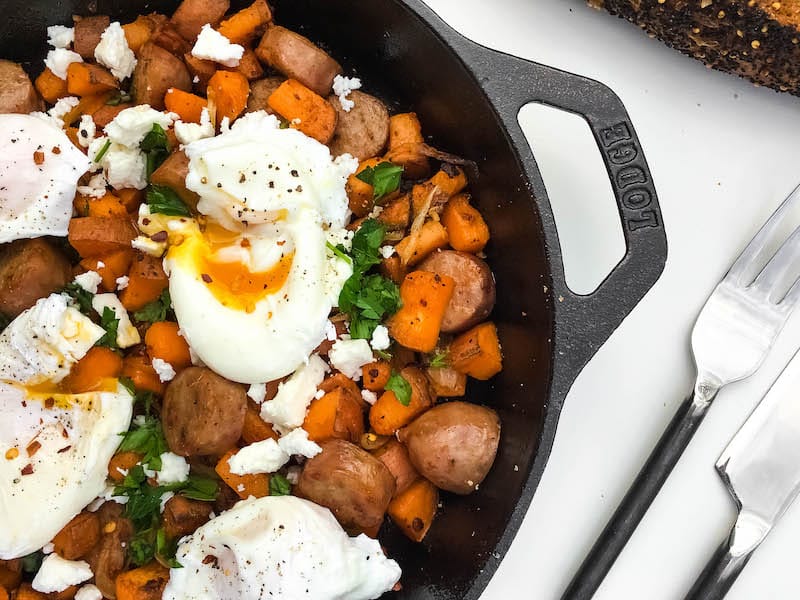 For some people, breakfast is the best meal of their day. A morning ritual that they can't function without. I even know some people that the mere thought of eating breakfast is the only thing that gets them out of bed in the morning.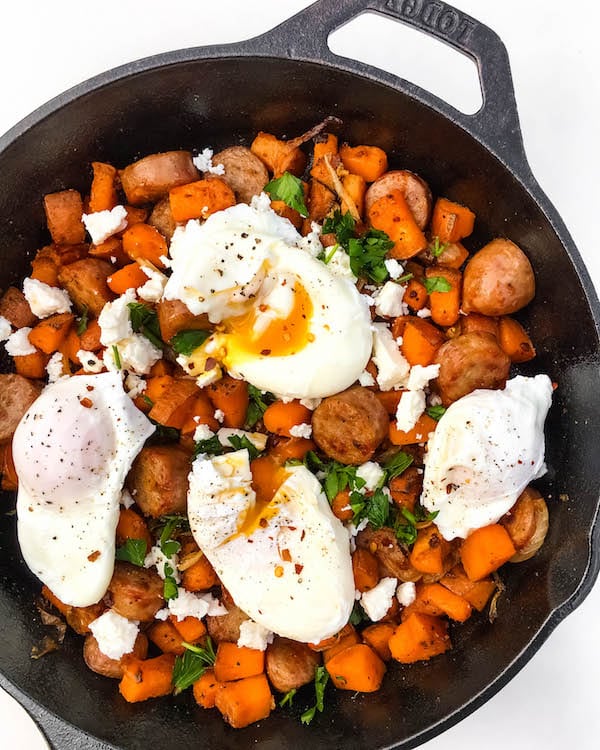 Me? I'm just not a breakfast person. Never was. Sorry. I can't even think of shoving anything in my mouth first thing the morning. At least not until I've had my 2 cups of coffee first. Then we can begin to talk. And by that time it's closer to brunch than breakfast.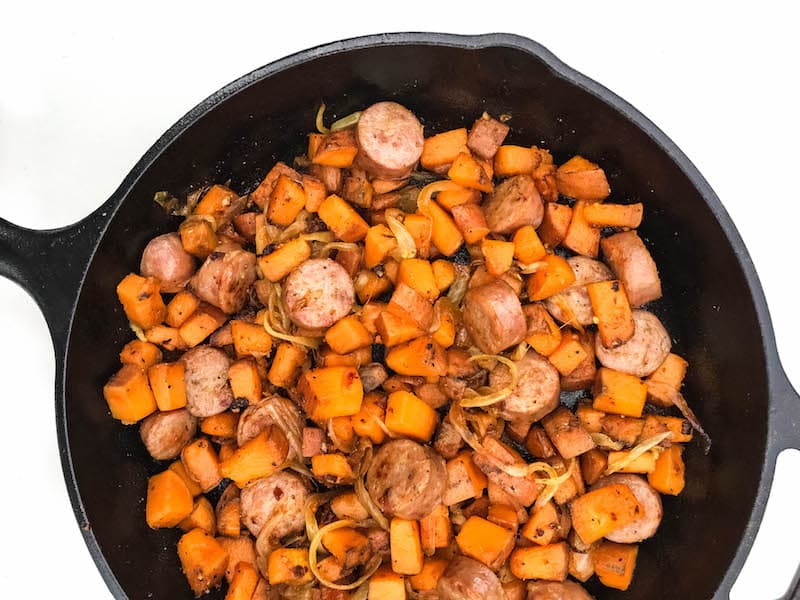 I do however love breakfast food. So much, that my lunch is usually breakfast. And breakfast for dinner? One of my absolute favorites.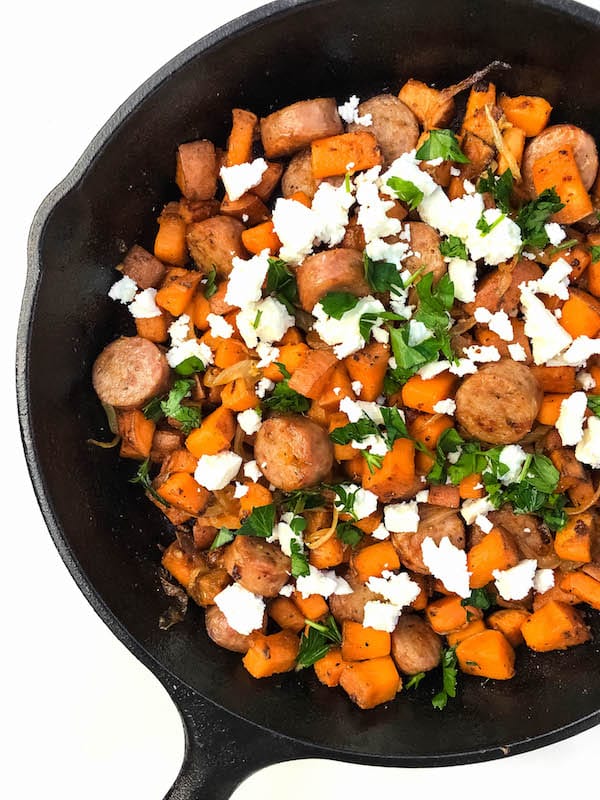 There are so many options for breakfast – fluffy pancakes, waffles, cereal, eggs, bacon, bagels, muffins, donuts, fruit, yogurt, oatmeal, toast …. Do you see where I'm going with this? The options are pretty much endless.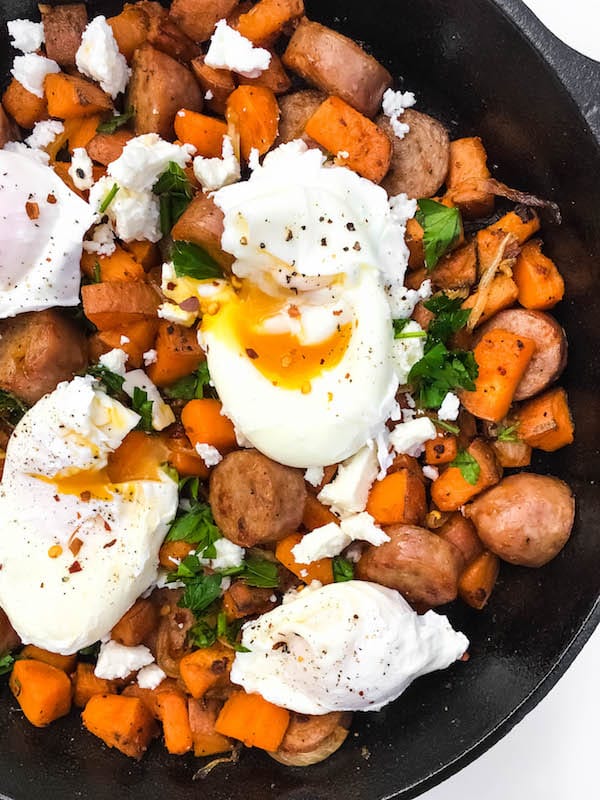 Except, some things are just not meant to be eaten in the morning. Side story: My cousin lived at my house for a few months and he would eat leftovers from the night before for breakfast because he "doesn't like breakfast food". I would catch him warming up a bowl of chili, or a plate of lasagna at 7 o'clock in the morning. One time I caught him eating a giant plate of basmati rice with chicken curry. Seriously.
The thing with breakfast is that it can be enjoyed pretty much anytime. My boyfriend lives for his nightly 2 AM giant bowl of Honey Nut Cheerios. But dinner for breakfast? No thanks!
Anyway, let's talk about this recipe. Sweet potatoes with caramelized onions and sausage. Topped with poached eggs and cheese. It doesn't get much better.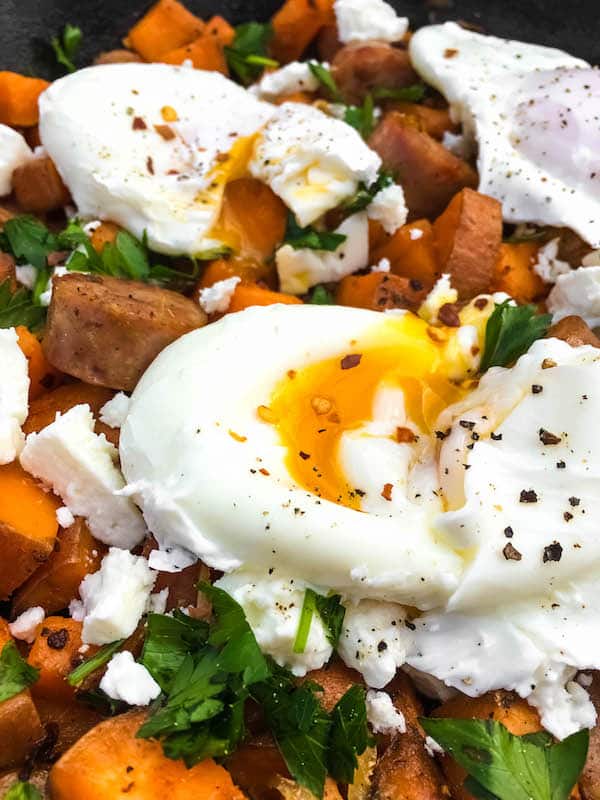 This dish can be made for any meal and can even be semi-prepared in advance. You can use leftover sweet potatoes for a faster cooking time. Or you can cook the onions, potatoes, and sausage the night before so that the only thing you have to do in the morning is reheat them on the skillet and cook the eggs.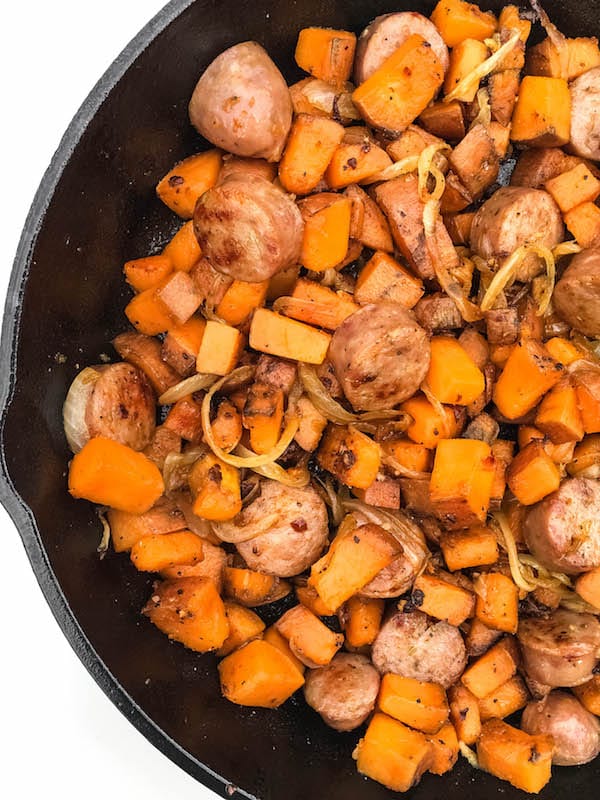 If you are making this hash right away, make sure you finely dice the sweet potatoes (¼ – ½ inch cubes). Cutting them too big will increase the cooking time tremendously. Trust me, I learned my lesson the hard way.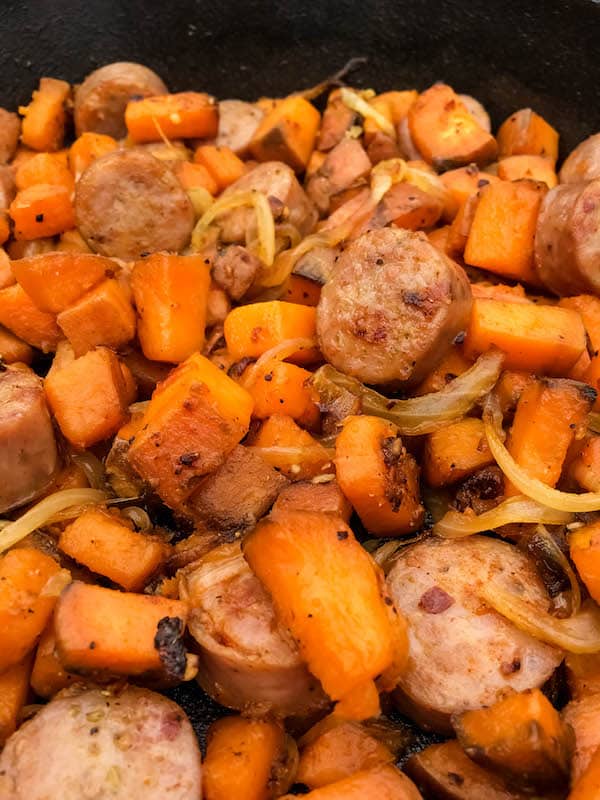 Caramelizing the onions adds a nice sweet touch and hearty flavor to the dish. I used all-natural sweet Italian chicken sausage, but you can certainly use any type you prefer.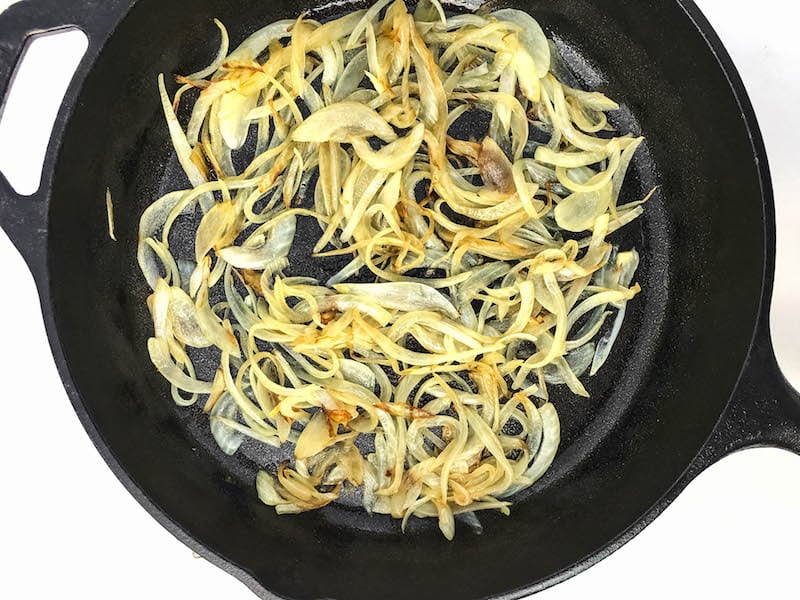 I topped the sweet potato hash with feta cheese. If you know me, you know that I DO NOT eat feta (I know, not very Greek of me, but it is what it is) but it actually works perfectly in this recipe.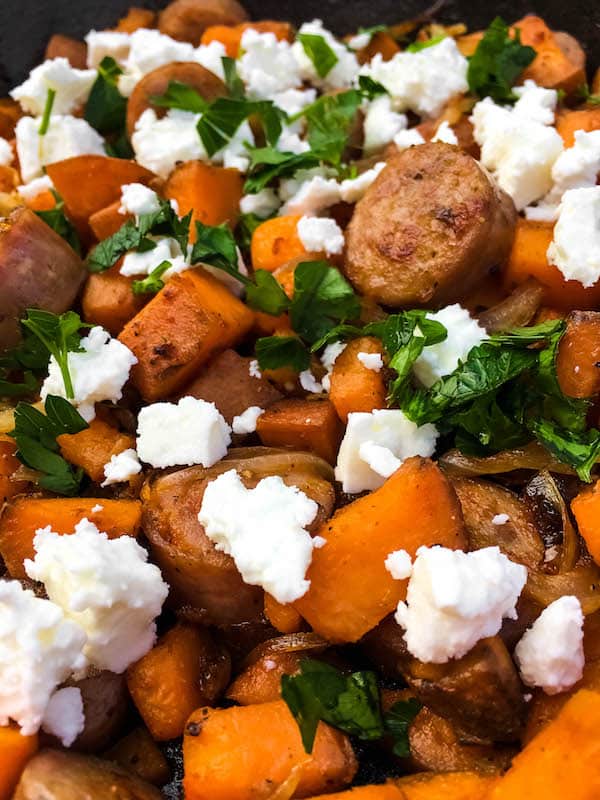 The poached eggs bring this whole meal together. I mean, is there anything more beautiful than watching a runny yolk slowly flow out all over the hash? I used Vital Farms eggs. They have the most vibrant orange yolks!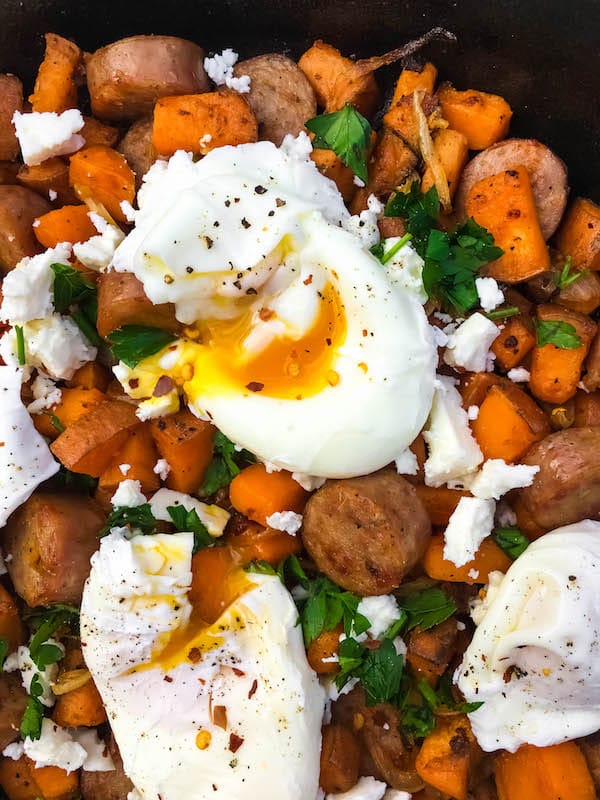 A warm slice of toast and you are ready to dig in!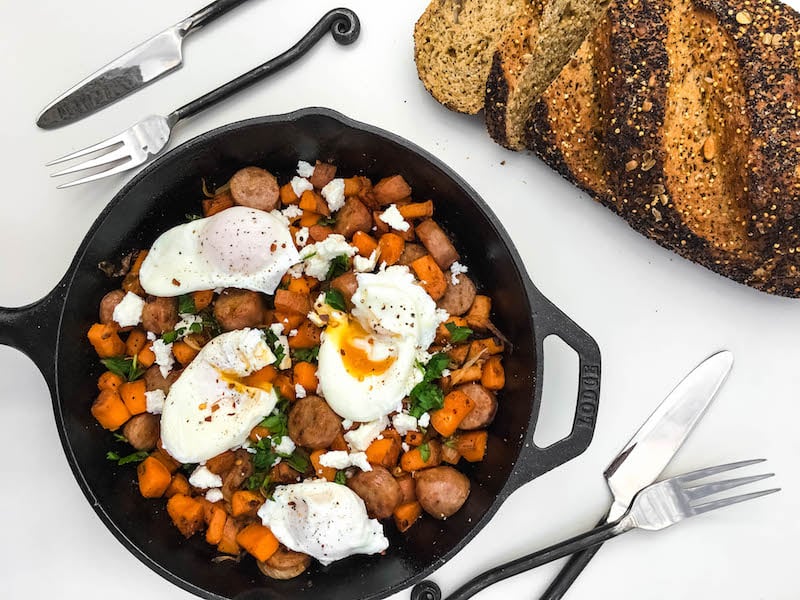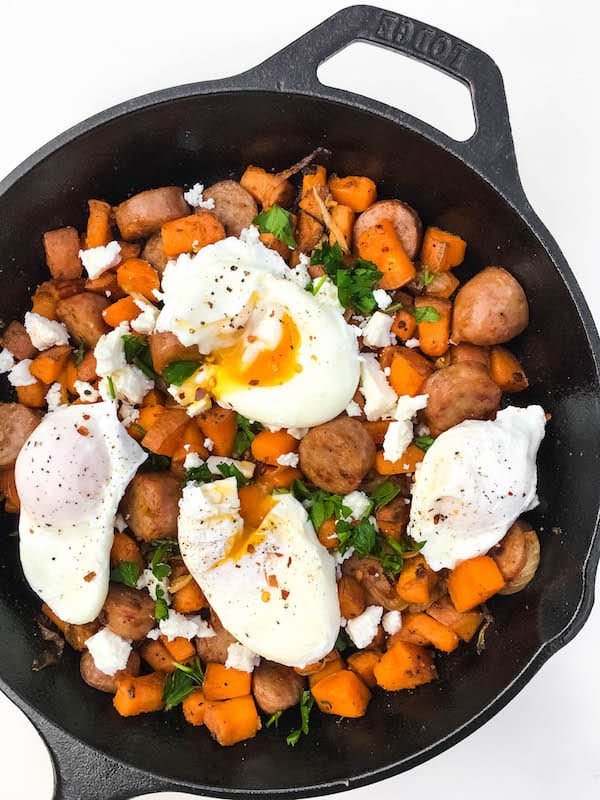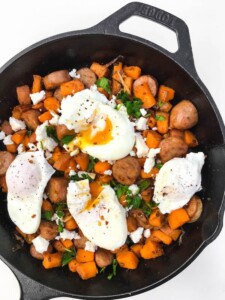 Sweet Potato Hash with caramelized Onions, Sausage, Feta, and Poached Eggs
Hearty Sweet Potato Hash with Caramelized Onions, Sausage, Feta, and Poached Eggs. A one skillet dish that can be enjoyed for breakfast, lunch, or dinner.
Ingredients
1

small yellow onion

thinly sliced

1

tbsp

olive oil

2

sausage links

I used Sweet Italian Chicken Sausage

2

medium sweet potatoes

diced in ¼ - ½ inch cubes

3

cloves

garlic

minced

1/4

tsp

red pepper flakes

1

tsp

no salt seasoning

1/2

tsp

paprika

salt and pepper

to taste

2

tbsp

chopped parsley

1/2

cup

crumbled feta
Instructions
Heat olive oil in a skillet over low heat. Add onions and let caramelize, stirring occasionally. About 10-12 minutes. Remove onions from skillet and set aside. Increase heat to medium.

Cut sausage links into bite size pieces. Add sausage pieces to skillet and cook through. Remove from skillet and set aside.

Add diced sweet potatoes to skilled. Add 2 tbsp of water and immediately cover to steam potatoes. After 3 minutes, remove lid and stir sweet potatoes. Continue cooking until sweet potatoes are cooked and have a light brown crust. Stir in garlic, red pepper flakes, and seasonings to sweet potatoes. Cook another minute. Stir in caramelized onions and sausage. Remove from heat.

While potatoes are cooking, bring a medium size pot of water to a boil. Once boiling, reduce heat to a simmer. Crack one egg into a small bowl. Carefully drop the egg into the simmering water. Let cook for 3 minutes. Remove poached egg from water with a slotted spoon. Place egg on a paper towel lined plate to soak up excess water. Repeat with remaining eggs.

Sprinkle parsley and crumbled feta over sweet potatoes. Top with poached eggs.

Enjoy warm!
Tried this recipe?
Let us know how it was and tag @bakedambrosia on Instagram