Are you looking for a show-stopping dessert to bring to your holiday gatherings this year? Look no further than this delicious white chocolate cheesecake with cranberry topping. Not only is it visually stunning with its bright red cranberry sauce, but it also combines the creamy richness of white chocolate with the tangy sweetness of cranberries for a flavor combination that is sure to please. Plus, with its easy-to-follow recipe and minimal prep time, you can have this decadent dessert ready to serve in no time.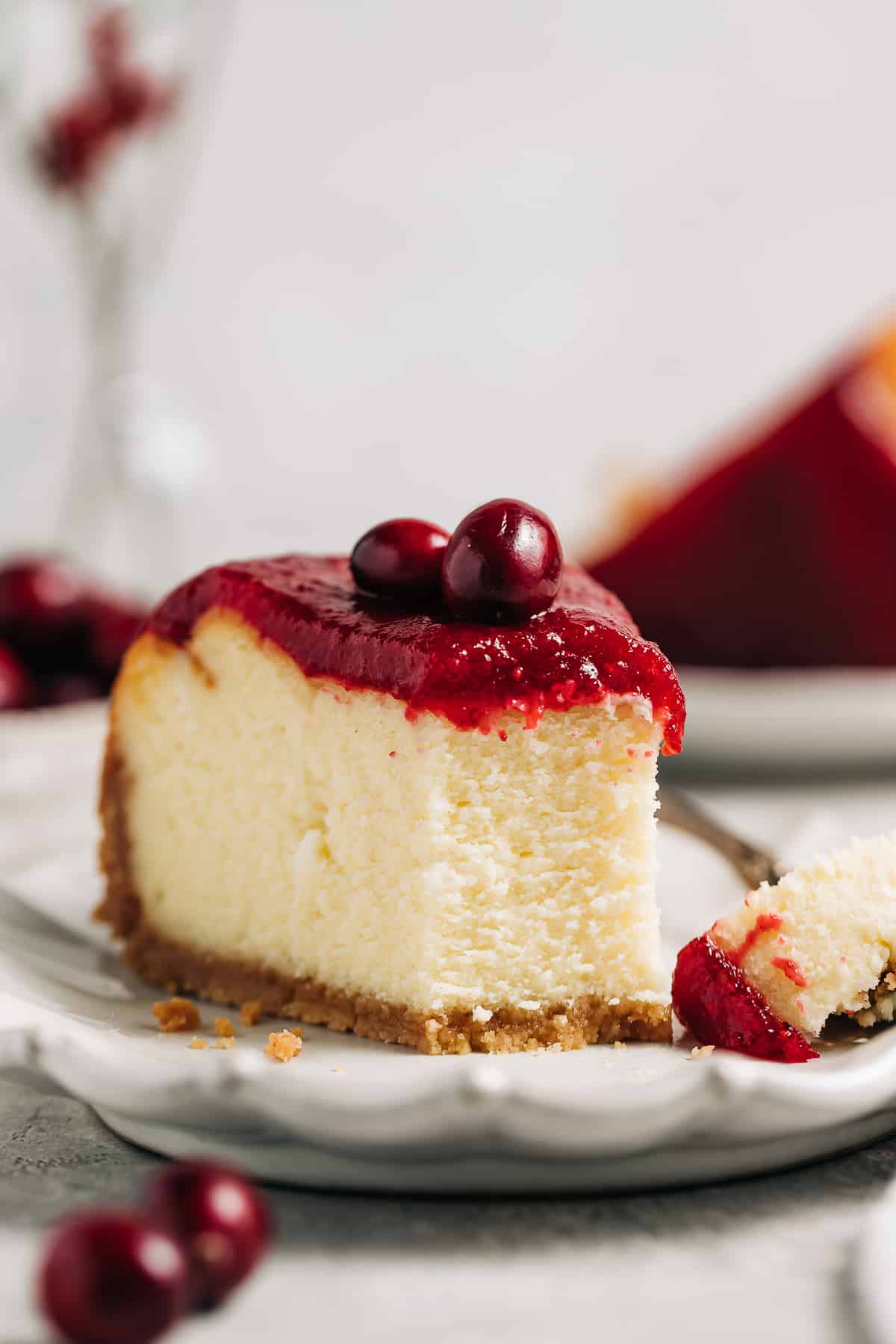 This white chocolate cheesecake with cranberry topping is the perfect indulgent treat for your holiday celebrations. The combination of creamy white chocolate and tangy cranberry sauce is sure to delight your taste buds, and the simple recipe means you can have this show-stopping dessert ready to serve in no time. Give it a try and bring a touch of festivity to your dessert spread this holiday season.
Why You'll Love this Recipe
It's a show-stopping dessert that is sure to impress at any holiday gathering.
The combination of creamy white chocolate and tangy cranberry sauce is deliciously festive and indulgent.
It can be made in advance and chilled overnight in the refrigerator, making it a perfect make-ahead option.
It's a versatile recipe that can be made gluten free.
It's a delicious way to indulge in the rich, creamy flavors of white chocolate.
How to Make White Chocolate Raspberry Cheesecake
*scroll down for full recipe ingredients and directions
To start, you'll need to make the crust. Crush up the vanilla sandwich cookies and mix them with melted butter until they are well combined. Press the mixture into the bottom of a springform pan and bake.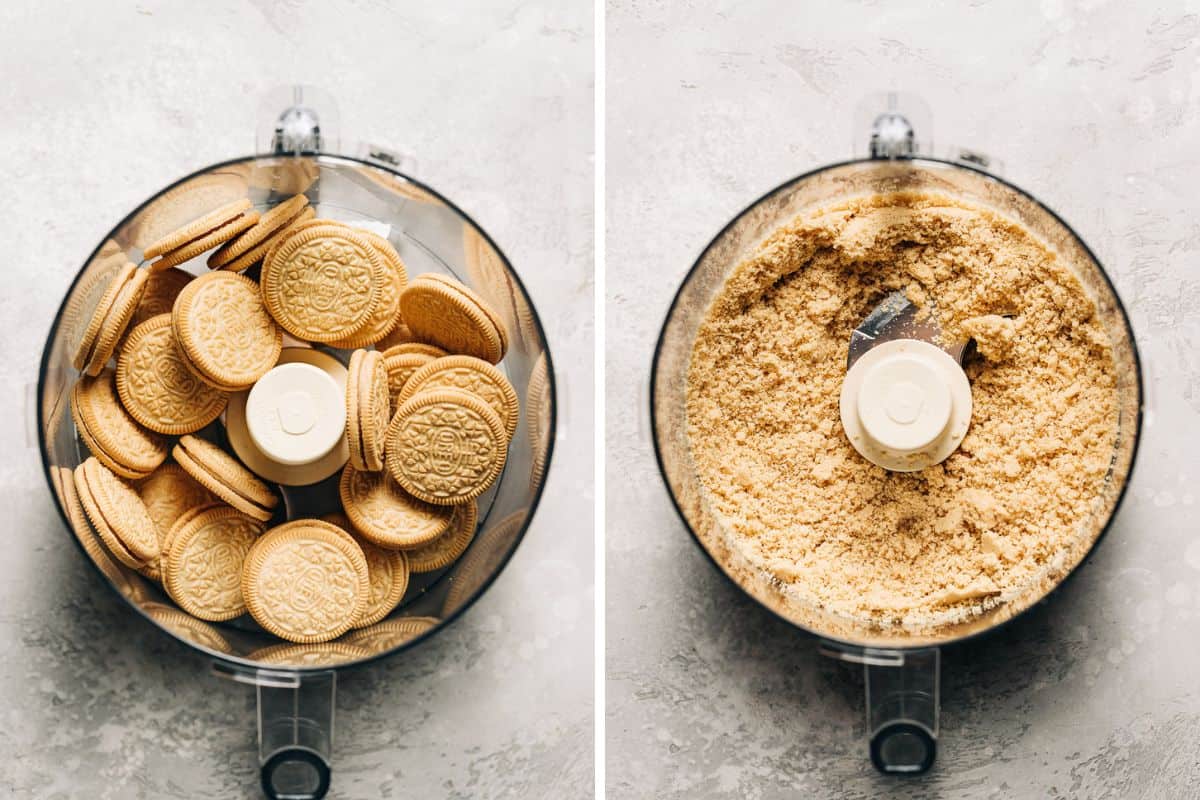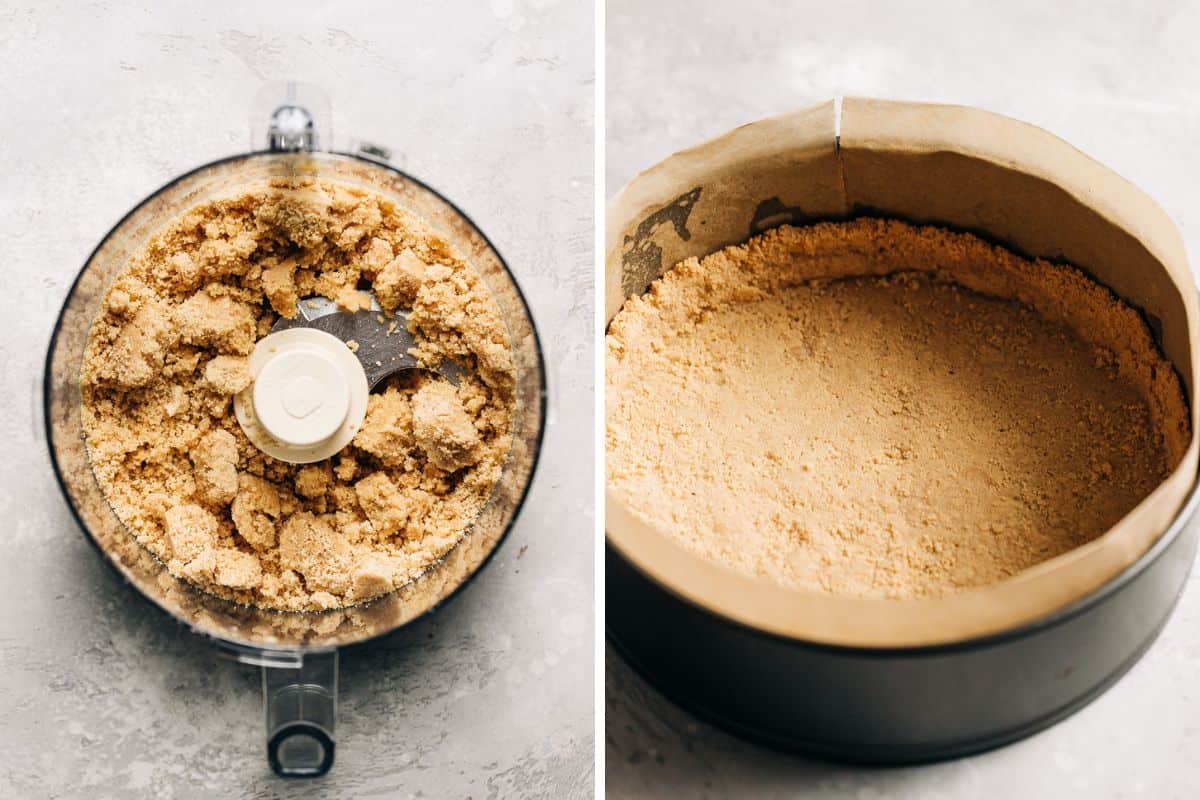 Next, it's time to make the filling. Melt the white chocolate.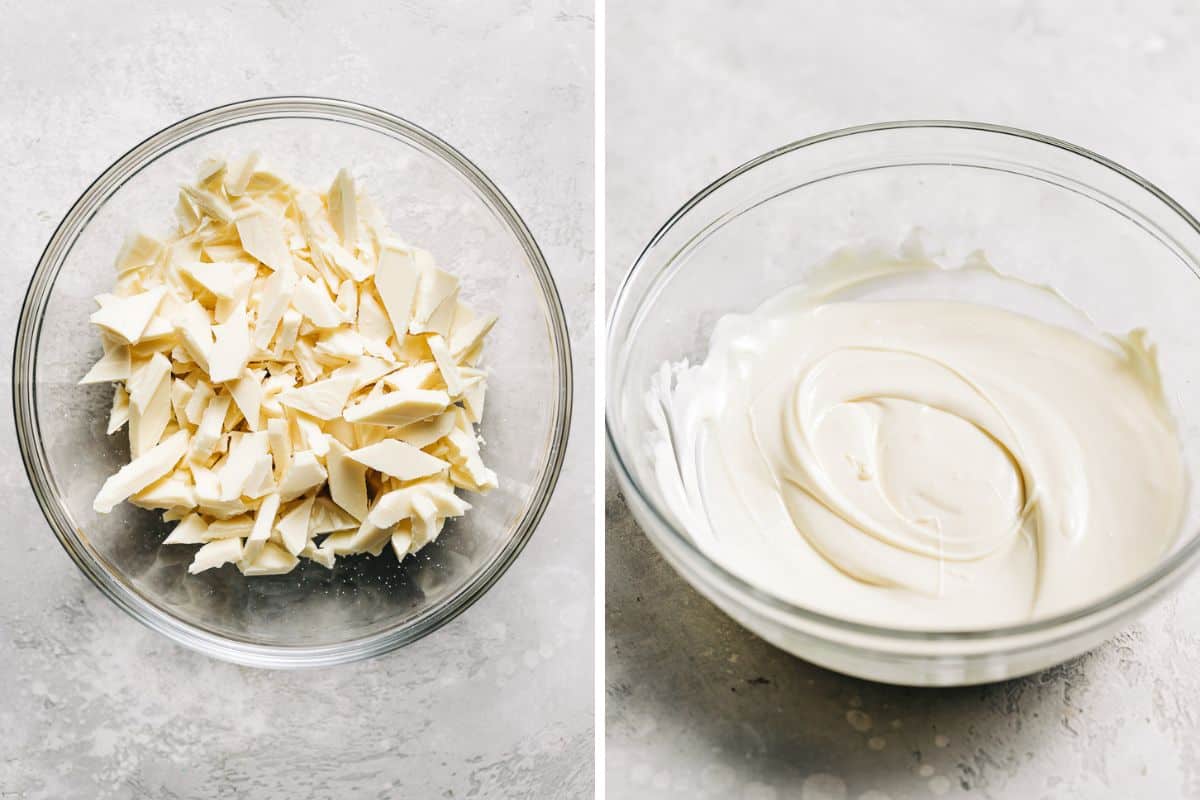 Then, beat together cream cheese, sugar, and flour until smooth.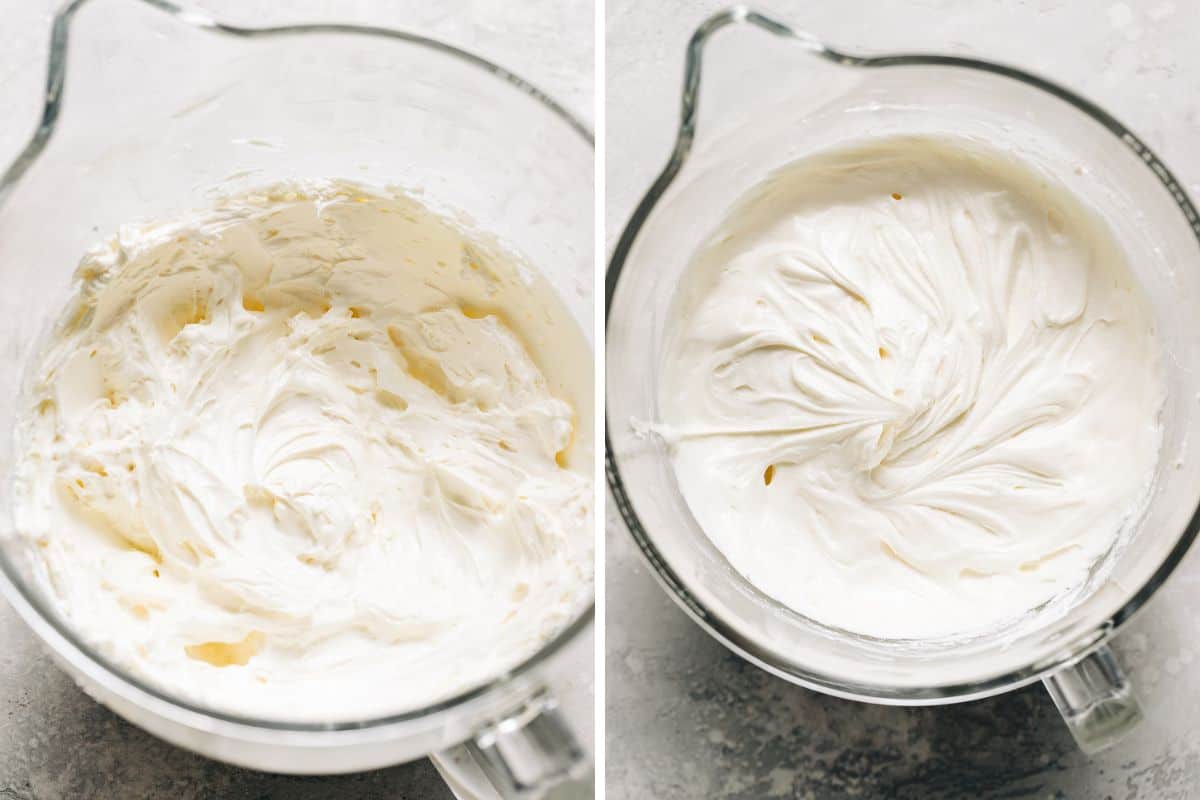 Add in eggs, yolk, vanilla extract, melted white chocolate, and heavy cream. Mix until well combined. Pour the filling over the crust and smooth the top with a spatula.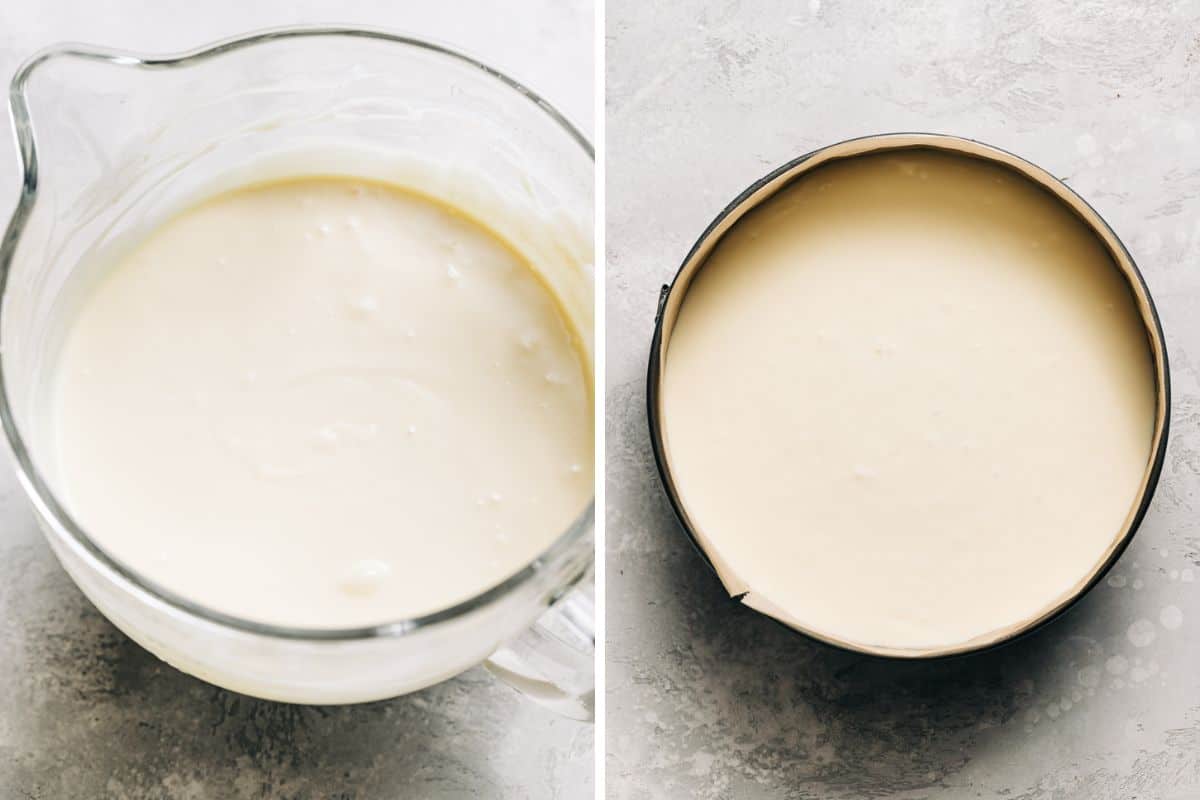 Bake the cheesecake. While the cheesecake is cooling, you can prepare the cranberry topping. Combine cranberries and cornstarch in a food processor.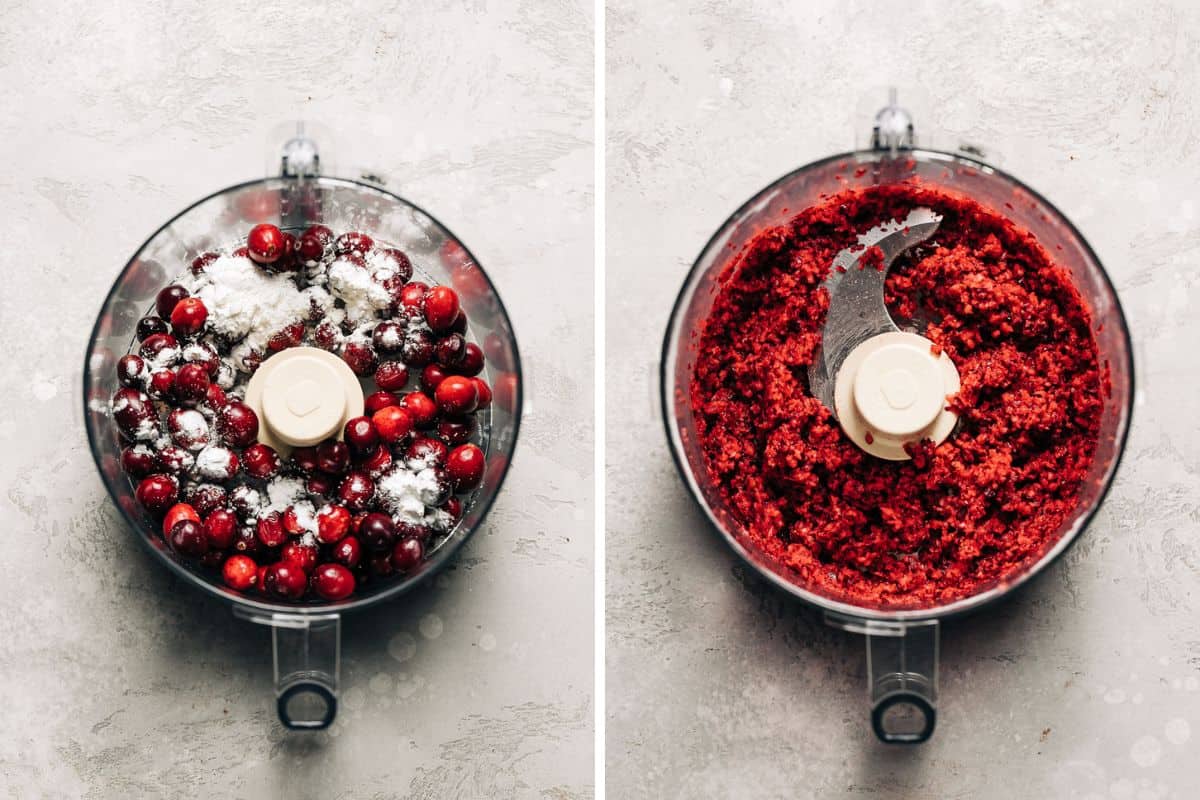 Transfer to a saucepan and add sugar and water. Bring to a boil. Reduce the heat and simmer for about 10 minutes, or until the mixture has thickened. Process in the food processor until smooth.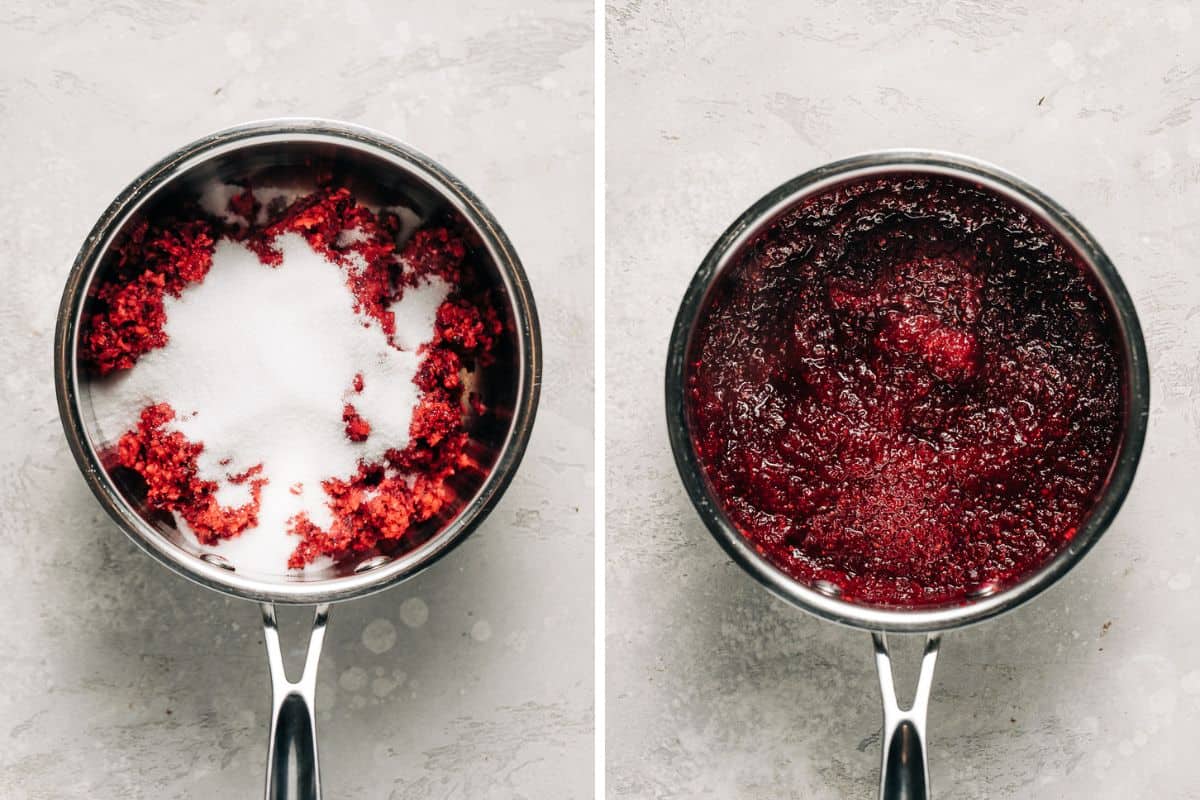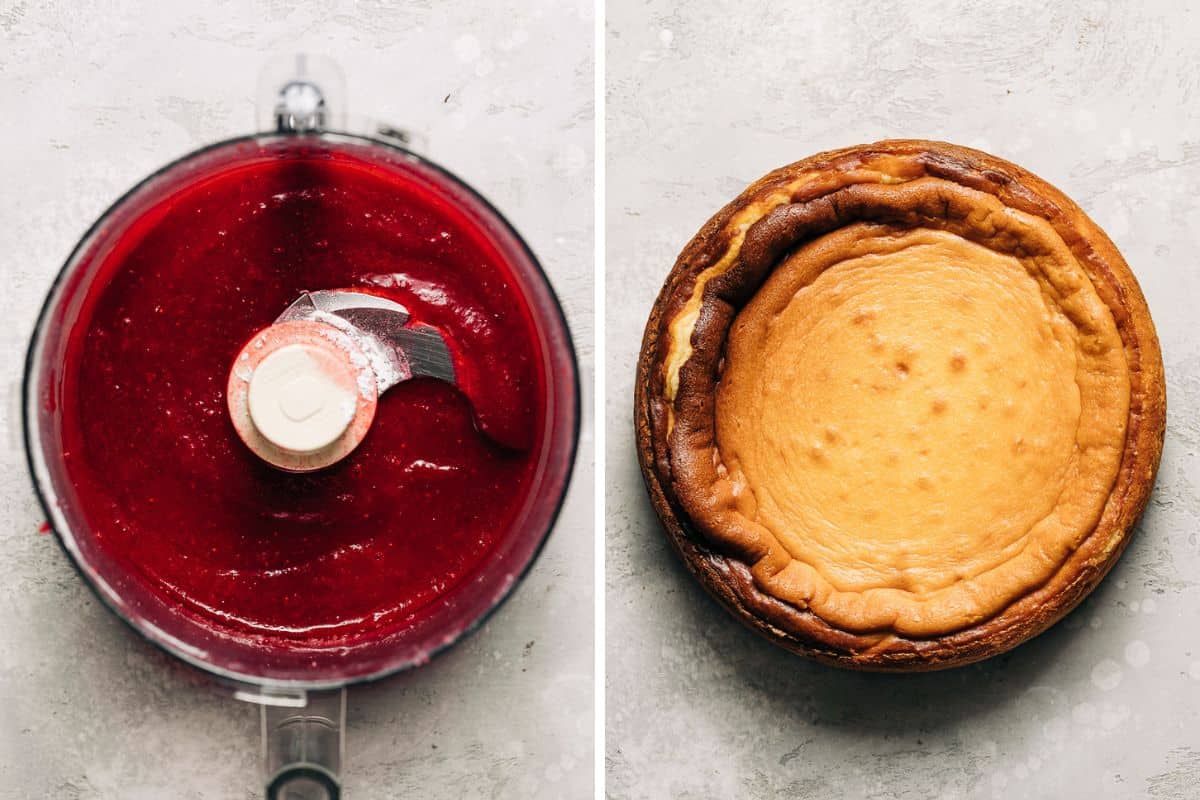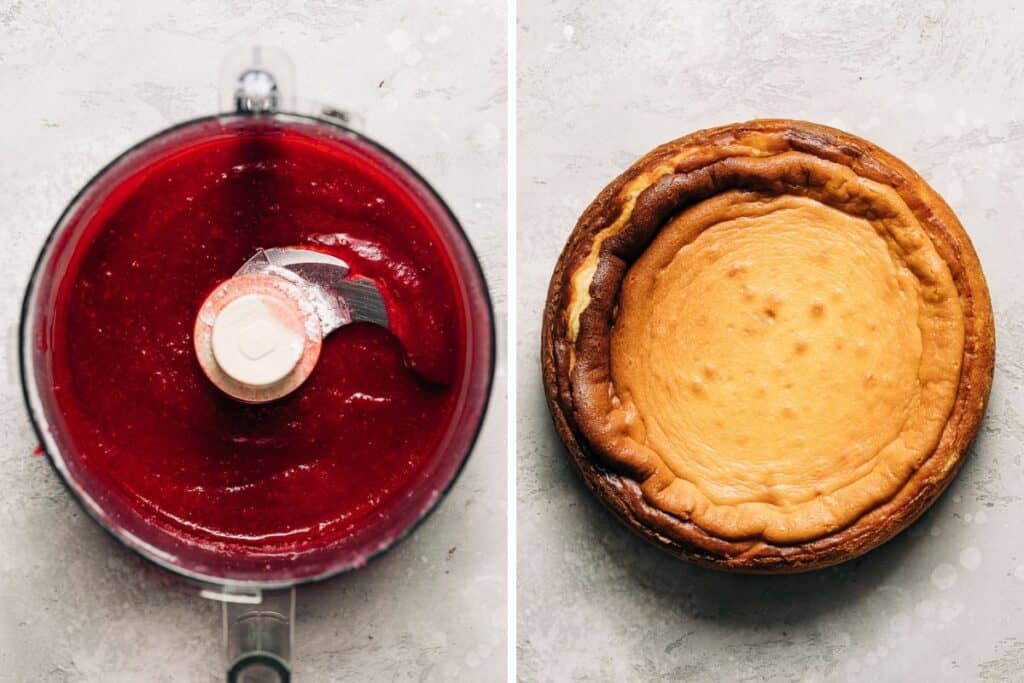 Allow the cranberry topping to cool before spreading it over the top of the cheesecake.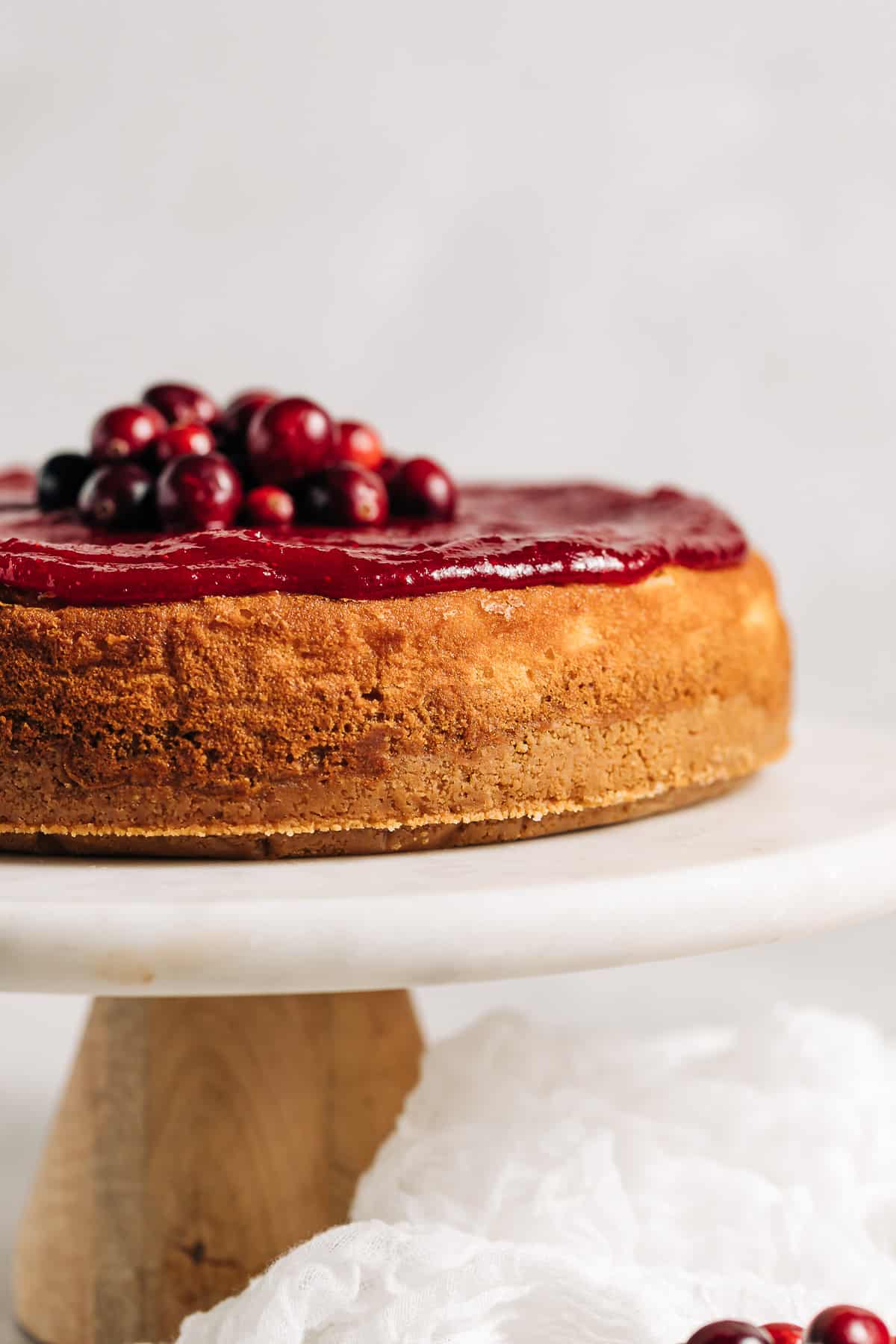 Expert Tips
Use high-quality white chocolate: The flavor of your cheesecake will be largely determined by the quality of the chocolate you use. Be sure to use a high-quality white chocolate that is smooth and creamy.
Soften the cream cheese properly: To ensure a smooth and creamy cheesecake filling, be sure to soften the cream cheese to room temperature before mixing. If the cream cheese is too cold, it will be difficult to mix and could result in a lumpy cheesecake.
Melt the white chocolate carefully: When melting the white chocolate, be sure to do so slowly and over low heat. White chocolate is prone to burning, so it's important to take your time and be patient. Alternatively, you can melt the white chocolate in the microwave using short bursts of heat, stirring well between each burst.
Don't over-bake the cheesecake: It's important to not over-bake the cheesecake, as it will continue to set as it cools. The cheesecake is done when the center is set but still slightly jiggly.
Cool and chill the cheesecake properly: Allow the cheesecake to cool to room temperature before refrigerating it. This will help prevent the cheesecake from cracking as it chills. It's best to refrigerate the cheesecake for at least 4 hours or overnight to allow it to set up properly.
Use a hot knife to slice the cheesecake: To get clean, even slices of cheesecake, be sure to use a hot knife. Simply run a knife under hot water and dry it off before slicing through the cheesecake. This will help the knife glide through the cheesecake smoothly and prevent the cheesecake from crumbling.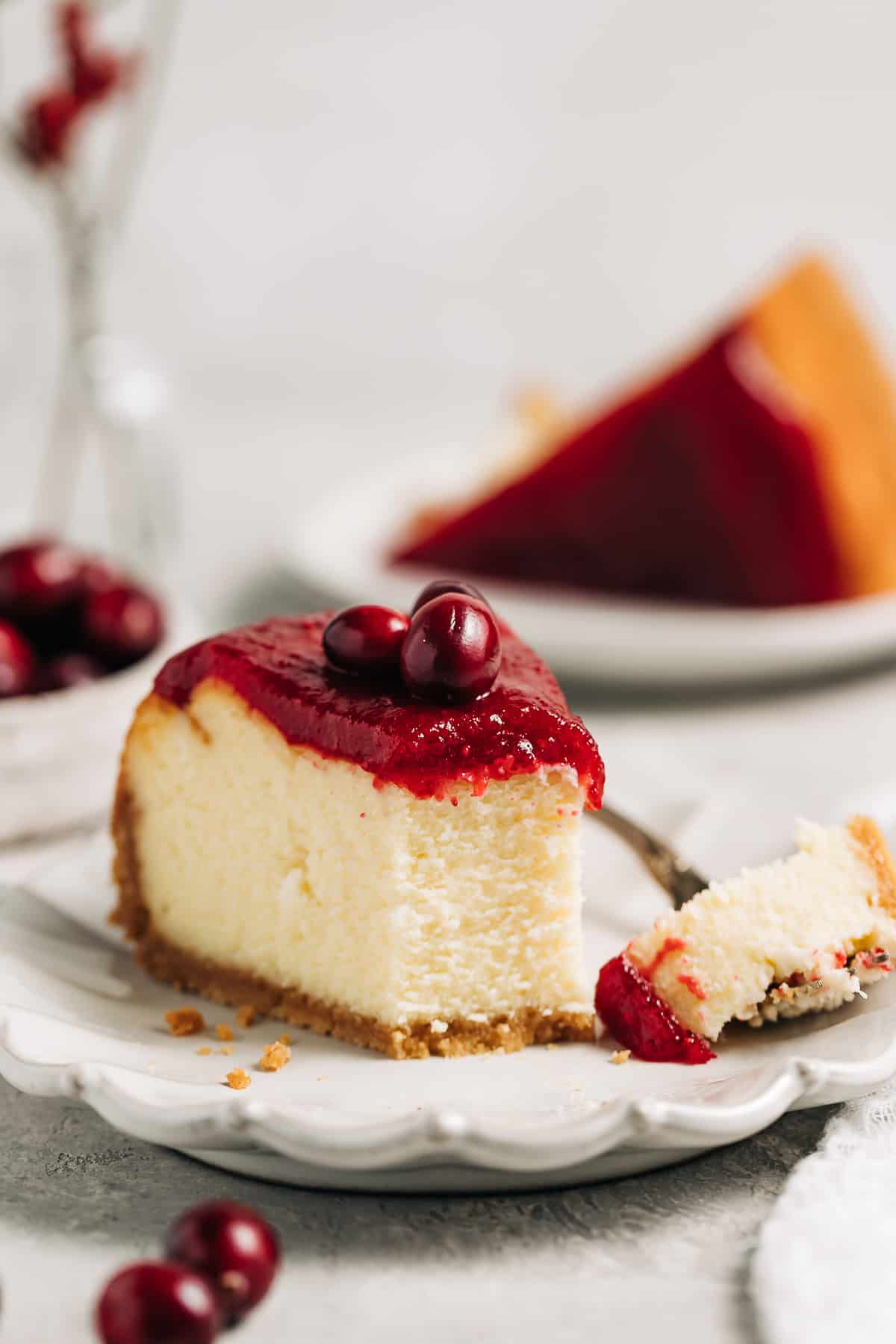 Frequently Asked Questions
Can I use crunchy peanut butter instead of creamy?
It's possible to use crunchy peanut butter, but it may make the cookies more crumbly and change the texture. Creamy peanut butter is recommended for the best texture and consistency.
What kind of peanut butter should I bake with?
I tested this cookie recipe with a few different varieties of peanut butter, and found that natural creamy peanut butter produces the best results. When choosing a peanut butter to bake with, make sure that the only ingredient listed on the back is peanuts. Avoid peanut butters with added ingredients like sugars, stabilizers, and oil. Unsalted peanut butter is ideal for baking, so that you can control how much salt goes into your recipe. You don't want to end up with salty cookies!
Can I make the cookies gluten-free?
You can use gluten-free all-purpose baking flour in place of regular flour.
Can I make the cookie dough in advance?
You can make the dough and store it in the fridge for up to 3 days, or in the freezer for up to 3 months. If you're freezing the cookie dough, use a cookie scoop to form cookies, and then freeze the cookie dough balls in a freezer safe container.
Can I use other nuts instead of peanut butter?
You can try using other types of nut butter like almond butter or cashew butter, but it will change the flavor of the cookies. Keep in mind that the texture may also be affected.
If you make this recipe, take a photo and tag #bakedambrosia on Instagram and Facebook so that I can see your creations and feature them on Instagram! To stay up to date with the latest recipes, follow Baked Ambrosia on Pinterest, Facebook, Instagram, and Youtube. ♡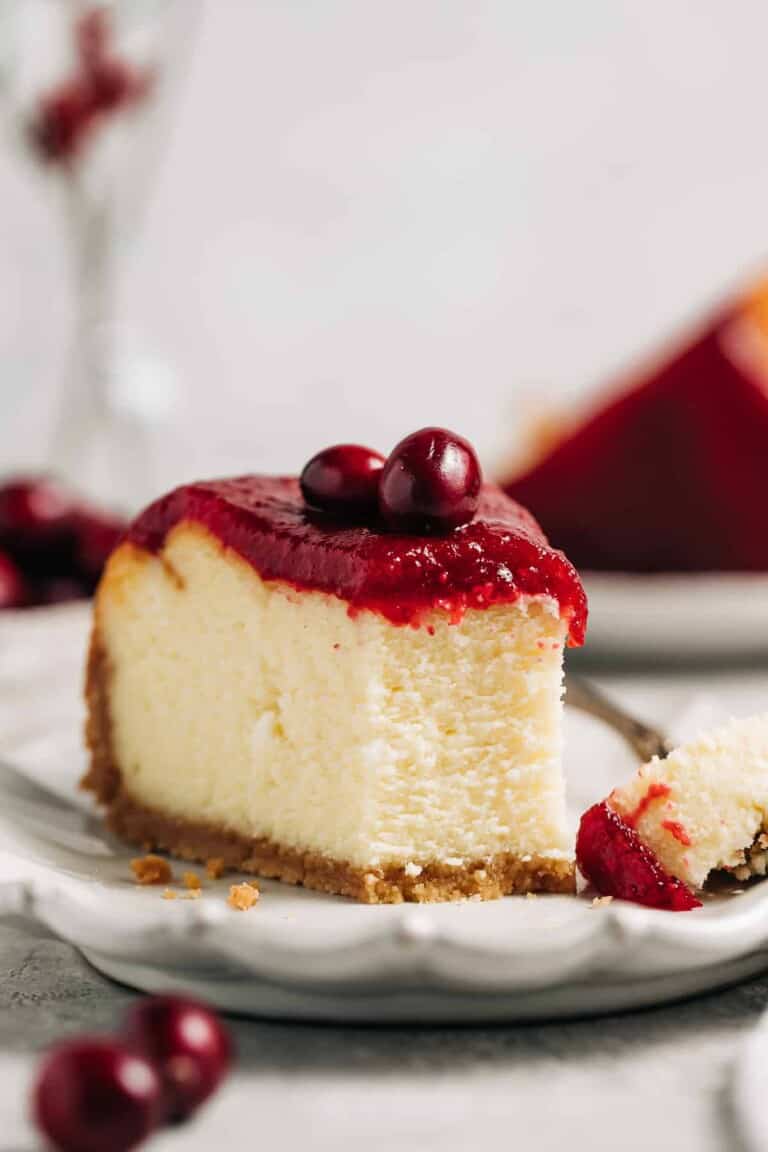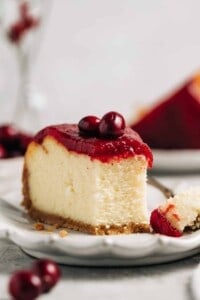 White Chocolate Cranberry Cheesecake
This delicious white chocolate cranberry cheesecake combines the creamy richness of white chocolate with the tangy sweetness of cranberries for a flavor combination that is sure to delight. The easy-to-follow recipe and minimal prep time make it the perfect indulgent treat for your holiday gatherings.
Equipment
Food processor

9-inch springform pan

Stand mixer

medium heavy bottom saucepan
Ingredients
Crust
25

vanilla sandwich cookies

¼

cup

butter

melted
White Chocolate Cheesecake
10

oz

white chocolate

24

oz

cream cheese

room temperature

1

cup

sugar

¼

cup

flour

4

eggs

1

egg yolk

1

tablespoon

vanilla extract

1

cup

heavy cream
Cranberry Topping
1

pound

cranberries

1

tablespoon

cornstarch

1

cup

sugar

½

cup

water
Instructions
Crust
Preheat oven to 350 degrees F. Lightly grease and line 9-inch springform pan with parchment paper. Set aside.

Add the vanilla sandwich cookies to a food processor and process until the consistency of sand. Transfer to a small bowl and mix with the melted butter. Evenly press the crumb mixture into the bottom and sides of a 9-inch springform pan. Use a measuring cup to firmly press the crust into an even layer.

Bake the crust in preheated oven for 8 minutes. Remove from oven and set aside.
Prepare oven
Once the crust is out of the oven, place a 9x13-inch pan on the bottom rack of your oven. Bring a large pot of water to a boil. Once the water is boiling, carefully pour the water into the pan that is in the oven. Shut the oven door.
Cheesecake
Melt the white chocolate over a double boiler. Once it is completely melted and smooth, remove it from the heat and set aside to allow it to cool slightly.

In the bowl of a stand mixer fitted with the whisk attachment, beat the cream cheese at medium-high speed for about 1 minutes, until it is smooth and creamy. Add the sugar and flour and beat until well combined (about 2-3 minutes), scraping down the sides of the bowl as needed.

Replace the whisk attachment with the paddle. Beat in the eggs and egg yolk one at a time on low speed, scraping down the bowl after each addition. Mix in the vanilla.

Add the melted white chocolate to the batter. By this time, it should have cooled slightly so it will not melt the rest of the ingredients. Mix on low speed until it is fully incorporated. Finally, mix in the heavy cream. The batter should be smooth and creamy.

Pour the cheesecake filling into the pre-baked crust. Use an offset spatula to smooth it out into an even layer. Place the springform pan on the middle rack, directly over the pan with boiling water, and bake for 1 hour 10 minutes, or until the top is set and there is a very slight jiggle in the center.

When the cheesecake is done baking, turn off the oven and allow it to cool in the oven with the oven door cracked open just a couple of inches for 1 hour. Then, transfer the cheesecake onto the kitchen counter and allow it to cool at room temperature for another hour. Once the cheesecake is at room temperature, run a knife around the edges and remove it from the springform pan. Refrigerate the cheesecake (uncovered) for at least 4 hours but preferably overnight.
Cranberry Topping
Pulse the cranberries and cornstarch in a food processor until the cranberries a roughly chopped.

Transfer to a medium heavy bottom saucepan. Add sugar and water. Bring to a boil over medium heat, then simmer for 10-15 minutes, stirring frequently. Once thickened, remove from heat and let cool for 5 minutes. Place cranberry mixture back into the food processor and process until smooth. Allow to cool completely.

Pour the cranberry sauce over the chilled cheesecake. Use a small offset spatula to spread it around. Return the cheesecake to the fridge for 15 minutes to allow the sauce to set. Once the sauce is set, slice the cheesecake and enjoy!
Notes
Storage - Cheesecake will last for about 1 week in the fridge if kept covered. You can also wrap it with plastic wrap and freeze for up to three months.
Make ahead - Cheesecake is a great make ahead dessert recipe. Since cheesecake is best when it is chilled overnight, you can bake the cheesecake a day before and keep in the refrigerator until you are ready to serve. You can also make the cheesecake up to 3 days before. Chill the cake uncovered the first night. Then, you can decorate it with the ganache, or leave it as it. Make sure to cover it with plastic wrap after the first night to prevent it from becoming dry.
Room Temperature Ingredients – When making cheesecake, you must ALWAYS make sure all of your refrigerated ingredients are at room temperature before you begin. For this recipe, that includes the cream cheese, eggs, sour cream, and stout. Room temperature ingredients will produce a smooth and uniform batter, which is key when making cheesecake. To ensure everything is at room temperature, remove the ingredients from the refrigerator and allow them to sit on the counter for at least 3 hours before beginning.
Bake the cheesecake in a moist environment - Baking the cheesecake in a moist environment will prevent it from forming any cracks. It also ensures that the cheesecake is baked evenly. I like to bake my cheesecakes directly over a roasting pan filled with boiling water. I find that this method is less messy than baking in a water bath. If you'd like to use the traditional water bath method, make sure you tightly wrap your springform pan with aluminum foil to prevent any water from seeping into the cheesecake.
Cool slowly - Once the cheesecake is baked, allow it to slowly cool to room temperature. Turn off the oven and open the door a few inches with the cheesecake still inside. Leave it there for 1 hour before transferring it to your counter to cool completely for another hour.
Nutrition
Serving:
1
slice
Calories:
843
kcal
Carbohydrates:
82
g
Protein:
11
g
Fat:
54
g
Saturated Fat:
29
g
Polyunsaturated Fat:
5
g
Monounsaturated Fat:
15
g
Trans Fat:
0.2
g
Cholesterol:
199
mg
Sodium:
426
mg
Potassium:
291
mg
Fiber:
2
g
Sugar:
64
g
Vitamin A:
1562
IU
Vitamin C:
7
mg
Calcium:
165
mg
Iron:
1
mg
Tried this recipe?
Let us know how it was and tag @bakedambrosia on Instagram