Simple Greek Grilled Chicken Rice Bowl served with a fresh and vibrant salad and delicious tzatziki!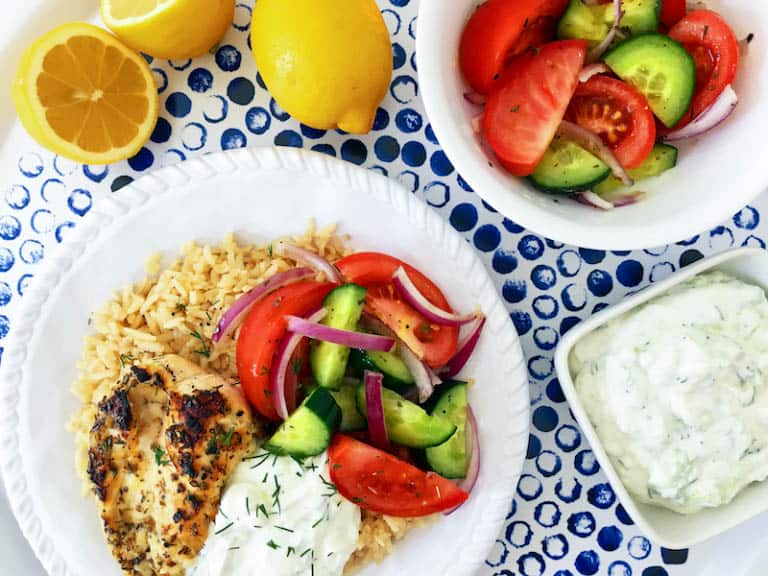 March 25th is a double holiday in Greece and for Greeks living all over the world. It is the Annunciation of Virgin Mary (Theotokos) and on this day we also celebrate Greece's independence from the Ottoman Empire.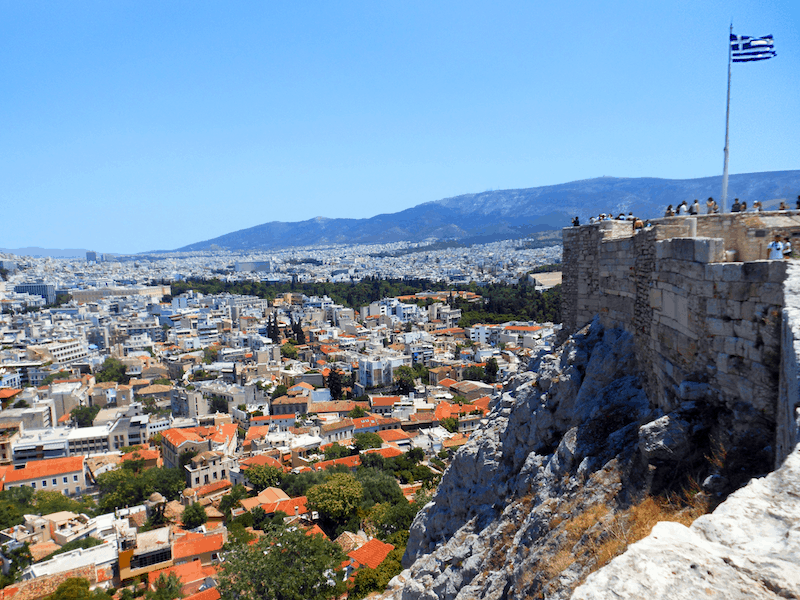 The Annunciation, or Evangelismos, is the day that the archangel Gabriel announced to Mary that she would bear the Son of God. This religious holiday coincides with a day of national pride for Greeks. In 1821, Greece began fighting for its independence after 400 years of oppressive rule by the Turks. On this day (or sometime at the end of March), Bishop Germanos of Patras raised the Greek flag on his monastery in Agia Lavras and encouraged a national uprising against the Ottoman Empire. This sent the people of Greece into a cry, "Ελευθερία ή Θάνατος (Eleftheria i Thanatos)" which translates to "Freedom or Death". The Peloponnese and soon all of Greece, from Macedonia all the way to Crete, officially proclaimed the successful war against the Ottomans.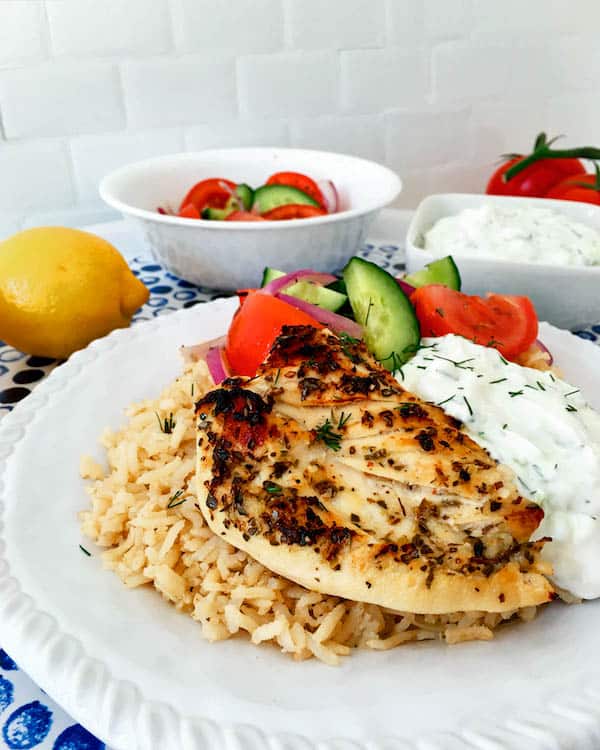 March 25th always falls during the Great Lent, when Orthodox Christians fast for almost 50 days, abstaining from all meat, fish, and dairy products. The Church made two exceptions; the fast may be broken on March 25th and Palm Sunday. During these two days, only fish may be consumed. Since only fish is allowed, Bakaliaros with Skordalia is the traditional food for March 25th. It is batter-fried salted cod served with a potato and garlic mash.

Unfortunately, I didn't have a chance to make and photograph this traditional dish in time for this special day. I still wanted to share a Greek recipe so, here is a delicious Greek Chicken Rice Bowl with Tzatziki and Salad.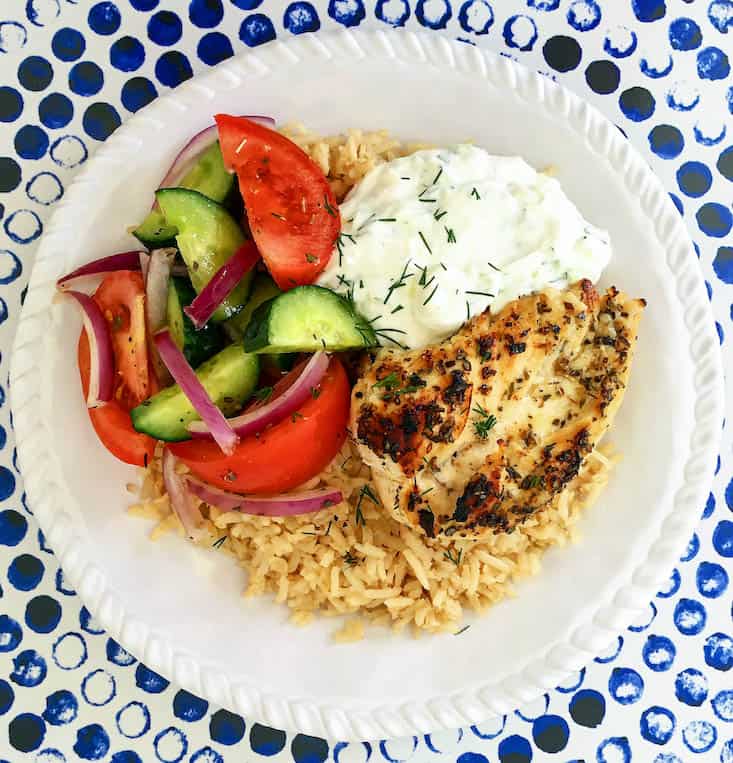 I'm a huge fan of rice bowls. They can be enjoyed as a quick weeknight dinner, or you can impress your family and friends with this beauty during a weekend dinner party. Rice bowls are also very easy to pack for a tasty lunch.
There are several components to this dish. There's the marinated chicken breast, rice, easy tzatziki, and a gorgeous tomato and cucumber salad. This light and fresh meal will make you feel as if you are vacationing in Greece, enjoying the Mediterranean sun and the relaxed Greek lifestyle.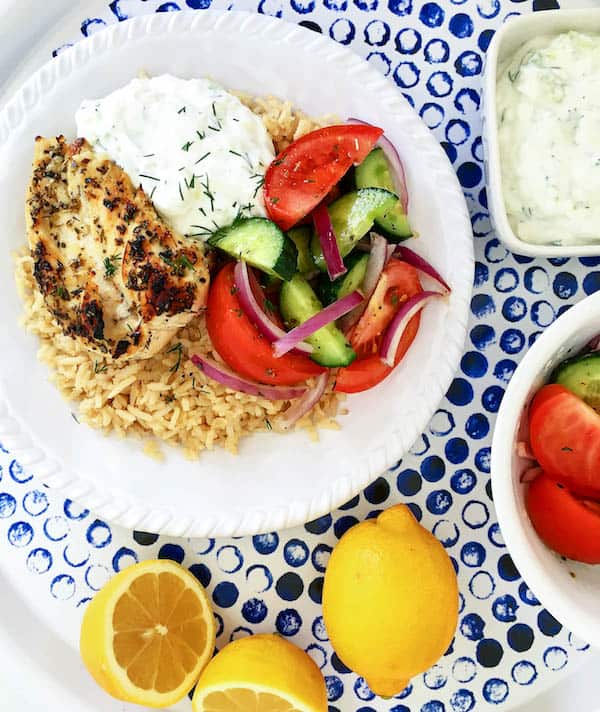 I encourage everyone to visit Greece at least once in their lifetime! Every time I visit, I fall in love all over again. It's the combination of the natural beauty, perfect weather, delicious food and drinks, and hospitality that draws me in each time. This land of rich culture, history, and warm, welcoming people will change you. When you leave, a part of Greece will always remain with you.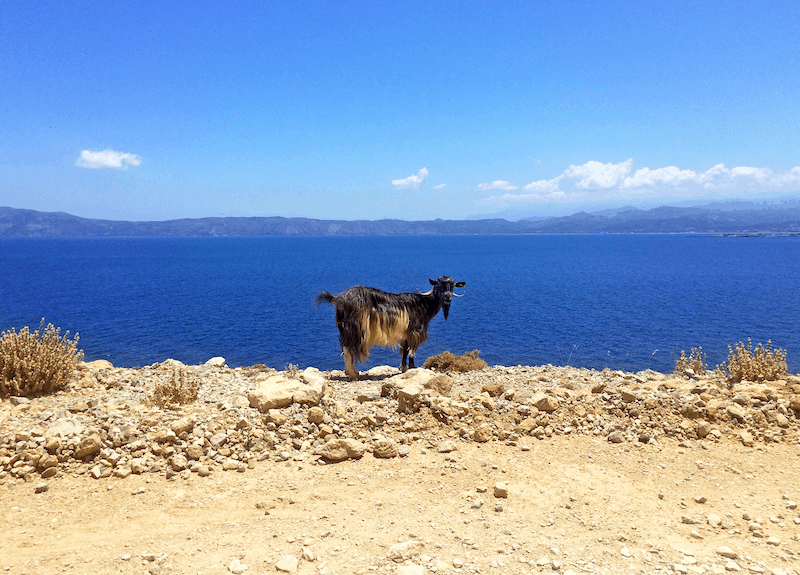 So, celebrate this day of festivities, national pride, and happiness with this Greek Chicken Rice Bowl (unless you are fasting, obviously)!
ΖΗΤΩ Η ΕΛΛΑΣ! (long live Greece!)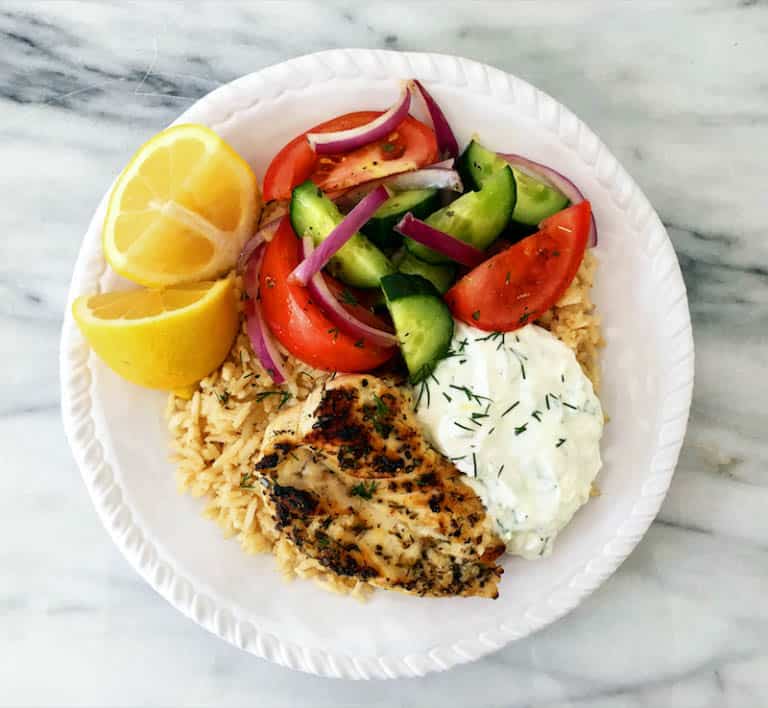 *All photos of Greece were taken by me during my visits.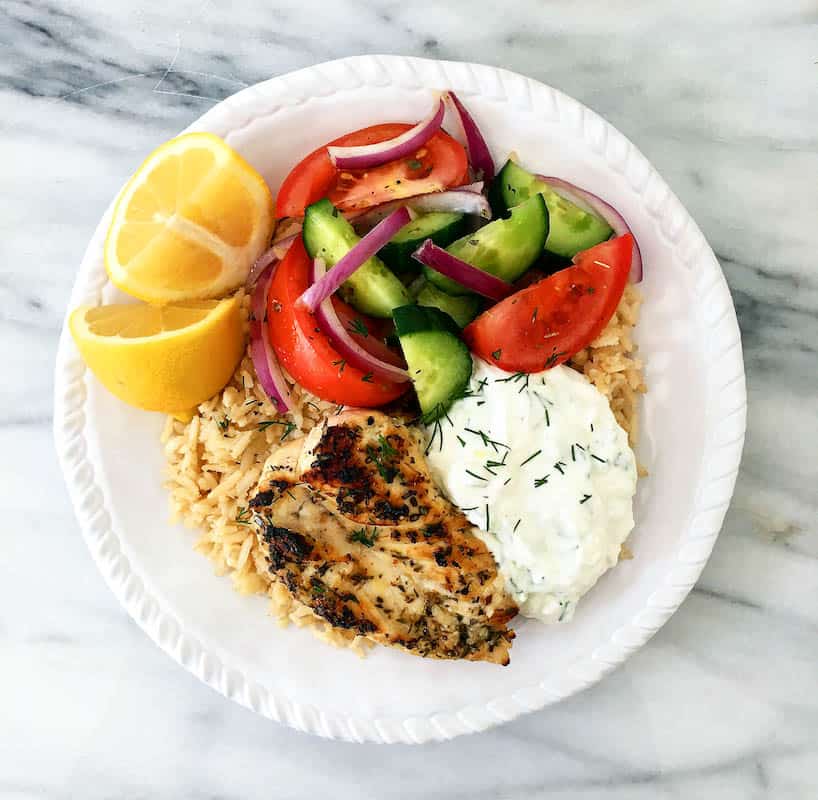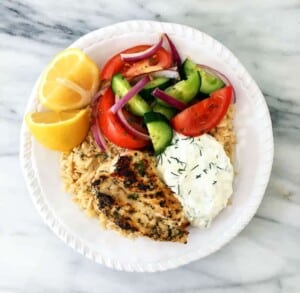 Greek Chicken Rice Bowl with Tzatziki and Salad
Ingredients
Chicken
1

lb

boneless

skinless chicken breast (butterflied into 4 servings)

1

tbsp

olive oil

1

lemon

juiced

1

tsp

oregano

1

clove

garlic

minced

1/2

tsp

salt

1/2

tsp

pepper
Rice
1/2

tbsp

olive oil

1

small onion

diced

1 1/2

cups

brown basmati rice

3 3/4

cups

water or chicken stock

1/4

tsp

salt
Tzatziki
1

cup

Greek yogurt

1/2

cup

grated cucumber

1 1/2

tsp

white wine vinegar

2

cloves

garlic

minced

1

tbsp

fresh chopped dill

1/2

tsp

salt

pepper
Salad
1

medium cucumber

halved and sliced

1

large tomato

sliced into wedges

1

red onion

thinly sliced

1

tbsp

olive oil

1

tsp

oregano

salt and pepper
Instructions
For the Chicken:
In a large bowl, or gallon-sized plastic zipper bag, add chicken breast pieces, olive oil, lemon juice, oregano, garlic, salt, and pepper. Cover, refrigerate, and let marinate for at least 1 hour or over night.

When you are ready to cook the chicken, remove from marinade and place on a grill ban or rack. Broil in oven, or grill for 5 minutes on each side.
For the Rice:
Heat olive oil over medium heat in a medium size saucepan. Add onion and saute until translucent, about 5 minutes.

Add rice and stock and bring to a boil. Once it comes to a boil, reduce the heat, stir the rice, cover, and let simmer according to package cooking time.
For the Tzatziki
Place the grated cucumber in a fine mesh strainer over a bowl. Sprinkle with salt and let sit for 10 minutes. After 10 minutes, squeeze and drain as much water as you can out of the cucumber.

In a medium bowl, combine the yogurt, drained cucumber, vinegar, garlic, dill, salt, and pepper. Cover and refrigerate until ready to use.
For the Salad:
In a medium bowl, combine cucumber, tomatoes, onion slices, olive oil, oregano, salt and pepper. Toss and serve.To assemble the dish, place rice into a bowl. Top with a piece of chicken, a scoop of tzatziki, and some salad. Enjoy!
Nutrition
Serving:
1
/4
Calories:
505
kcal
Carbohydrates:
62
g
Protein:
28
g
Fat:
13
g
Saturated Fat:
2
g
Cholesterol:
49
mg
Sodium:
480
mg
Fiber:
3
g
Sugar:
5
g
Tried this recipe?
Let us know how it was and tag @bakedambrosia on Instagram