Losing My Best Friend, Desiree Gibbon
If I could speak to myself a few months ago, I'd have a lot to say. That version of me wouldn't know the loss I was about to experience. And never could I foresee the journey I would begin the day I found out my best friend died. Life is very strange. The thing is, all of us are going to experience great loss, if we have not already. But I never thought I would find myself at 26 years old grieving the loss of my dearest friend.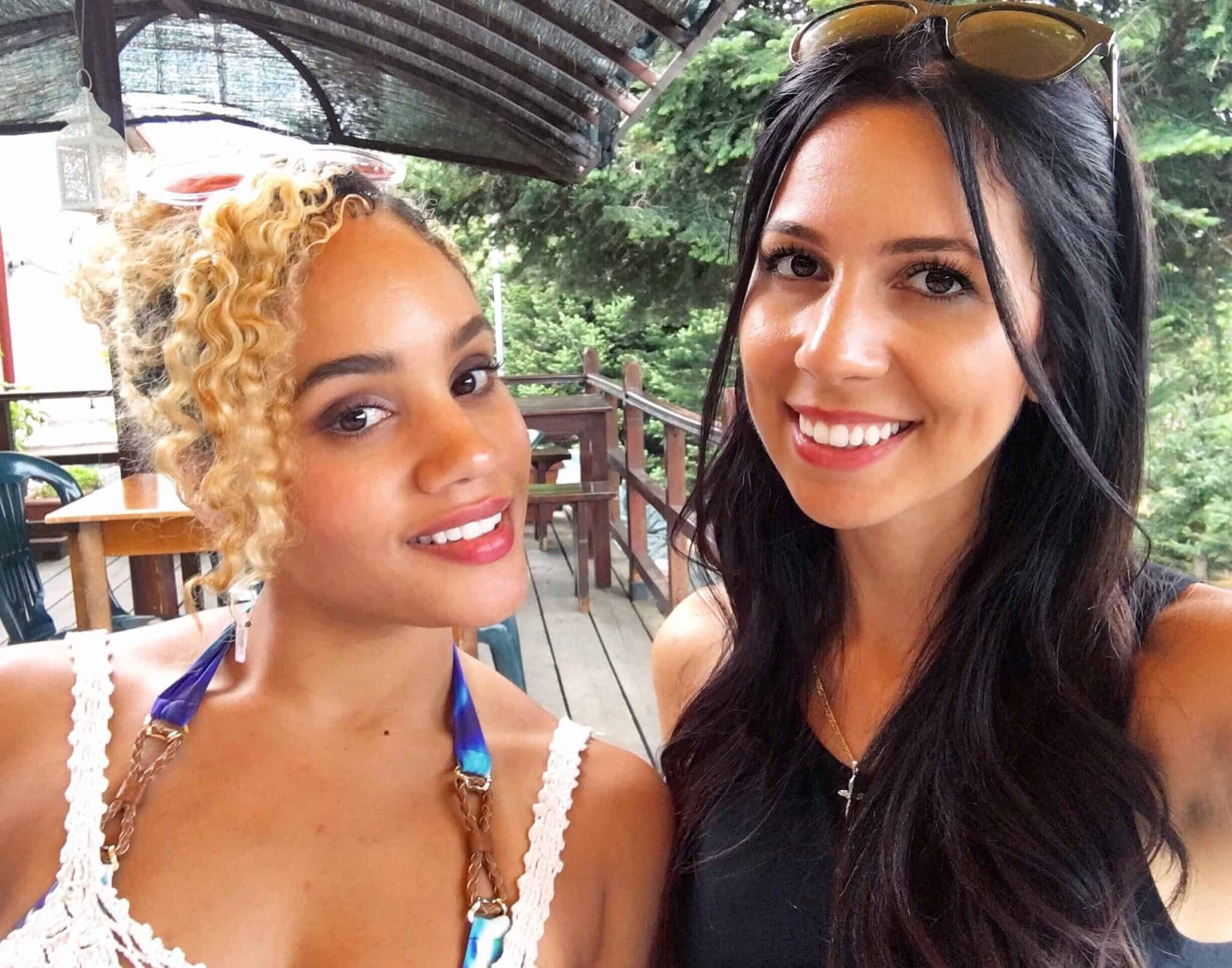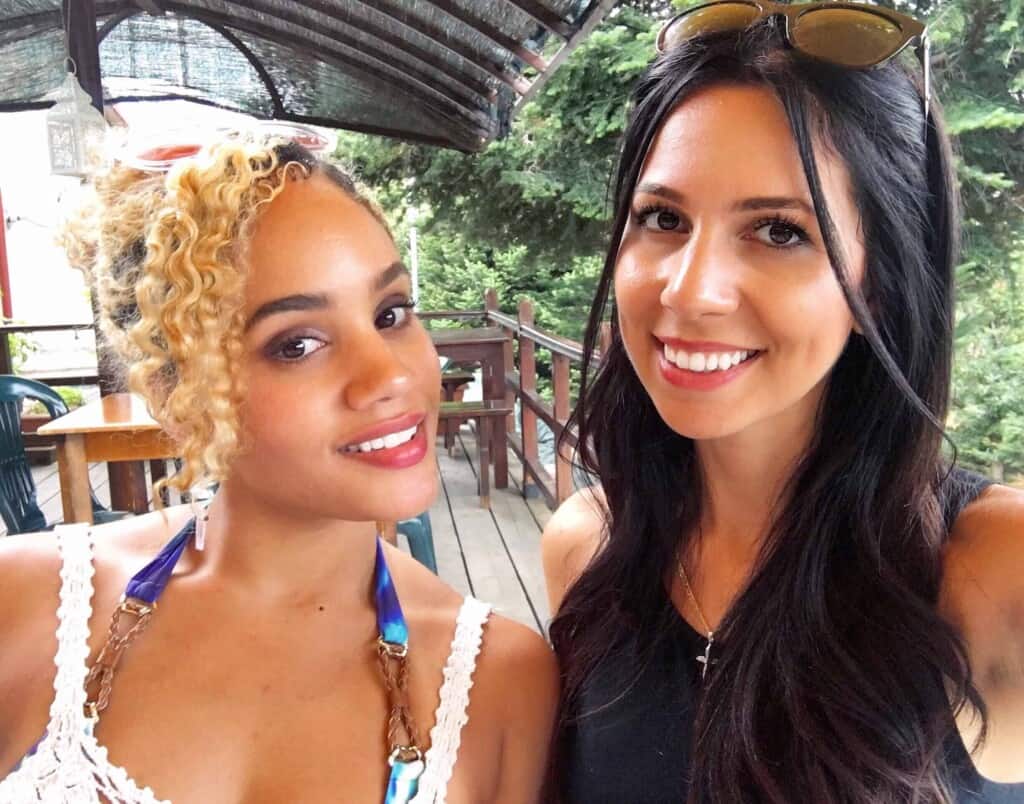 On November 28th, 2017 at about 4:30 in the afternoon, I got on the phone with Andrea Gibbon only to find out the news that would change my life forever.
Rewind to 2007: It was the summer going into my junior year of high school at St. Francis Preparatory School in Queens, New York when I learned that Desiree Gibbon will be transferring into my school. I had already known Desiree for a few years through childhood friends, but it was the summer of 2007 that we became very close. We had so much fun together and shared countless adventures and memories, just as high school girls do. For the next year and a half, Desiree and I spent nearly every day together.
When my family moved to Cincinnati, Desiree and I still remained close. Any time I visited New York, we would always make it a point to hangout. Even if it was only for an hour. One year, I missed her so much, that I drove all the way to West Virginia just to spend a day with her.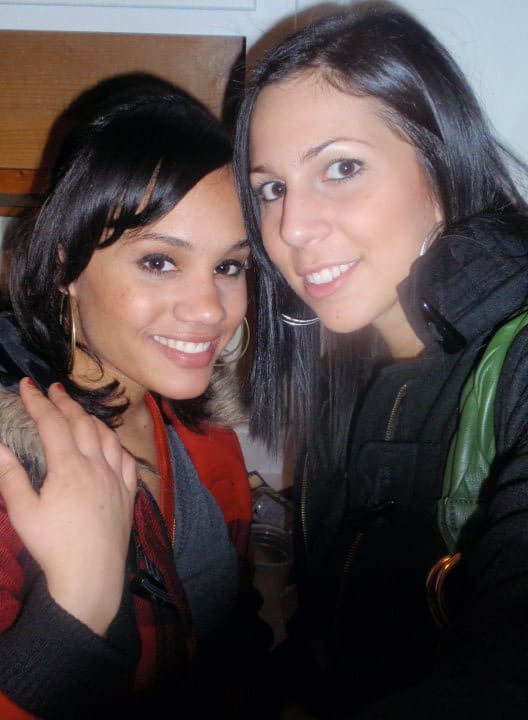 Fast forward to 2014 – Desiree and I are both living in NYC again and it feels as if we were never apart.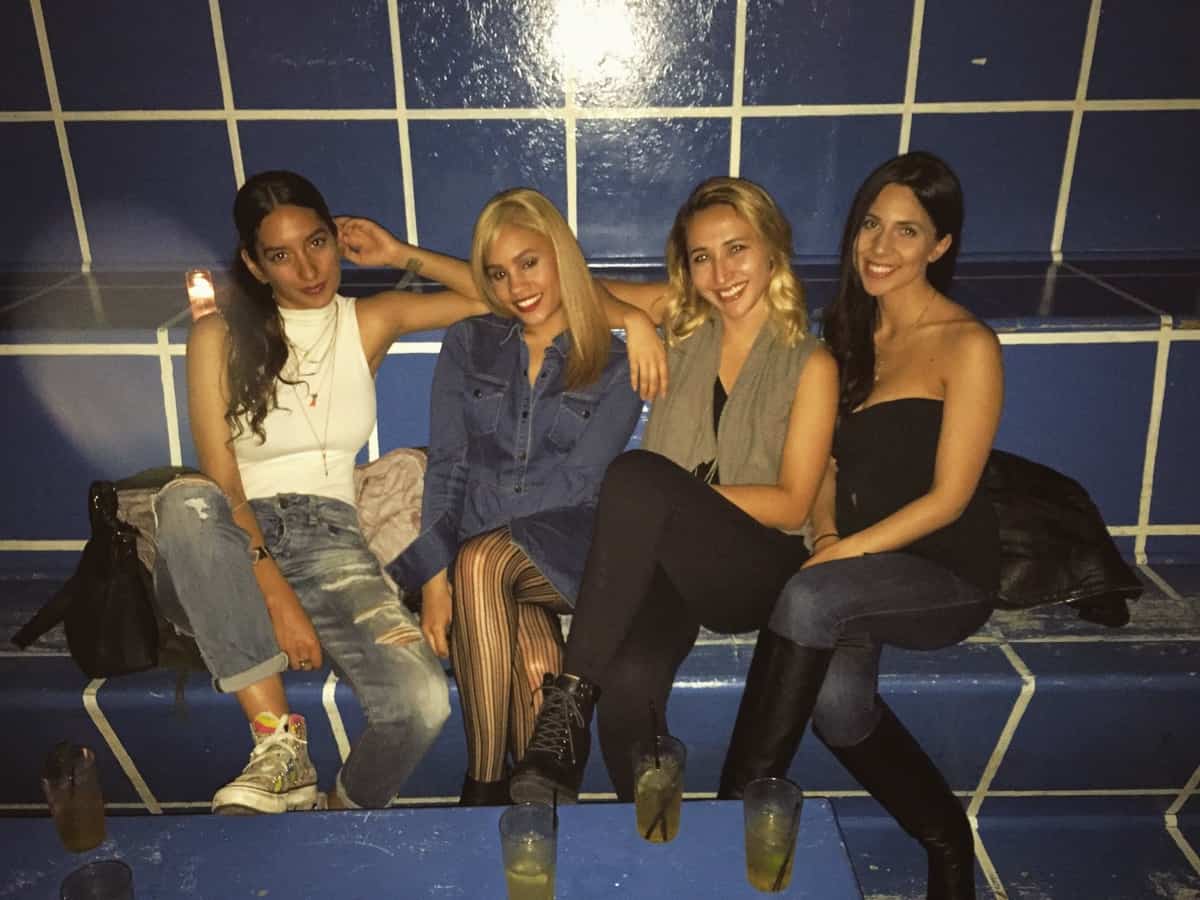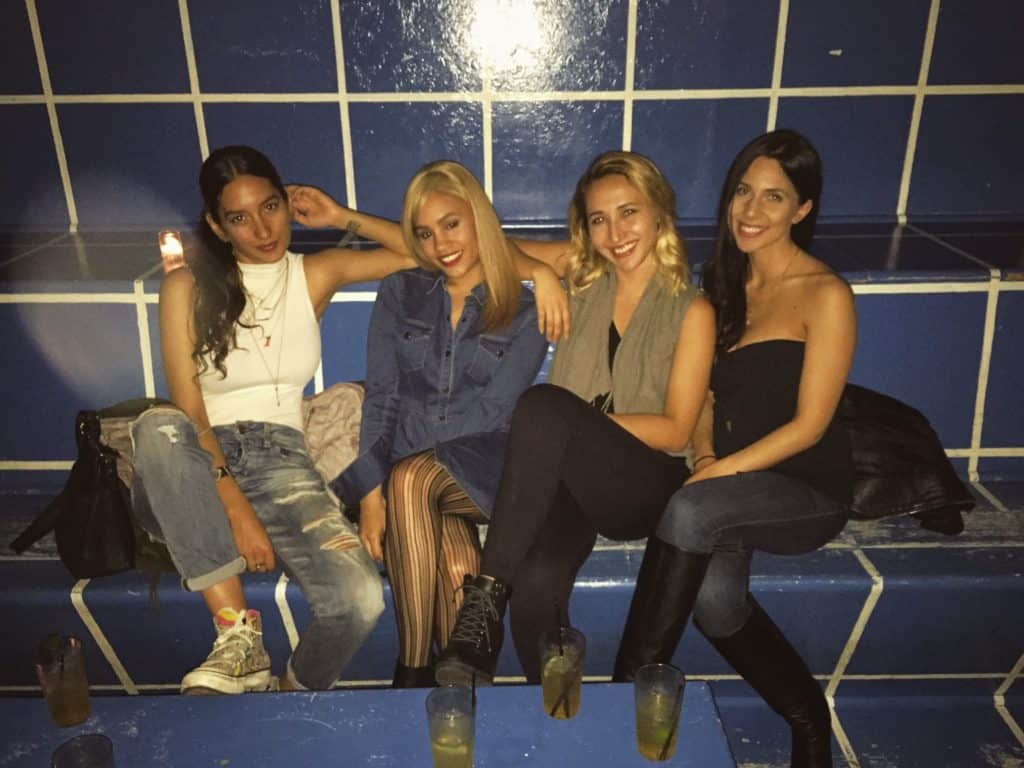 Desiree was more than just my friend. She was my sister. She was a part of my family. She travelled to Greece with me, my father, and my sister a couple of summers ago. During the trip, my dad would refer to Desiree as his "fourth daughter", and it was the truth.
One of the last times I saw Desiree was this past August. We spent the whole day which soon turned into night together on the beach. We danced, we stuffed our faces with food, and we laughed until we cried. I am so grateful for the memories I have with her.
A few months after, Desiree travelled to Montego Bay, Jamaica. She was going to spend a month there and was staying at a Bed and Breakfast that her grandmother owns.
The afternoon of November 28th, I got into my car and called Desiree's mom, Andrea. She asked me how I was doing and when was the last time I spoke to her daughter. I told her I last spoke to her Thanksgiving afternoon. She said had some news to share.
She probably lost her phone or was in an accident, I thought. Nothing too serious?
She told me Desiree had passed. My mind went blank. Everything was a blur.
No, no, no.
It can't be true.
It took a little while for me to respond to her, and to this day I have no recollection of what I said to her. We got off the phone and I ran back into my apartment shaking and crying. My sister and boyfriend were there and through tears I was barely able to get out the words "It's Desiree. She's dead".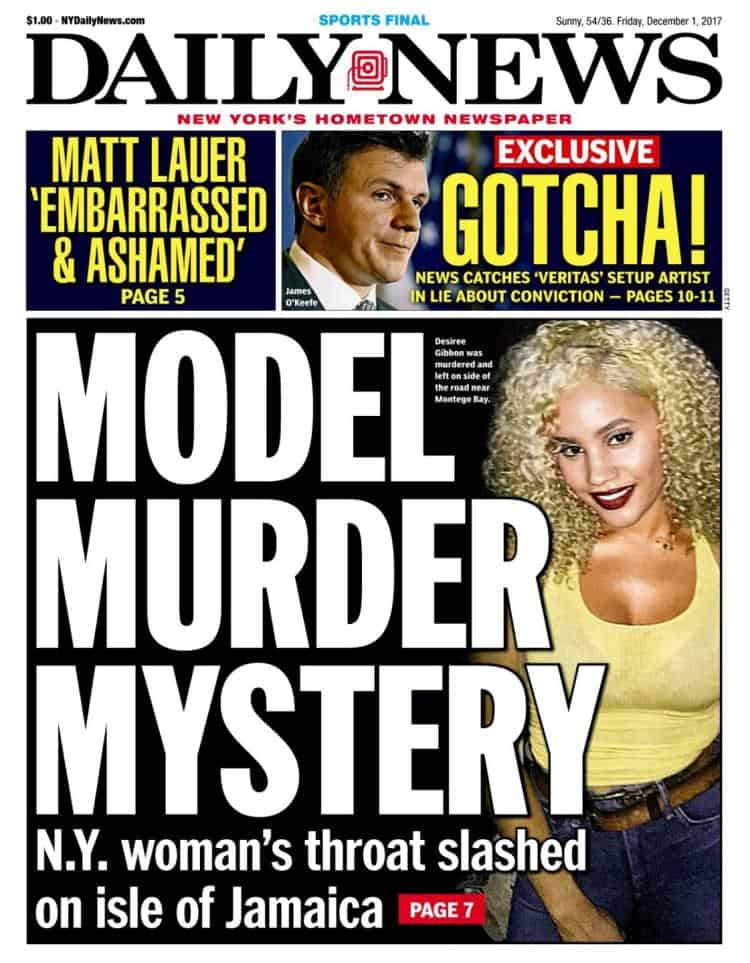 From that point on, everything was a blur to me. I was the first of Desiree's friends to find out the news, and felt that it was only appropriate that Andrea should be the one to tell them. That was the longest day of my life.
I made the mistake of Googling Desiree's name. The first article that came up was from a Jamaican news source Jamaican Loop with the headline "Police identify Caucasian woman found with throat slashed in St James". I screamed and immediately slammed my laptop shut. After a few minutes, I reopened my computer and read the article. They described the woman who was found in the shrubs of a remote road as being a "blond hair Caucasian woman, who is about five feet, eight inches tall and had a medium built".
Then came her name – Desiree Gibbon.
THROAT SLASHED?
LEFT ON THE SIDE OF THE ROAD FOR 2 DAYS?!
I was convinced that they were wrong. They couldn't be talking about the Desiree I know. The description was way off. Desiree was petit, not 5 feet 8 inches. I also let out a little chuckle at the fact that Desiree would never refer to herself as "Caucasian".
I called Desiree's mother again, and she confirmed that the article was in fact about Desiree.
Desiree was murdered. She had no idea that the night she walked out of her hotel would be her last. It just happened. She was targeted by some crazy person that she had trusted.
Andrea told me that Desiree was last seen Thanksgiving night leaving her grandmother's hotel. Desiree told the man in the front desk that she will be right back. On Sunday morning, a passerby found her bruised body covered in blood in the shrubs.
Desiree was better than us and I cannot stress this enough. She was and always will be my role model. She wanted to change the world for the better.
Desiree was the kind of person to come in and take over. She wasn't scared of anything. She was confident, she was loving, she was caring, and she always wanted to make an impact in this universe.
Anyone who knew her knew that we'd see her beautiful face in newspapers, magazines, and television some day.
We just didn't think it would be in this way.
I barely slept for the next month, constantly refreshing my phone to see that this was all a mix up, or checking to see that my last iMessage to Desiree would finally say "delivered".
December was a rollercoaster of emotions. I was completely numb. I was confused. I was angry. I was heartbroken. I couldn't comprehend that someone would want to hurt Desiree. Honestly, I still don't think that I can comprehend the fact that she is gone.
I frequently catch myself obsessing over the "what ifs". What if she wasn't alone? What if I was there with her? What if she didn't leave her hotel room? What if? What if? WHAT IF?
There is no proven remedy to deal with grief. There is nothing that can get rid of this feeling. There is no way to take back what happened to Desiree.
I think not holding back tears and letting out a cry whenever I feel like it has helped. Or maybe it has been the conversations I have with Valery, Gaby, Chloe, and Kyle that keep me going. The jokes, or the "OMG look at these embarrassing pictures of us!", or, remembering I still have that sweater I borrowed from her in high school.
I wish I had flown to Jamaica to hang out with her, like she kept on insisting. I wish I had a chance to spend just one last day with her.
I also wish that people like her killer would face consequences…
It has been over month, since we got to say our final "goodbyes" to Desiree, but the fight has just begun.
Desiree's parents flew to Jamaica, so that they can bring her back home. Upon landing in the country, they were faced with obstacles, corruption, and negligence. The Jamaican authorities are failing to conduct a proper investigation.
To this day, two months after my best friend's brutal murder, there have been no leads, no arrests, and the bare minimum effort by Jamaican detectives.
Desiree was lured out of her hotel room to meet someone. She had no money on her and no ID. Just her iPhone and her hotel key. She was set up by someone who she thought she could trust.
Jamaican economy relies greatly on tourism. What they don't want tourists to know is how dangerous the island nation really is. It is only January, and Jamaica has seen over 100 murders in 2018! The parish of St. James (population 186,000) has reported over 350 murders in 2017, the majority of them in Montego Bay. At this rate, Montego Bay is unquestionably the deadliest city in the world, for a country not at war. However, why do tourism companies fail to disclose this to customers? Why do cruises and travel agencies send families to the deadliest city in the world? Why do they create an image of a "magical tropical paradise" to Americans, when in reality one step out of the resort and you are entering a war zone?
The Jamaican government needs to step up to the plate. They need to do more in the investigation and bring justice to Desiree Gibbon. If the Jamaican government fails to do so, then we must do everything in we can to bring out the truth about how they are handling the case of a murdered American citizen. We will be forced to expose the corruption and danger of this island. Until they reassess their law enforcement practices and come to a conclusion in Desiree's case, tourists are not safe in Jamaica.
The government in Jamaica is corrupt on many levels. No one is to be trusted, and everyone is suspicious. Money buys information and you can never really be sure if the information is reliable, legitimate, or a just set up.
So, as I said before, my life is now completely changed forever. I find myself consumed by fear. I now realize that anything could happen at any moment.
I still miss Desiree very much, but honestly – for me the hardest times are hearing a song we would sing together, or a seeing movie we would watch over and over together, or driving by a place we would frequently visit. That's what make me miss her the most – the things that remind me of the memories we shared. I even catch myself picking up my phone and writing her a text, before I realize that I will never get a reply.
People treat this like an elephant in the room, but I want to talk about her all the time. I don't want people to forget Desiree. Remembering makes her real, not just a photograph, or a headline, or an obituary.
Desiree was the smartest, toughest, funniest, most outgoing person I knew. I see people talking so casually about Desiree on social media, a person I knew so well, and I just wanted to yell at them. They would never understand that this isn't just another "dead girl". She was my best friend and death does not defeat love.
Nothing anyone could have said could have prepared me for this.
Any publicity that Desiree's case receives helps keep her story alive. Keeping Desiree's story relevant helps us get closer to finding her killer and continuously attack the people and the government that are failing to bring the truth about what happened to her. We are demanding answers.