Sweet Cinnamon Crepes with Cream and Berries
Making crepes is easier than you think! These Sweet Cinnamon Crepes are filled with cream and fresh berries—perfect for breakfast or brunch alongside Starbucks® Sweet Mornings Blend coffee
This post has been sponsored by Nestlè Coffee Partners. All thoughts and opinions are my own.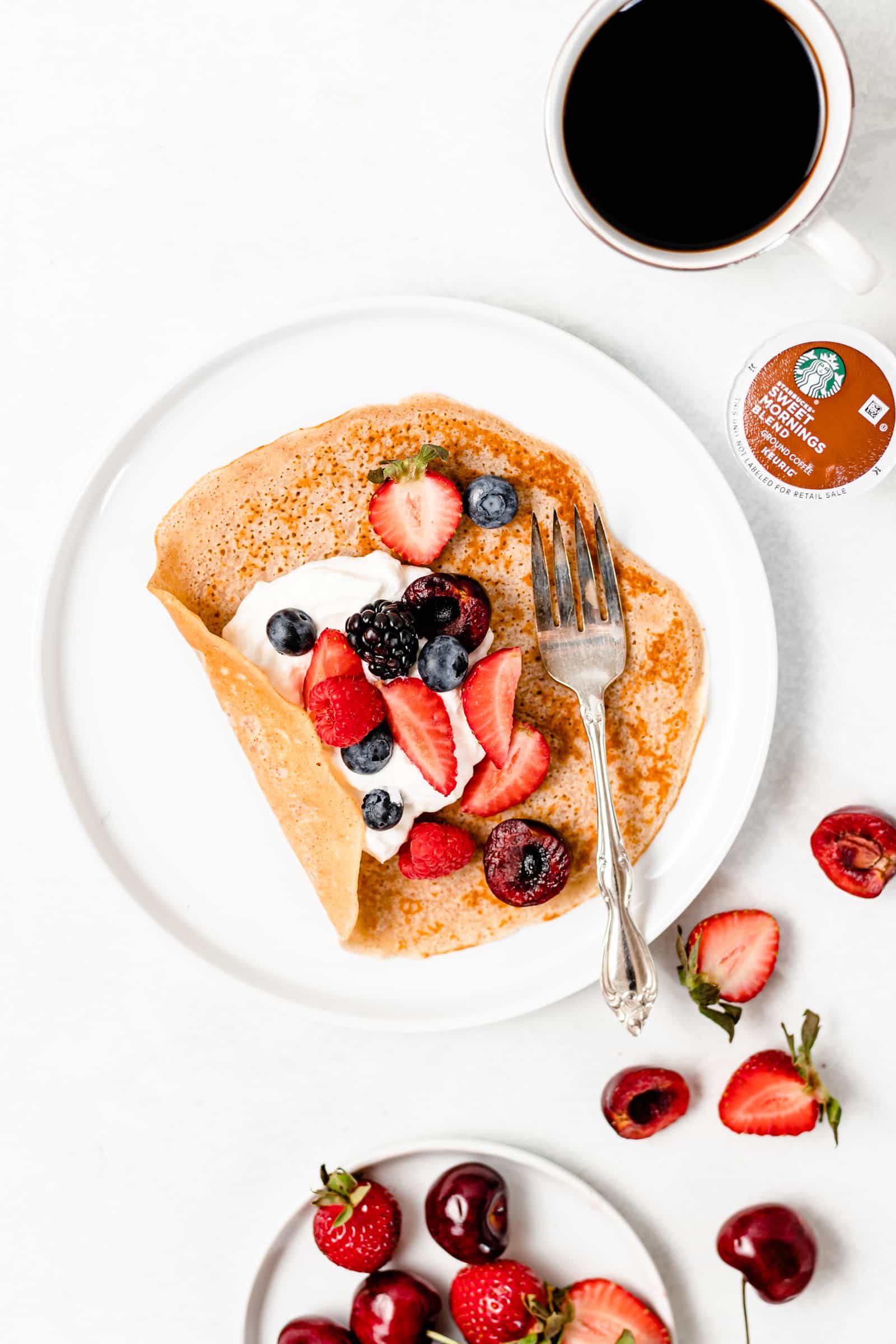 My mornings are very special to me and my day doesn't officially begin until I've had my first cup of coffee. As a go-with-the-flow type person, I'm very particular about having a morning routine. And, coffee and a sweet breakfast are always a top priority.
Lately, I have been very into Starbucks® Sweet Mornings Blend K-Cup® pods. With the help of The Culinary Institute of America®, Starbucks created the perfect blend of coffee to pair with sweet breakfasts. Whether your choice of breakfast is maple brown sugar oatmeal, cereal, a parfait, or a stack of pancakes, Starbucks Sweet Mornings Blend is the BEST combo. And if you are more of a savory breakfast person, Starbucks also created a Savory Mornings Blend that complements avocado toast, omelets, and even bacon! Both these blends are brand new to Kroger and Kroger Banner stores and are available in K-Cup® pods and ground coffee.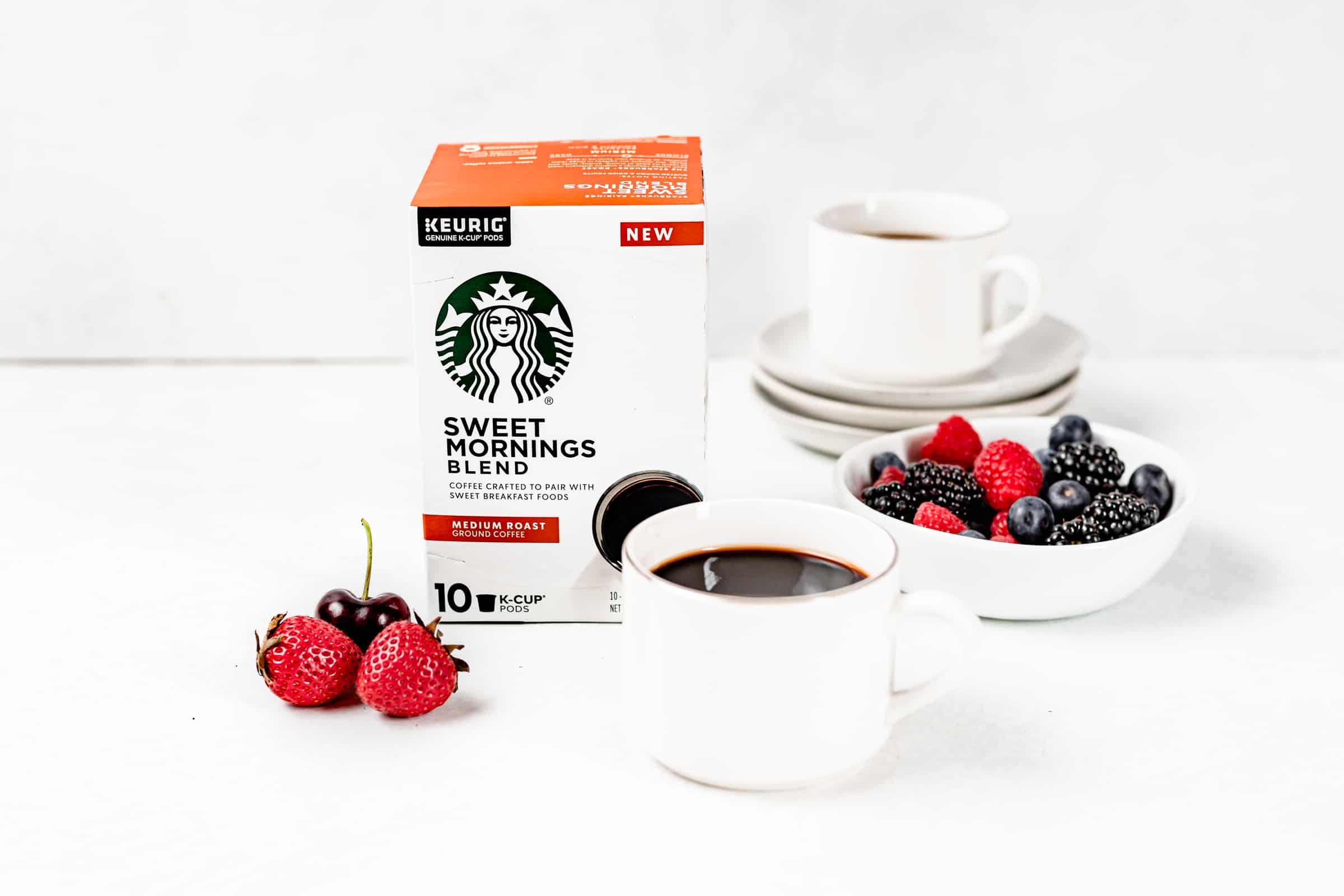 My new favorite Starbucks® Sweet Mornings Blend pairing is Cinnamon Crepes with Whipped Cream and fresh seasonal berries. The coffee has notes of cocoa and dried fruit which, when combined with the slightly sweet cinnamon crepes, is pure bliss. This combination is truly the best way to begin any day!
Ingredients I Need to Make Cinnamon Crepes
Butter
Sugar
Eggs
Milk
Vanilla
Flour
Cinnamon
Baking powder
Salt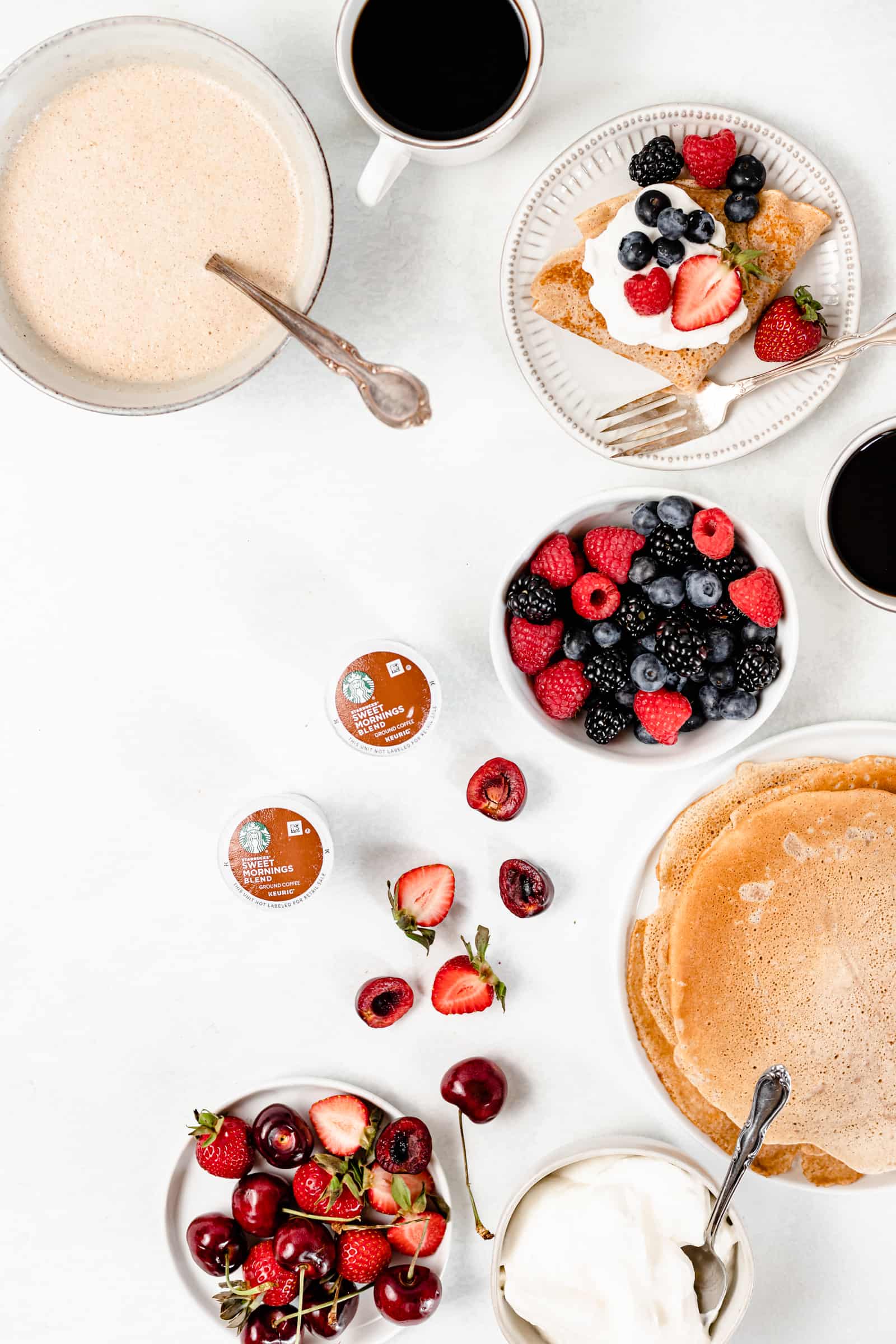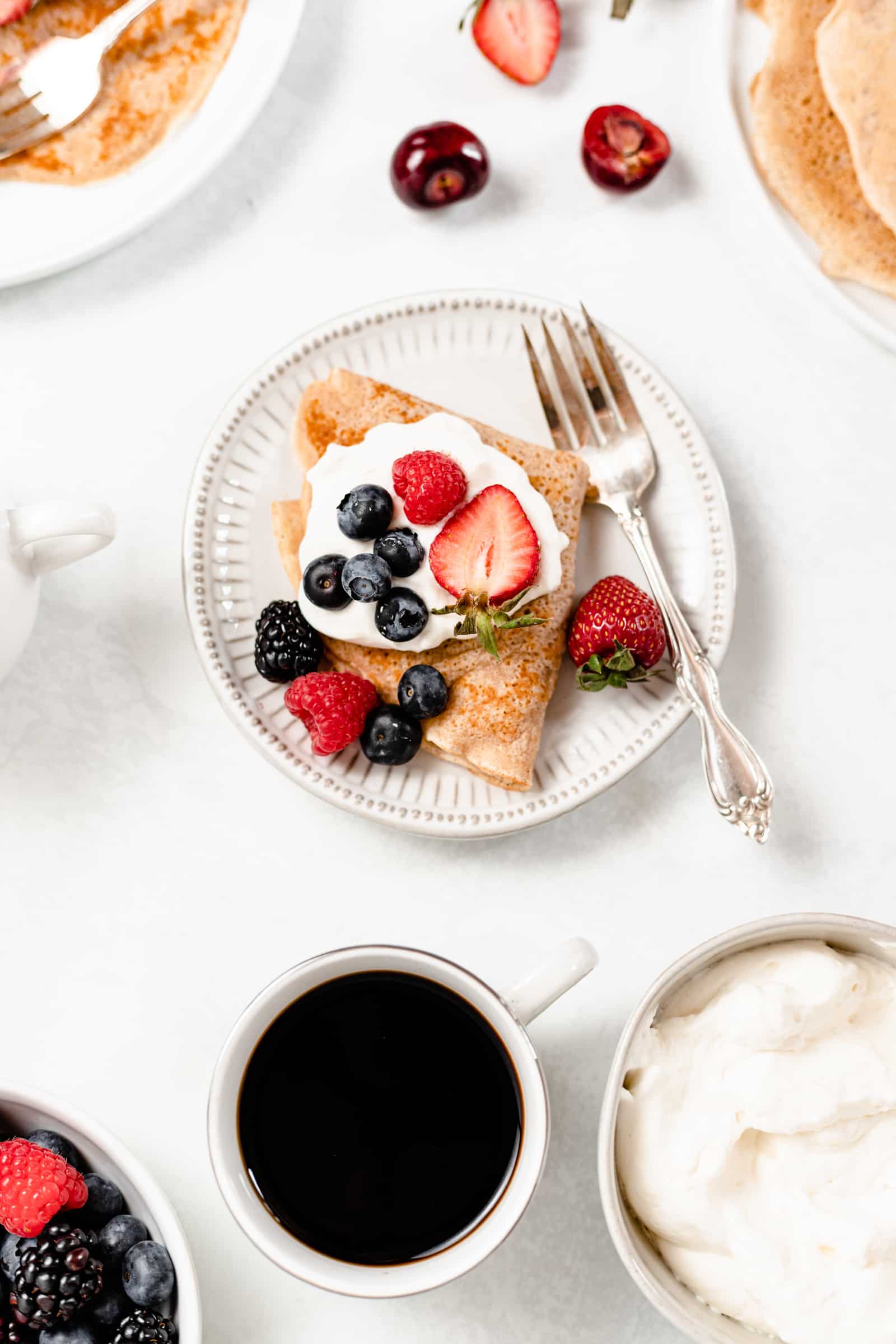 How To Make Crepes
Crepes sound like a fancy weekend breakfast, but you'll be surprised how easy and quickly they come together—even on weekday mornings. This recipe doesn't require using a blender or resting the batter. Since the wet to dry ingredient ratio is pretty high, I find that whisking the batter by hand results in a perfectly smooth, lump-free batter. You can definitely use a crepe pan, but a nonstick skillet works just fine! Here's how it's done:
Melt butter in a nonstick skillet (I use a 10-inch)
Whisk all ingredients together until a smooth batter is formed.
Lift the preheated skillet and pour in 1/4 cup of batter. Tilt and swirl the skillet in a circular motion to evenly coat the entire bottom portion of pan with batter.
Cook until golden brown, then gently flip crepe to opposite side and cook until golden brown.
Transfer to a plate.
Repeat until all of the batter has been used up, stacking the crepes on top of each other.
Cover with an inverted plate to keep crepes soft until ready to eat.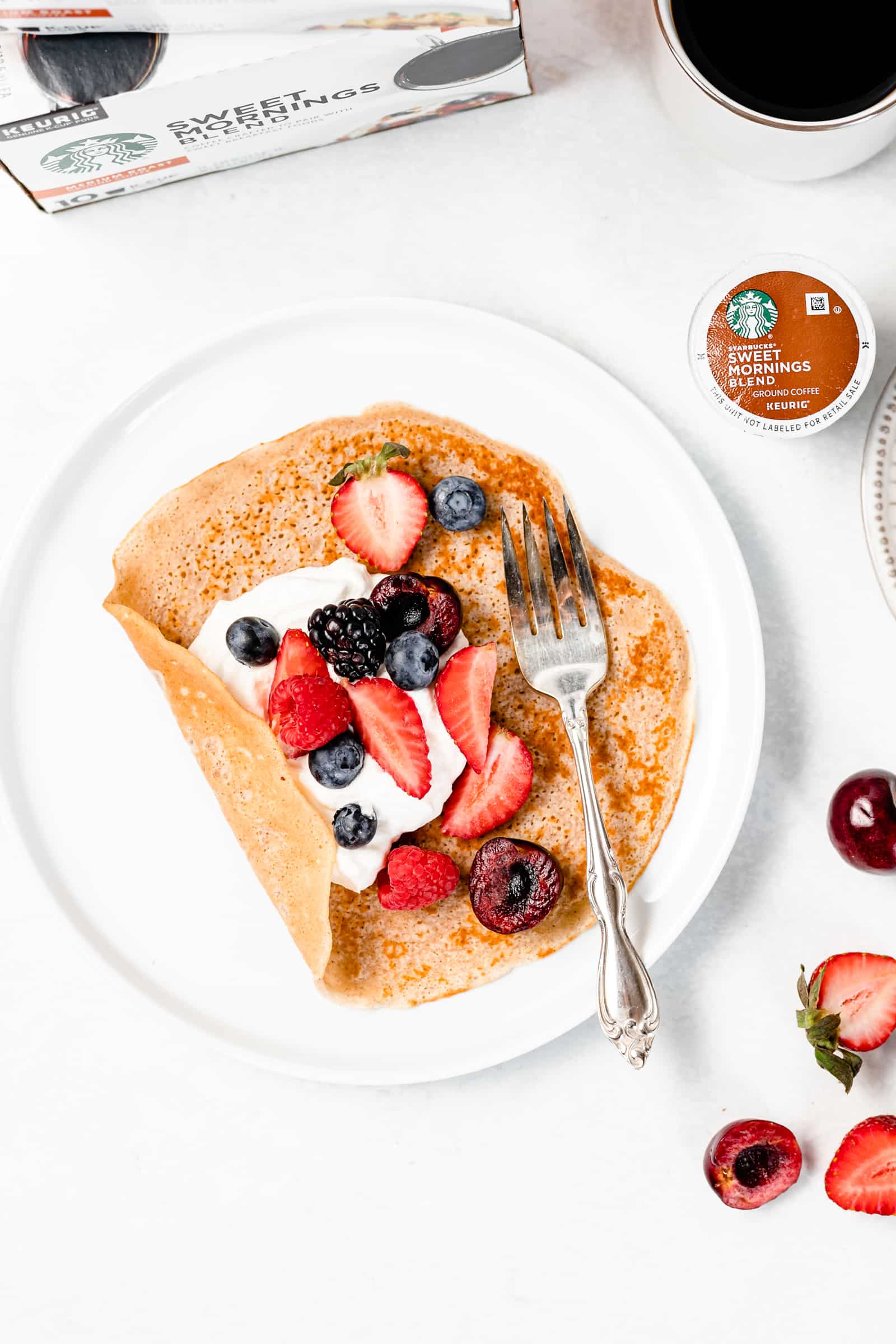 These crepes can be stuffed or topped with many different options like chocolate, peanut butter, jam, or even dusted with confectioners sugar, but my favorite way is to stuff them with fresh whipped cream and any seasonal fruit I find at my local Kroger. YUM!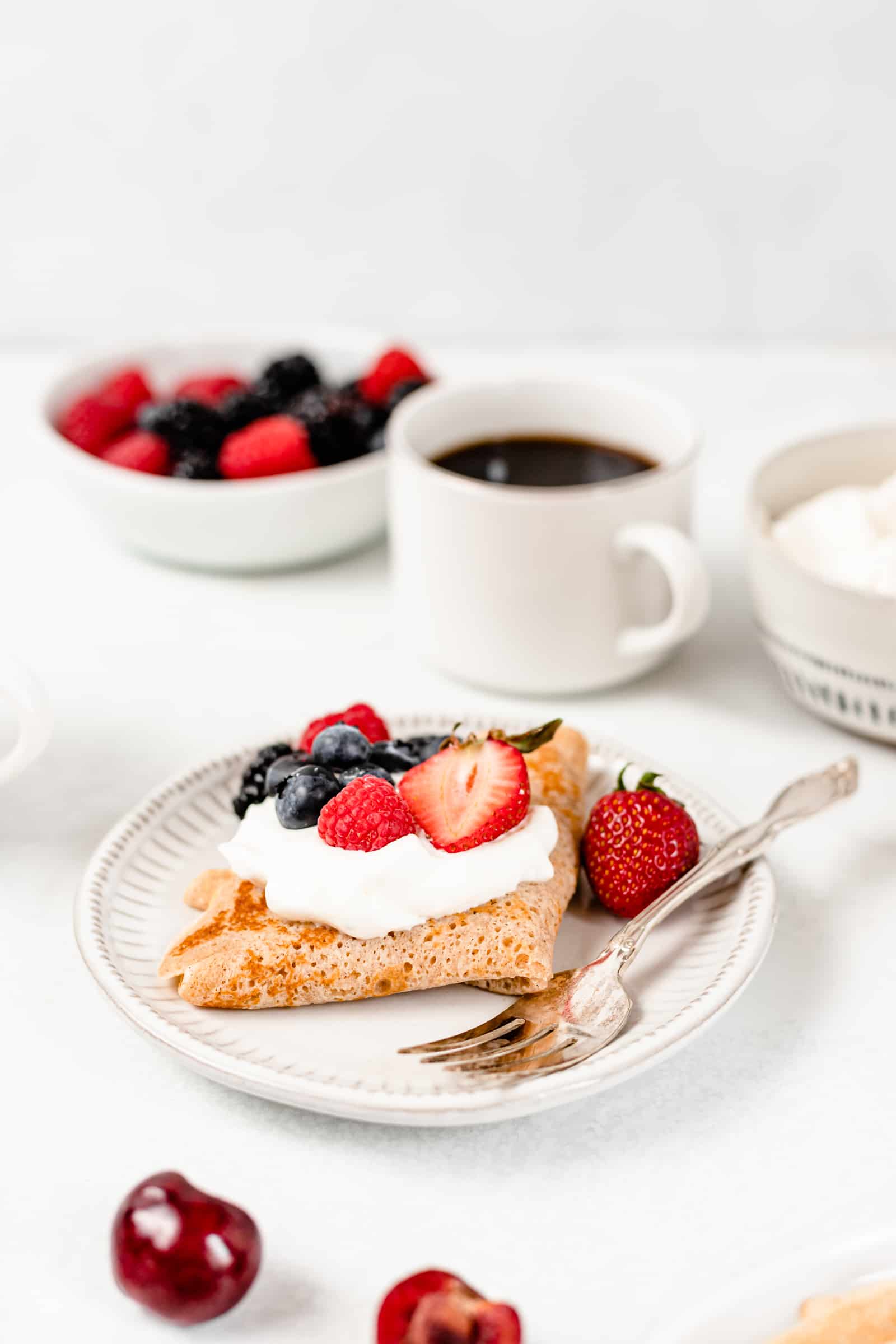 I don't know about you, but I like the sounds of starting my day with something sweet complimented with a cup (or two) of Starbucks Sweet Mornings Blend coffee. Give the coffee a try and let me know what your perfect pairings are!
If you make this recipe, take a photo and tag #bakedambrosia on Instagram and Facebook so that I can see your creations and feature them on Instagram! To stay up to date with the latest recipes, follow Baked Ambrosia on Pinterest, Facebook, Instagram, and Youtube. ♡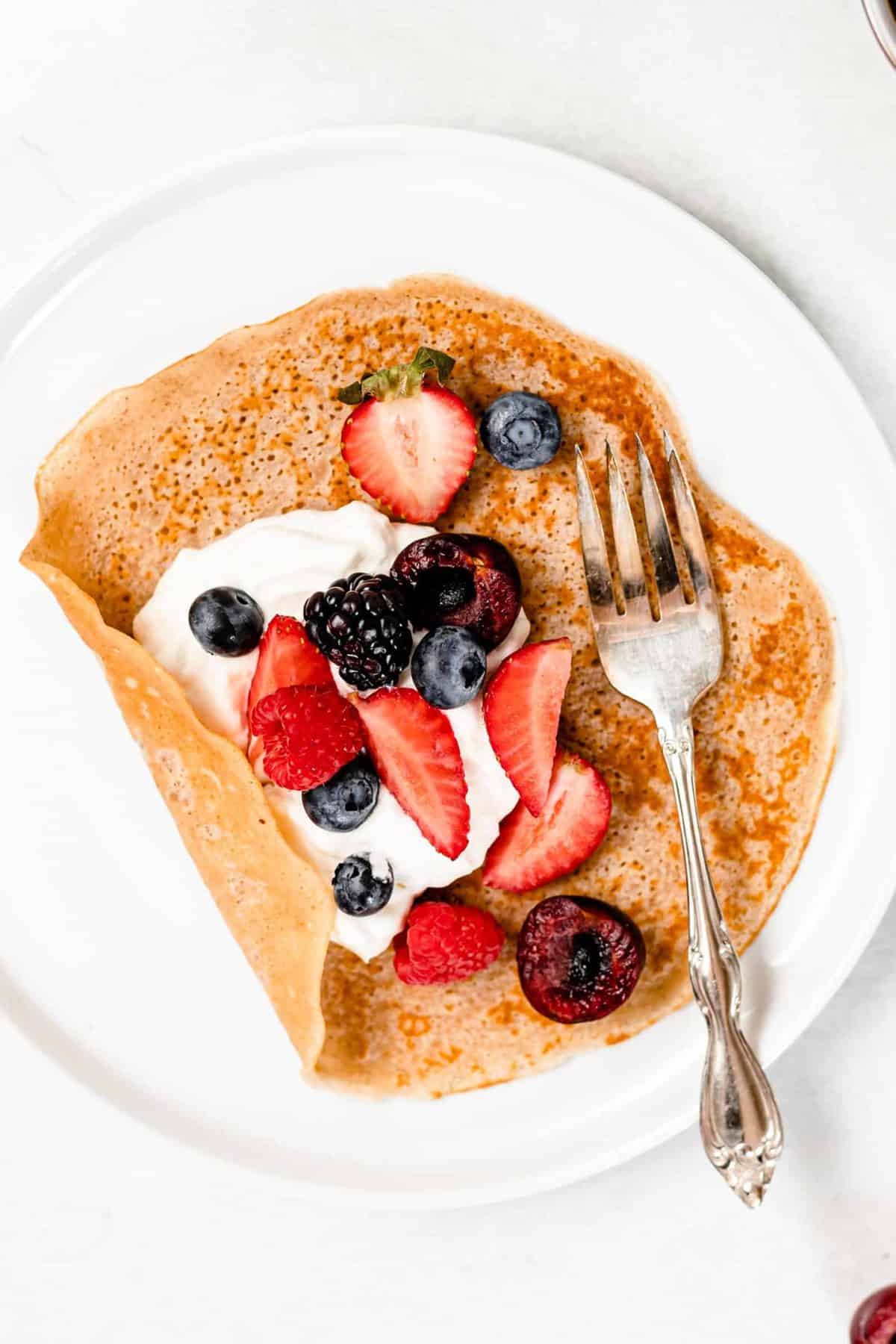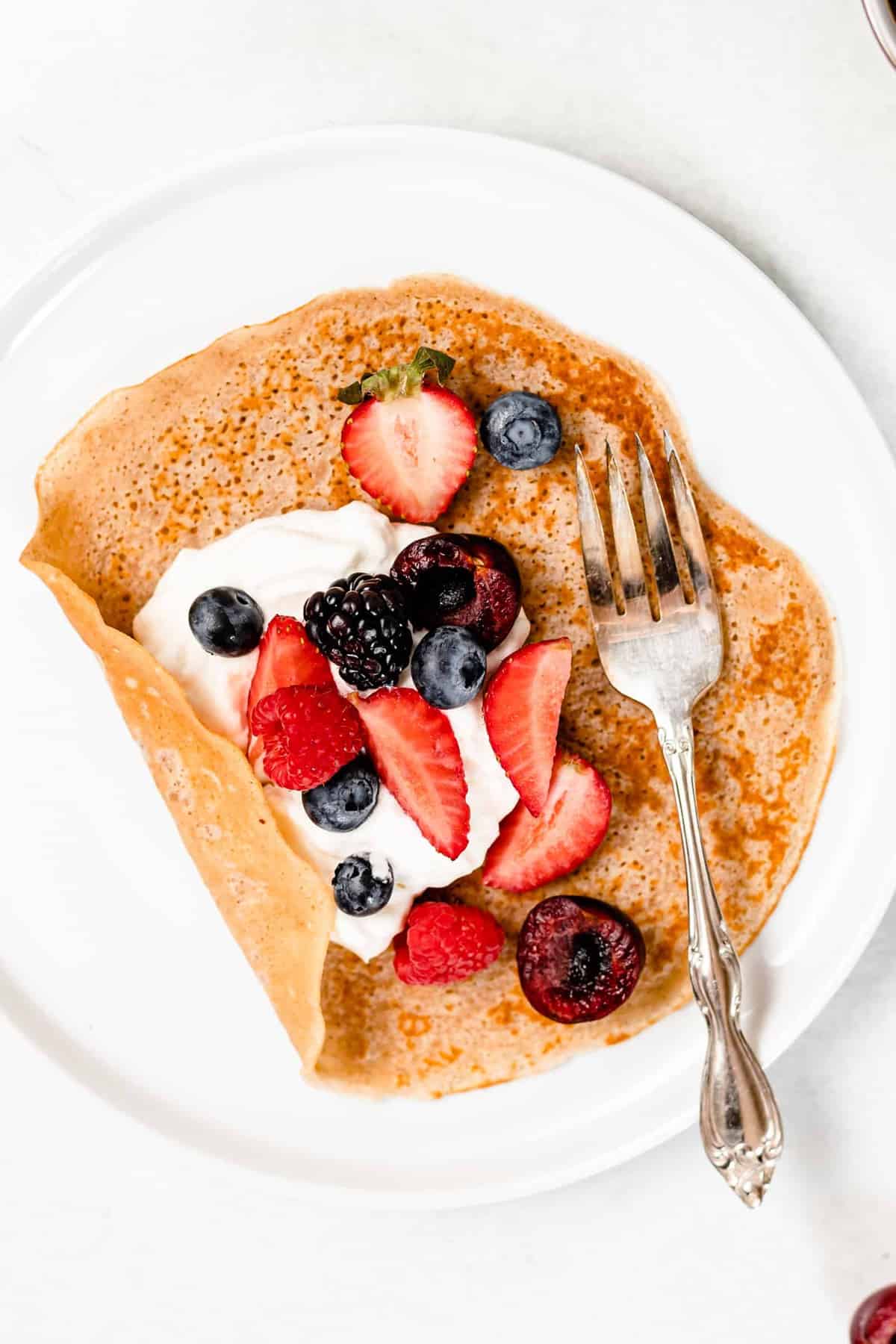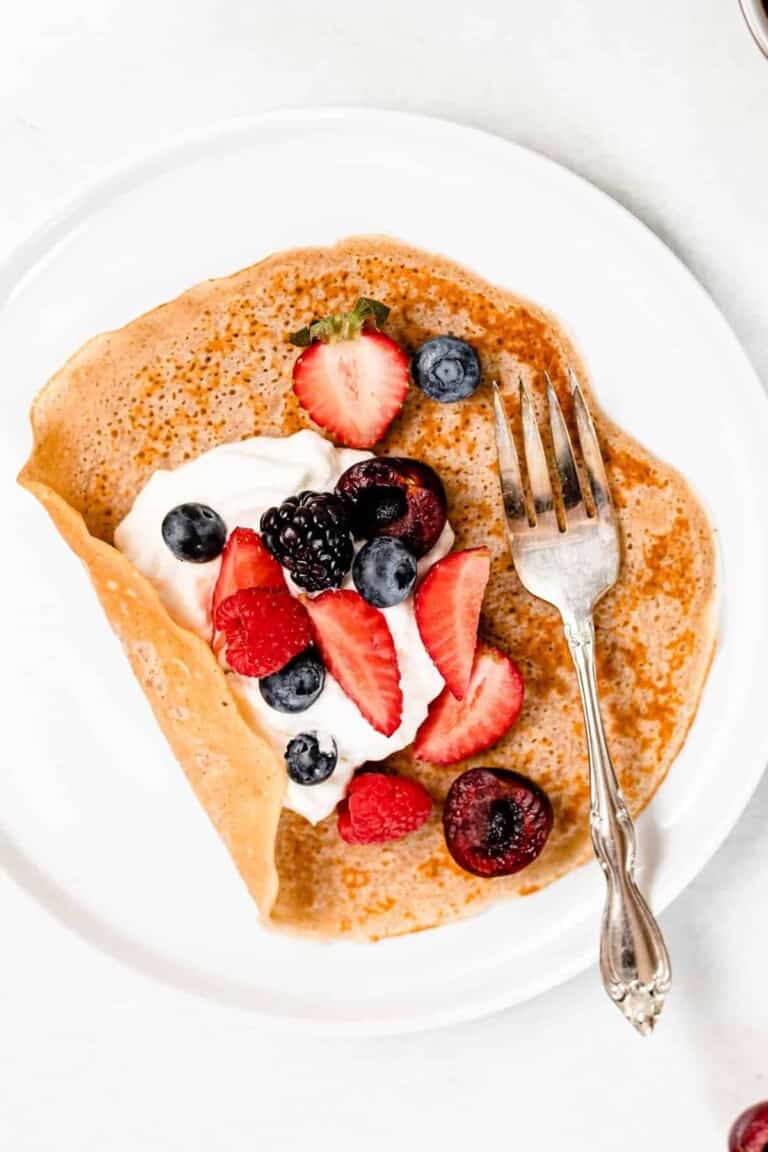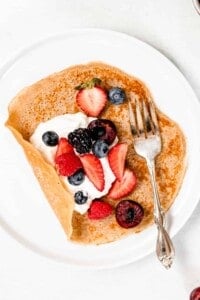 Sweet Cinnamon Crepes with Cream and Berries
Making crepes is easier than you think! These Sweet Cinnamon Crepes are filled with cream and fresh berries—perfect for breakfast or brunch 
alongside Starbucks® Sweet Mornings Blend coffee.
Ingredients
2

tbsp

30 g butter

⅓

cup

70 g sugar

2

eggs

2

cups

473 ml whole milk

1

tsp

vanilla extract

1 ½

cups

235 g all purpose flour

1 ½

tsp

cinnamon

1

tsp

baking powder

½

tsp

salt

1

cup

heavy whipping cream

1

cup

fresh berries
Instructions
Melt the butter in a 10-inch nonstick skillet. Remove from heat and cool slightly.

In a large mixing bowl, whisk together the sugar and eggs until sugar dissolves—about 1 minute. Whisk in the milk and vanilla extract. Add the flour, cinnamon, baking powder, and salt, and whisk until you get a smooth, lump-free batter. Stir in the melted butter.

Return the skillet to medium-high heat. Once the pan is hot, lift the skillet up and add ¼ cup of batter into the skillet. Tilt and swirl the pan to cover the bottom surface evenly. Return to heat and cook for about 1 minute, or until the bottom is golden brown. Use an off-set spatula to lift the crepe and flip to the opposite side. Cook for about 30 seconds.

Transfer crepe to a plate and repeat the process with the remaining batter. Stack crepes on top of each other.

When all of the batter is used, cover the stack with an inverted plate until ready to eat.

To make the whipped cream, beat with an electric mixer fitted with the whisk attachment on medium-high speed until soft peaks.

To serve, spoon whipped cream into the center of each crepe and top with berries. Fold crepe and serve immediately.
Nutrition
Serving:
1
crepe
Calories:
164
kcal
Carbohydrates:
17
g
Protein:
4
g
Fat:
9
g
Saturated Fat:
5
g
Polyunsaturated Fat:
3
g
Cholesterol:
53
mg
Sodium:
78
mg
Fiber:
1
g
Sugar:
7
g
Tried this recipe?
Let us know how it was and tag @bakedambrosia on Instagram