Easy and delicious Apple Pie, is made with simple ingredients – perfect for feeding a crowd this holiday season!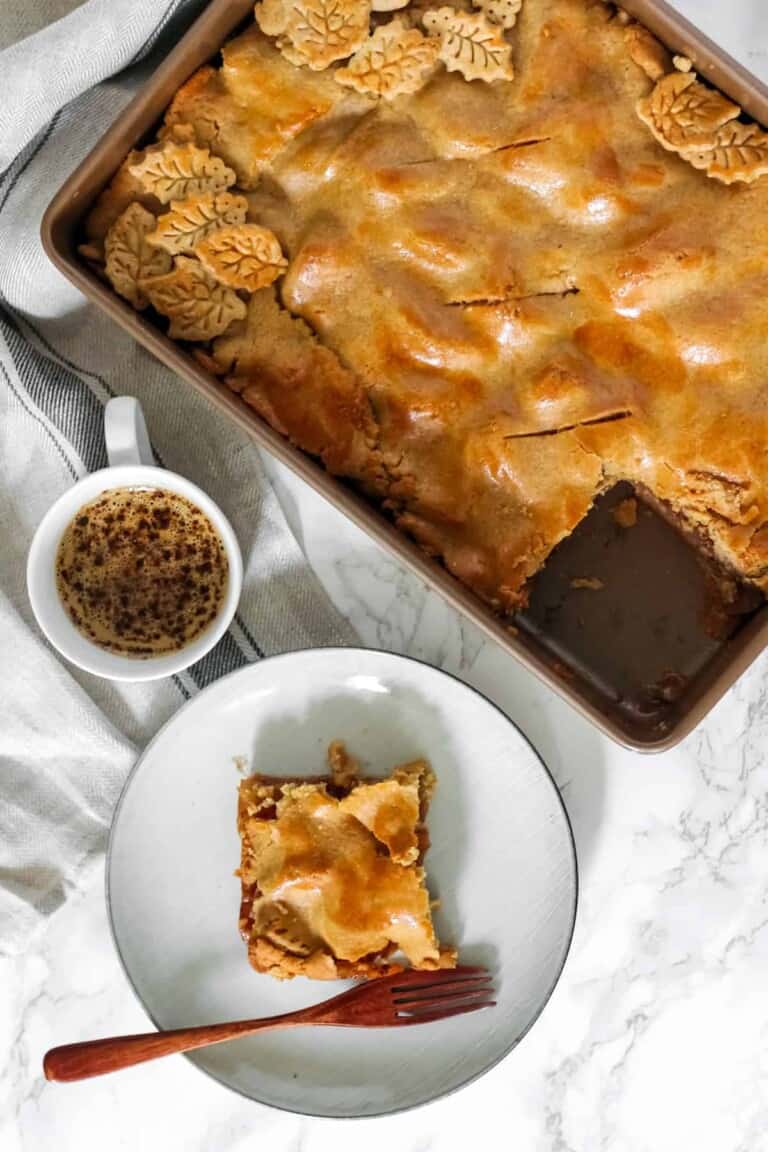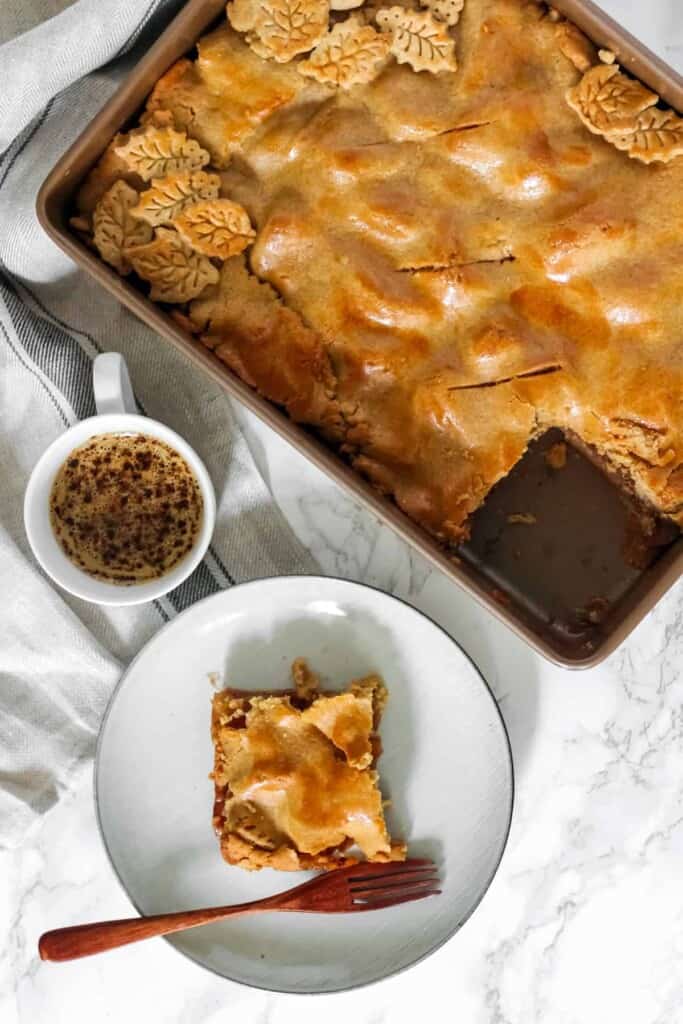 We're doing pies this week!
And first up is Apple Pie.
This isn't your traditional apple pie. It's not baked in a pie dish, for one. The filling is literally sliced apples, sprinkled with a little bit of cinnamon and sugar. And finally, there is no BUTTER in the crust. I know what you are thinking, a pie without butter?! But, I promise you, it works and you'll love it. This is my family's FAVORITE apple pie, and I am about to let you in on this family recipe.
I have been eaten this pie for as long as I can remember. This is the apple pie my mom would always bake for us. Seriously, I lived most of my life thinking that THIS is the way all apple pies are. I even remember eating the SAME exact pie at my aunt's house in Long Island. I'm not sure who's original recipe this is, but I am sooo happy it ended up in my hands.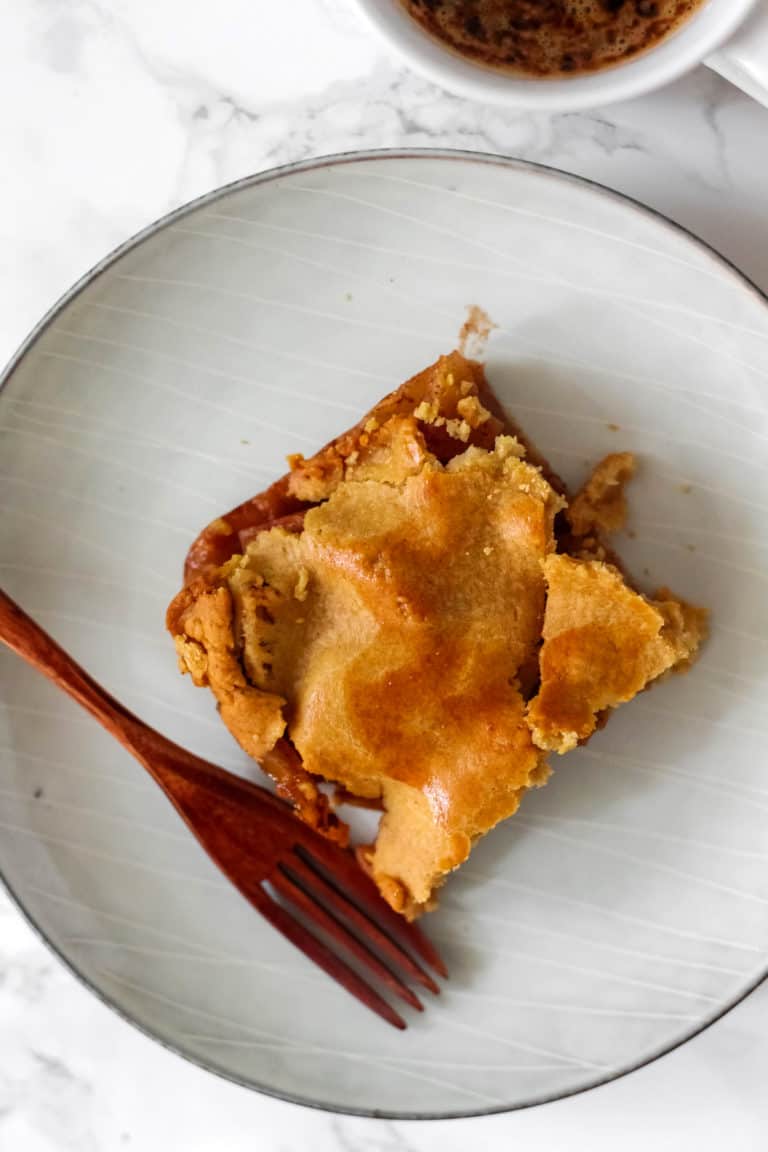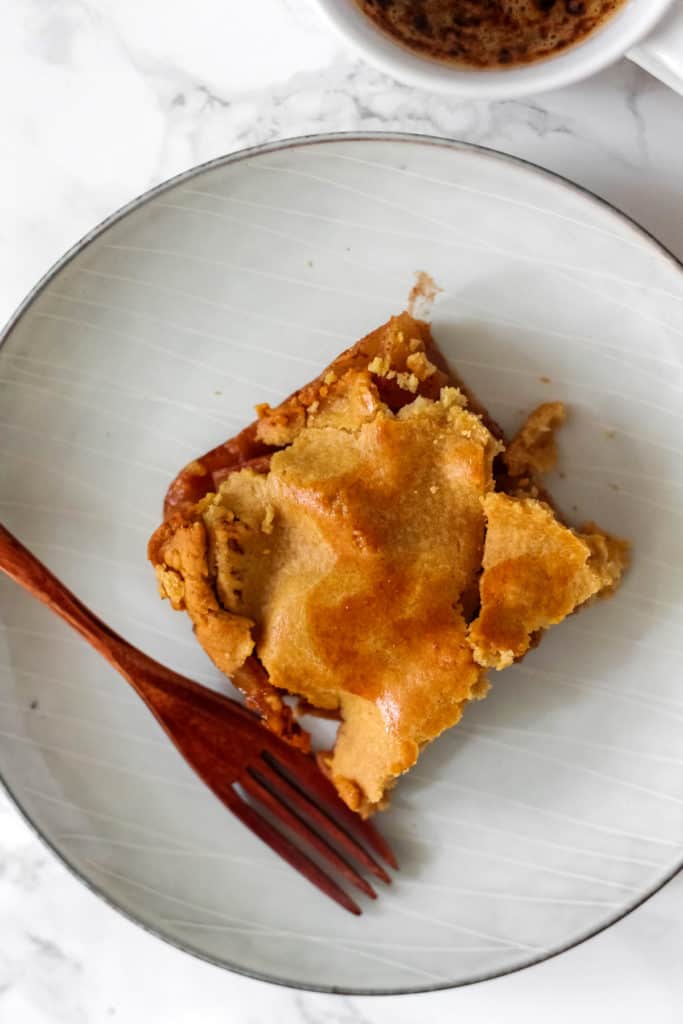 So, let's talk about the recipe. This apple pie is very simple. Apples, cinnamon, and crust.
The crust is my favorite part. I always eat the filling first, and save the top and bottom crusts for last. It is not made with butter, so it isn't your typical flaky pie crust. Instead, it is made with oil and has a more delicate, soft texture.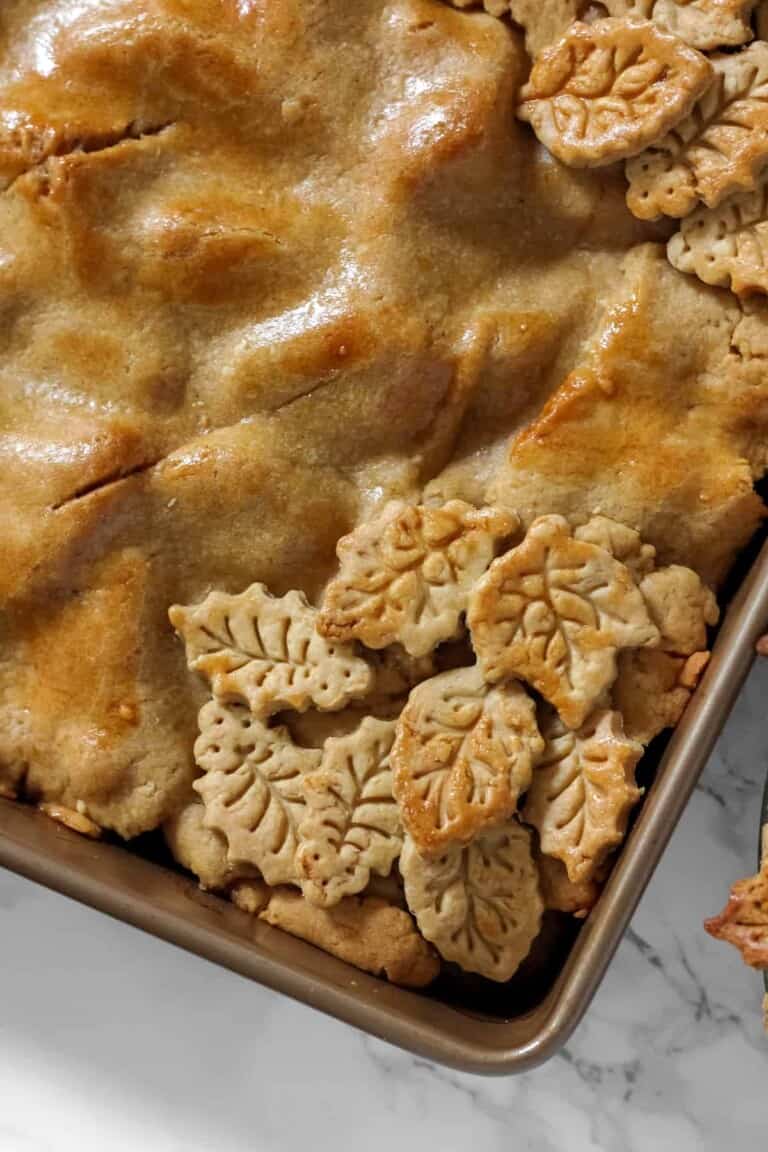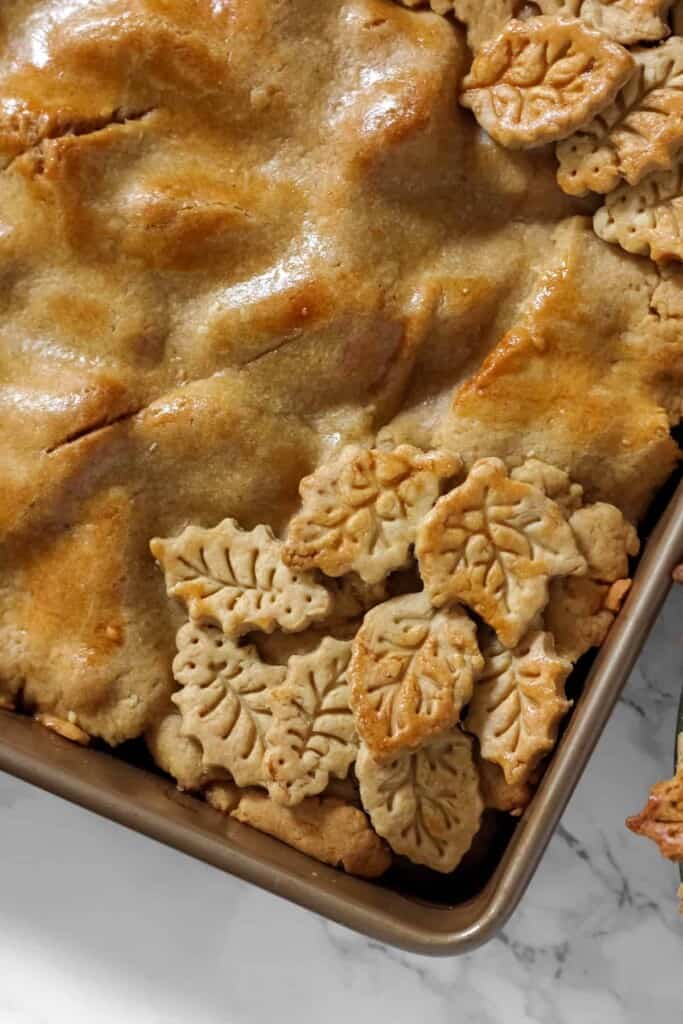 The filling is super simple, like I mentioned before. Apples + cinnamon + sugar. That's it.
Half of the crust goes on the bottom on the pan, then come the sliced apples, and finally it is topped with the remaining crust. A little egg wash is brushed on top and the pie is ready for the oven.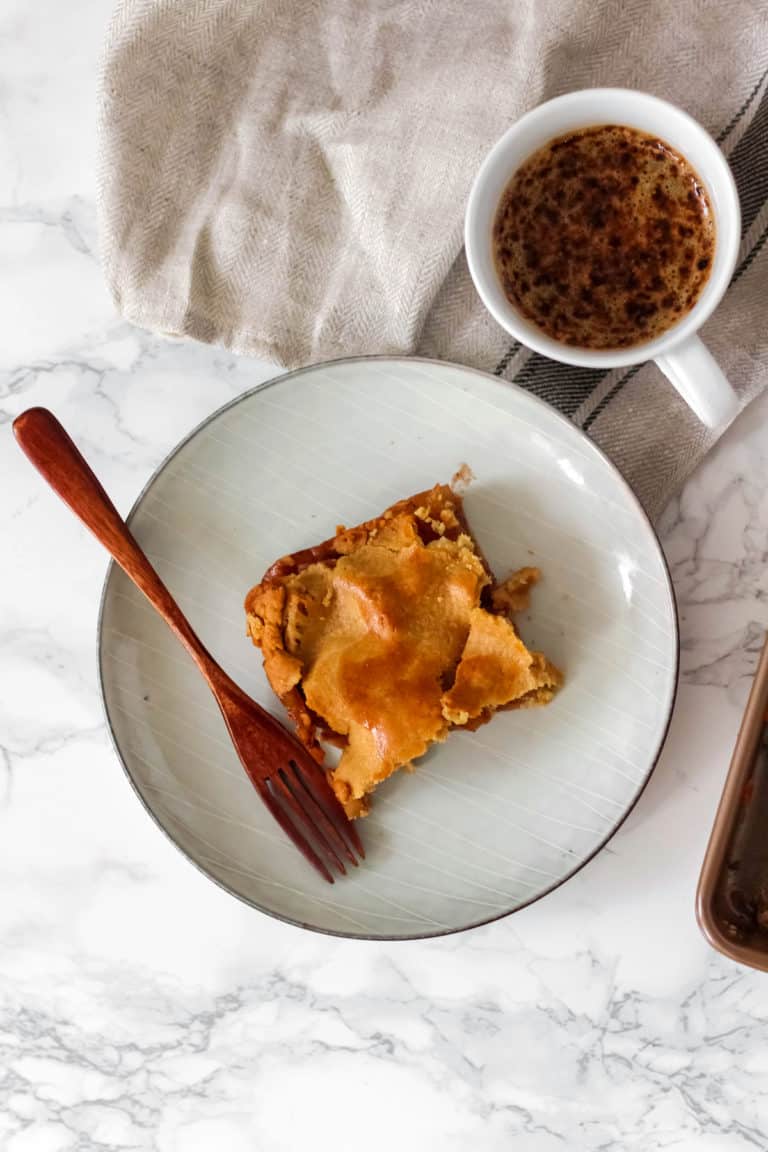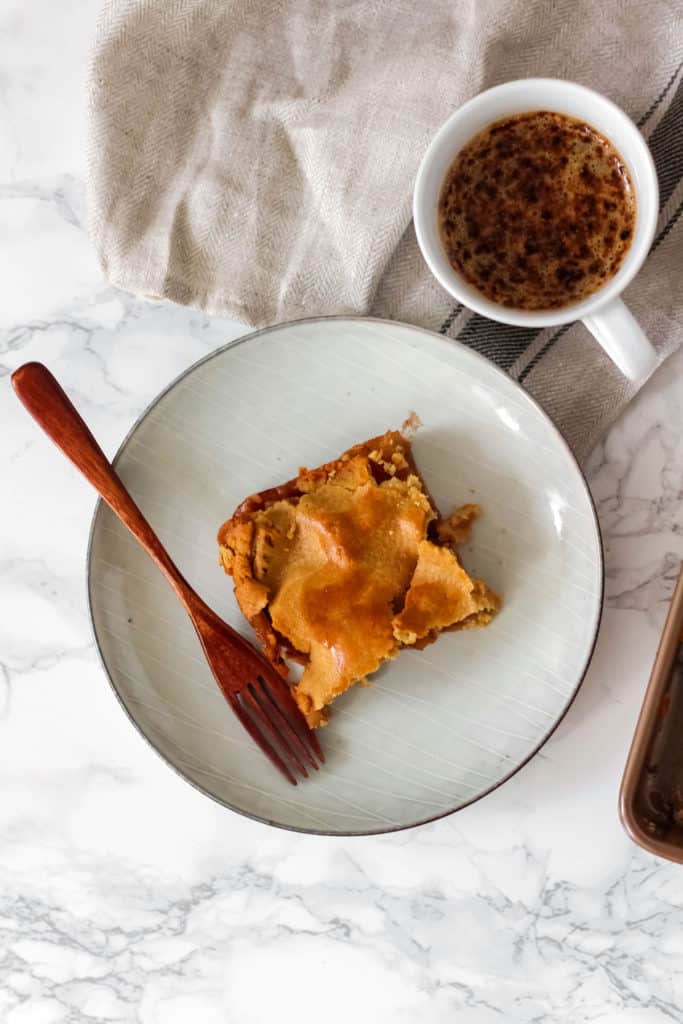 Sometimes, simple is better. ♡♡♡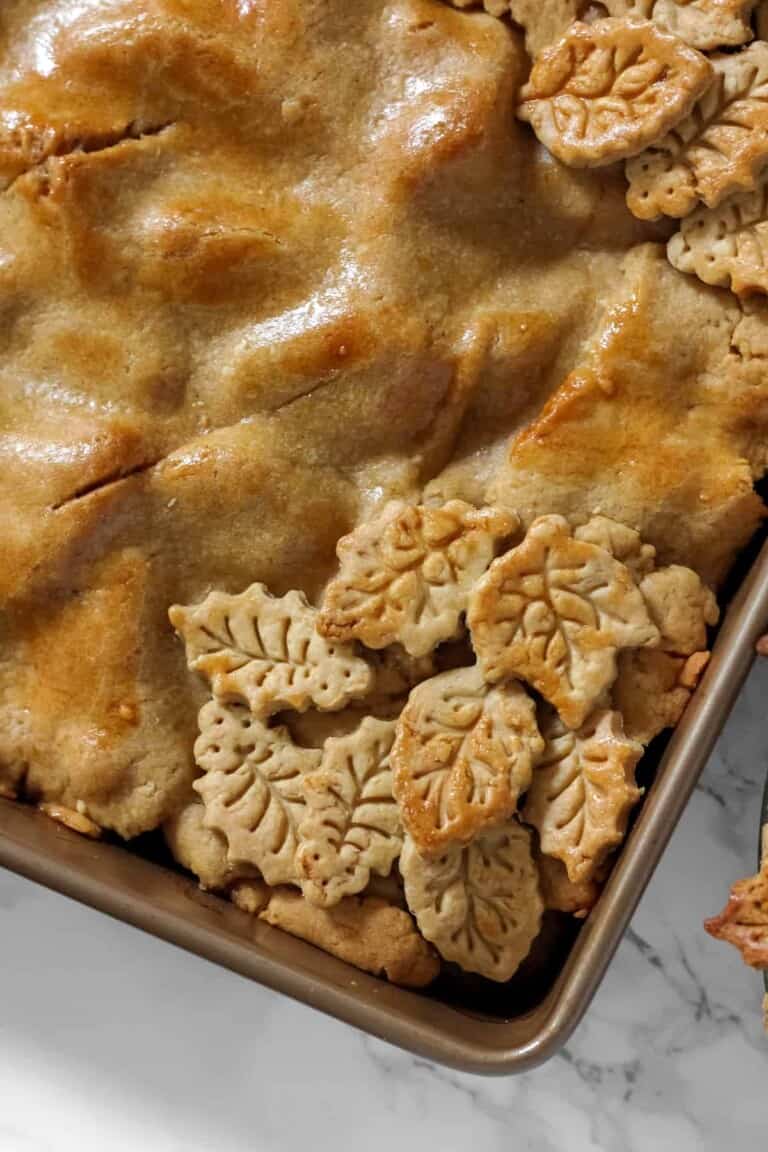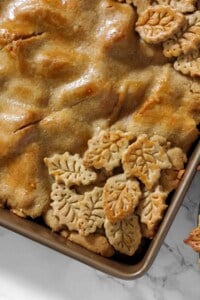 My Family's Apple Pie
Easy and delicious Apple Pie, is made with simple ingredients - perfect for feeding a crowd this holiday season!
Ingredients
Filling
8-9

medium sized apples

sliced into 1/4-in thick slices

2

tsp

cinnamon

3

tbsp

sugar

2 1/2

cups

flour

1

tsp

baking powder

1/2

tsp

salt

1/2

cup

sugar

1

egg

1/2

cup

oil

canola or avocado oil work great

1/4

cup

milk

1

tsp

vanilla

1

egg + 1 tbsp water or milk for egg wash
Instructions
Preheat oven to 350 degrees F. Grease a 9 x 13-in baking pan. Set aside.

Combine filling ingredients in a large bowl and set aside.

Whisk flour, baking powder, and salt in a bowl and set aside.

Beat sugar and egg with electric mixer until light and pale. Mix in oil, milk, and vanilla.

Add dry ingredients to the egg mixture and mix until a soft dough forms. If the dough is sticky, continue kneading until it comes together.

Divide the dough in half and press it into prepared pan, making sure to extend the dough slightly up the sides of pan. Pour apple mixture, along with any juices, over dough. Spread to even out.

Roll out remaining dough to fit pan, and carefully lay the dough over the filling. Tuck the dough into the corners and using a sharp knife, make 3 slits in the center of the pie.

Make the egg wash by beating egg with 1 tbsp water and lightly brush the top of the pie crust.

Bake 45-55 minutes, or until golden brown.

Serve warm or at room temperature.
Tried this recipe?
Let us know how it was and tag @bakedambrosia on Instagram