Gluten Free Buckwheat Flaxseed Pancakes
Light and fluffy Buckwheat Flaxseed Pancakes made with healthy wholesome ingredients. Delicious, gluten free, and packed with nutty buckwheat goodness. For another great pancake recipe, check out these fluffy Protein Powder Pancakes!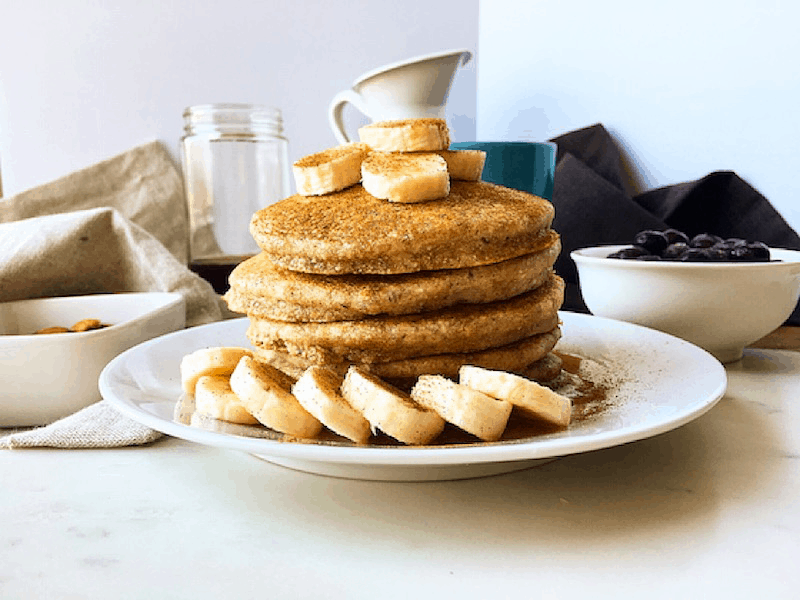 Pancakes.
I find myself making pancakes quite often these days.
The VERY moment my boyfriend opens his eyes in the morning he is STARVING. I'm not kidding. The first words out of his mouth every morning are "Is there anything to eat?".   I usually ask him what he wants for breakfast as I stumble out of bed still half asleep. "Pancakes". Why can't he be easy and go for cereal instead??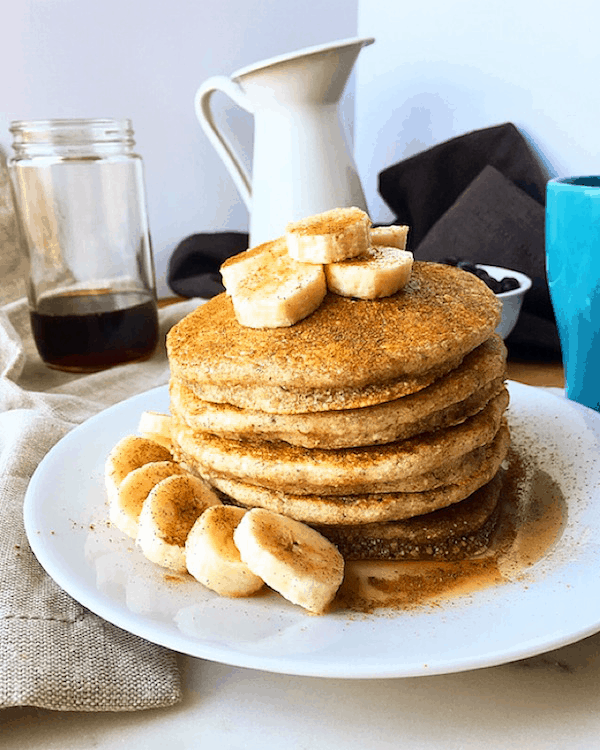 While we are on the subject, this boyfriend of mine has a love/hate relationship with sweets (mostly love). I thought I had the biggest sweet tooth until I met him. Now, I say it's a love/hate relationship because he's an athlete and athletes are supposed to eat healthy. Well, at least for most of the time. When the sweet tooth strikes, he can easily finish a whole quart of strawberry ice cream in one sitting. And then the guilt settles in so he goes for a 12 mile run. It's pretty crazy if you ask me.
Anyway, back to pancakes. While said boyfriend is still lying in the comfort of our bed, soaking up those extra 15 minutes of sleep we all wish we can have, I'm in the kitchen whipping up a batch of pancakes. I usually make pancakes with whatever I get my hand on first that day – whole wheat pancakes, banana pancakes, protein pancakes, oatmeal pancakes, chocolate chip pancakes (always a #1 hit). The variations are endless.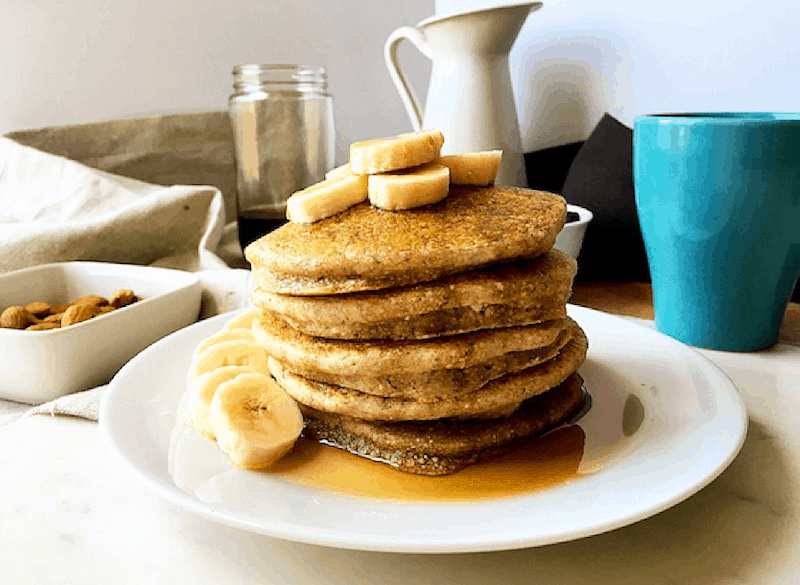 When I find a recipe I love and perfected, I become a little obsessed. I use it as the foundation for many different variations of the same food. I'll share the original version of this pancake recipe soon but today I decided to make Buckwheat Flaxseed Pancakes.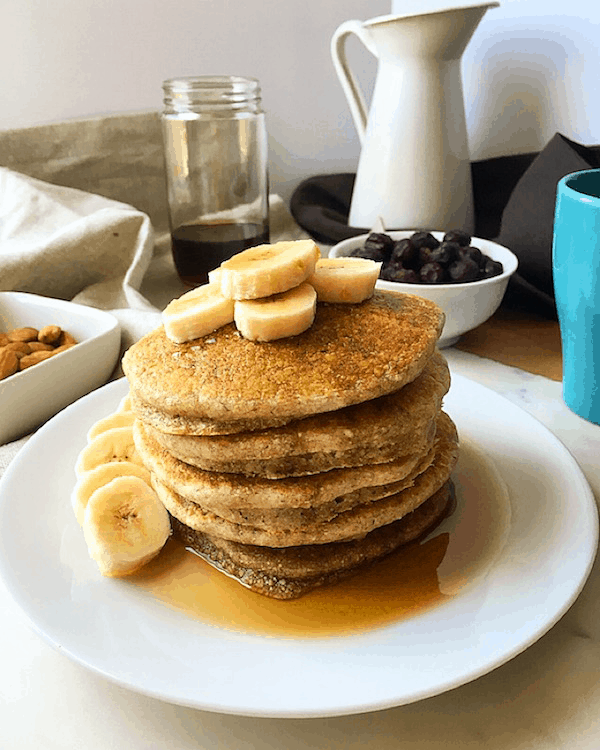 Buckwheat is a nutritious food that you are probably not eating and you should probably start incorporating it into your diet. Like, starting today. Even though many people think buckwheat is a grain, it is actually a seed from a plant related to rhubarb and sorrel. So, these pancakes are actually gluten free and technically grain free. Buckwheat is a good source of B vitamins and is rich in minerals including zinc, manganese, magnesium, and copper. It is also provides a high level of protein and is a good source of fiber, which keeps you feeling full longer and controls blood sugar levels after you eat. The flavor of buckwheat is a sort of bold, aromatic, nutty taste, which makes an great alternative to classic wheat pancakes. It may not be for everyone, but trust me it's definitely worth trying! (Plus: it's very cheap to buy)
Since buckwheat doesn't contain any gluten, I used ground flax seeds to hold the pancakes together. Coincidentally, flaxseeds are also among one of the healthiest foods in the world! They are the richest source of plant based omega-3 fatty acids and contain the highest level of lignans (fiber-related micronutrient that supports the growth of good bacteria in the gut, provides us with antioxidant benefits, and has anti-bacterial and anti-viral properties).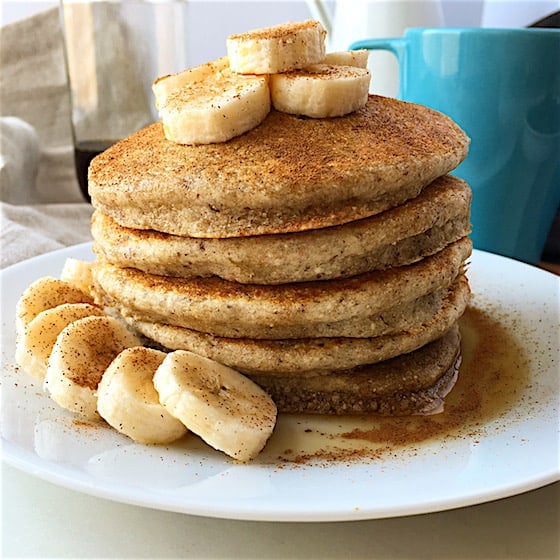 After many trials, I am convinced that the secret to fluffy pancakes is the way the egg is incorporated into the batter. I first mix in the yolk with the rest of the wet ingredients and add the mixture to the dry ingredients. In a small bowl, I very lightly whisk the egg whites and gently fold it into the batter until it is just combined. Now that I shared this secret with you, I hope you run to your kitchen and make a batch of these fluffy Buckwheat Flaxseed Pancakes.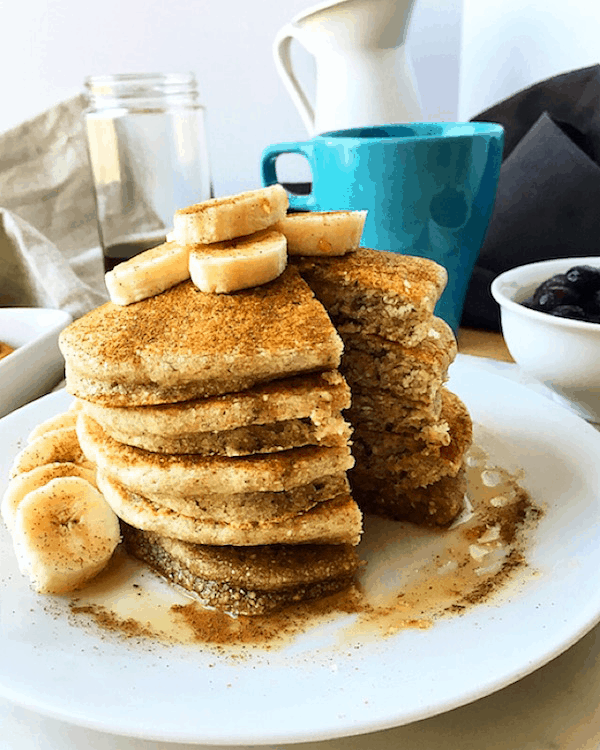 Top your stack with fresh fruit and cinnamon. And don't forget about the maple syrup!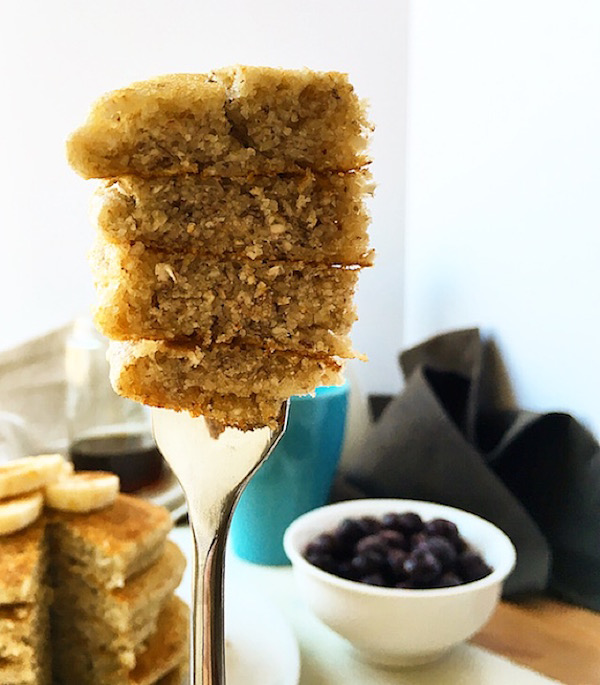 More Recipes You'll Love!
Fluffy Cottage Cheese Protein Pancakes – made in a blender with only 5 simple ingredients.
Healthy Chocolate Protein Pancakes – packed with probiotics and fiber in every bite.
Protein Pancakes with Strawberry Syrup – the perfect start to any day!
Paleo Chocolate Chip Pancake Muffins – no-fuss breakfast that can be baked ahead.
Chocolate Buckwheat Waffles – made with healthy wholesome ingredients.
If you make this recipe, take a photo and tag #bakedambrosia on Instagram and Facebook so that I can see your creations and feature them on Instagram! To stay up to date with the latest recipes, follow Baked Ambrosia on Pinterest, Facebook, Instagram, and Youtube. ♡
Gluten Free Buckwheat Flaxseed Pancakes
Ingredients
1 1/2

cups

buckwheat flour

1

tbsp

ground flaxseed

3 1/2

tsp

baking powder

1/2

tsp

salt

3

tbsp

melted coconut oil

1

egg

separated

1 1/2

cups

milk *

1

tsp

vanilla
Instructions
In a medium bowl, whisk buckwheat flour, flaxseed, baking powder, and salt.

Whisk in coconut oil, yolk and, milk

In a small bowl lightly beat egg white and vanilla. Gently fold into batter.

Heat a large skillet over medium heat. Lightly coat with coconut oil.

Pour 1/4 cup of batter into the hot skillet. Once the bubble that form on the edges on the pancake look dry (about 1-2 minutes), gently lift one side using a thin spatula. If it is golden brown, flip and cook on the other side for another 1-2 minutes.

Serve warm with pure maple syrup, fresh fruits, and a sprinkle of cinnamon!
Notes
* Nondairy milk can be substituted for regular milk.
Nutrition
Serving:
2
pancakes
Calories:
240
kcal
Carbohydrates:
32
g
Protein:
8
g
Fat:
9
g
Saturated Fat:
6
g
Cholesterol:
32
mg
Sodium:
38
mg
Fiber:
3
g
Sugar:
2
g
Tried this recipe?
Let us know how it was and tag @bakedambrosia on Instagram