The best Vegan Carrot Cake – super moist, perfectly spiced, and incredibly easy.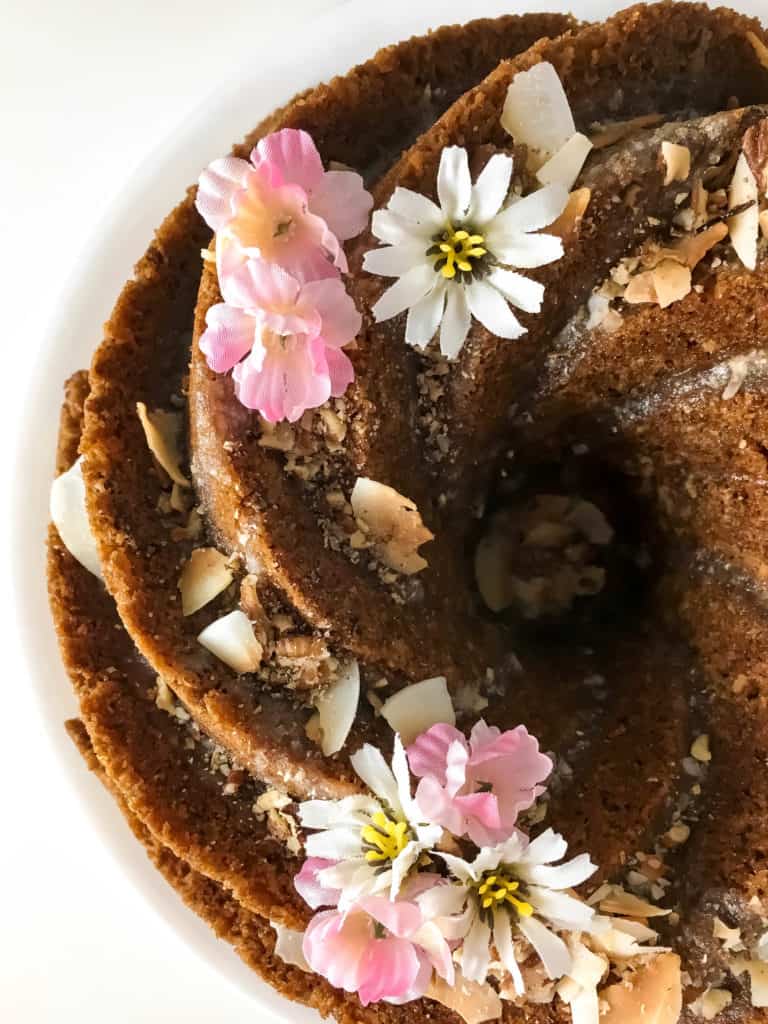 The days are longer, the weather is warming up, and the trees are beginning to bloom. Finally! And with Easter just around the corner, I have one thing on my mind … SPRING BAKING.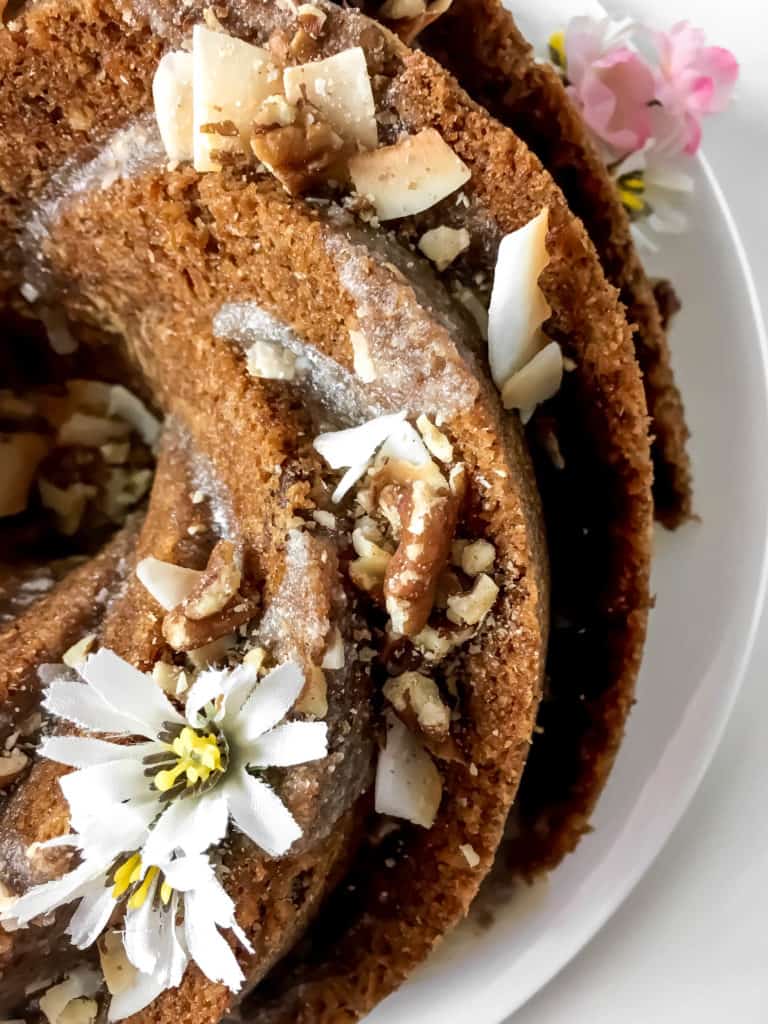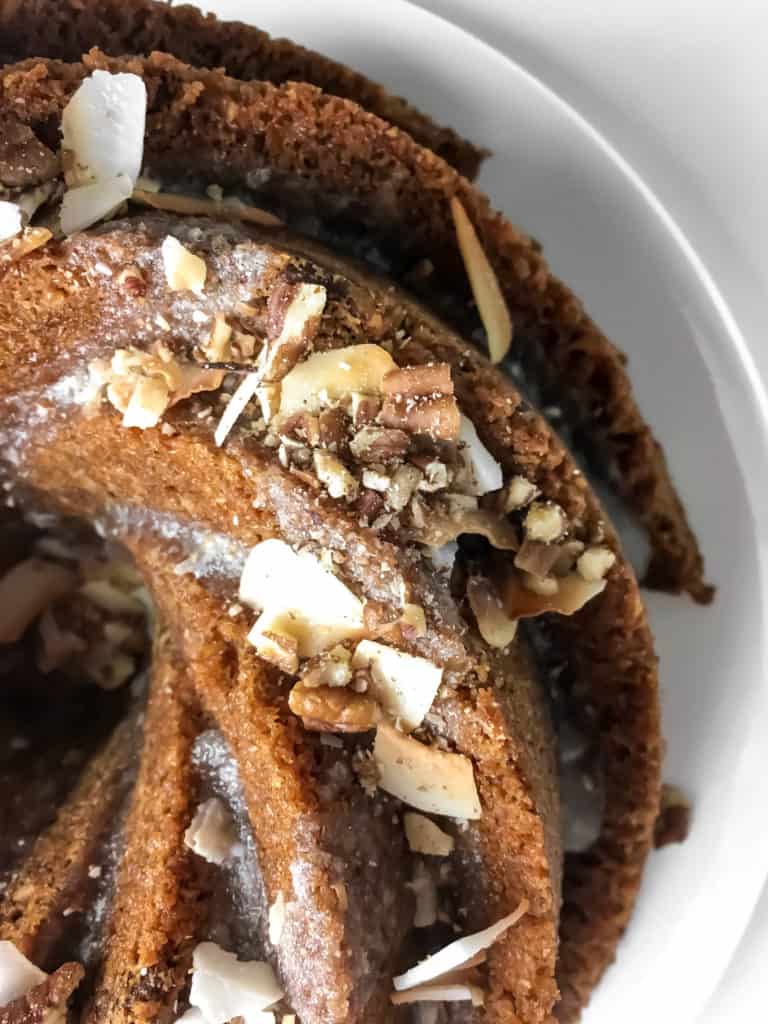 And nothing screams Spring more than Carrot Cake.
Since I made this cake before Easter, I decided to make a Vegan Carrot Cake, so that anyone that is fasting for Lent can enjoy a slice too. I was a little nervous while I was coming up with this recipe because I had never made a carrot cake without any eggs. I've also never made a carrot cake without cream cheese frosting, which is why I decided to make this cake in a bundt pan.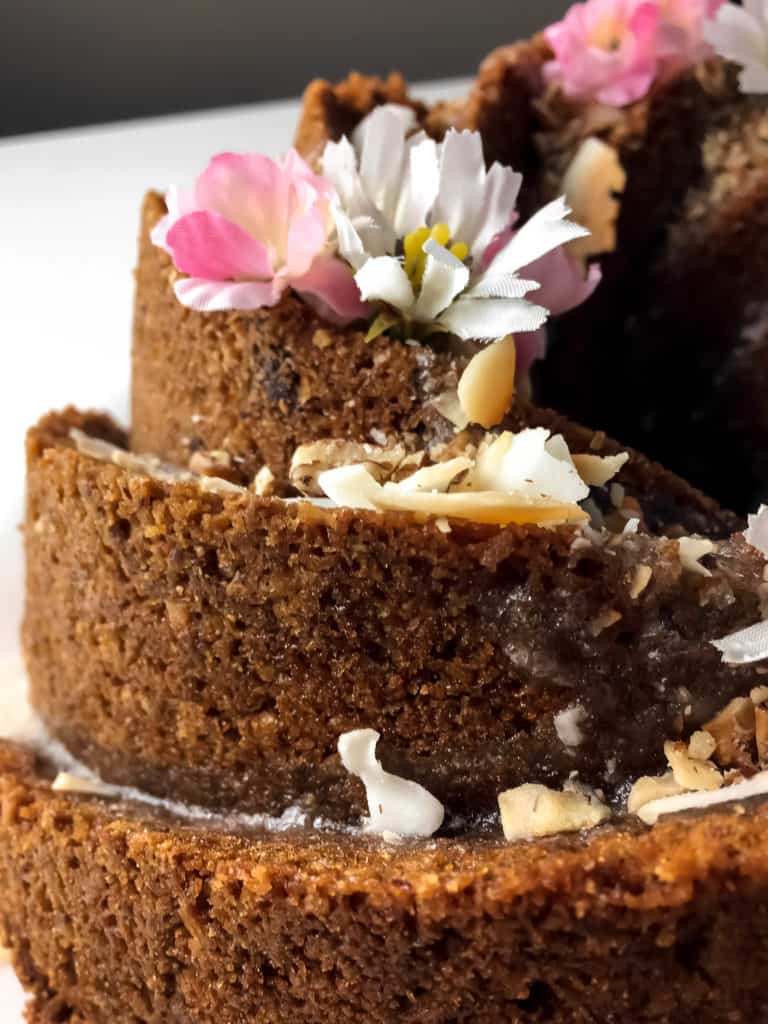 I substituted eggs with flax eggs. If you're not familiar with vegan or allergen-free baking, flax eggs are a super easy substitute to traditional eggs. For each egg, whisk together 1 tablespoon of ground flax seeds with 3 tablespoons of water. Stir until well combined, and then refrigerate for 15 minutes to set. Once you remove them from the refrigerator, the mixture will be sticky and thick, and will bind your baked goods just like regular eggs!
Ok, so lets talk carrot cakes. I realized that people are very particular about the way they like their carrot cake, myself included. Yup, I don't want to bite into a piece of carrot cake and taste 80 different flavors and feel all sorts of textures.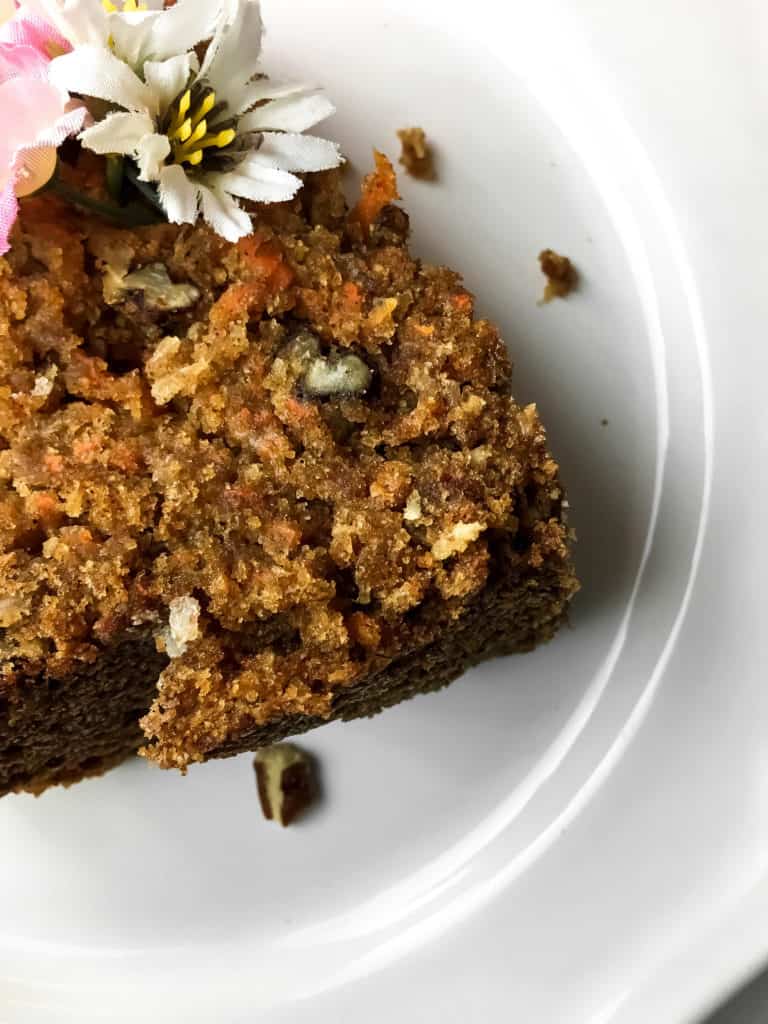 If there is coconut in the carrot cake (like this cake), I like to add some chopped walnuts for the extra crunch. When I make my usual carrot cake, I add crushed pineapple – and ONLY crushed pineapple. I'm not a fan of applesauce or banana in my carrot cake, I find those tastes too overpowering. However, sometimes I like a little orange flavor in my cake and add some orange zest or juice to brighten things up a bit.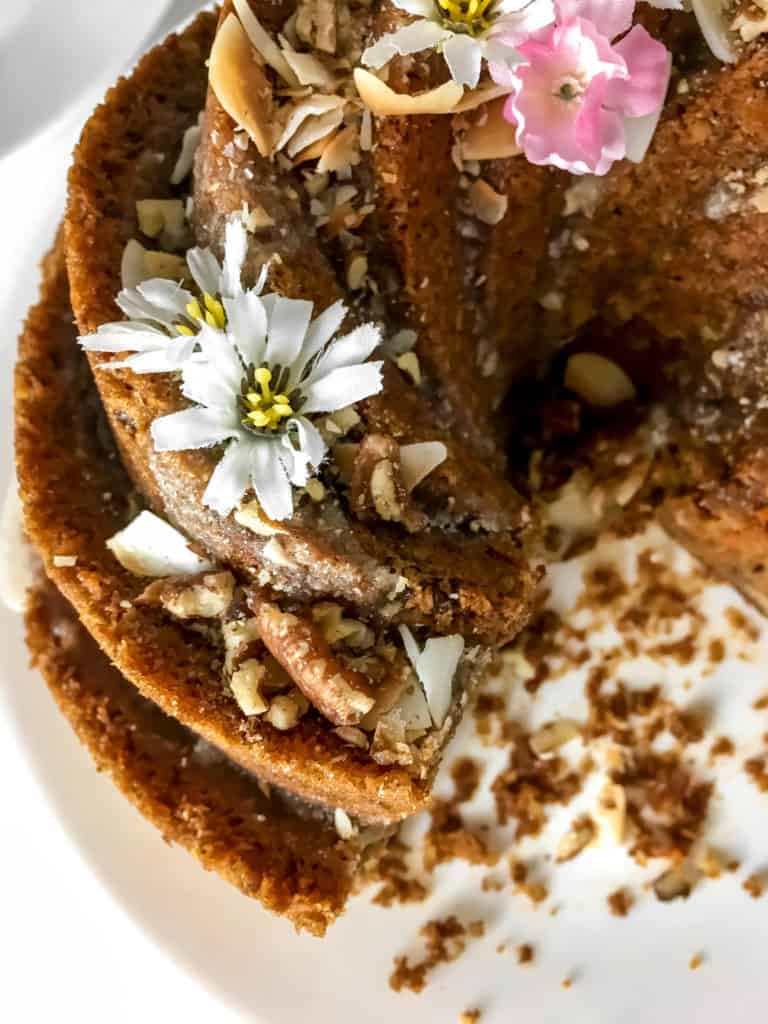 And don't even get me started on raisins. My dad can't enjoy carrot cake unless its LOADED with raisins. I can barely think about raisins without cringing. Especially when I bite into what I think is a chocolate chip oatmeal cookie, only to find out that the chocolate chips are actually shriveled grapes. I know, gross.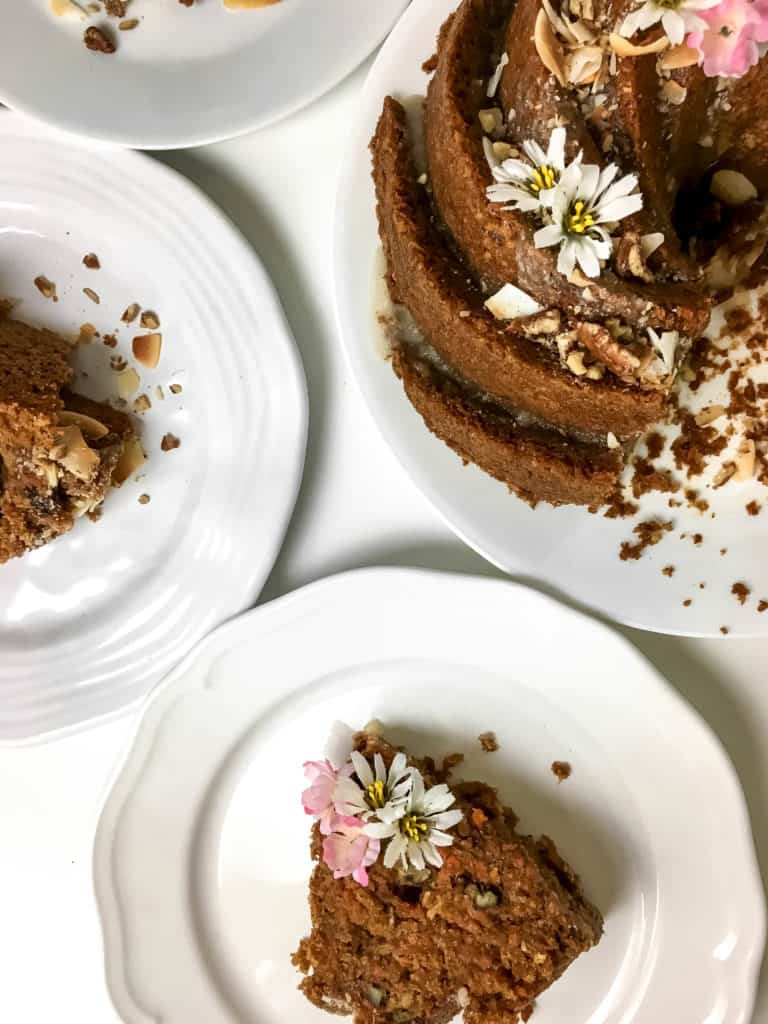 Of course, you can always add any of those ingredients to your cake if you're a fan. I'm sure it will taste amazing. (I've included options and substitutions in the recipe).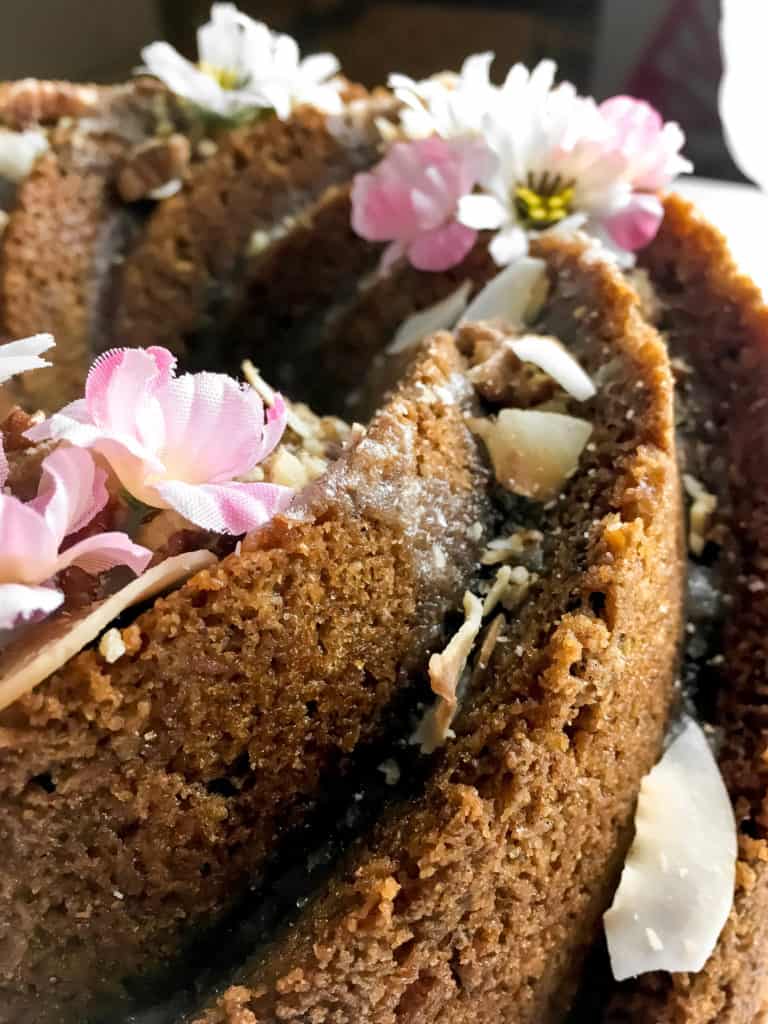 In my opinion, the best carrot cake is moist and sweet with just the right amount of spice, and this vegan version definitely hits the spot!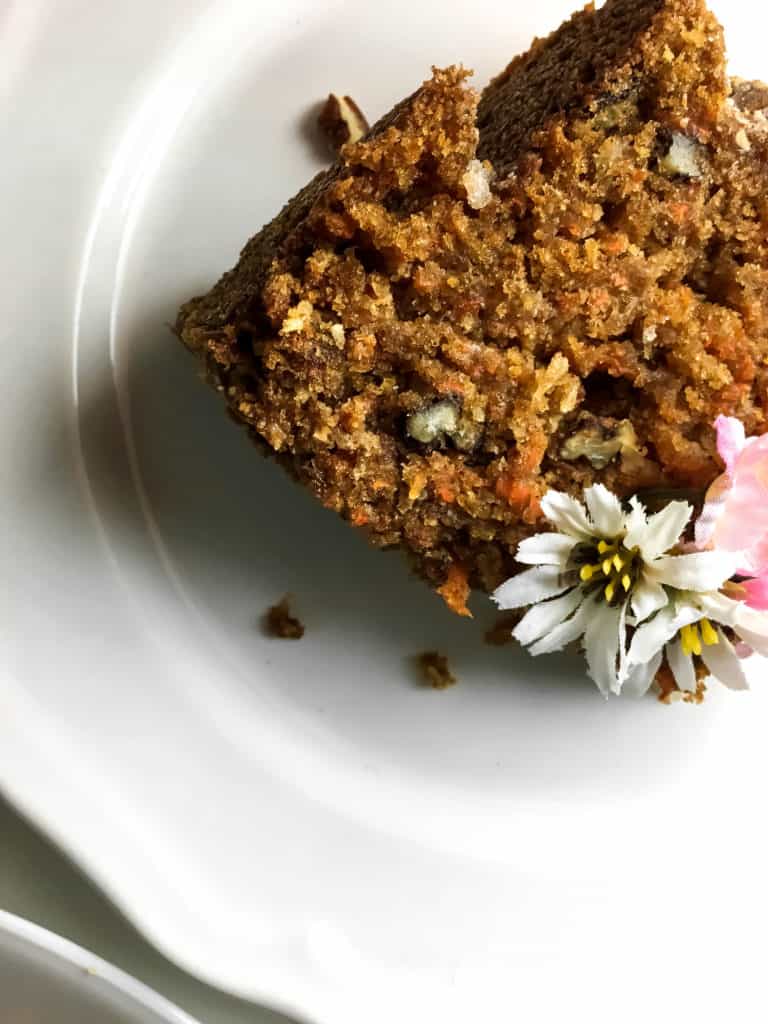 *Tip: To grate the carrots, I love using my Cuisinart Food Processor with the shredding disc attachment.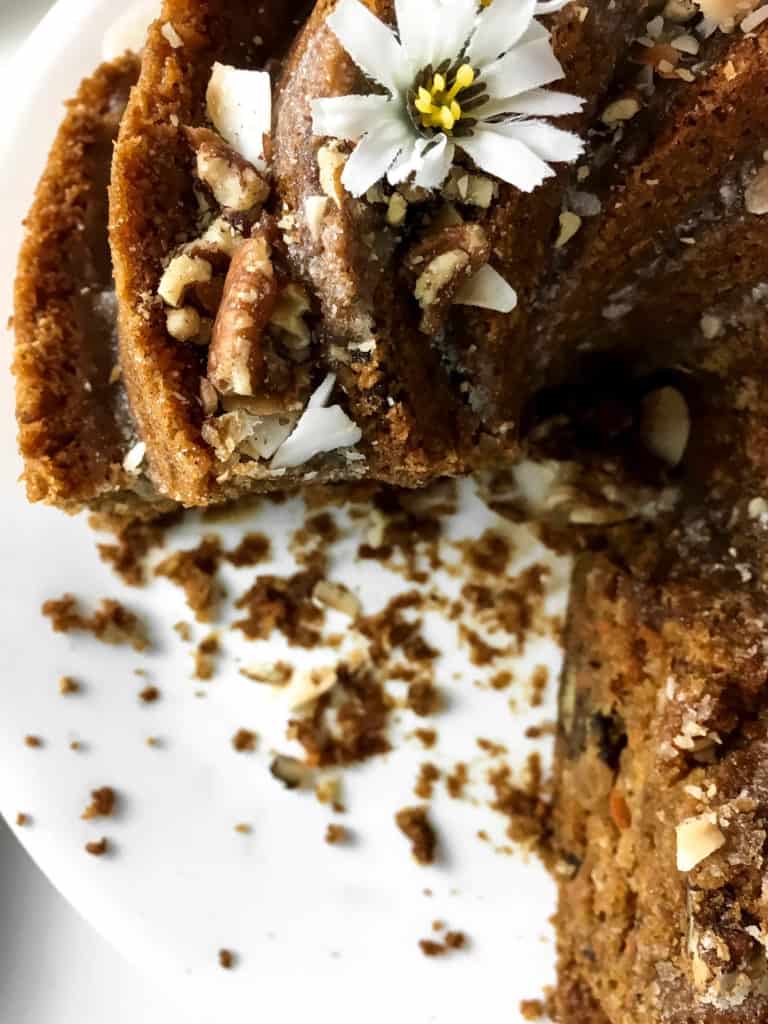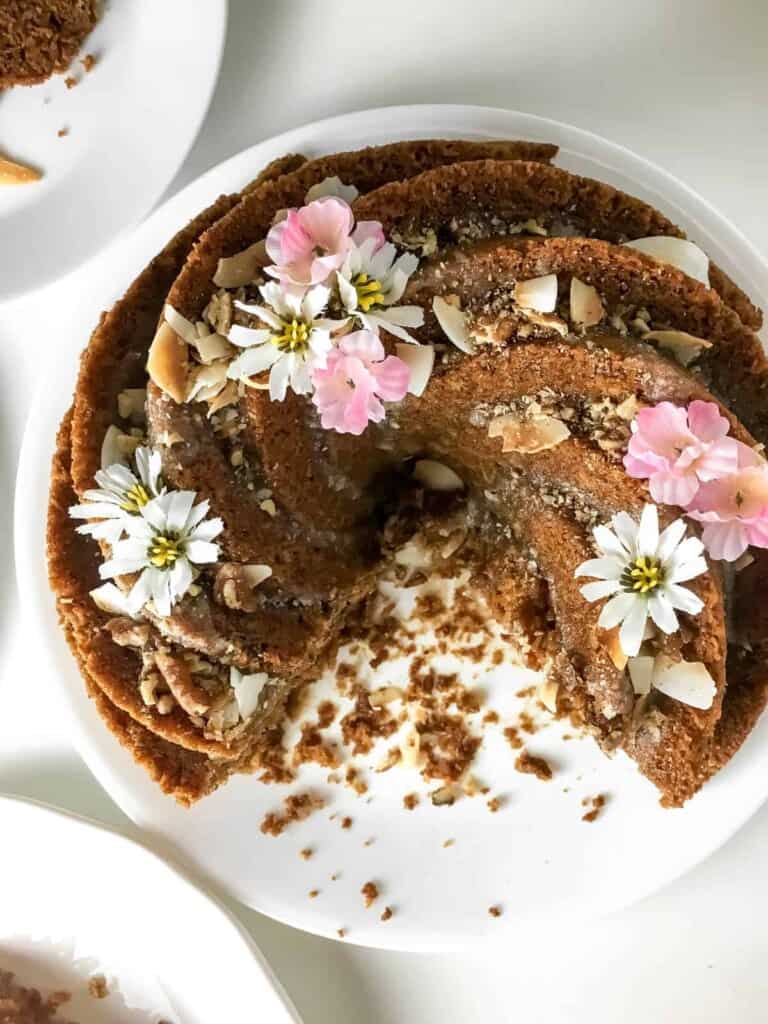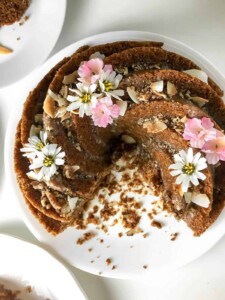 Vegan Carrot Cake
Ingredients
2

cups

whole wheat pastry flour

all purpose flour

1

cup

whole wheat flour

2

tsp

cinnamon

1 1/2

tsp

baking powder

1 1/2

tsp

baking soda

1

tsp

salt

1

pound

carrots

grated

2/3

cups

shredded coconut

3

flax eggs

3 tbsp ground flaxseeds + 1/2 plus 1 tbsp water

1

cup

sugar

1

cup

light brown sugar

3/4

cup

oil

coconut oil, olive oil, canola oil

2/3

cups

almond milk

or orange juice

1

tsp

vanilla

1/2

cup

chopped walnuts or pecans

optional

add ins: zest of 1 orange

1/3 cup raisins
Topping
1/2

cup

powdered sugar

1-2

tbsp

water

almond milk, or orange juice

toasted coconut flakes

chopped walnuts
Instructions
*Prepare the flax eggs first by whisking together 3 tbsp ground flax seeds with 9 tbsp water. Stir until well combined and refrigerate 15 minutes.

Preheat oven to 350°F. Prepare bundt pan by either spraying it or greasing the inside well.

In a large bowl, whisk flours, cinnamon, baking powder, baking soda, and salt.

Mix in grated carrots and shredded coconut.

In a separate bowl, beat together the sugar, brown sugar, and flax eggs. Add oil, almond milk, and vanilla. Beat well, until mixture lightens in color.

Transfer the wet ingredients to the flour mixture. Using a rubber spatular, mix until thoroughly combined. If using nuts or other add ins, stir them in until combined.

Pour batter into prepared bundt pan and bake 50 min-1 hour.

Remove pan from oven and let cake cool 15 minutes in the pan, on a wire rack.

Run a knife around the edges of the cake and remove cake from pan. Cool cake completely on the wire rack.

To make the topping, whisk together the powdered sugar, and liquid of choice until smooth. Drizzle over cake. Top with toasted coconut flakes and chopped walnuts.
Tried this recipe?
Let us know how it was and tag @bakedambrosia on Instagram