Healthy Blackberry Crumble Bars (Gluten-Free & Vegan)
These Blackberry Crumble Bars offer a deliciously satisfying blend of a crisp crumble topping and a juicy blackberry filling, making them a hit among healthy blackberry recipes. This recipe is adaptable, easy to prepare, and caters to various dietary needs with options for vegan and gluten-free adjustments. Enjoy a delightful treat that combines flavor, health, and simplicity all in one, perfect for sharing with your whole family.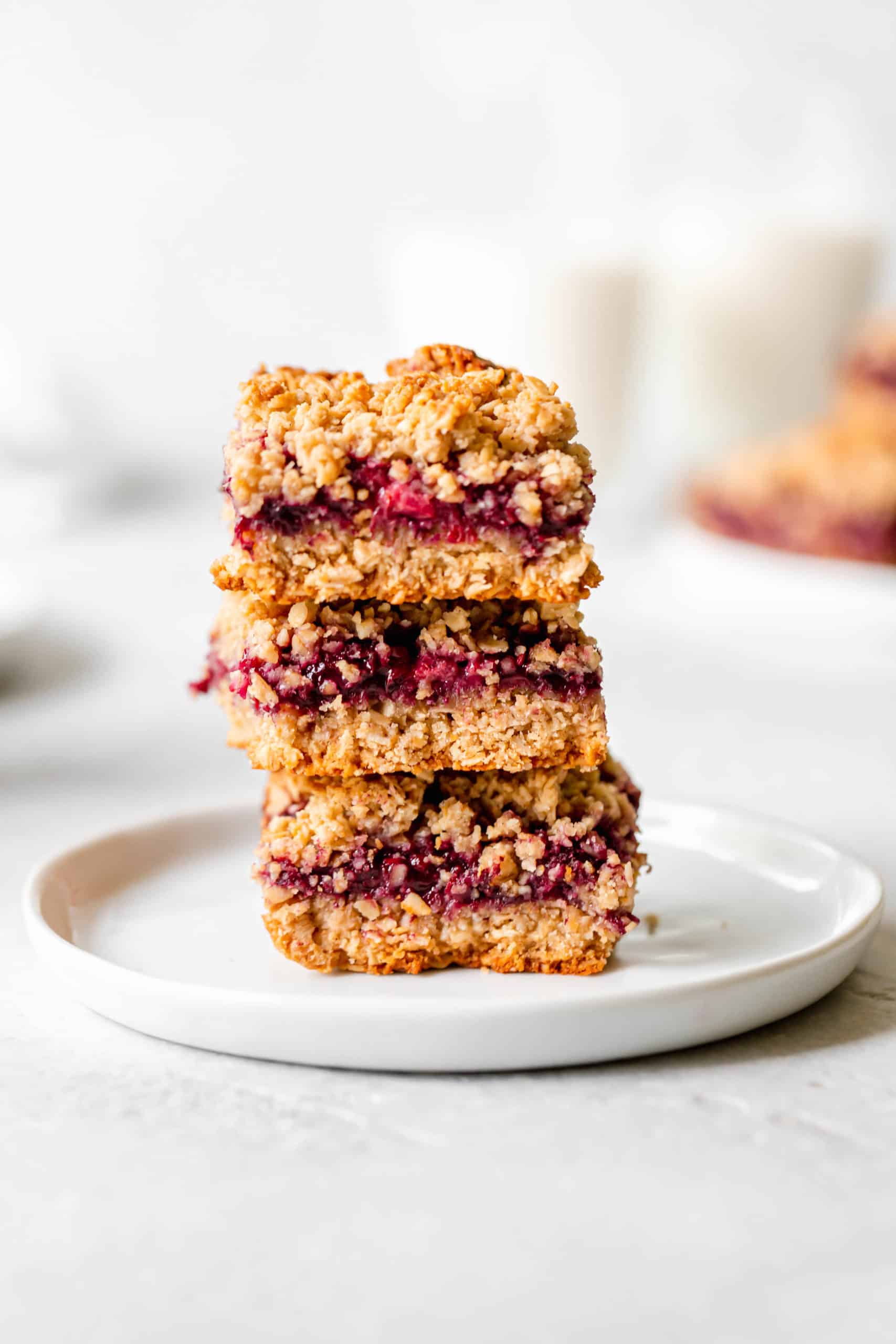 Are you on the lookout for healthy blackberry recipes? If yes, then this blog post will prove to be a delicious revelation. A perfect blend of sweet and tart, these healthy Blackberry Crumble Bars are an easy dessert ideal for a summer picnic or a special occasion. Simple ingredients like fresh juicy blackberries, coconut sugar, and whole grains form the backbone of this delightful treat.
Our Favorite
Healthy Dessert Recipes
Why This Recipe Works
Healthy blackberry recipes, such as these Blackberry Crumble Bars, are a delightful way to enjoy a sweet treat without compromising your health goals. Here's why this recipe works:
Versatility: You can easily substitute the blackberries with other kinds of berries or fruits, making it adaptable to your personal preference or seasonal availability. Whether you're craving tart berries like raspberries or succulent summer fruit like peaches, this recipe can accommodate them all.
Balanced Nutrition: With a mix of whole grains from the rolled oats, healthy fats from the coconut oil and almond butter, and the natural sweetness from honey or maple syrup, this recipe provides a balanced mix of essential nutrients. It's a healthier dessert choice that doesn't compromise on taste.
Dietary Flexibility: The recipe can be adjusted to suit various dietary needs. If you're vegan, you can easily swap out honey for maple syrup. For those with gluten sensitivities, replace rolled oats and almond flour with their gluten-free counterparts.
Ease of Preparation: Using a food processor to combine the ingredients not only makes the recipe easier but also ensures a consistent texture. The bars are also easy to cut and serve, making them perfect for any occasion.
Delicious Outcomes: The end result is a treat that's both nutritious and delicious. The crisp crumble topping contrasting with the juicy blackberry filling offers a satisfying crunch, while the optional addition of a scoop of vanilla ice cream or a dollop of Greek yogurt takes it to another level of yumminess.
What Readers Say:
"I loved this and more importantly, so did my gluten intolerant daughter and the other gluten tolerant folks in the house! So a win-win for this Momma. I was able to make one dessert that everyone enjoyed! Oh, how "sweet"! I did have to make some adjustments, but not by a stretch. I had to make my own almond flour with my whole almonds. Thank you for the tip!"
eva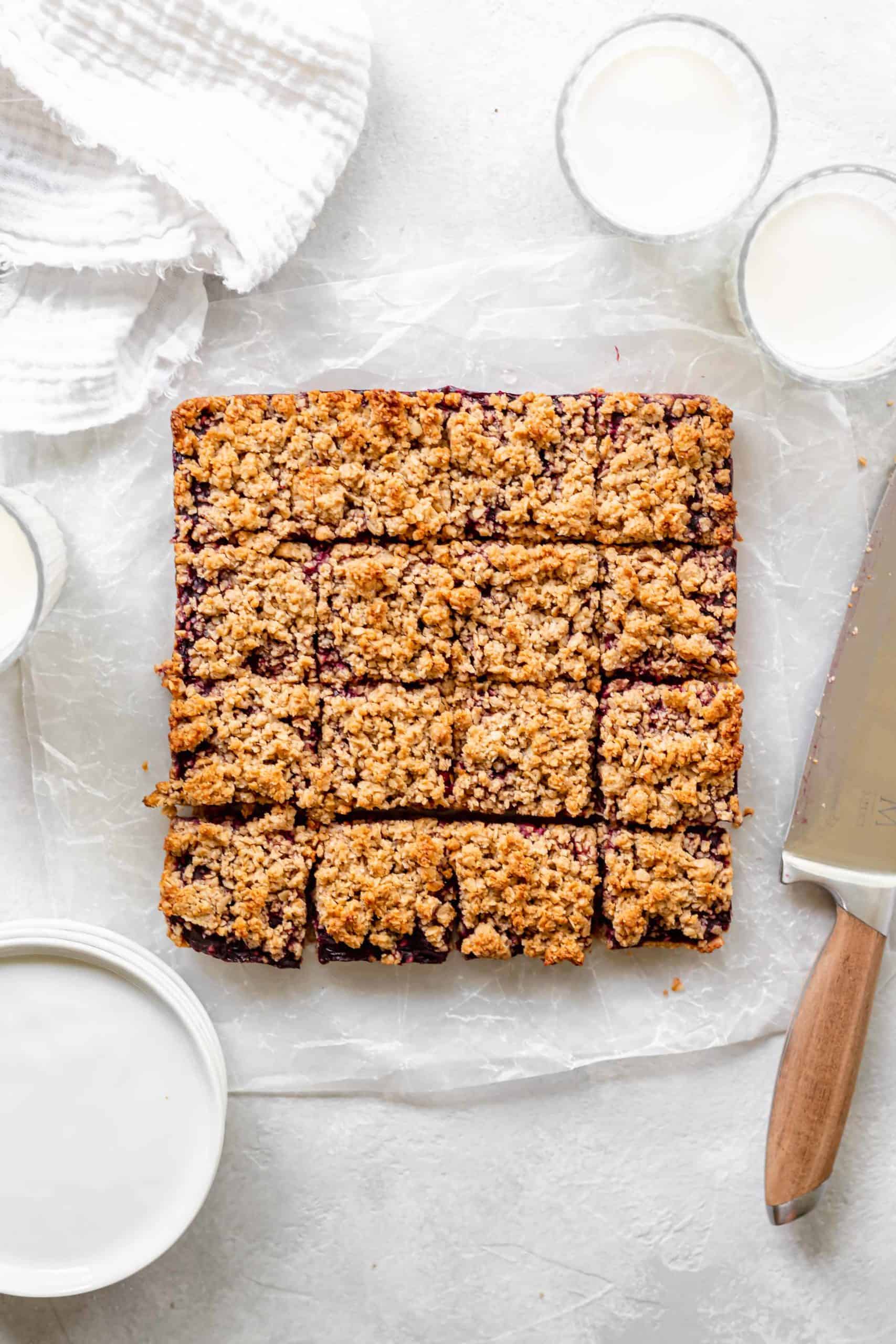 Ingredient Notes
Be sure to check out the recipe card for the full ingredient list.
Blackberries: The star ingredient in these bars, you can use either fresh or frozen blackberries. If you choose to use frozen blackberries, be sure to thaw them before pureeing. If you don't have blackberries on hand, you can substitute them with any other berry or fruit.
Rolled Oats: A versatile ingredient, quick-cooking oats can also be used in this recipe. Just be sure not to turn them into flour in the food processor!
Almond Flour: This recipe recommends superfine almond flour made from blanched almonds. But you can also use natural almond flour that is ground from whole almonds.
Coconut Oil: This forms the base of your crumble and provides a healthy dose of fats. However, if you prefer, grass-fed butter can be a great substitute for coconut oil.
Honey: This natural sweetener not only adds a burst of sweetness but also a delightful flavor. Though honey is a preferred choice, the recipe can be adapted using different natural sweeteners. For a vegan version, use maple syrup.
Cashew Butter: It gives a nice creamy texture to these bars. Any nut or seed butter works well in this recipe, though cashew or almond butter are the top choices.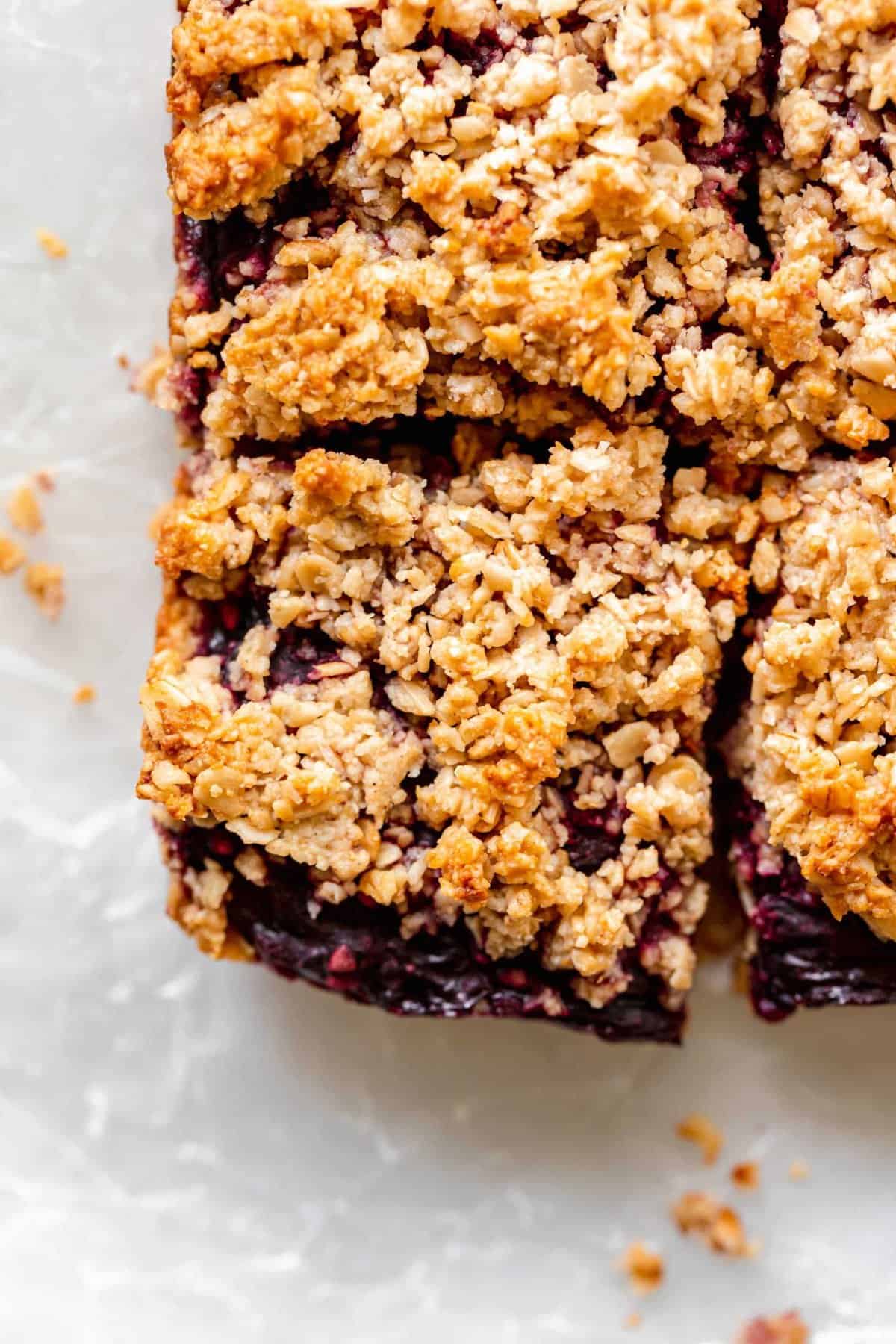 Step-by-Step Directions
Combine the Dry Ingredients: In the bowl of a food processor, pulse the rolled oats, almond flour, cinnamon, and salt 3-4 times until the oats are slightly ground.
Combine the Wet Ingredients: Melt the coconut oil in a small pot over medium-low heat or in a microwave. Stir in the honey, and cashew butter until smooth.
Add the Wet Ingredients: Add the wet ingredients to the food processor and process until everything is well combined.
Press Mixture into a Baking Pan: Remove 1 cup of the mixture and set aside for later. This will be used as the crumble topping. Press the remaining mixture into the bottom of an 8×8″ baking pan lined with parchment paper. Pierce holes in the crust with a fork to prevent it from puffing up during baking.
Bake the Crust: Preheat the oven and bake the crust for 10 minutes.
Make Blackberry Puree: Add the blackberries and tapioca starch to the same food processor (no need to clean it). Pulse to break up the blackberries. For a smoother filling, pulse until the blackberries are completely pureed.
Pour Blackberry Puree and Topping: Pour the blackberry puree over the baked crust and spread it out evenly. Sprinkle the reserved crumb mixture over the blackberry puree.
Bake Blackberry Oat Crumb Bars: Return the pan to the oven and bake for 25-30 minutes, or until the crumb topping is golden brown. Remove the pan from the oven and cool completely. Place in the refrigerator for at least 4 hours to set completely.
Cut Crumble Bars and Serve: Cut the Blackberry Crumble Bars into squares and enjoy!
Expert Tips
Selecting Your Berries: If you can, opt for fresh blackberries. They tend to yield more flavor and have a better texture. If you're using frozen blackberries, remember to thaw them completely before starting with the recipe.
Managing Your Oats: When processing your oats, be cautious not to overdo it. You want them slightly ground, not turned into a flour-like consistency. This will help maintain the deliciously hearty texture in your bars.
Vegan Adjustments: If you're following a vegan diet, swap out the honey with maple syrup. Remember, this might subtly change the taste profile of your bars.
Substituting Coconut Oil: If you're not a fan of coconut oil, grass-fed butter can be an excellent substitute. It can give your crumble a slightly different, but equally delicious, flavor.
Choosing Your Nut Butter: While the recipe recommends cashew or almond butter, feel free to experiment with different kinds of nut or seed butter. This is an easy way to introduce new flavors to your bars.
Enjoy with a Side: While these bars are delicious on their own, serving them with a scoop of vanilla ice cream or a dollop of Greek yogurt can elevate your dessert to a new level. Just remember to account for the added calories if you're keeping a strict eye on your healthy eating!
Patience is Key: After baking, let your Blackberry Crumble Bars cool down and refrigerate for at least 4 hours to set. This waiting period can be a game-changer for the texture of your bars.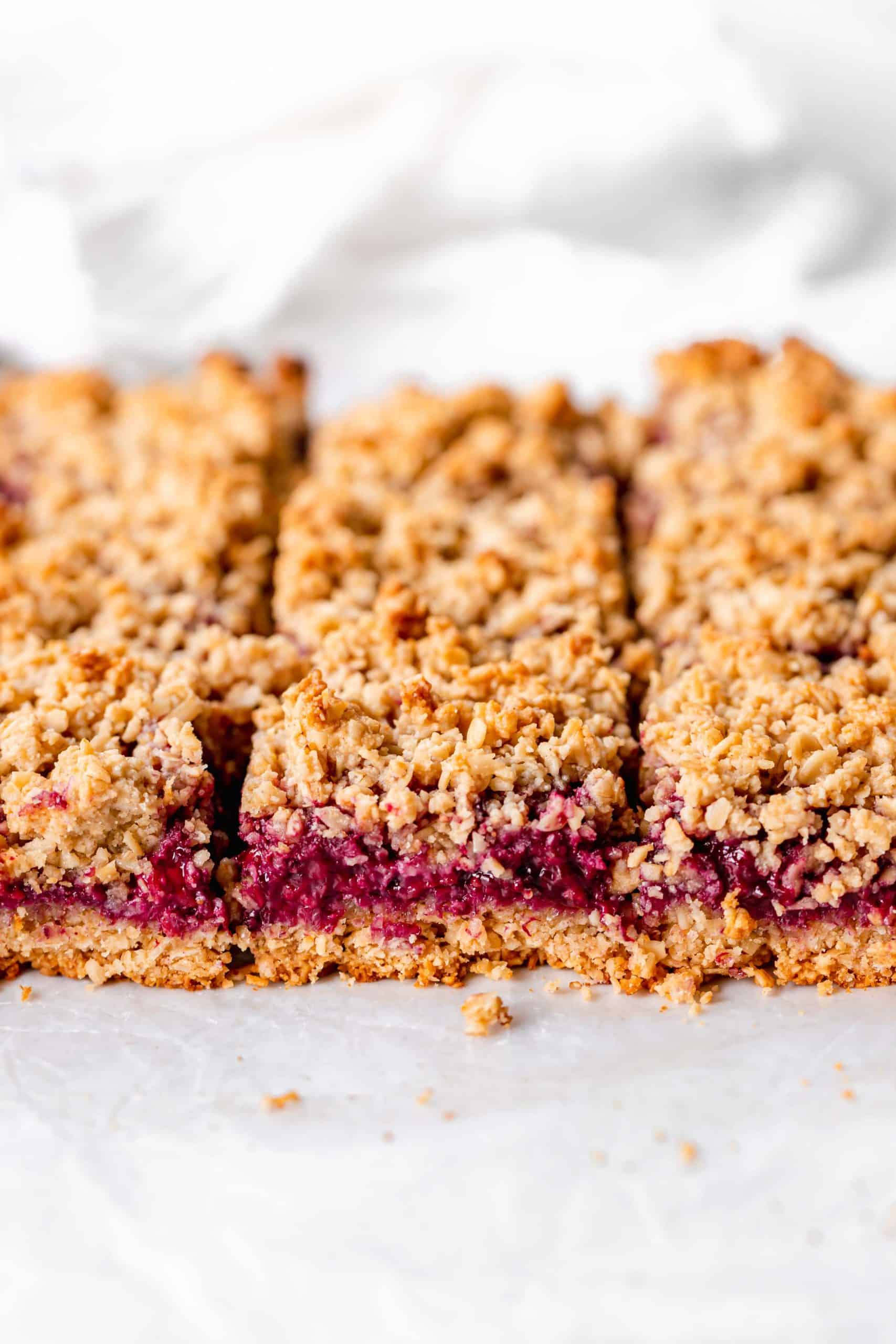 Frequently Asked Questions
Can I use other fruits or berries instead of blackberries?
Absolutely! You can easily substitute blackberries with any other fruit or berry. Just remember, if you're using frozen berries, thaw them before pureeing.
What can be served with the Blackberry Crumble Bars?
A scoop of vanilla ice cream or a dollop of Greek yogurt pairs perfectly with these bars. It's a healthy dessert that your whole family will adore!
How do I store the leftover Blackberry Crumble Bars?
You can store leftover crumble bars in an airtight container in the refrigerator for up to a week. They're even more delicious when enjoyed the next day!
Are these bars gluten-free?
Yes, make sure the rolled oats are gluten-free to make these bars suitable for a gluten-free diet.
What's the best way to cut these crumble bars?
For best results, ensure the bars have cooled down completely and have been refrigerated for at least 4 hours. Use a sharp knife and make clean cuts for perfectly shaped bars.
Is this recipe suitable for vegans?
Yes, it can be made vegan. Swap out honey for maple syrup to ensure that the recipe is 100% vegan.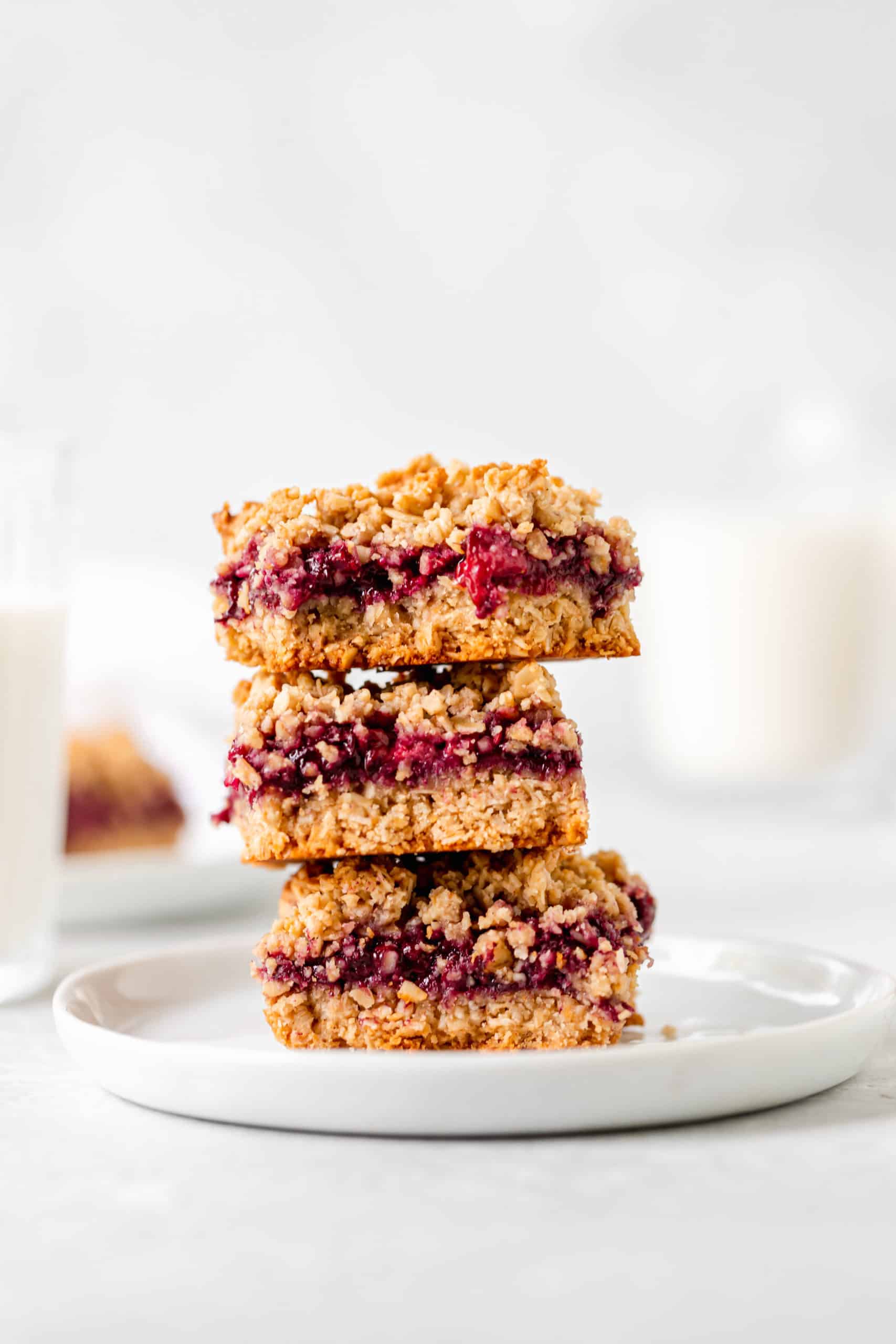 When it comes to healthy desserts, this Blackberry Crumble Bars recipe truly shines. It is a healthier dessert version of your favorite blackberry crisp recipe. The best part is, they're simple to make. Next time you're at a farmer's market, pick up some fresh berries, and give this recipe a try. Your real life taste-test will truly be the star rating for this recipe.
I hope this recipe becomes one of your favorite ways to enjoy blackberries. After all, there's no better way to celebrate the summer season than with a plate full of berry desserts, right? From healthy blackberry cobbler to blackberry crumble bars, we've got your sweet cravings covered with delicious recipes. 
If you make this recipe, take a photo and tag #bakedambrosia on Instagram and Facebook so that I can see your creations and feature them on Instagram! To stay up to date with the latest recipes, follow Baked Ambrosia on Pinterest, Facebook, Instagram, and Youtube. ♡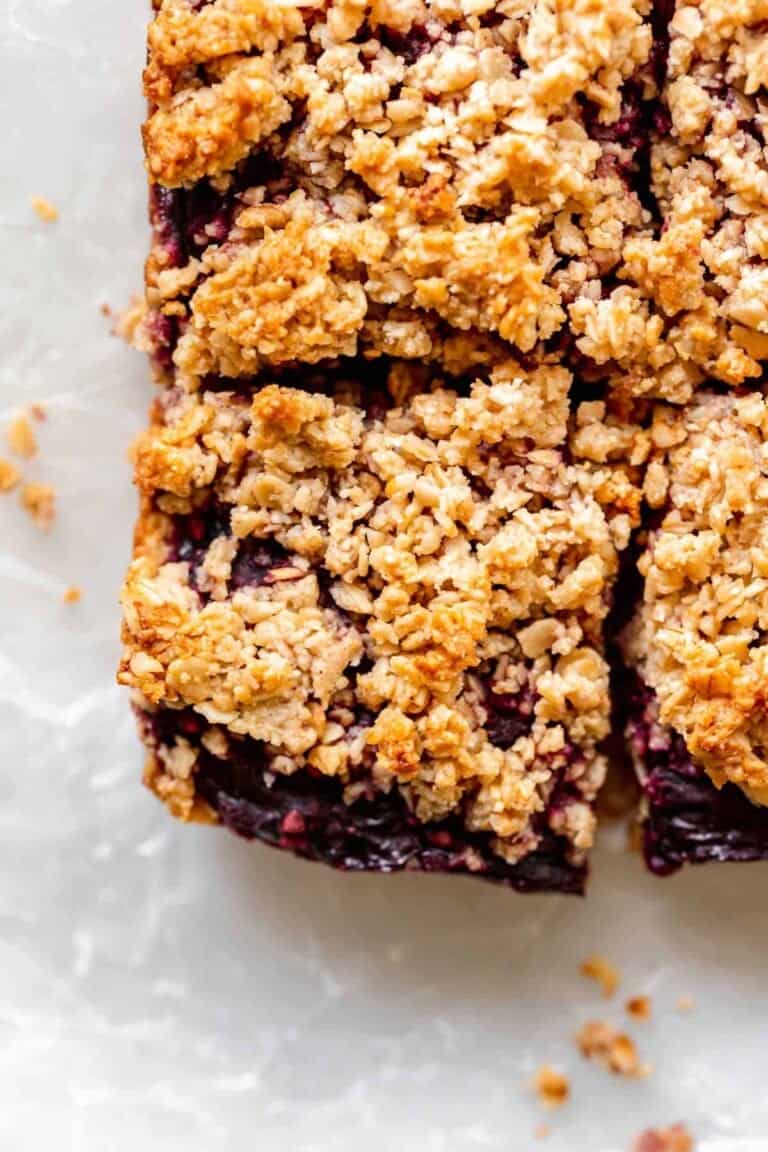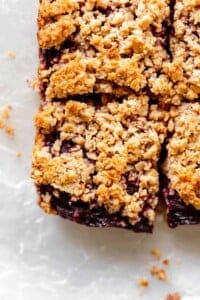 Blackberry Oat Crumb Bars
These Blackberry Oat Crumb Bars are an easy, delicious, healthy dessert or snack! They are made with only 7 ingredients and only 10 minutes of prep time. Plus, they are gluten free, vegan-friendly, and have no refined sugar!
Ingredients
3

cups

310 g rolled oats

1

cup

120 g almond flour

1/2

tsp

salt

1/2

tsp

cinnamon

optional

1/2

cup

100 g coconut oil, melted

1/3

cup

117 g honey (or maple syrup for vegan option)

1

tbsp

32 g cashew butter (can substitute any other nut or seed butter)

12

oz

blackberries

1

tbsp

tapioca starch
Instructions
Preheat oven to 350°F. Line an 8 x 8-in baking pan with parchment paper and set aside.

Combine oats, almond flour, salt, and cinnamon in a food processor. Pulse to chop oats and combine.

In a small pot, or microwavable bowl, melt coconut oil. Stir in honey and cashew butter.

Pour into dry ingredients in food processor and process until mixture comes together (make sure there are not dry spots).

Set aside 1 cup of oat mixture for crumb topping. Evenly distribute and press down the remaining mixture in the parchment lined baking pan. Prick the crust with a fork a few times to allow steam to escape. Bake for 10 minutes.

While crust is baking, add blackberries and tapioca starch to the food processor and pulse 3-4 times to break the blackberries up. If you prefer a smooth filling, process until blackberries are completely pureed. Remove the crust from the oven and pour blackberry puree over crust. Crumble reserved oat mixture evenly over blackberries. Bake for 25-30 minutes, until topping is golden brown.

Remove from oven and cool completely in pan for 1 hour. Refrigerate for at least 4 hours until completely set. Remove from pan by lifting the edges of the parchment paper and cut into bars.

Enjoy!
Notes
Bars can be stored in an airtight container at room temperature for 3 days, or up to 1 week in the refrigerator.
Nutrition
Serving:
1
bar
Calories:
130
kcal
Carbohydrates:
12
g
Protein:
2
g
Fat:
9
g
Saturated Fat:
6
g
Sodium:
75
mg
Fiber:
2
g
Sugar:
5
g
Tried this recipe?
Let us know how it was and tag @bakedambrosia on Instagram