Insanely chocolatey Brooklyn Blackout Cupcakes made with dark chocolate, stuffed with a rich chocolate pudding, and topped with cake crumbs.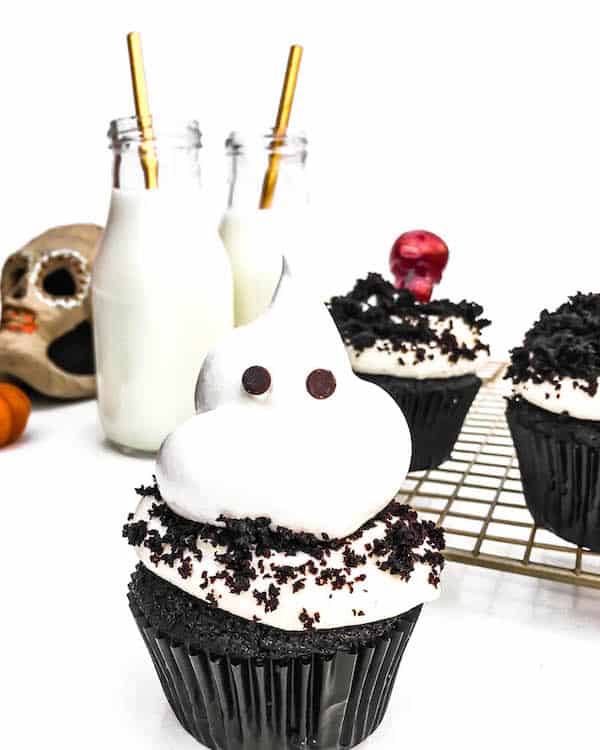 Happy Halloween!
National Chocolate Day (October 28) and Halloween fall on the same weekend this year (ok Halloween is technically on Monday but who says you can't dress up in costumes and eat sugar all weekend long?!).
Because it's the weekend of all things chocolate, we celebrate with the chocolatiest cupcakes of them all …
Brooklyn Blackout Cupcakes.
Blackout Cake is a rich chocolate layer cake that is filled and frosted with decadent chocolate pudding and covered with cake crumbs. Can we talk about indulgent?
The cake originated in the legendary Ebinger's Bakery in Brooklyn. The bakery's first location opened in 1989 in Flatbush and quickly flourished with over 50 locations throughout Brooklyn and Queens. This was THE place to go for Brooklynites until the bakery went bankrupt in 1972.
The famous Blackout Cake officially got its name during World War II. According to a 1969 New York Times article, blackout drills were performed in homes around Brooklyn whenever Navy ships were sent to sea from the Brooklyn Navy Yards. All city lights were turned off and windows were covered to avoid silhouetting battle-bound ships. Enemy planes would not be able to spot them in the darkness.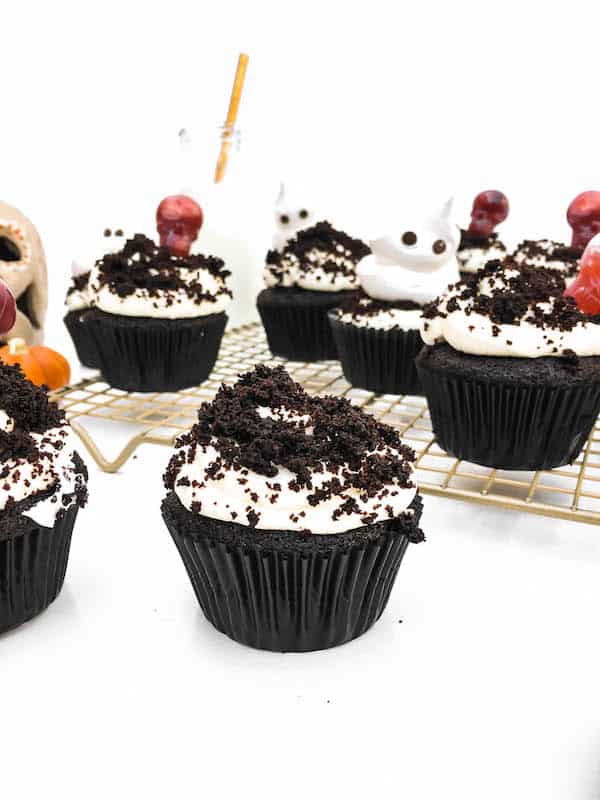 It's a no brainer that this cake is any chocolate lover's dream.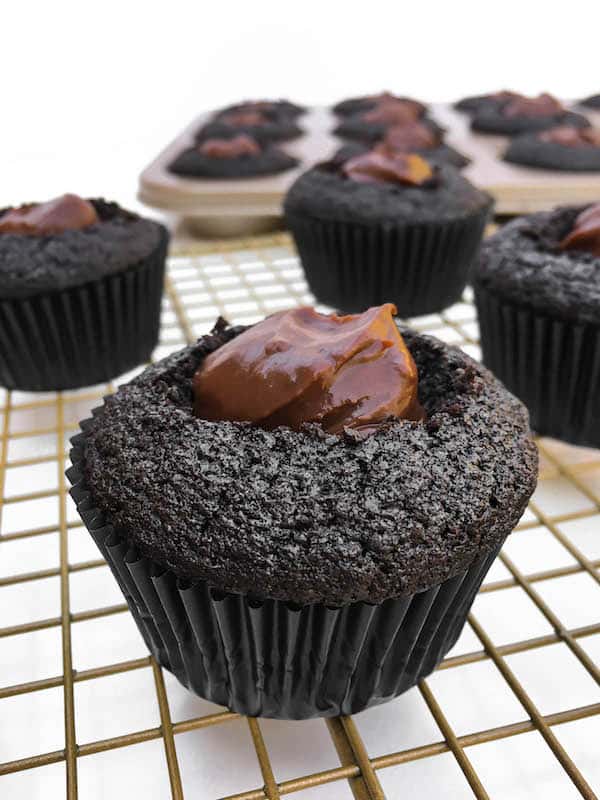 The cake recipe is super easy to make and requires no electric mixer. I suggest making the pudding first because it needs to be refrigerated for a few hours.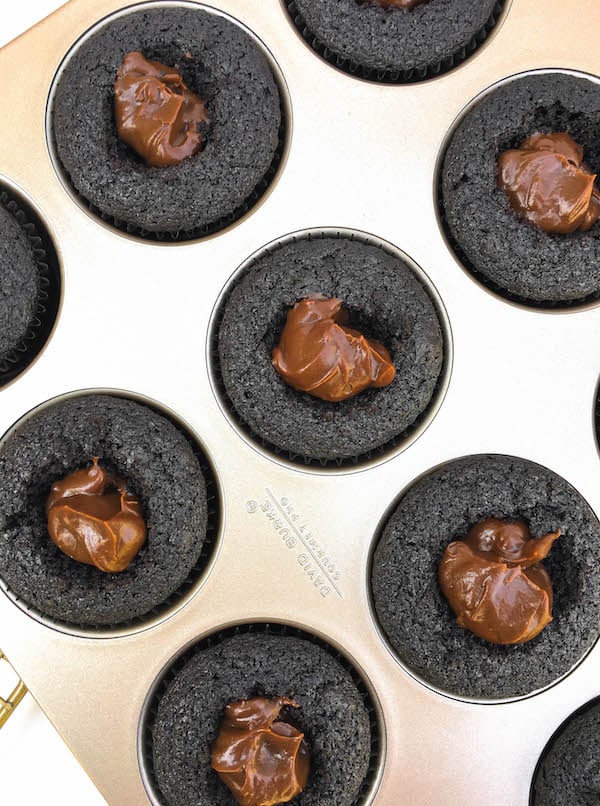 Since it's Halloween, I was going for a "spooky" feel to these cupcakes. I used dark chocolate cocoa powder which made the cupcakes actually look black.
I cut out the center of the cupcakes and filled it with a dark chocolate pudding.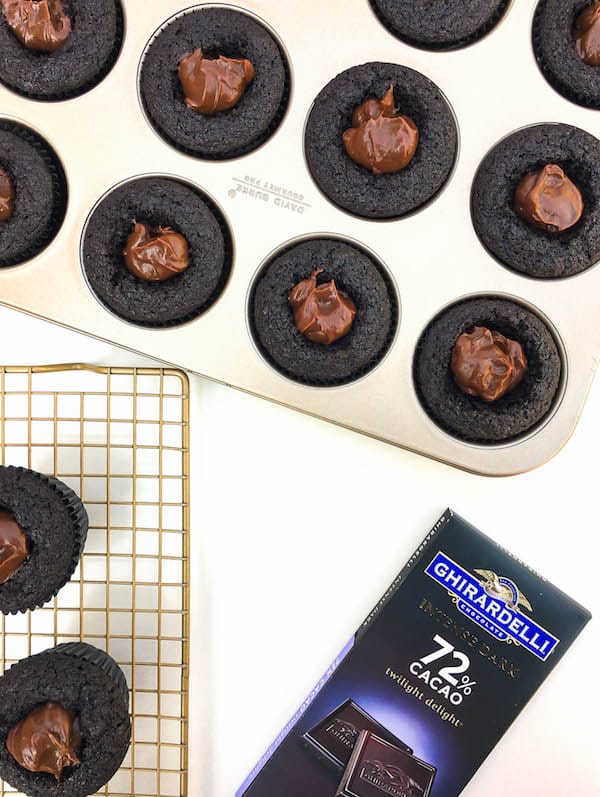 To continue my Halloween look, I topped the cupcakes with a simple whipped cream frosting and sprinkled cake crumbs.
I made some meringue ghosts for some of the cupcakes.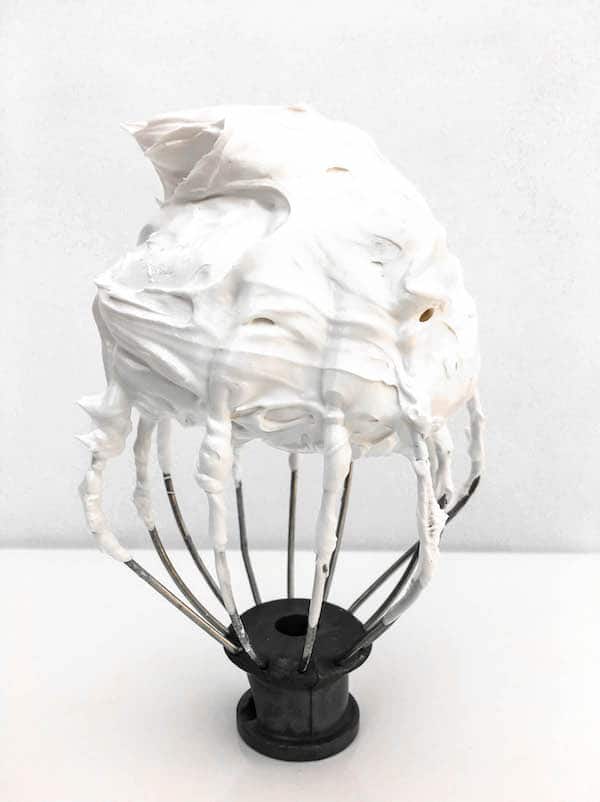 I had a few skull shot tops on hand so I filled them with strawberry jam and stuck them into the cupcakes.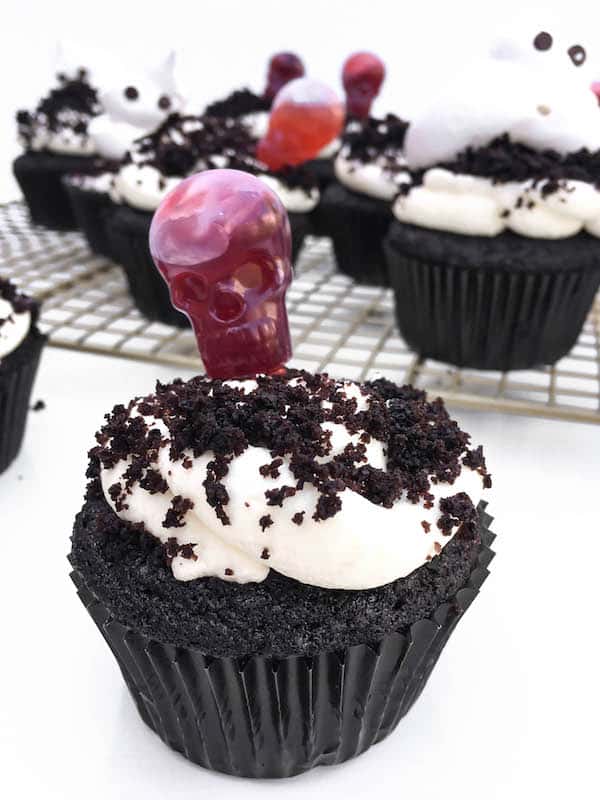 So, make these cupcakes for your Halloween party or skip, the ghost and skull decorations and make them any time you have a chocolate craving!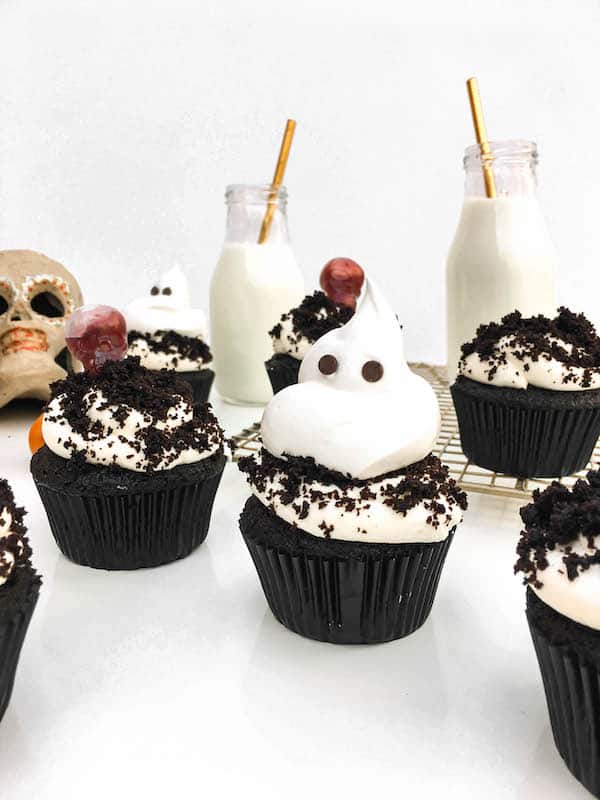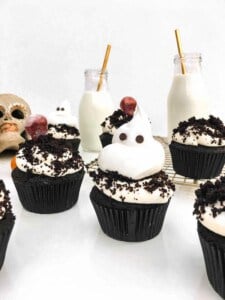 Brooklyn Blackout Cupcakes
Insanely chocolatey Brooklyn Blackout Cupcakes made with dark chocolate, stuffed with a rich chocolate pudding, and topped with cake crumbs.
Ingredients
Cupcakes
1 ¾

cups

all purpose flour

1

cup

+ 3 tablespoon sugar

½

cup

cocoa powder

½

teaspoon

baking soda

1

teaspoon

baking powder

½

teaspoon

salt

10

tablespoon

unsalted butter

melted

⅓

cup

oil

⅔

cup

buttermilk

⅓

cup

cold coffee

2

eggs

1

teaspoon

vanilla
Chocolate Pudding
1

cup

milk

⅔

cup

brown sugar

2 ½

oz

dark chocolate

2

tablespoon

+ 1 teaspoon cornstarch or arrowroot starch

2

teaspoon

instant coffee

1

teaspoon

vanilla

1

teaspoon

salt
Swiss Meringue
4

egg whites

1

cup

sugar

½

teaspoon

cream of tartar
Whipped Cream
2

cups

cold heavy whipping cream

3

heaping tablespoon powdered sugar
Instructions
Prepare pudding first. In a small saucepan, add milk, sugar, dark chocolate, starch, and coffee. Bring to a boil, stirring constantly, until thick.

Remove from heat. Mix in vanilla and salt.

Pour pudding into a bowl and cover tightly with plastic wrap. Chill in refrigerator for at least 1 hour.

While the pudding is chilling, make the cupcakes.

Preheat oven to 350°F.

Line two cupcake pans with liners and set aside.

In a large bowl, sift flour, sugar, cocoa, baking soda, baking powder, and salt.

In a medium bowl, whisk melted butter, oil, buttermilk coffee, eggs, and vanilla.

Add wet ingredients to dry. Mix until combined.

Divide batter into cupcake pan filling each section ⅔ of the full.

Bake 20-22 minutes, or until a toothpick inserted in the center comes out clean.

To make the Swiss meringue, whisk egg whites, sugar, and cream of tartar in a double boiler over medium-low heat. Continue whisking until sugar completely dissolves, about 3-5 minutes.

Transfer to the bowl of an electric mixer fitted with the whisk attachment. Whisk on high for 7-10 minutes, until the meringue has reached firm peaks.

Make the whipped cream by beating cold heavy cream with powdered sugar until the cream reaches stiff peaks.
Assembly
To assemble the cupcakes, carefully cut out the centers. Reserve centers in a small bowl.

Fill each center with a spoonful of the chilled chocolate pudding.

Fill a piping bag with the whipped cream and frost each cupcake.

Sprinkle reserved cake crumbs over cupcakes.

Add Swiss meringue in a separate piping bag. Pipe meringue in the shape of a ghost (don't worry if they don't all look the same!) Add 2 mini chocolate chips for eyes.
Tried this recipe?
Let us know how it was and tag @bakedambrosia on Instagram