Thai Pineapple Fried Rice – easy, healthy, and ready in 15 minutes!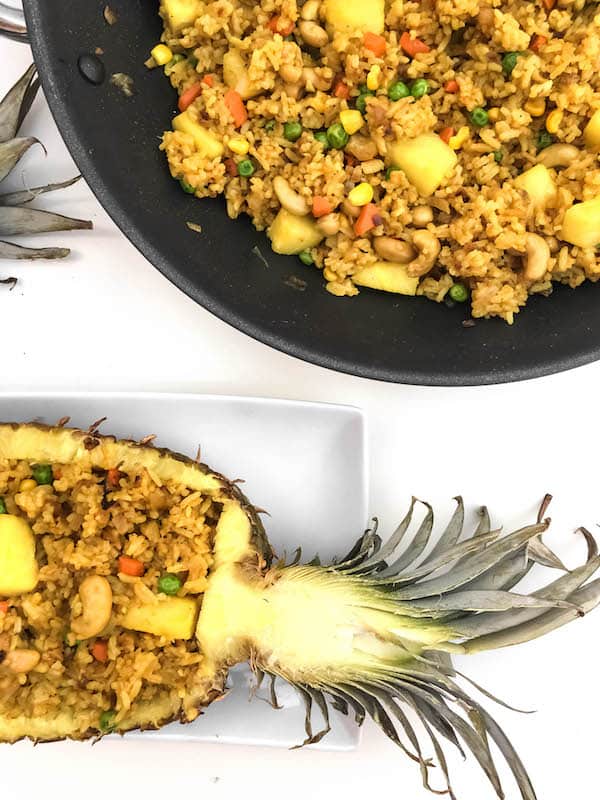 Hello fried rice!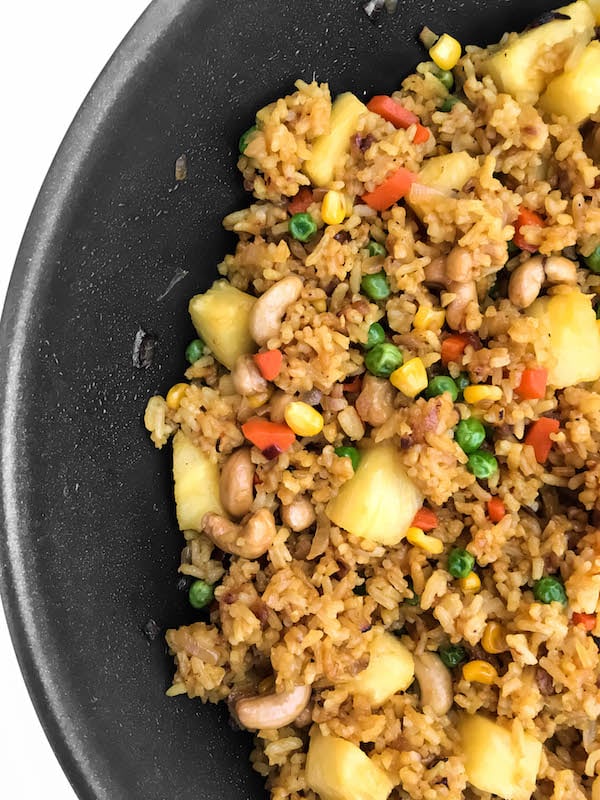 Fried rice is often overlooked. It always ends up as a side dish or as a base for a saucy stir-fry. But here's the thing; good fried rice deserves to be in the spotlight. And REALLY good fried rice should fill your plate - front and center, right where it belongs.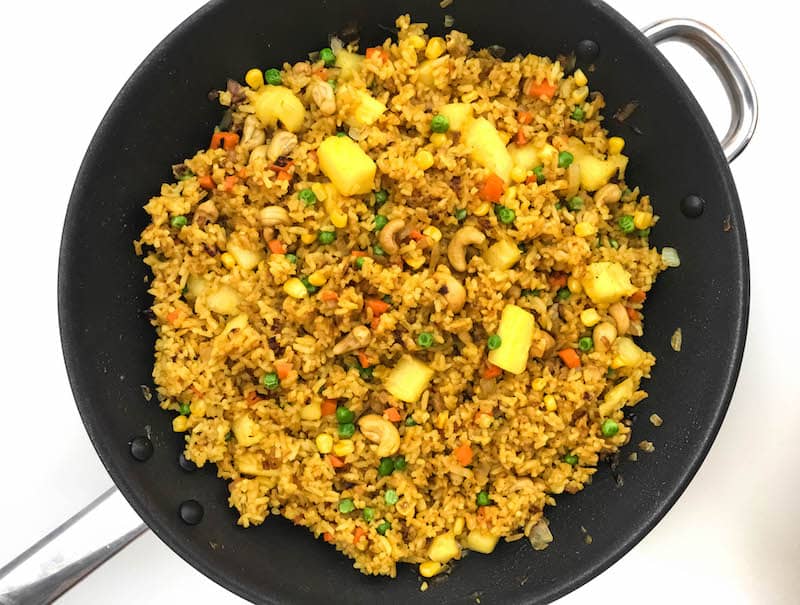 I have to admit; I typically don't order fried rice whenever I go out to a restaurant. The main reason is that fried rice is so easy to make by yourself and I would rather eat something that I can't have at home.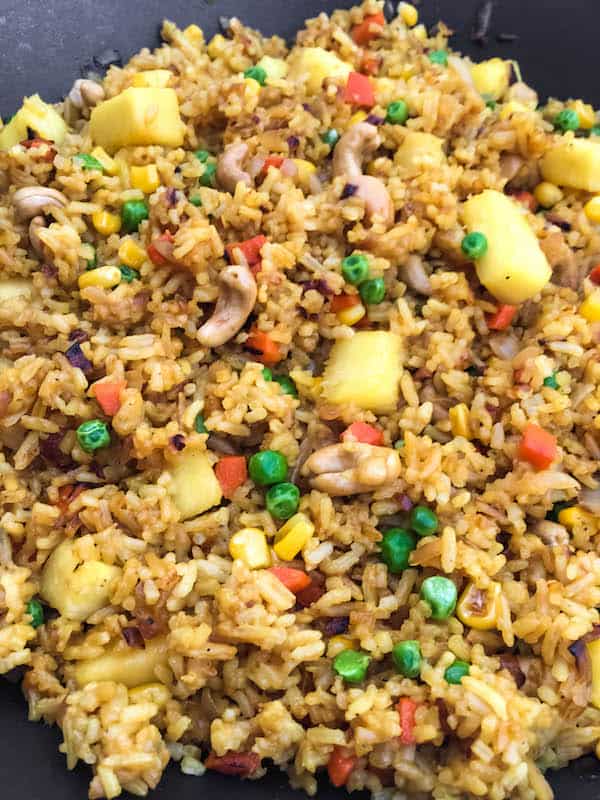 With the exception of Pineapple Fried Rice. It's without a doubt my favorite of all fried rices and I can never pass on ordering it whenever I'm at a Thai restaurant.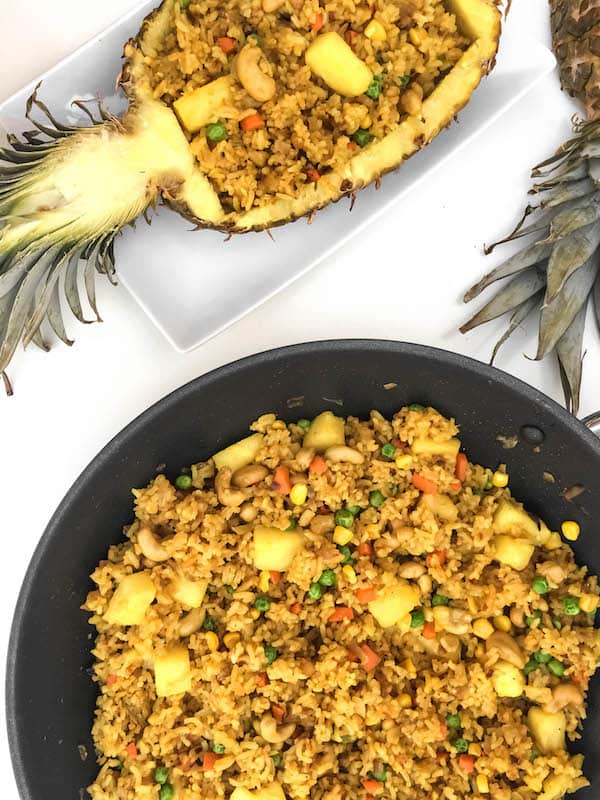 Adding pineapple to just about anything automatically makes it delicious (except pizza. Sorry to my Hawaiian pizza lovers, but just NO).
Rice + pineapple + cashews = really good food! And good food that's fast. And easy. And pretty healthy.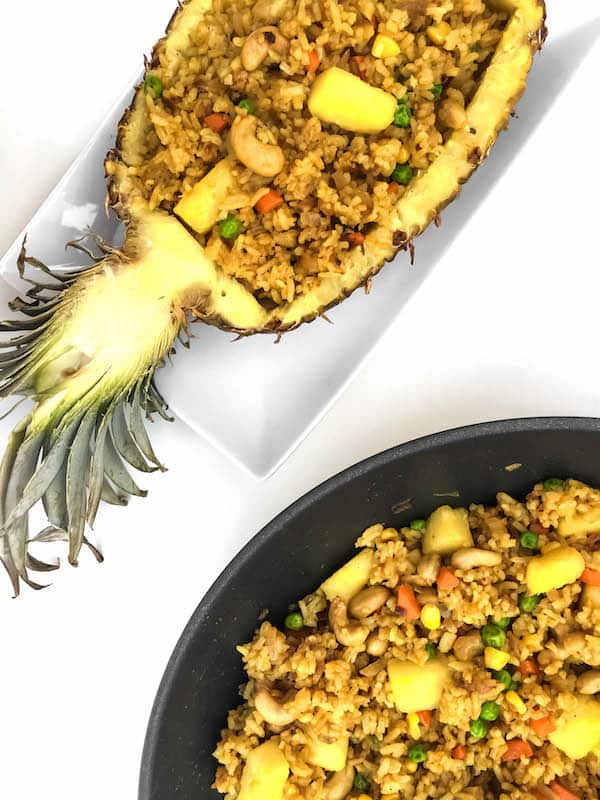 I know what you're thinking. Fried rice is too greasy to be healthy. Yes, that's true when you order it from a restaurant, but with a little guidance you can actually make a healthy fried rice at home.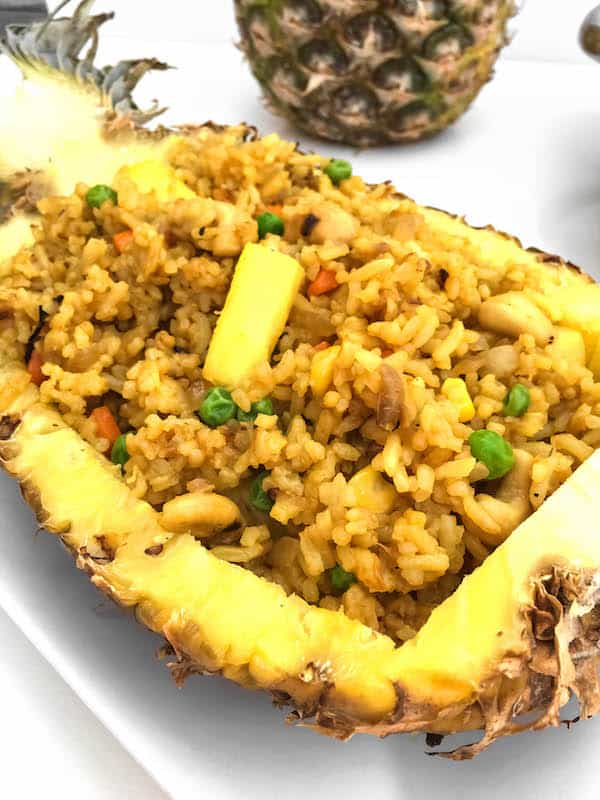 One of my favorite parts of making fried rice is that you can add any vegetables or meat that you have in your refrigerator. You can take plain old rice to all kinds of delicious places and clean out your refrigerator at the same time.
Just like my recipe for Shrimp Fried Rice, this Pineapple Fried Rice is super easy to make and doesn't take much time.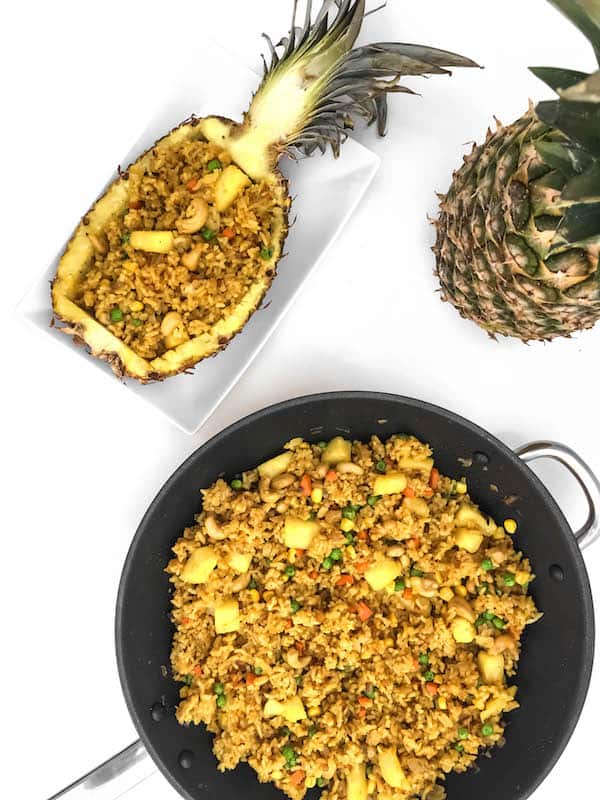 The secret to making exceptionally good fried rice is to use cold, day-old rice. If you don't have any cooked rice, prepare the rice as usual – then spread it on a sheet pan and pop it in the refrigerator while you prepare the rest of the ingredients.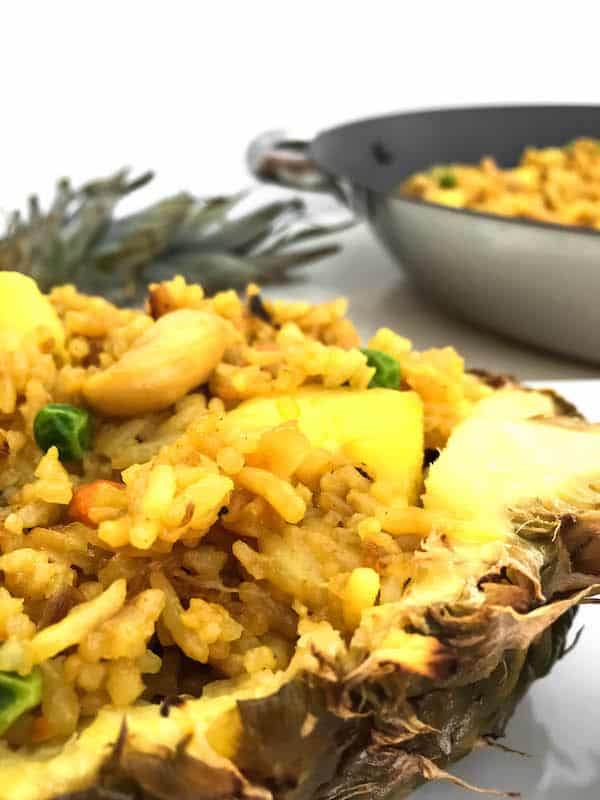 This Pineapple Fried Rice is pure deliciousness. Think restaurant style, but healthier … and faster … and at the comfort of your own home.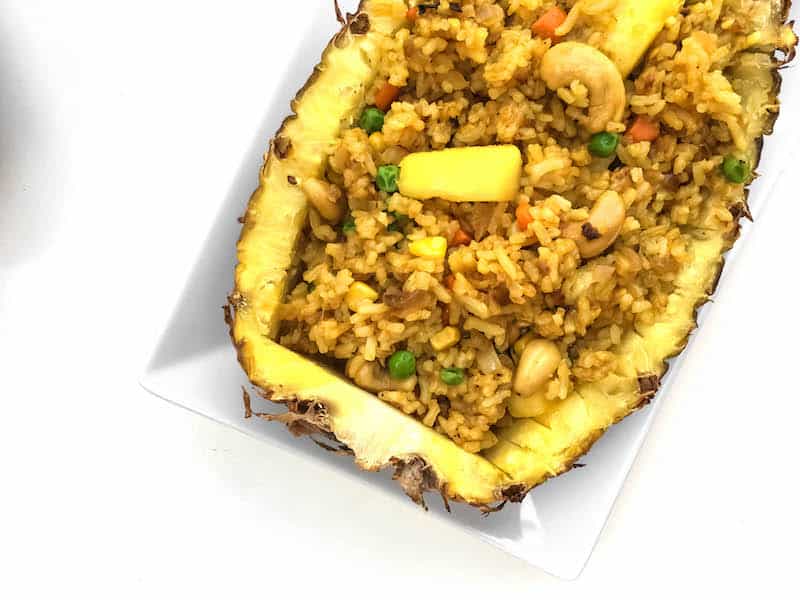 This is good. So, so good.
Seriously.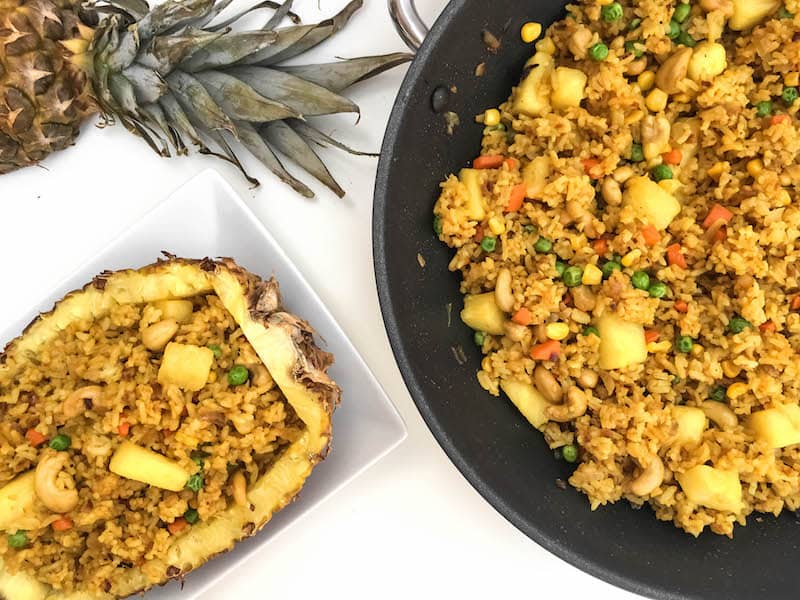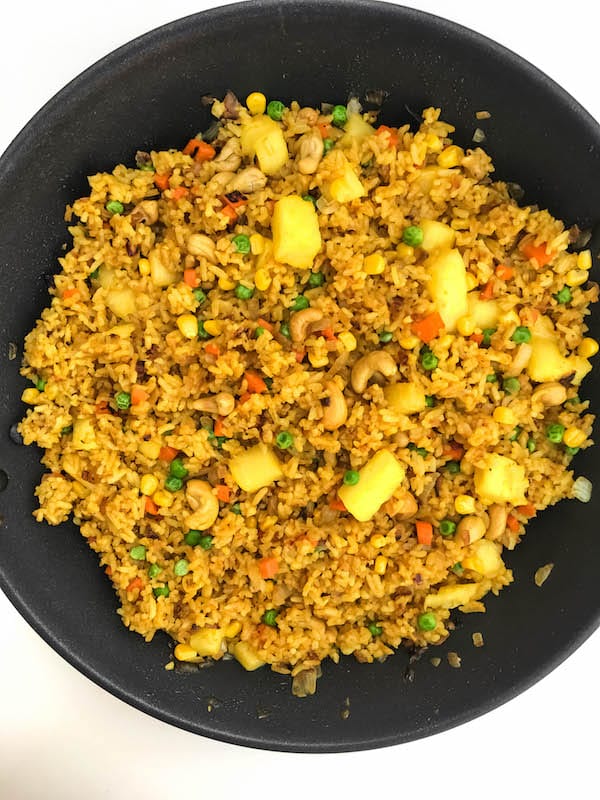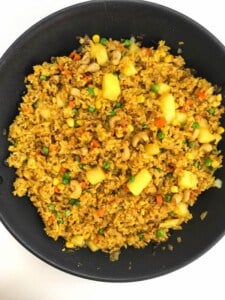 Pineapple Fried Rice
Thai Pineapple Fried Rice – easy, healthy, and ready in 15 minutes!
Ingredients
2 ½

cups

cooked Jasmine rice

chilled

3

tablespoon

coconut oil

1

small onion

diced

2

medium carrots

diced

½

cup

peas

½

cup

corn

4

cloves

garlic

minced

2

teaspoon

fresh ginger

grated

½

teaspoon

chili flakes

2

cups

pineapple

cut in ½-inch cubes

3

tablespoon

soy sauce

1

tablespoon

fish sauce

optional

½

teaspoon

black pepper

½

teaspoon

turmeric

½

cup

unsalted roasted cashews
Instructions
Heat 2 tablespoons oil in a large wok or skillet over medium heat.

Saute onions until translucent. Add carrots and cook for 3-4 minutes.

Add peas, corn, garlic, ginger, chili flakes, and pineapple. Saute for 1 minute.

Increase the heat to medium high and add remaining tablespoon of oil into pan. Once melted, add the rice, soy sauce, fish sauce, pepper, and turmeric. Stir until combined.

Continue stirring 3-4 more minutes to fry the rice.

Add roasted cashews. Stir to combine.

Serve warm.
Tried this recipe?
Let us know how it was and tag @bakedambrosia on Instagram