These Chocolate Drizzled Raspberry White Chocolate Chip Cookies are soft, chewy, & bursting with flavor!
If you love this recipe, make sure to check out the feedfeed's Favorite Chocolate Chip Cookie recipes here.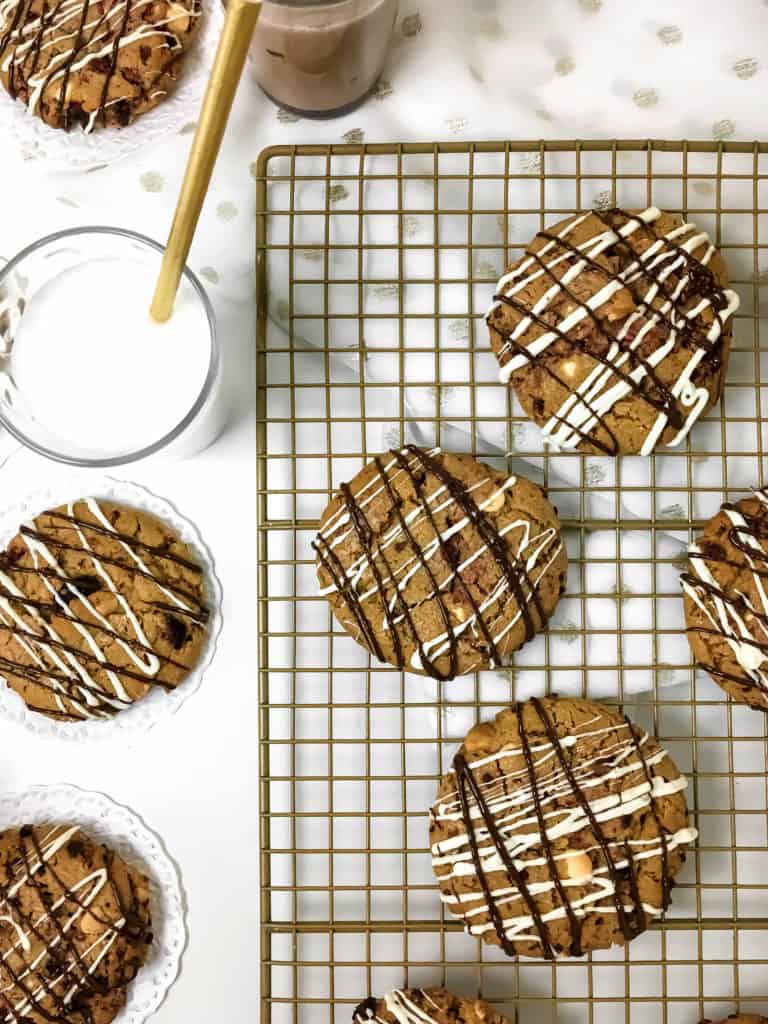 Is there anything better than a fresh batch of soft baked cookies?? Nope, didn't think so.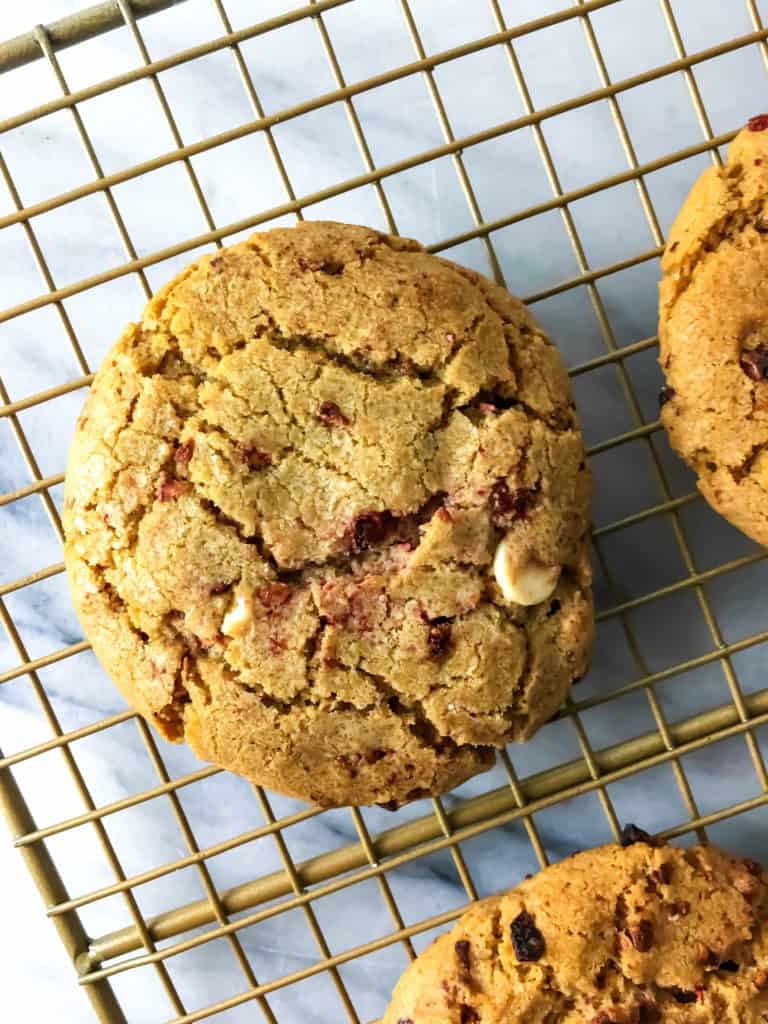 So, we have been eating healthy and hitting the gym a few times a week around here.
We've been eating salads and lots of veggies and loading up on all of the magical foods like turmeric and coconut oil - and we have been feeling amazing! Better than ever, actually. I love food, and I love healthy food, and most importantly I love feeling great!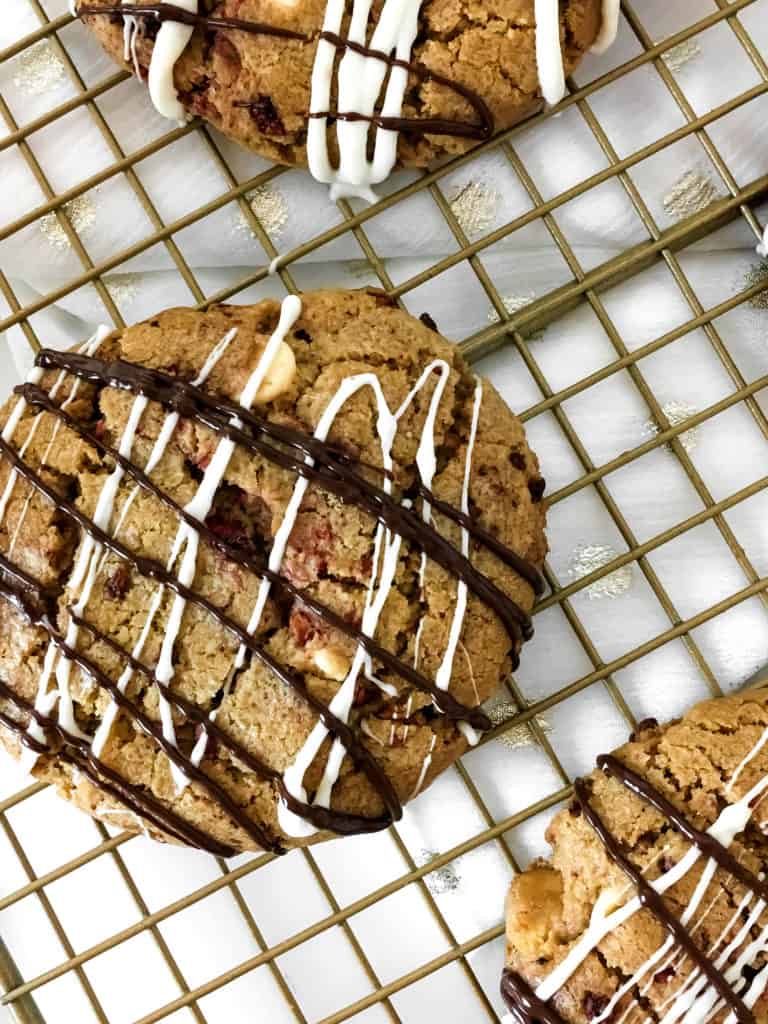 But, there is something that I love WAY too much to completely cut out of my life - and that is an exceptionally good fresh baked thick, chewy, soft cookie, with the perfect ratio of add-ins to cookie. Yes, my cookie expectations are quite high 💁🏻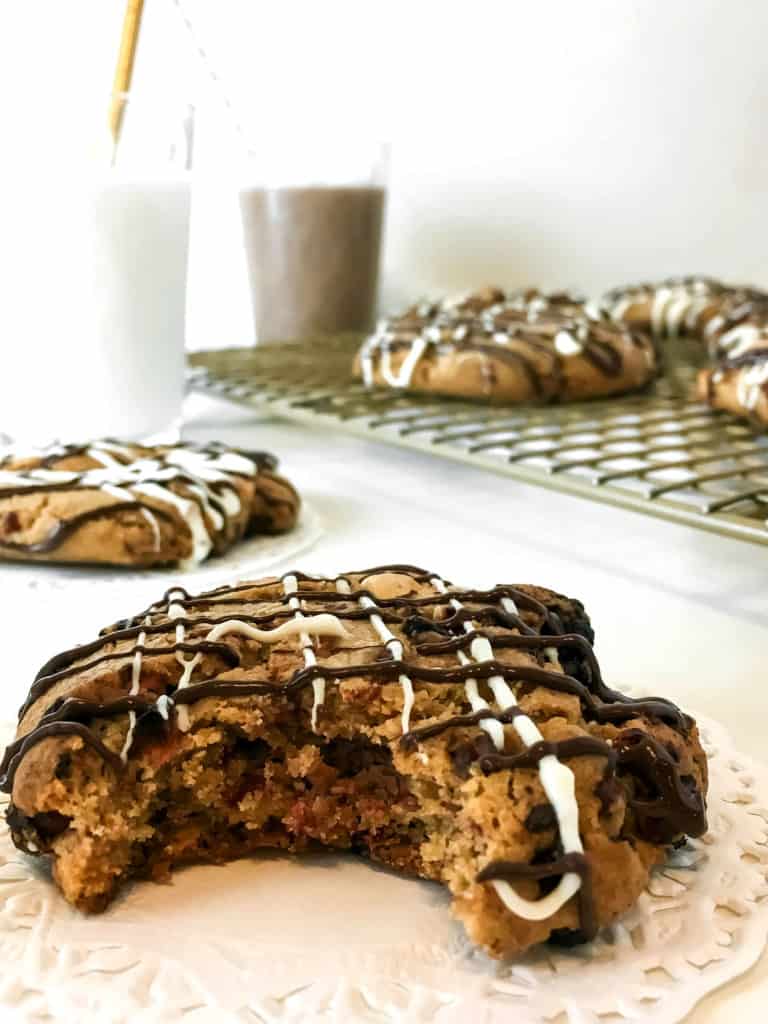 I typically go for a good old fashioned chocolate chip cookie but, today I twisted things up and added a whole bunch of freeze dried raspberries and swapped out my usual dark chocolate chips with white chocolate.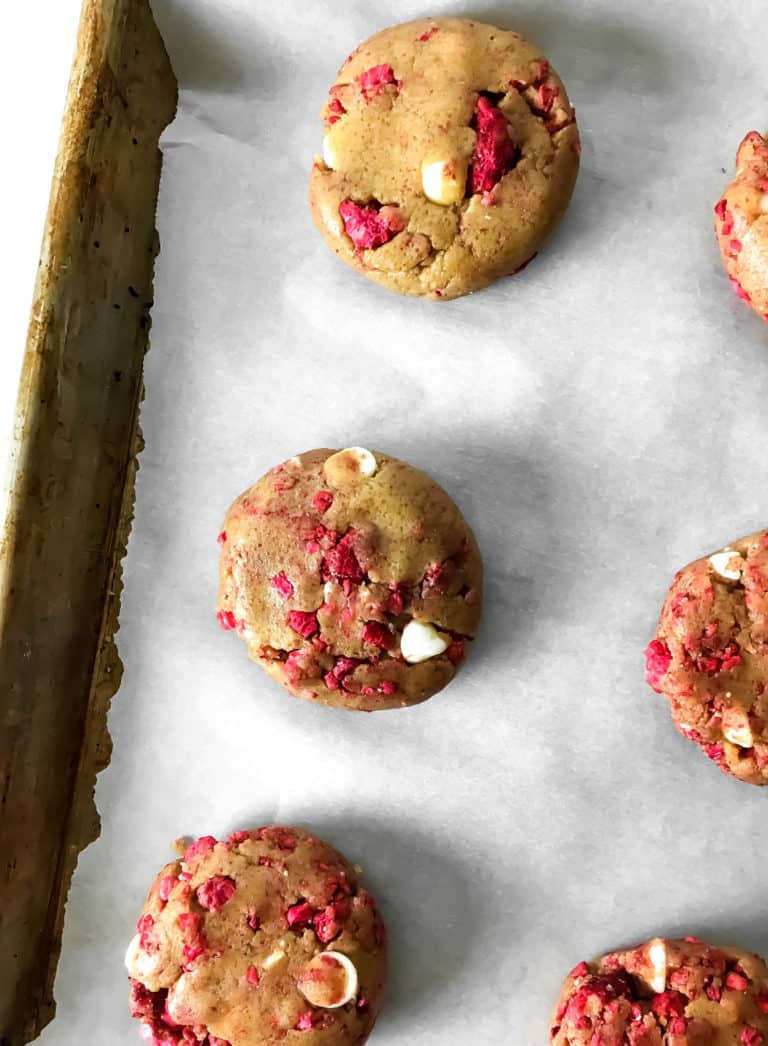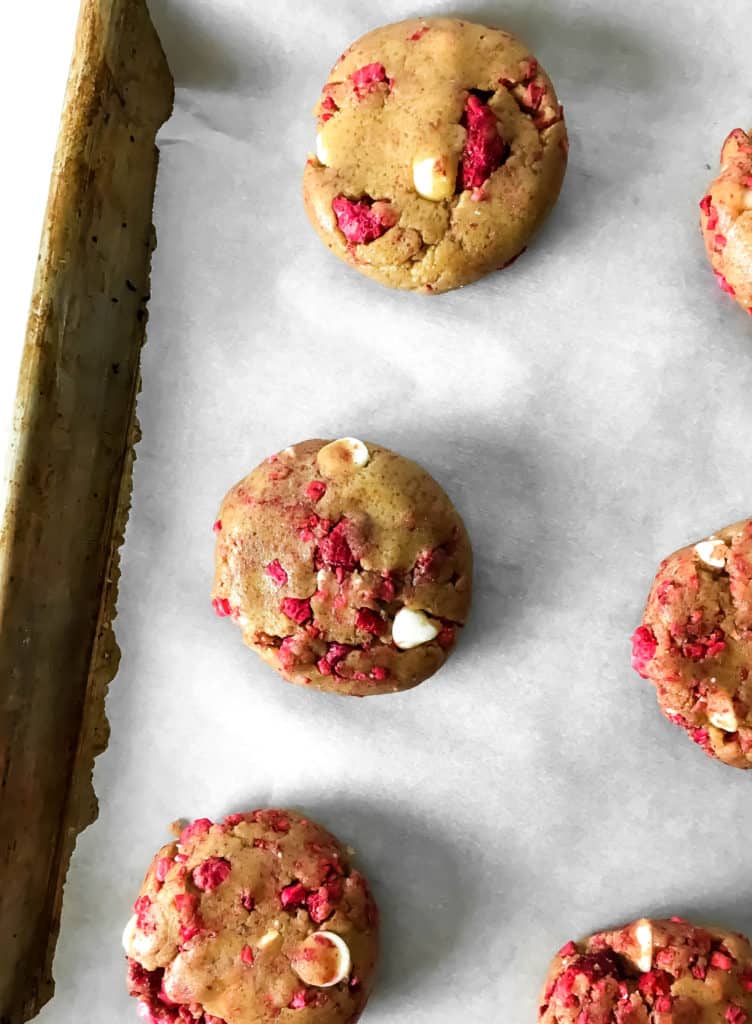 Once the cookies were all baked, I drizzled them with the left over white chocolate. And then, as if the cookies weren't amazing enough, I drizzled them with dark chocolate. The dark chocolate wasn't in my original plan but, I discovered some dark chocolate chips hidden in my pantry while I was putting away the cookie ingredients. I have no regrets.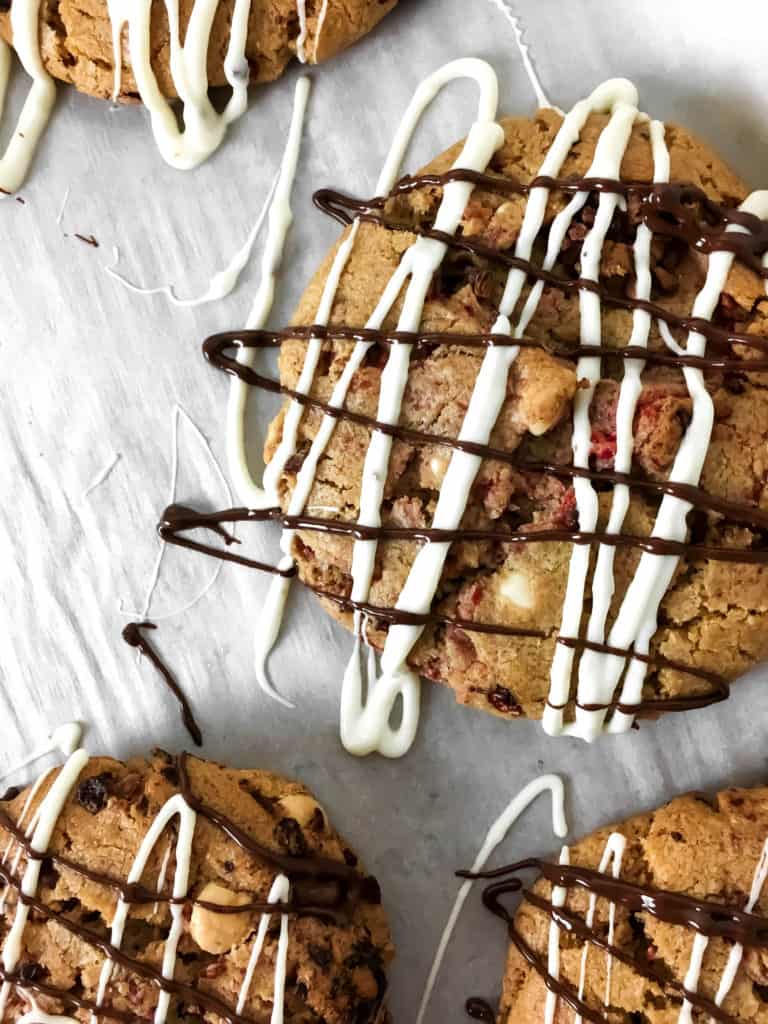 The freeze dried raspberries add a nice tart flavor that pairs incredibly well with the white chocolate. Make sure you use a good quality white chocolate. I like Ghirardelli white chocolate, which you can find at almost any grocery store.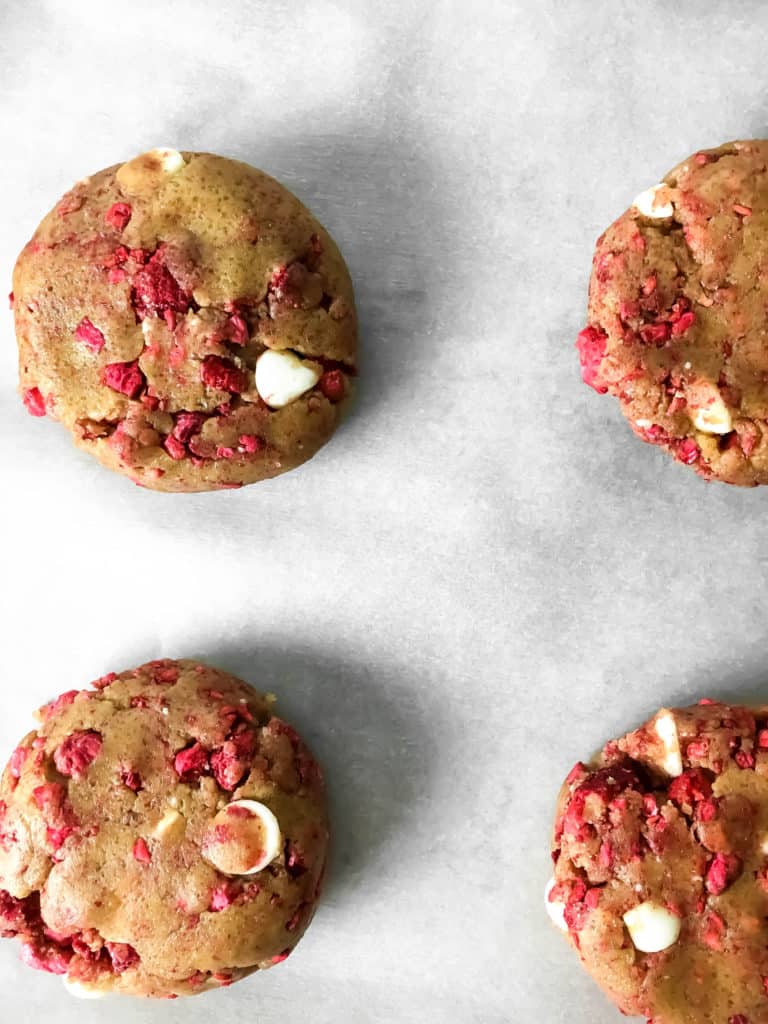 So, if you're going to eat a cookie, please make it count! Don't just settle for any mediocre cookie. We both know you are better than that.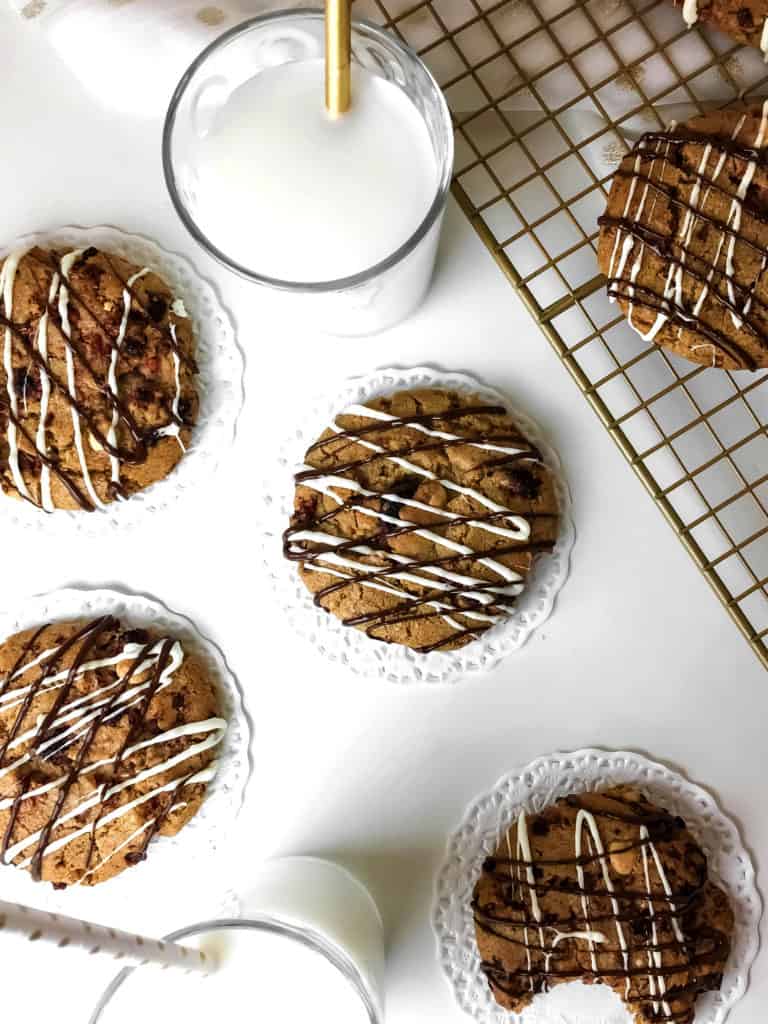 Please indulge in a perfectly baked, soft, and buttery, and chocolatey, and chewy cookie that will forever change your life.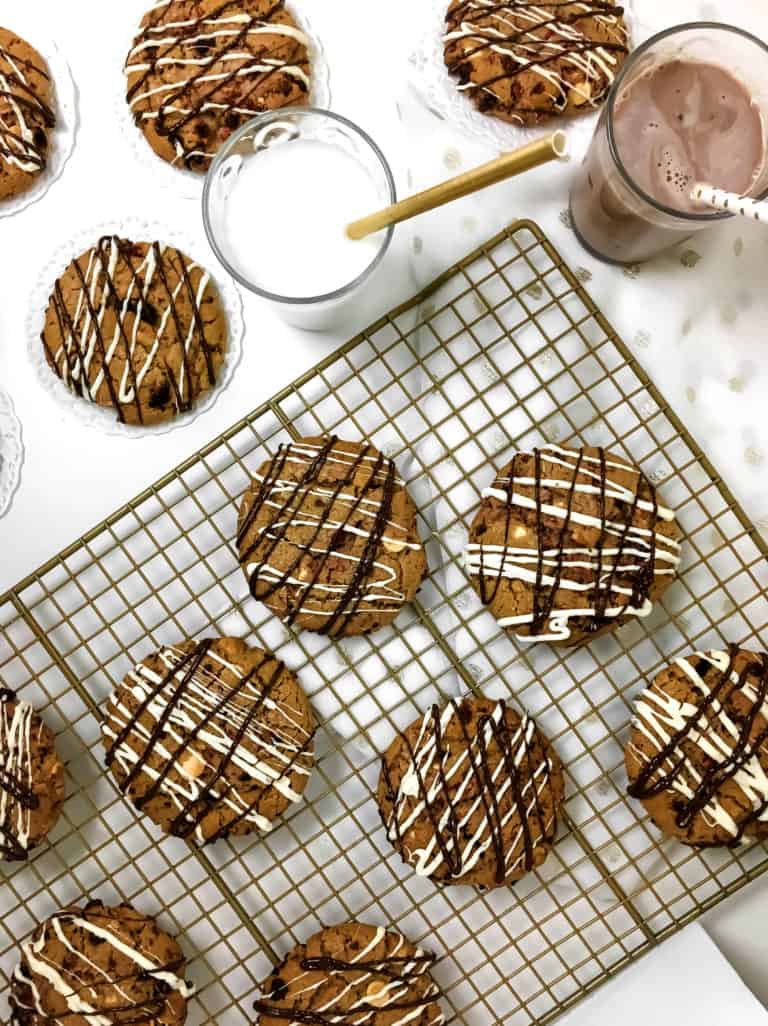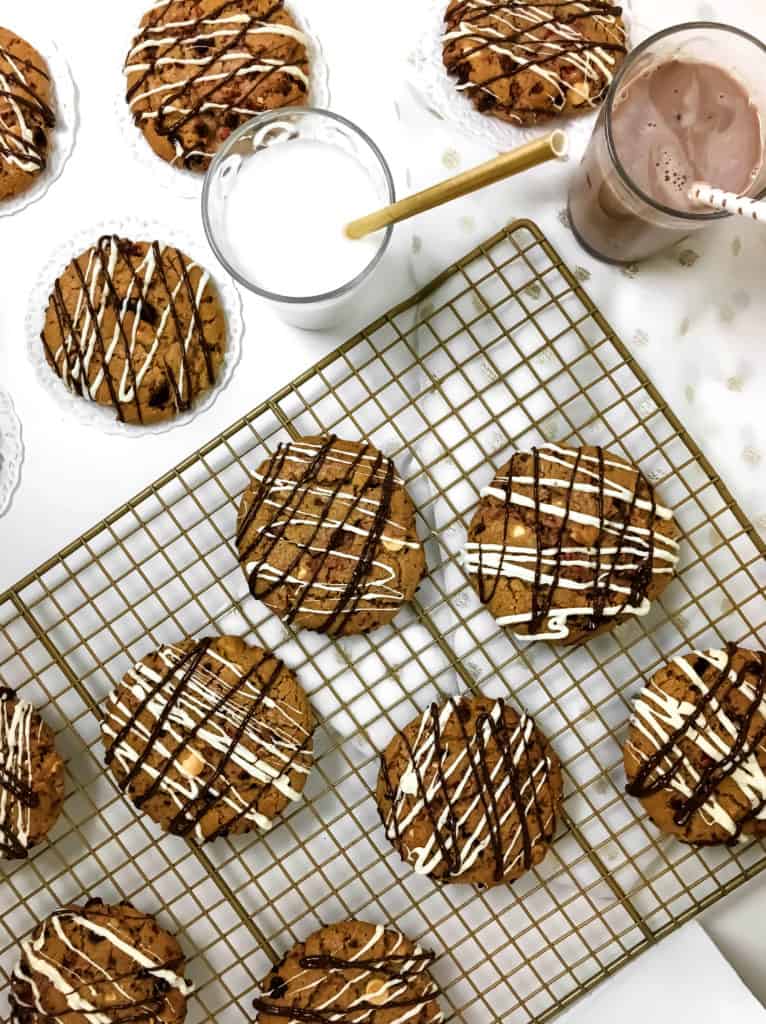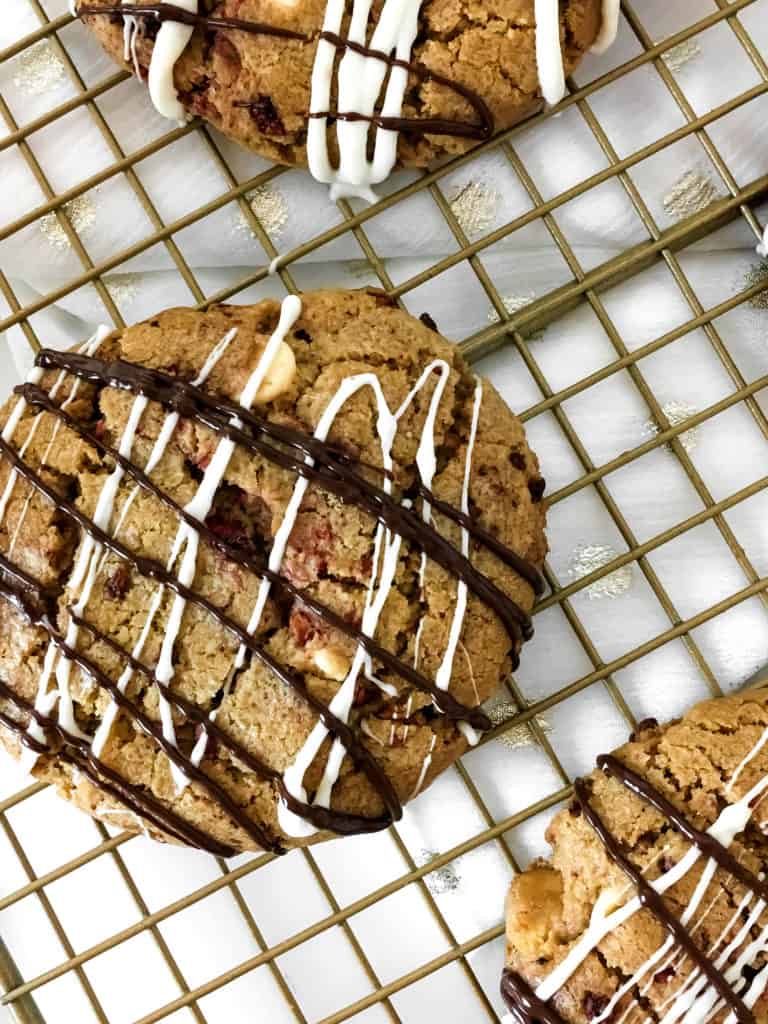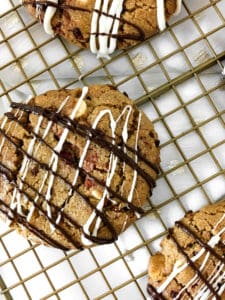 Chocolate Drizzled Raspberry White Chocolate Chip Cookies
These Chocolate-Drizzled Raspberry White Chocolate Chip Cookies are soft, chewy, & bursting with flavor!
Instructions
Preheat oven to 350°F.

In a large bowl or bowl of an electric mixer, cream softened butter and sugar on medium speed until light at fluffy. Scrape down the sides of the bowl and add egg and vanilla. Beat well.

In a separate bowl, whisk together flour, baking soda, and salt. Add flour mixture to butter, mixing on low speed until ingredients are combined (don't over mix!).

Fold in freeze dried raspberries and half of the white chocolate chips.

Scoop out cookies with an ice cream scoop or form them by hand and place them on a parchment lined baking sheet.

Bake 10-12 minutes.

Remove from oven and let cool for 5 minutes before transferring to a cooling rack.

While cookies are cooling, melt the remaining white chocolate and dark chocolate in 2 separate bowls. Put melted chocolate in piping bags or small zip-top bags. Snip the corner with a pair of scissors and drizzle chocolates over cooled cookies. Allow the chocolate to set about 5 minutes.

Enjoy!
Tried this recipe?
Let us know how it was and tag @bakedambrosia on Instagram