Buttery, nutty, jam-filled Strawberry Almond Linzer Cookies are a traditional sandwich cookie filled with a berry jam and finished with plenty of powdered sugar.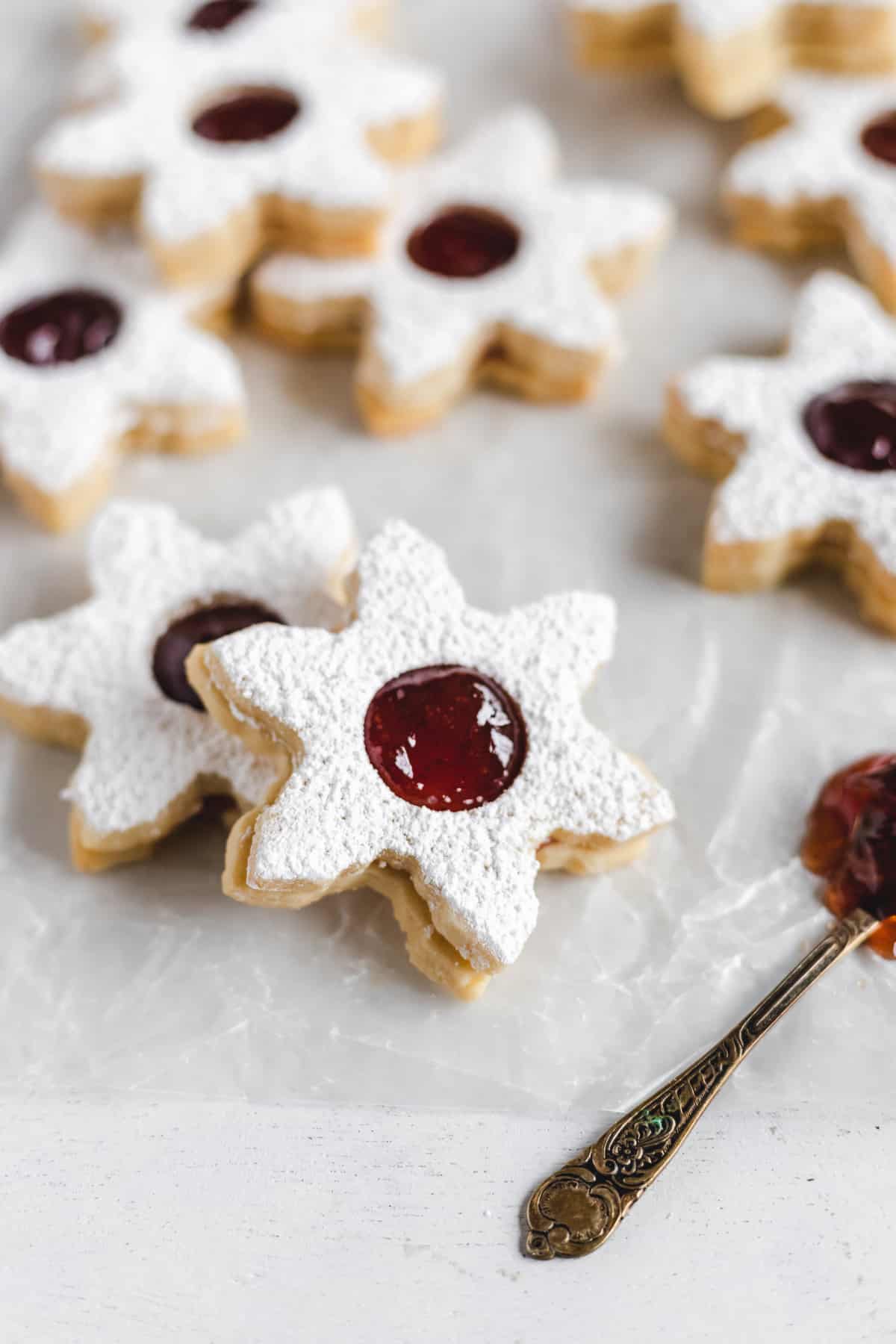 We have a classic Christmas-time treat for Day 5 of 12 Days of Cookies - linzer cookies! These beauties are two cookies sandwiched between jam and topped with powdered sugar. The hole in the center of the cookies gives them the signature stained-glass window look, making them one of the most impressive yet easy treats to make this holiday season.

Strawberry Almond Linzer Cookies
Have you ever made linzer cookies before? They look A LOT more complicated than they actually are. The dough is made with simple ingredients - butter, sugar, ground almond (almond flour), eggs, and flour. The dough is chilled (do not skip this step, or else you won't be able to roll out your dough!) and then rolled out and cut into shapes. They are traditional cut into rounds, but I was in a festive mood and opted for snowflakes. After the cookies are baked and cooled, they are sandwiched together with jam. Finally, they are finished with dusting of powdered sugar and your cookies are ready to be served!
Strawberry Almond Linzer Cookies can be made ahead of time. They're texture and flavor actually gets better with time! The jam makes the cookies slightly soft while still having a tender texture.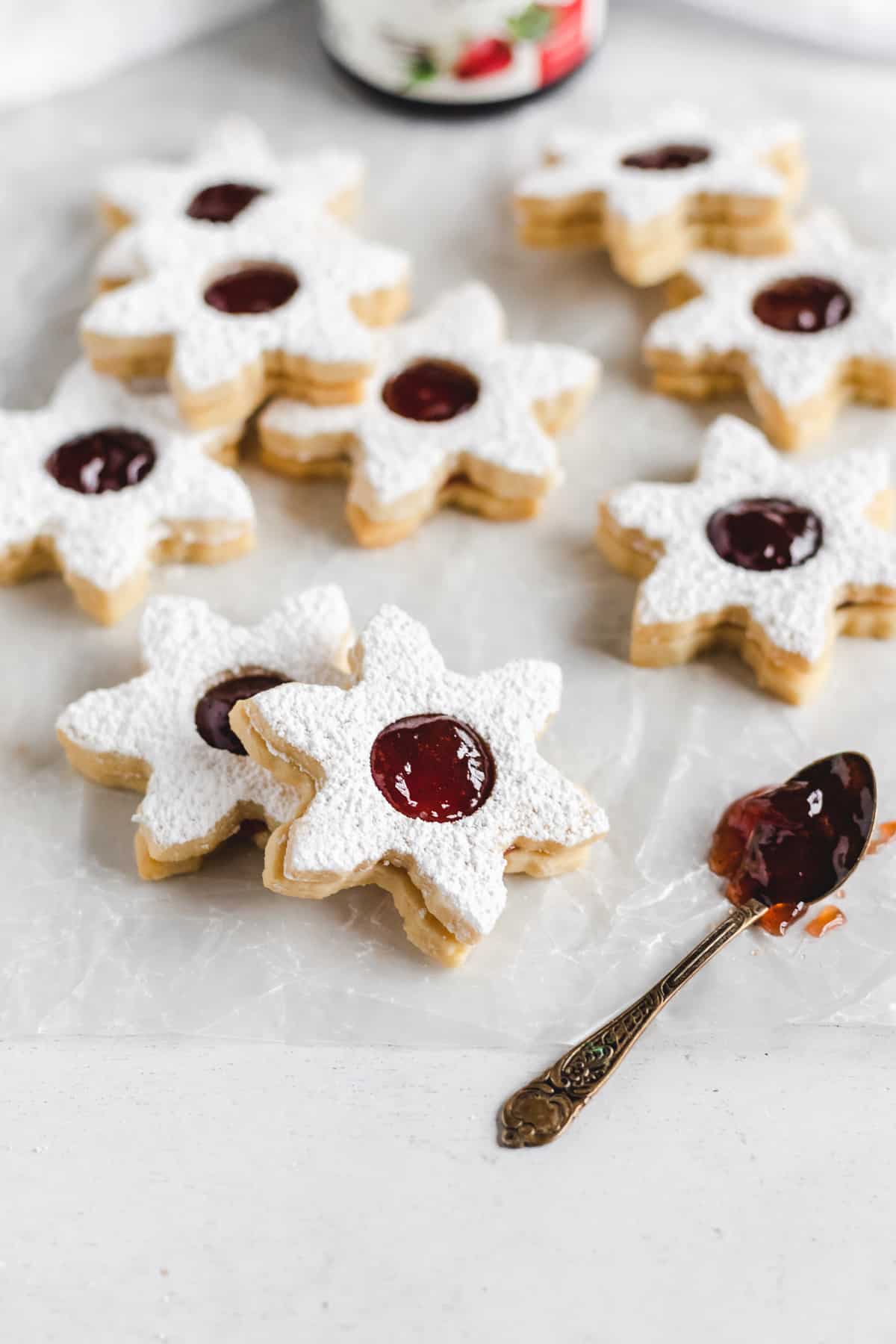 Choosing a Jam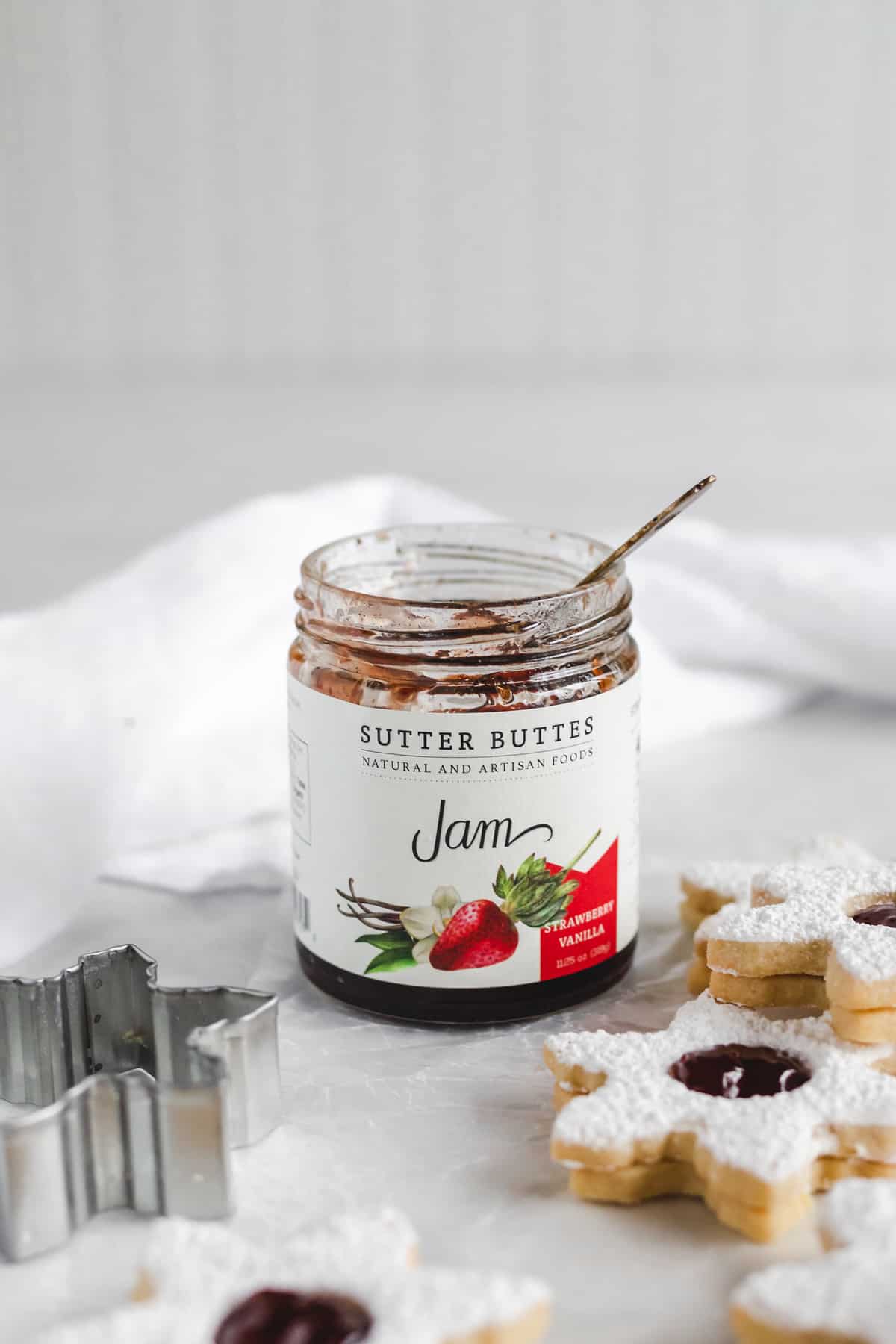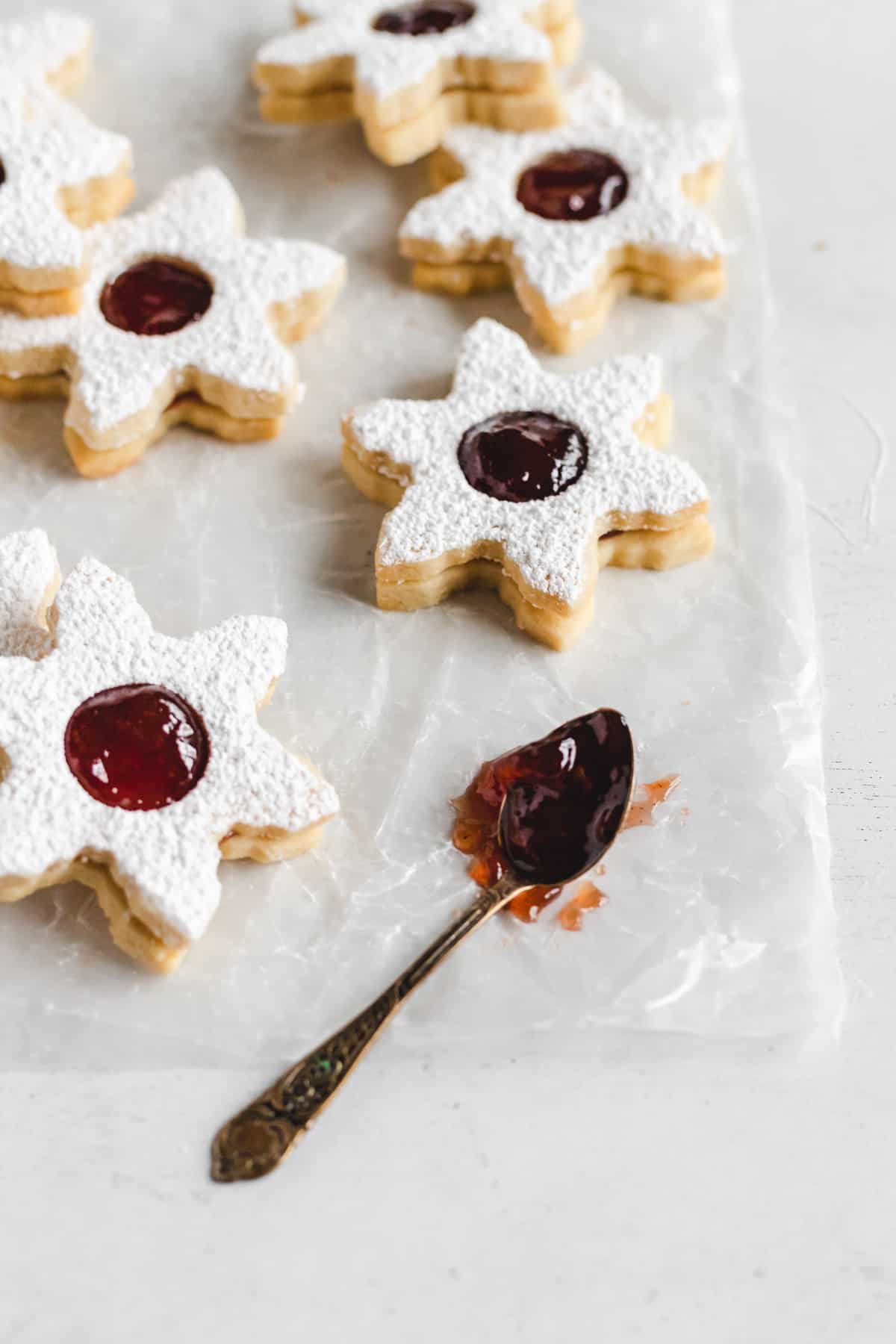 Traditionally, you will find linzer cookies made with raspberry jam, but honestly any flavor works. You can even swap out the jam for chocolate or Nutella! For these cookies, I went with my absolute favorite - Sutter Buttes Strawberry Vanilla jam! Sutter Buttes takes ordinary strawberry to the next level with the addition of vanilla bean. I could seriously eat this by the spoonful!
12 Days of Cookies
Day 1: Chocolate Peppermint Cream Sandwich Cookies
Day 2: Chewy Walnut Spice Cookies with Honey Glaze
Day 3: Salted Chocolate Chunk Espresso Shortbread Cookies
Day 4: Cranberry Pistachio Biscotti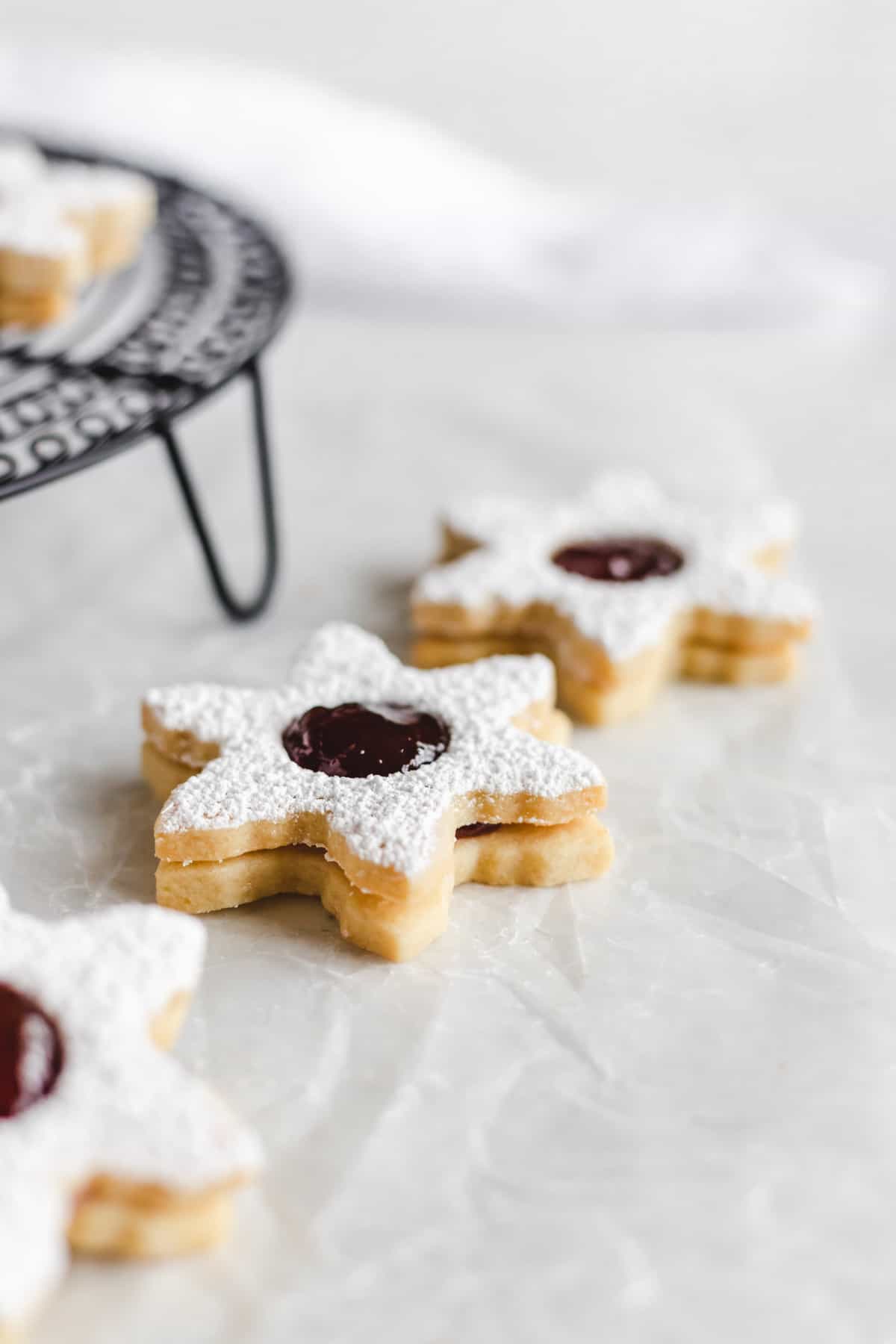 If you make this recipe, take a photo and tag #bakedambrosia on Instagram and Facebook so that I can see your creations and feature them on Instagram! To stay up to date with the latest recipes, follow Baked Ambrosia on Pinterest, Facebook, Instagram, and Youtube. ♡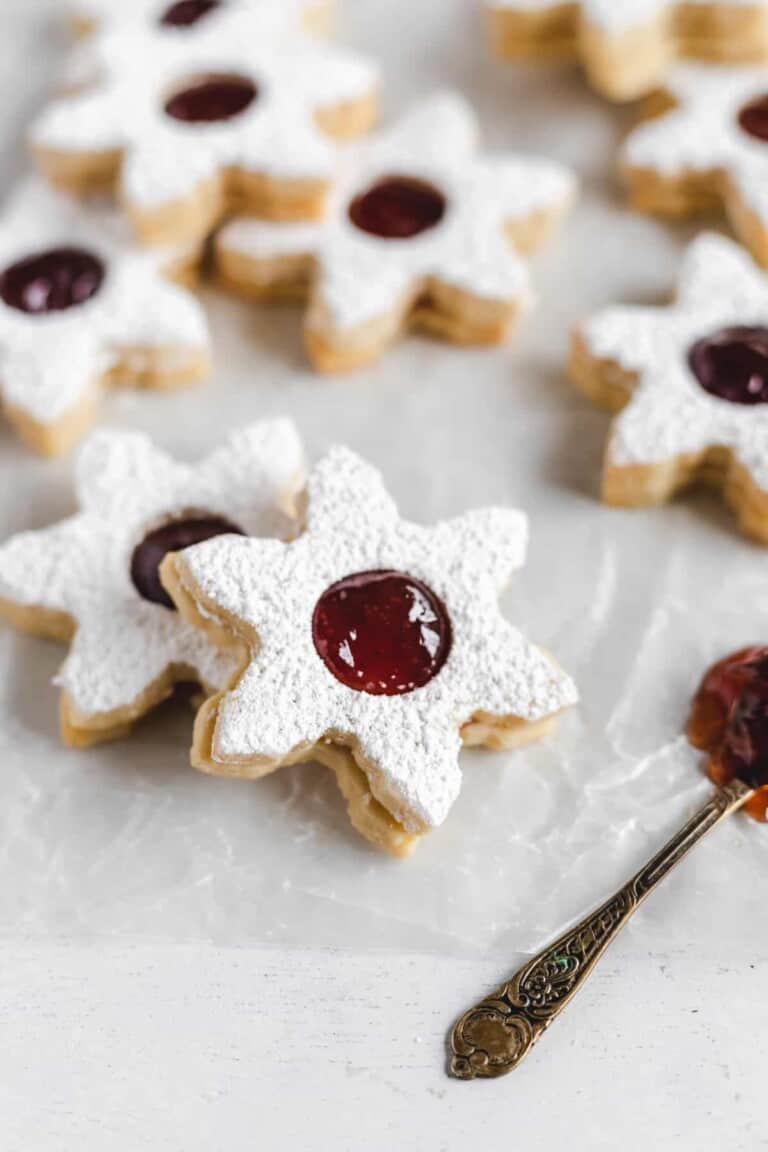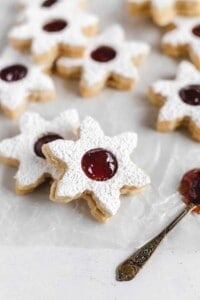 Strawberry Almond Linzer Cookies
Buttery, nutty, jam-filled Strawberry Almond Linzer Cookies are a traditional sandwich cookie filled with a berry jam and finished with plenty of powdered sugar.
Ingredients
¾

+ 2 tbsp

1 ¾ sticks butter, room temperature

⅔

cup

sugar

½

teaspoon

salt

1 ¼

cup

almond flour

or finely ground almonds

1

egg

¼

teaspoon

vanilla

1 ½

cups

flour

sifted

½

cup

strawberry jam

powdered sugar

for dusting
Instructions
In the bowl of an electric mixer, beat butter, sugar, and salt on low speed with the paddle attachment, until smooth. Add almond flour and mix until combined. Add egg and vanilla and beat until fully incorporated. Add sifted flour to mixture and mix until combined.

Transfer dough to plastic wrap and shape into a disc. Cover tightly and refrigerate for at least 2 hour or overnight.

Preheat oven to 350 degrees F. Line two baking sheets with parchment paper.

Remove dough from refrigerator and roll out between 2 sheets of parchment paper to about ⅛ inch thick. Use a cookie cutter, about 2-2 ½ inches in diameter to cut out as many cookies as possible. Cut out a 1-inch circle for the center of half of the cookies (this will be the top cookie). Gather the scraps of dough and repeat process. Make sure you have equal amounts of top and bottom cookies. If dough becomes too soft, chill for a few minutes in the refrigerator. Transfer cut out cookies shapes to a prepared baking sheet spaced 1 inch apart. Bake 10-12 minutes, or until edges a light golden brown.

Remove from oven and cool completely.

To assemble the cookies, spread 1 teaspoon of jam onto the flat sides of the bottom cookies (without the hole). Dust the tops with powdered sugar and place on top of the jam.
Tried this recipe?
Let us know how it was and tag @bakedambrosia on Instagram