Trying to find a cookie recipe that will compliment your favorite fall drink? Check out this delicious recipe for pumpkin snickerdoodles.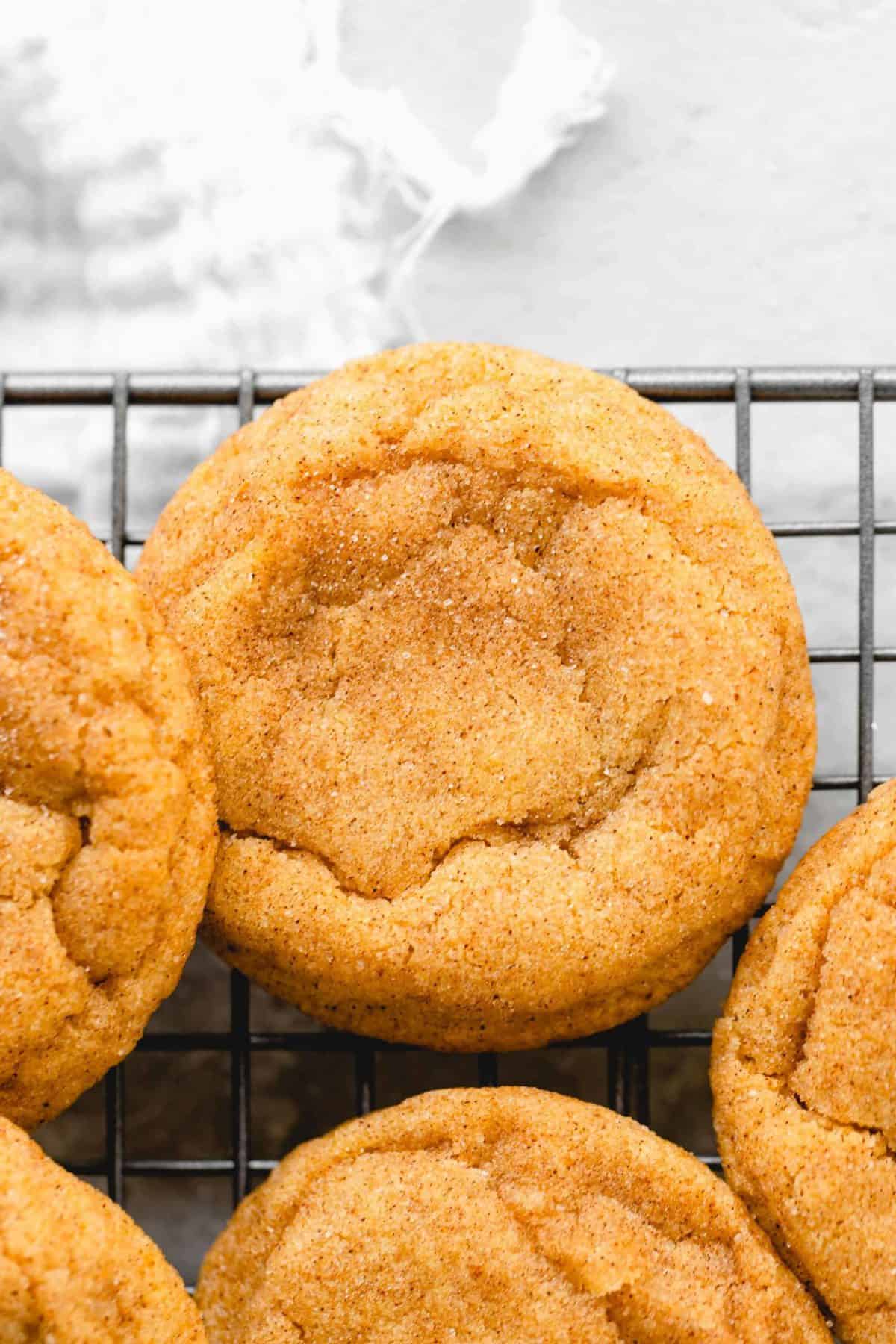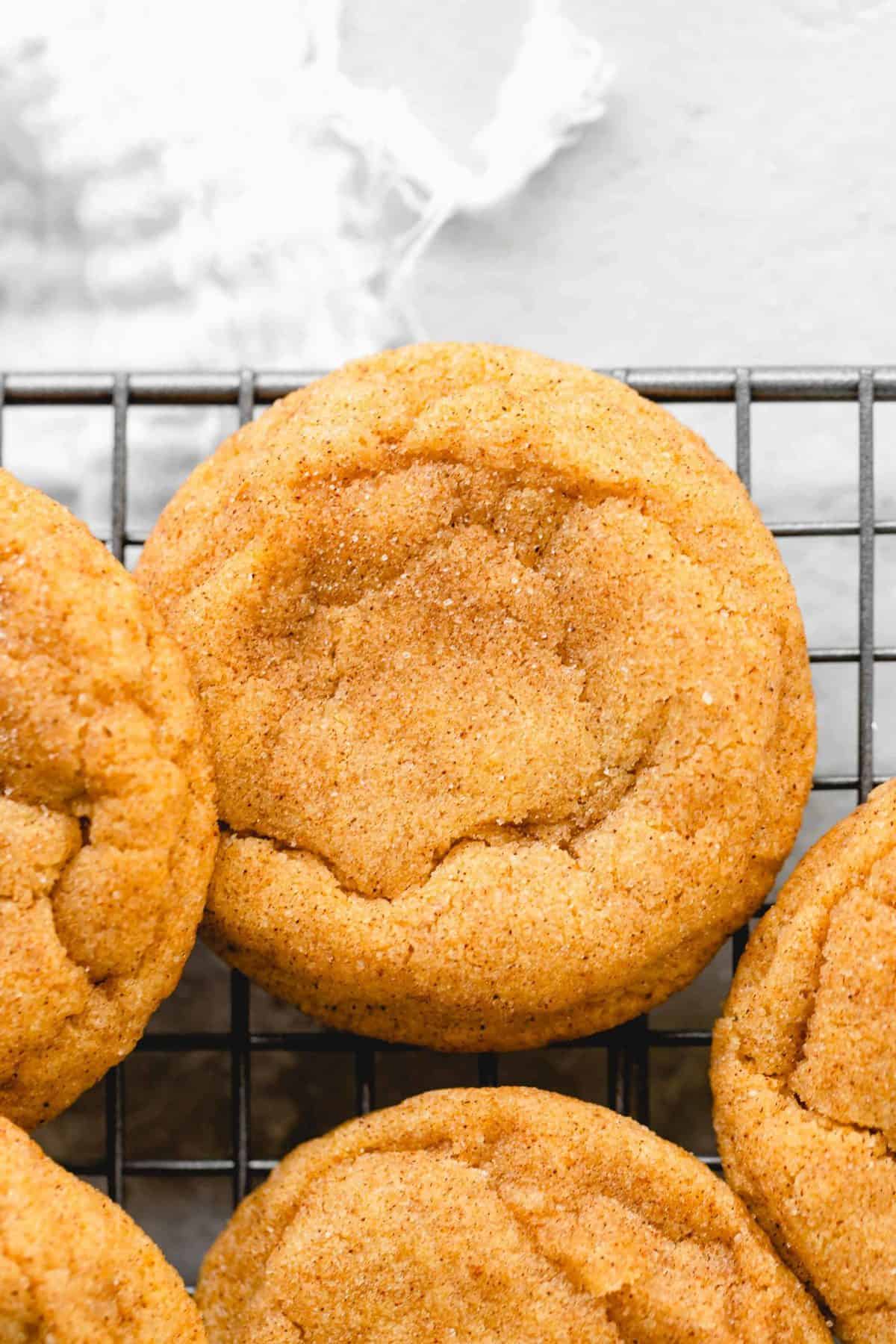 It's the most wonderful time of the year—the season of pumpkin spice and everything nice.
You've got your cozy sweater. The fireplace is ready to go. The barista at your local coffee shop knows your pumpkin spice latte order by heart.
Now you need the perfect chewy treat to complete this fabulous fall moment.
These pumpkin snickerdoodles are the ideal complement to your favorite fall drink.
Pumpkin Spice Snickerdoodles: It's Time to Take Your Eyes Off the Pies
Pumpkin is one of the most versatile ingredients around. From August through December, pumpkins, pumpkin decorations, and pumpkin treats are everywhere you look.
There's pumpkin pie, of course, and pumpkin spice lattes. However, pumpkin connoisseurs enjoy the full range of sweet and savory goodies.
From pumpkin muffins to pumpkin donuts to pumpkin scones, options for even the most standard pumpkin baked goods are unlimited. If you're adventurous, perhaps you've even enjoyed a steaming cup of savory pumpkin soup.
Love it or hate it, if you put "pumpkin" before it, everyone is sure to have an opinion on it.
If you love all things pumpkin, there's nothing you won't love about adding another pumpkin recipe to your burgeoning collection.
Maybe you're not a fan, though. Maybe the thought of putting pumpkin in anything other than a pie strikes you as un-American.
Or maybe—just maybe—you're one of the few people occupying the lonely pumpkin middle ground. You don't hate pumpkin goodies. You just don't understand the pumpkin hype. After all, you've tried one pumpkin muffin, you've tried them all, right?
Maybe, but when we have more time, allow me to share the ultimate pumpkin muffin recipe that just might change your mind. For now, though, let's take a different approach.
If you're tired of the standard array of baked pumpkin options but not quite ready to call pumpkin a soup, you need a new way to spice up your relationship with pumpkin.
Enter the pumpkin snickerdoodle. Snickerdoodles—the cinnamon sugary cookie of your childhood—might be the sweet treat for you.
With the gentle kiss of pumpkin on your tongue and cinnamon sugar on your lips, one bite of these chewy snickerdoodle cookies might be just what you need to reinvigorate your love affair with fall.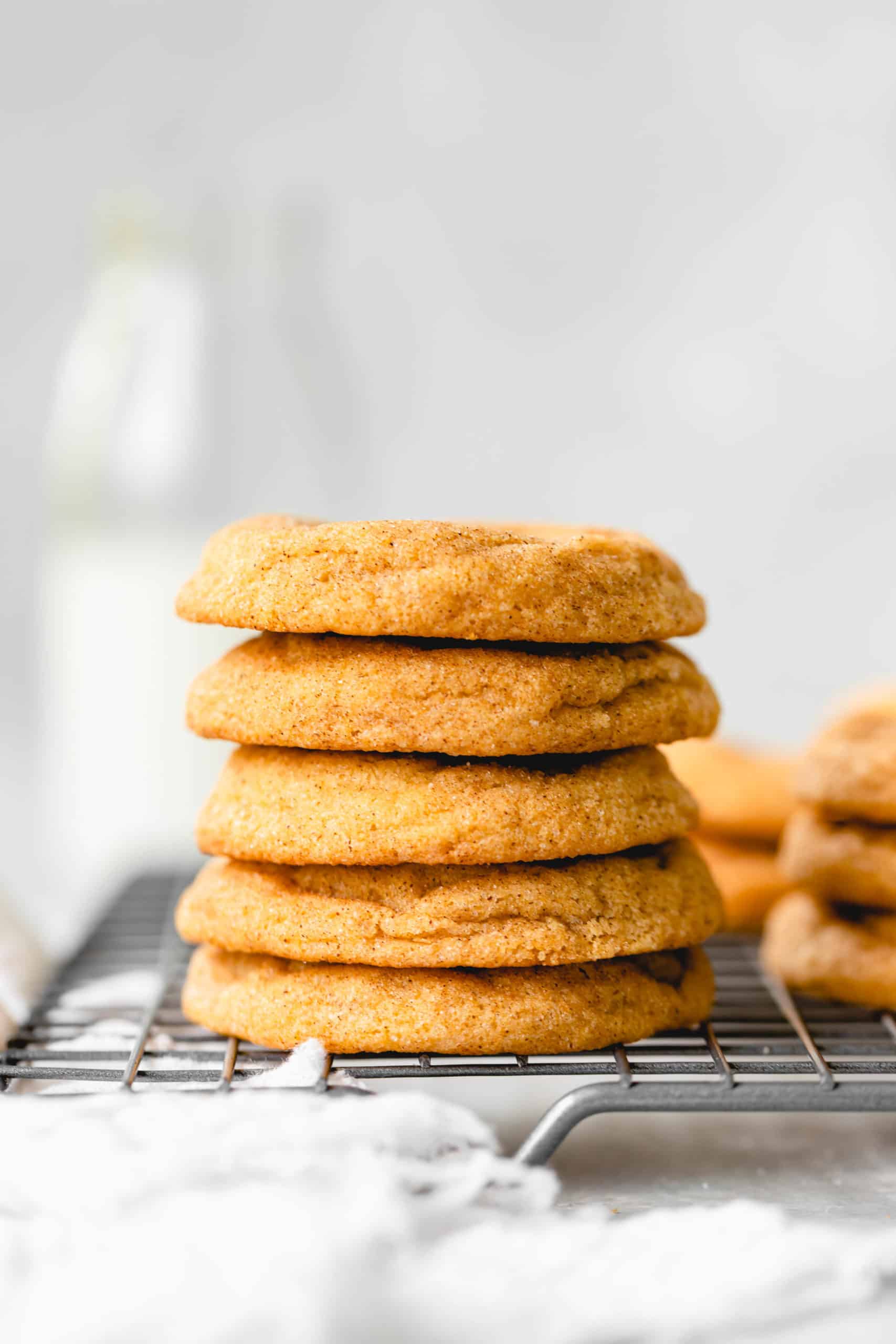 Pumpkin Snickerdoodle Ingredients and Prep
The best fall recipes strike the right balance between nostalgia and innovation. The creative introduction of pumpkin to the classic snickerdoodle cookie achieves that balance.
The best fall recipes also offer complex flavors without requiring you to gather a complicated list of ingredients or follow complicated steps.
Again, the pumpkin snickerdoodle fits the bill. Besides pumpkin puree, you'll need just a few standard baking staples and spices to whip up a batch of these chewy cookies.
Ingredients
Sugar: Pumpkin has a natural and subtle sweetness. In baked goods, sugar brings out this sweetness.
Light brown sugar: Adding light brown sugar deepens this sweet flavor. It also adds a kiss of caramel to your snickerdoodles.
Melted butter: If you're like me, you use salted butter when you bake because it maintains the natural flavors of your treats. If you only have unsalted butter on hand, you can add a pinch of salt before or after you melt it.
Egg yolk: Because this recipe includes pumpkin puree, it will produce super moist cookies—even without adding a whole egg. Using only the yolk will also create cookies with a chewy—not cakey—texture.
Vanilla extract: The subtle flavor of pure vanilla extract offers the best complement to the combination of sugar and spice.
Pumpkin puree: If you're grabbing a can from the pantry or the grocery store, make sure that it's pumpkin puree. Pumpkin pie filling looks similar, but it includes too many sweeteners for this recipe. Pumpkin puree—combined with sugar and natural spices—adds the perfect subtly sweet pumpkin taste.
All-purpose flour: When you measure the flour, make sure to level your spoonfuls. This is especially important if you prefer cookies that are chewy rather than cakey.
Cream of tartar: Cream of tartar helps baked goods rise. It also adds a subtle tang to the snickerdoodle flavor.
Baking soda: Like the cream of tartar, baking soda helps your cookies rise.
Baking powder
Salt: Salt helps balance the sweet flavor of the cookies.
Cinnamon
Ginger
Ground cloves
Together, the cinnamon, ginger, and ground cloves add a subtle spice to these sweet pumpkin cookies. You'll also reserve a bit of cinnamon and sugar for rolling the cookie balls before you bake them.
Directions
1. Preheat the oven to 350 degrees F.
2. While the oven is heating, prepare the batter. Begin by melting the butter. Then whisk together the granulated sugar and light brown sugar.
3. Add the egg yolk, vanilla extract, and pumpkin puree.
4. Finally, mix in the dry ingredients until combined. Reserve a little extra cinnamon and sugar for rolling dough balls right before baking.
5. Use a medium cookie scoop to scoop out 2 tbsp of dough.
6. Form each scoop into a ball, and roll each dough ball in a mixture of cinnamon and sugar.
7. Space the dough balls about 2 inches apart on the baking sheet, and bake for 9-11 minutes.

The Best and Final Step: Enjoy!
In less than 30 minutes, this recipe will fill your house with delicious fall fragrances and your mouth with the perfect combination of pumpkin, spice, and everything nice.
Your cookies will be ready to enjoy right from the oven. Because the recipe is so quick and easy, I often save baking these cookies as the final item on my to-do list before fall guests arrive. After all, who needs a pumpkin spice air-freshener when the air is already full of baked autumn goodness?
[mv_video key="zi1bvvebpcfdw9xhtt1d" volume="70" aspectRatio="16:9" title="Pumpkin Snickerdoodle" thumbnail="https://mediavine-res.cloudinary.com/v1600965201/jjpkvbwkppuzrlgkvxai.jpg" jsonLd="true" doNotOptimizePlacement="false" doNotAutoplayNorOptimizePlacement="false" sticky="false"]
Pumpkin Snickerdoodles: The Perfectly Unique Union of Two Fall Classics
Whether you're baking for guests, your family, or yourself, these cookies won't last long.
Maybe you'll pack some to enjoy with your coffee at the office. Maybe you'll nibble on them while sipping cider and enjoying your favorite fall read. Maybe—if they're being extra nice—you'll share some pumpkin spice nostalgia with your kids.
If you do need to store these cookies, place them in an airtight container. They'll stay fresh for a week at room temperature.
As you try this and other recipes on my blog, I'd love to hear from you. Take a photo and tag #bakedambrosia on Instagram and Facebook so that I can see your creations and feature them on Instagram! If you loved this recipe make sure to leave a rating below! To stay up to date with the latest recipes, follow Baked Ambrosia on Pinterest, Facebook, Instagram, and Youtube. ♡
More Pumpkin Recipes You'll Love!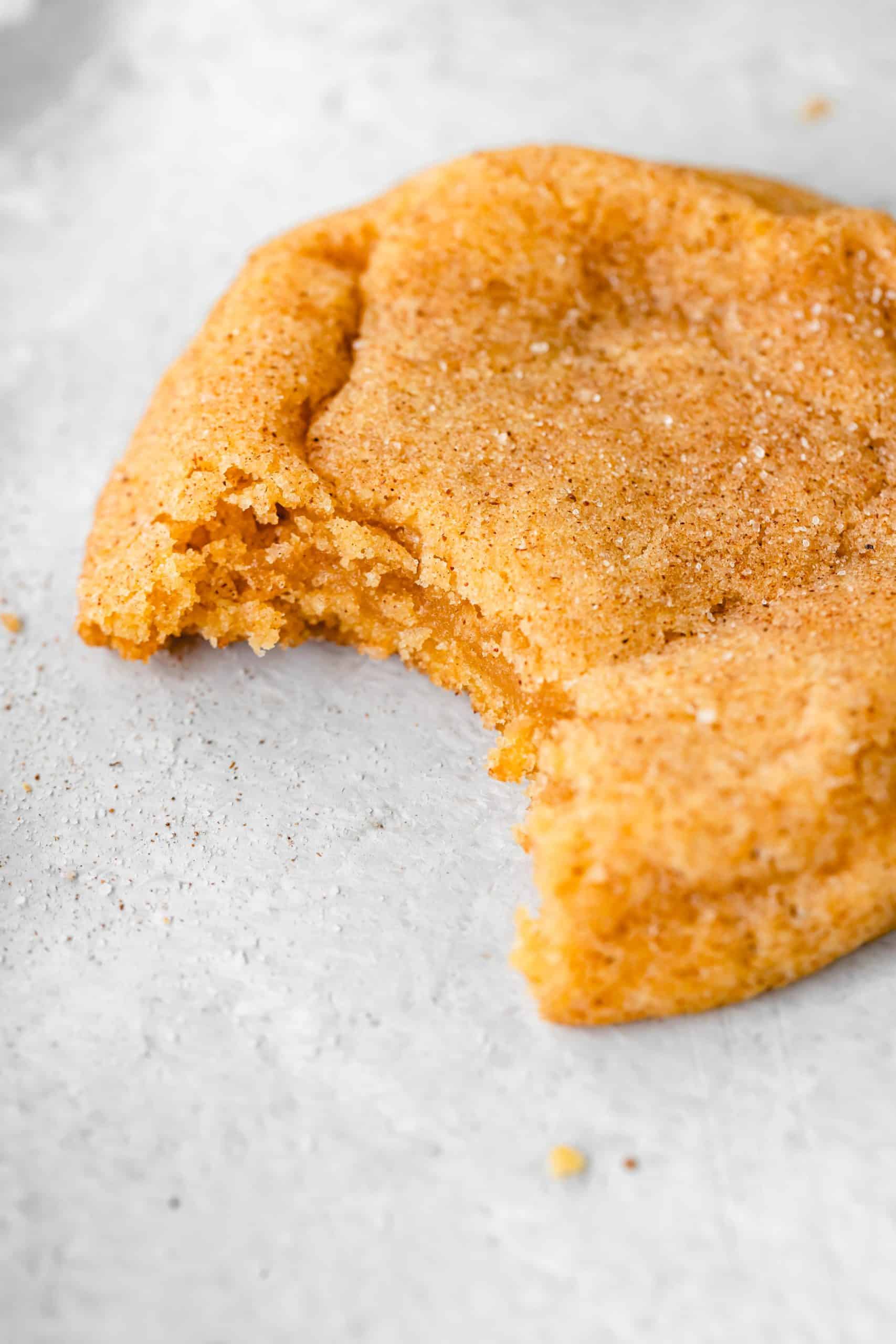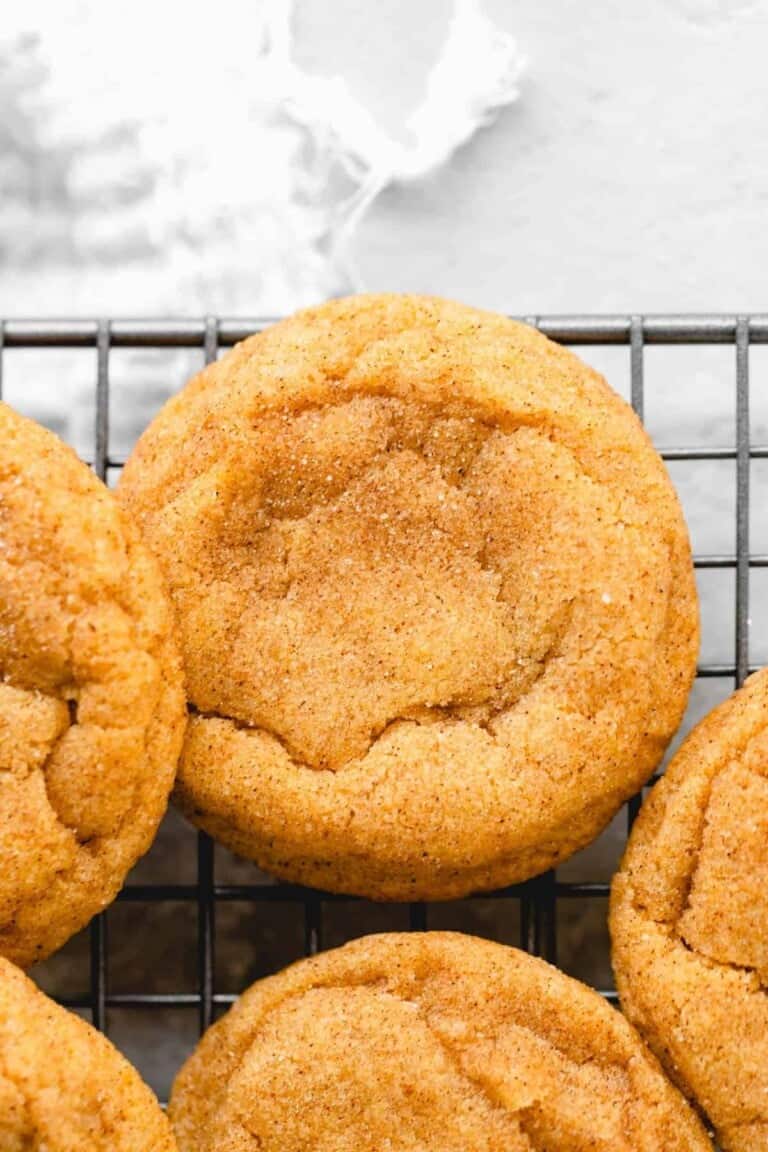 A Taste of the Fall: Pumpkin Snickerdoodle Cookie Recipe
Trying to find a cookie recipe that will compliment your favorite fall drink? Check out this delicious recipe for pumpkin snickerdoodles.
Ingredients
1

cup

2 sticks, 226 g butter, melted and slightly cooled

1

cup

200 g granulated sugar

½

cup

100 g light brown sugar

1

egg yolk

⅓

cup

96 g pumpkin puree

1

teaspoon

vanilla extract

2 ¾

cups

343 g all purpose flour

2

teaspoon

cream of tartar

1

teaspoon

baking soda

¼

teaspoon

baking powder

¼

teaspoon

salt

1

teaspoon

cinnamon

¼

teaspoon

ginger

⅛

teaspoon

ground cloves
Topping
½

cup

100 g granulated sugar

1

teaspoon

cinnamon
Instructions
Preheat oven to 350°F. Line two baking sheets with parchment paper and set aside.

In a large mixing bowl, whisk the melted butter, granulated sugar, and brown sugar together. Whisk in the egg yolk, pumpkin, and vanilla extract until smooth.

Add the flour, cream of tartar, baking soda, baking powder, salt, spices to the butter/sugar mixture. Mix together with a rubber spatula or wooden smooth until a dough forms.

Use a medium cookie scoop to scoop out 2 tablespoon of dough and roll into balls. Mix together the remaining ½ cup of granulated sugar and 1 teaspoon of cinnamon. Roll each of the cookie dough balls in the cinnamon-sugar mixture and arrange onto the prepared baking sheets, about 2 inches apart.

Bake for 9-11 minutes or until the edges appear set and the centers are still soft.

Allow cookies to cool on the baking sheets for 5 minutes before transferring to a wire rack to cool completely.

Store cookies in an air tight container at room temperature for up to 1 week.
Notes
Make Ahead: You can make the cookie dough and chill it covered in the refrigerator for up to 3 days. When you are ready to bake allow the dough to come to room temperature, then continue with step 4. Freezing Instructions: You can freeze the cookie dough balls (without the cinnamon sugar topping) for up to 3 months. When you are ready to bake, remove the dough balls from the freezer and let sit at room temperature for 30 minutes. Roll in the cinnamon sugar topping and bake.
Tried this recipe?
Let us know how it was and tag @bakedambrosia on Instagram