Best Ever Homemade Blueberry Muffins (Easy Recipe)
These blueberry muffins have a soft, moist crumb and a burst of juicy blueberries in every bite. They are made using all-purpose flour, sugar, eggs, and baking powder, combined with wet ingredients like oil or melted butter, and buttermilk for added moisture. The key to a perfect blueberry muffin is the incorporation of fresh or frozen blueberries and a sprinkle of coarse sugar on top for a crunchy finish. These muffins are versatile and can be enjoyed as a breakfast item, a snack, or a dessert. They can be easily stored in an airtight container or frozen for later use.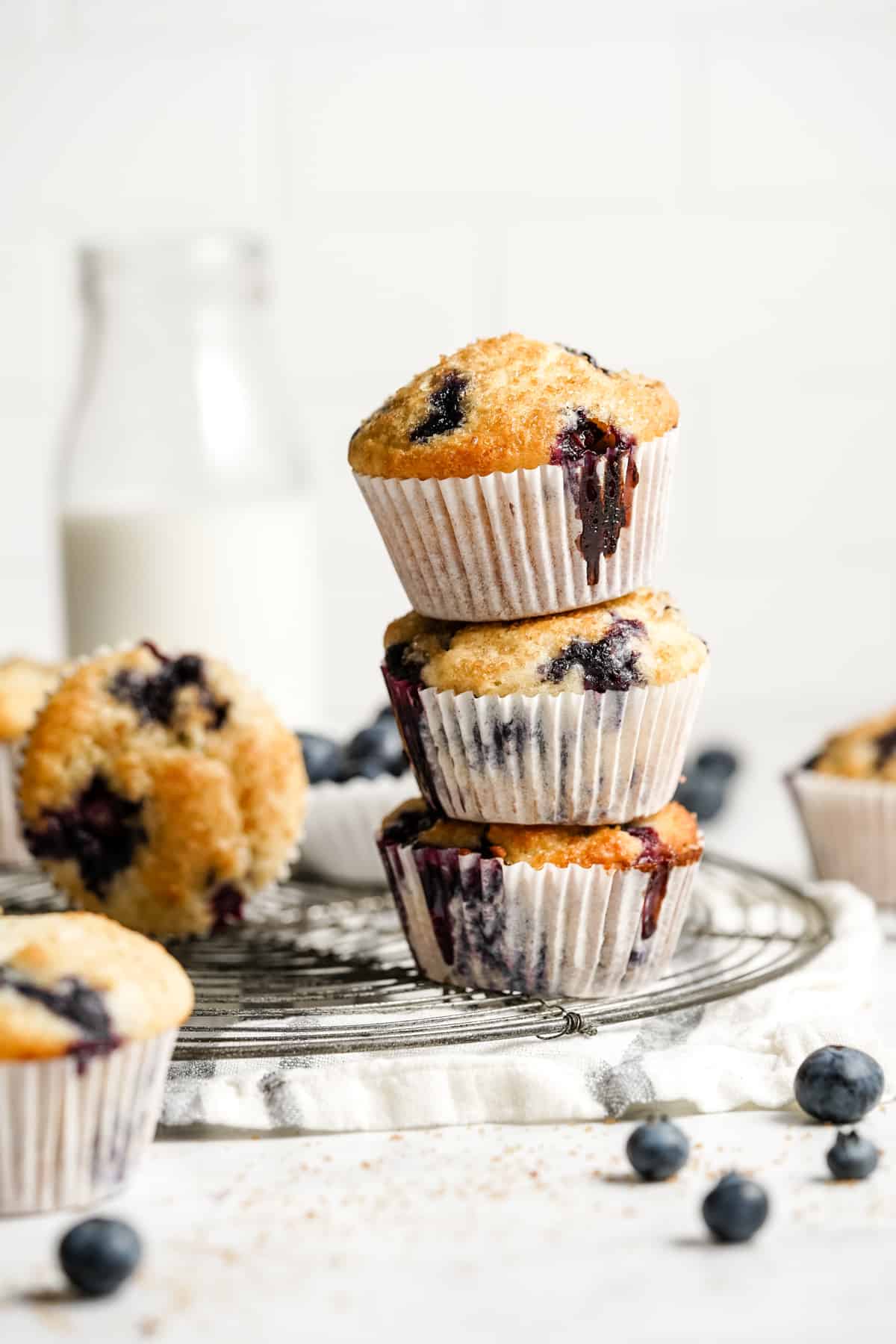 Looking for the perfect blueberry muffins recipe? This guide has you covered with easy-to-follow steps and expert tips. This blueberry muffin recipe is a keeper, I promise. They're super easy to whip up, have juicy blueberries in every bite, and are topped with crunchy turbinado sugar. You won't need another muffin recipe after this one!
Our Favorite
Muffin Recipes
Why You'll Love This Recipe
Ingredient Notes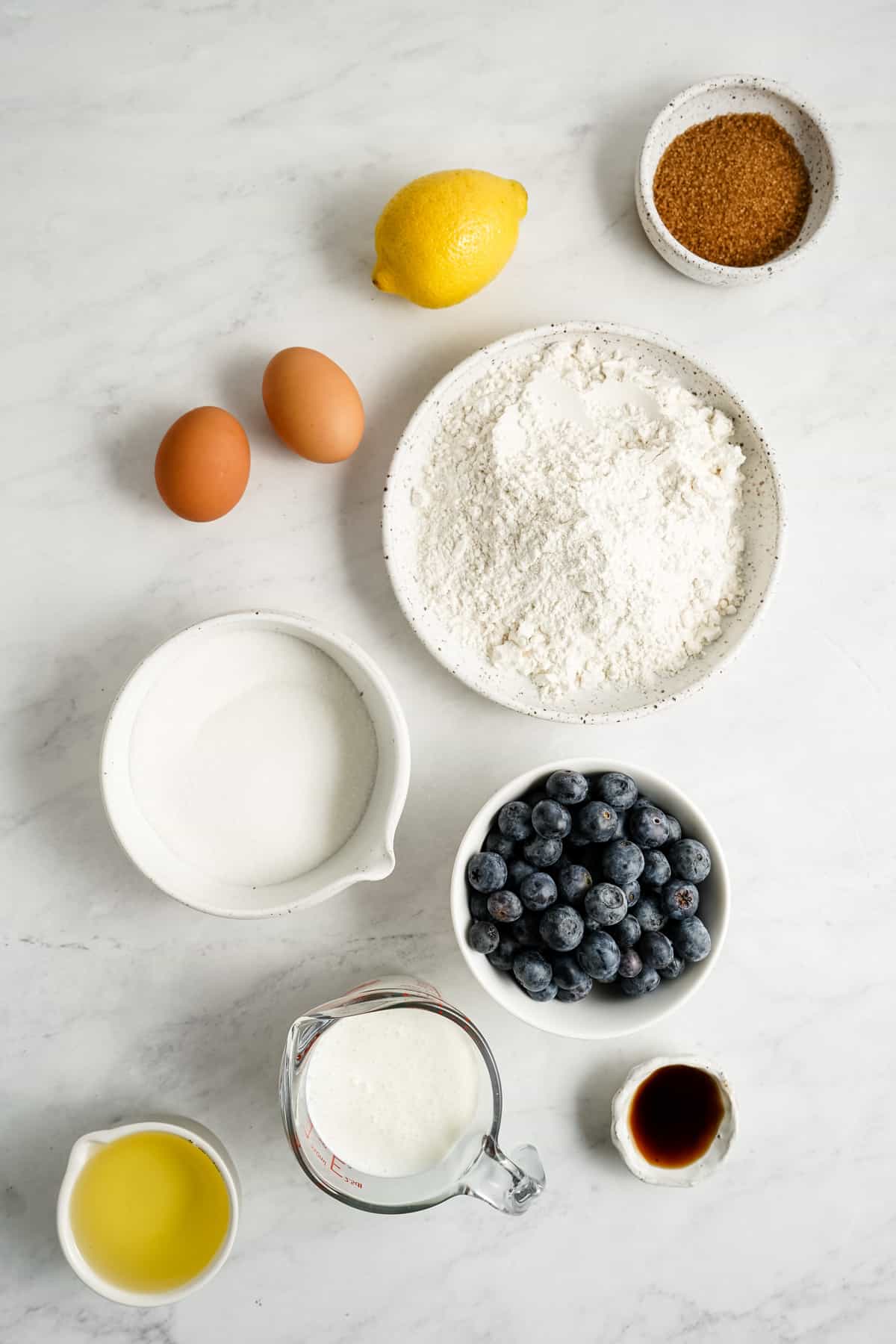 All-purpose flour: The backbone of any muffin recipe, really. You can also use gluten-free flour if needed.
Baking powder: The key ingredient to get the fluffiest muffins.
Salt: Just a pinch to balance the flavors.
Blueberries: Fresh blueberries are the star here. Frozen blueberries will work too, but it's blueberry season, so why not go fresh?
Lemon Zest: Adds a hint of citrusy brightness. Trust me on this.
Sugar: Good old white sugar for sweetness.
Eggs: They should be at room temperature for the best texture.
Vanilla Extract: Because vanilla makes everything better.
Oil: I use vegetable oil for extra moist muffins. You can use melted butter, but it will altar the texture of your muffins.
Buttermilk: Creates a tender crumb and moist blueberry muffins. No buttermilk? Use milk with a splash of white vinegar.
Turbinado Sugar: This coarse sugar goes on top of the muffins for a crunchy finish.
Step by Step Instructions
Be sure to check out the full recipe and ingredient list below
Heat Oven and Prep Muffin Tin: First, preheat your oven to 400°F (200°C) and line your muffin tin with paper liners.
Dry Ingredients: In a large mixing bowl, whisk together the all-purpose flour, baking powder, and salt. Add the blueberries and zest.
Wet Ingredients: In another bowl, mix the sugar, eggs, vanilla extract, and oil together. Make sure the eggs are at room temperature.
Combine: Slowly add the wet ingredients to the dry ingredients. Stir just until combined to avoid a tough muffin texture. Too much flour mixing is not your friend here.
Divide Batter: Use an ice cream scoop to divide the muffin batter evenly among the muffin cups.
Top and Bake: Sprinkle turbinado sugar on the top of the muffins. Bake for 18-22 minutes, or until the muffins are golden brown.
Cool: Let them cool on a wire rack before eating.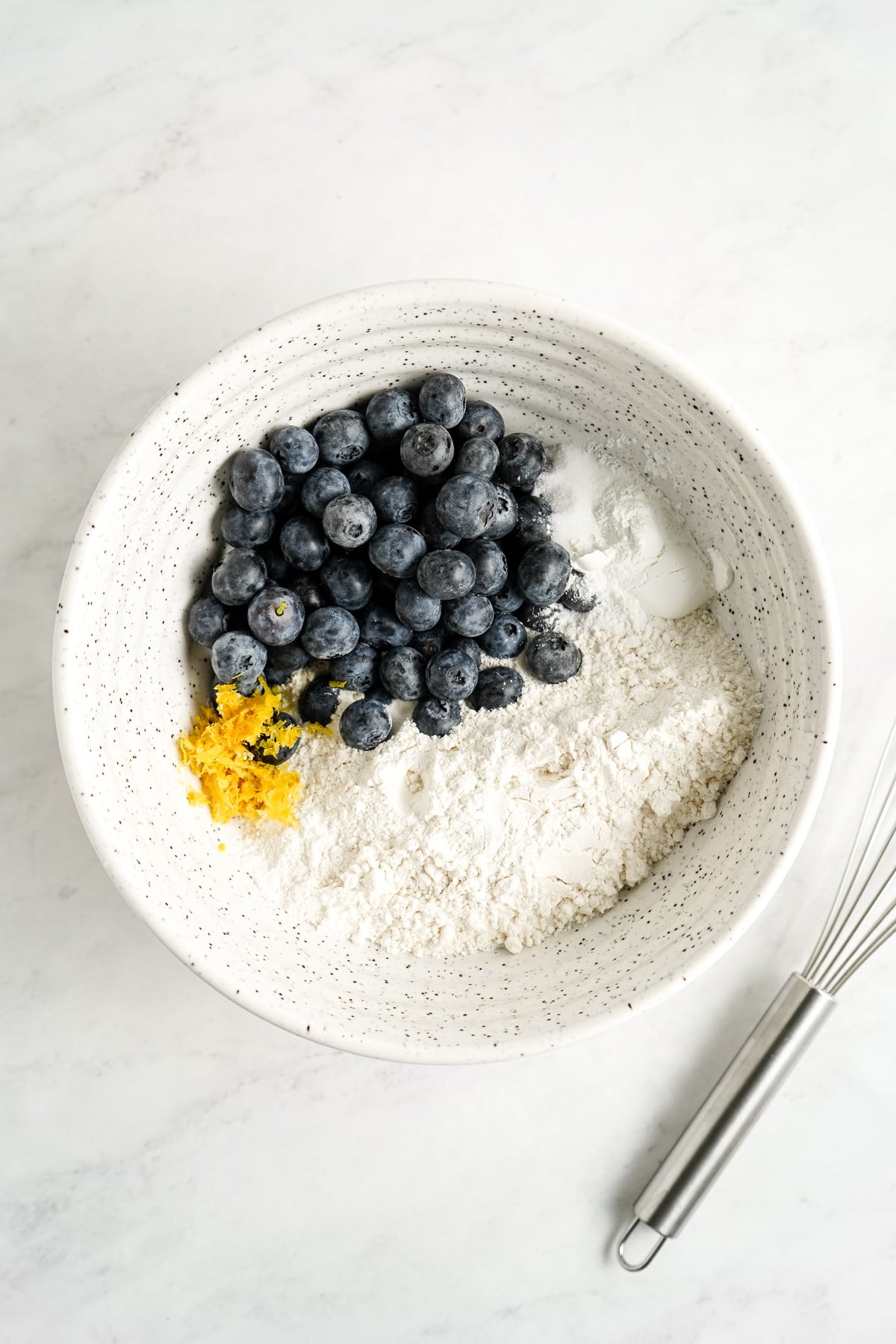 Serving Suggestions
Serve these delicious blueberry muffins warm, perhaps with a dollop of unsalted butter. Looking for a twist? Try adding some brown sugar or lemon juice for a different kick.
How to Store & Freeze
Store your homemade blueberry muffins in an airtight container to keep them fresh for up to 4 days. Want to savor them later? Freeze them! Just wrap each muffin in aluminum foil and put them in a freezer-safe bag.
Don't Overmix: The more you mix, the tougher your muffins will be. A few lumps in the batter are perfectly fine.
Check Your Baking Powder: Make sure it's fresh for the best rise. If it's been in your cupboard for a while, it's worth getting a new one.
The Ice Cream Scoop Trick: Use an ice cream scoop to transfer batter to the muffin cups for equal and mess-free portions.
Turbinado Sugar vs. Coarse Sugar: You can use either for the top of the muffins. Turbinado sugar is less processed and adds a caramel-like flavor.
Room Temperature Ingredients: Make sure your eggs are at room temperature for even mixing.
Adjusting Bake Time: Oven temps can vary. Keep an eye on the muffins, and do the toothpick test. If it comes out clean, they're done!
Fresh vs. Frozen Blueberries: While fresh berries are wonderful when in season, frozen blueberries are just as good. Just add them frozen to avoid discoloring the batter.
Frequently Asked Questions
Can I use frozen blueberries instead of fresh?
​Yes. You don't even need to thaw them. Just fold them into the batter as you would with fresh blueberries.
Can I make this recipe gluten-free?
Yes, just swap the all-purpose flour for gluten-free flour. Make sure to also check your baking powder is gluten-free.
How do I know when my muffins are done baking?
The tops should be golden brown, and a toothpick inserted into the center should come out clean or with a few crumbs.
Can I use white vinegar if I don't have buttermilk?
Yes, just add a tablespoon of white vinegar or lemon juice to regular milk to make a quick buttermilk substitute.
Can I use unsalted butter instead of oil?
Yes, you can replace the vegetable oil with melted unsalted butter, but keep in mind that it will change the texture.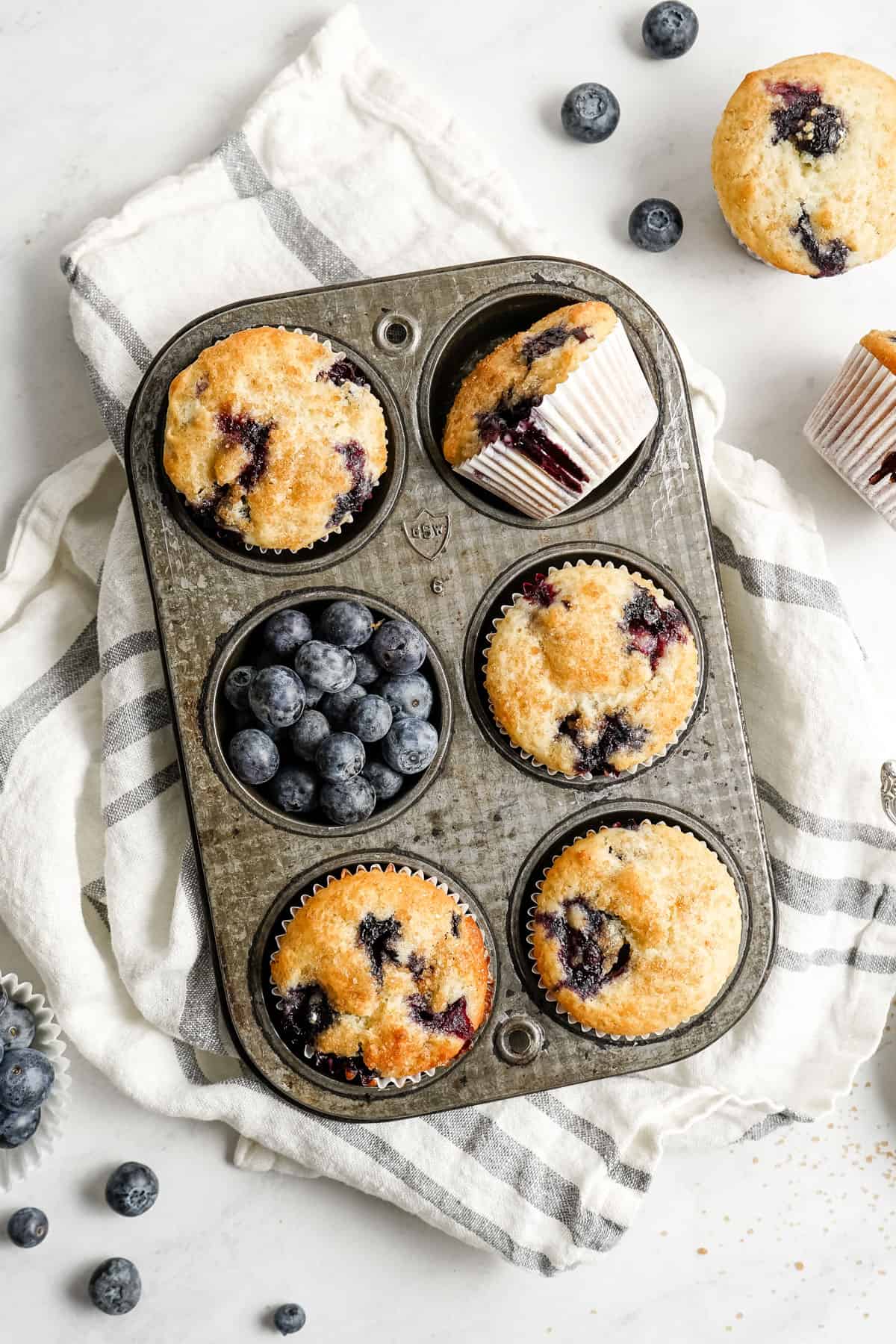 If you loved this blueberry muffin recipe, check out these other great recipes.
If you make this recipe, take a photo and tag #bakedambrosia on Instagram and Facebook so that I can see your creations and feature them on Instagram! To stay up to date with the latest recipes, follow Baked Ambrosia on Pinterest, Facebook, Instagram, and Youtube. ♡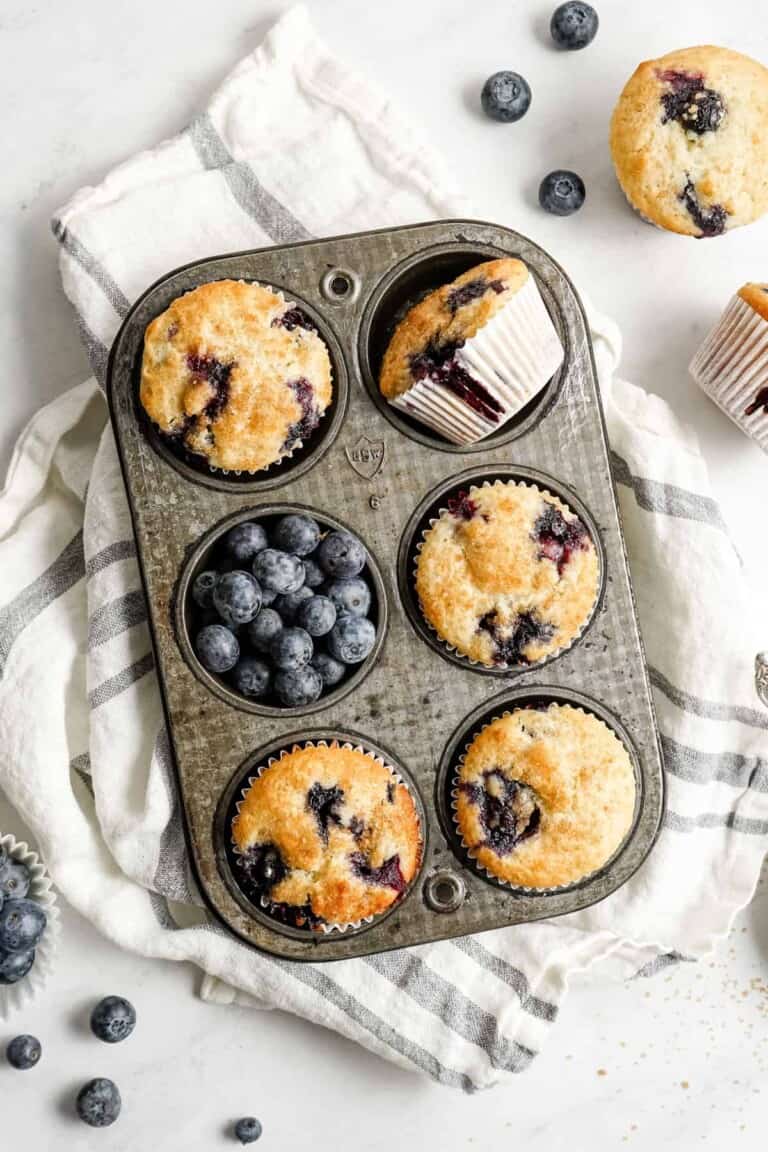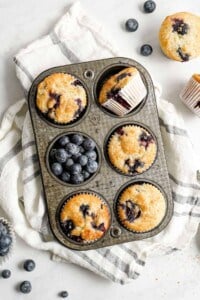 Blueberry Muffins
These blueberry muffins boast a moist crumb, are brimming with juicy blueberries, and topped with a crunchy layer of turbinado sugar for a bakery-style finish. It's an easy recipe that promises tender, delicious muffins every single time—truly the BEST Blueberry Muffin Recipe you'll ever try!
Ingredients
2 1/3

cup

all-purpose flour

4 1/2

tsp

baking powder

1/2

tsp

salt

2

cups

blueberries

fresh or frozen

zest from 1 lemon

3/4

cup

sugar

2

eggs

1

tbsp

vanilla extract

1/2

cup

oil

vegetable or canola

3/4

cup

+ 2 tbsp buttermilk

2

tbsp

turbinado sugar
Instructions
Preheat oven to 450°F. Line a muffin tin with 12 muffin cups and set aside.

In a large bowl, combine the flour, baking powder, salt, blueberries, and lemon zest.

In a separate bowl, mix together the sugar, eggs, vanilla, oil, and buttermilk.

Fold the dry ingredients into the wet, mixing until just combined. Be sure not to overmix the batter. Having a few lumps or streaks of flour in the batter is okay!

Scoop the batter into the prepared muffin cups, filling a little more than ¾ full. Sprinkle each muffin top with turbinado sugar.

Bake for 5 minutes at 450°F. Without opening your oven door, reduce the oven temperature to 375°F and bake for an additional 10-15 minutes or until a toothpick inserted in the center of a muffin comes out with just a couple of crumbs.

Remove from oven and allow muffins to cool for 5 minutes before transferring to a wire rack to cool completely.
Nutrition
Serving:
1
muffin
Calories:
265
kcal
Carbohydrates:
38
g
Protein:
4
g
Fat:
11
g
Saturated Fat:
1
g
Polyunsaturated Fat:
3
g
Monounsaturated Fat:
6
g
Trans Fat:
0.04
g
Cholesterol:
29
mg
Sodium:
283
mg
Potassium:
78
mg
Fiber:
1
g
Sugar:
18
g
Vitamin A:
78
IU
Vitamin C:
2
mg
Calcium:
115
mg
Iron:
2
mg
Tried this recipe?
Let us know how it was and tag @bakedambrosia on Instagram