Tropical Steel Cut Oats (vegan)
10 minute breakfast – Tropical Steel Cut Oats topped with toasted coconut, dried pineapple, and a date "caramel" sauce. (GF, Vegan, Refined Sugar Free)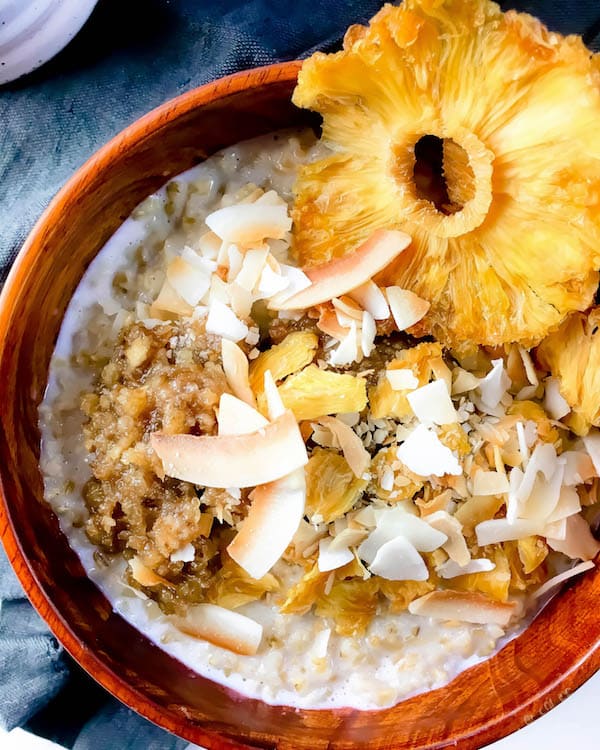 Tropical Steel Cut Oats!!
… with toasted coconut, dried pineapple, and a date "caramel" sauce. Because isn't oatmeal really all about the toppings?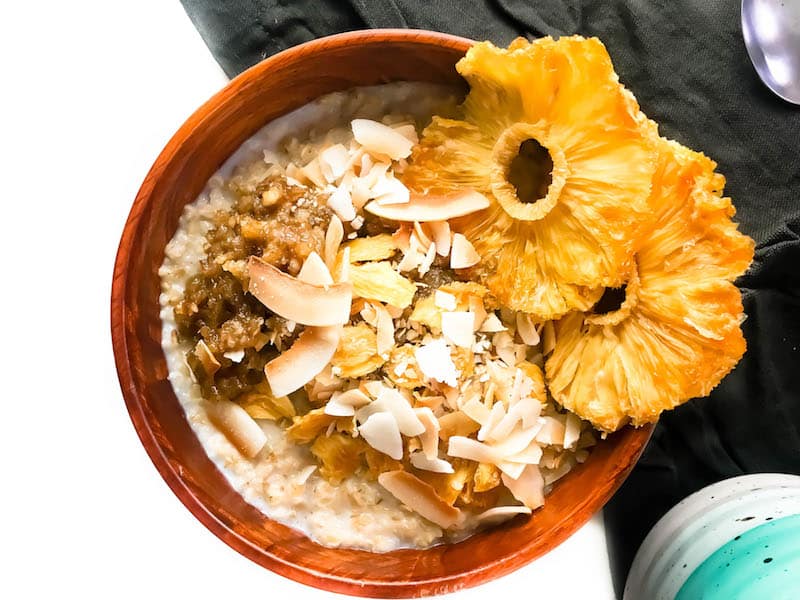 If you know me, you would know that I have oatmeal EVERY.SINGLE.MORNING. It's my thing. My morning ritual. I don't feel like I can start my day without it. I make my oats the same way everyday; oats, flax seeds, chia seeds, and almond milk – then I top it with a spoonful of peanut butter, hemp hearts, honey, and cinnamon.
Occasionally, when I'm feeling adventurous, I like to get creative with my bowl of oats.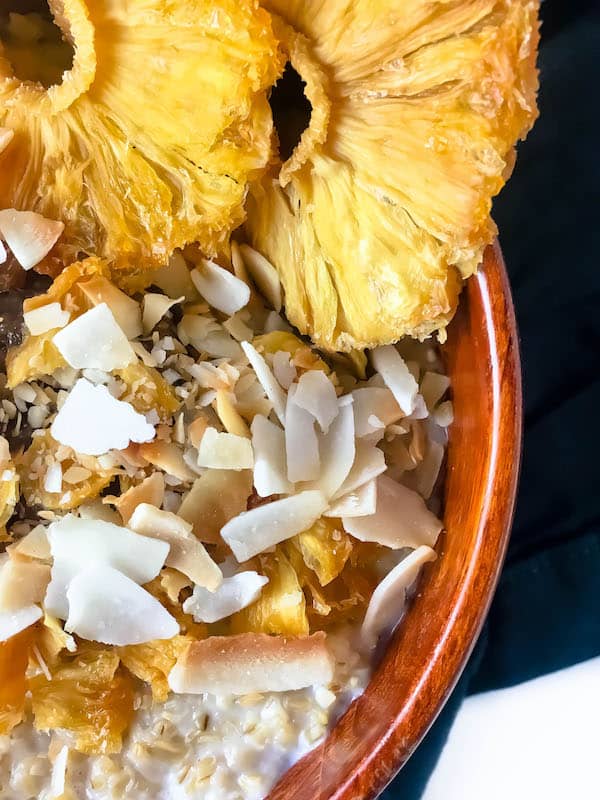 Today I was feeling steel cut oats. I'm all about texture, so the chewiness of steel cut oats is perfect. They take a little longer to cook than old fashioned oats, but trust me, it's worth it! I made my oats with Califia Farms Toasted Coconut Almond Milk but you can make them with any type of milk you wish.
Summer doesn't technically begin until June 21st, but I've been in summer mode since the end of April. I mean, who can really wait that long? And even though we're a month early, we can still enjoy all the summer things && a bowl of tropical oatmeal, because we're all dreaming of lounging on a sandy beach, right?!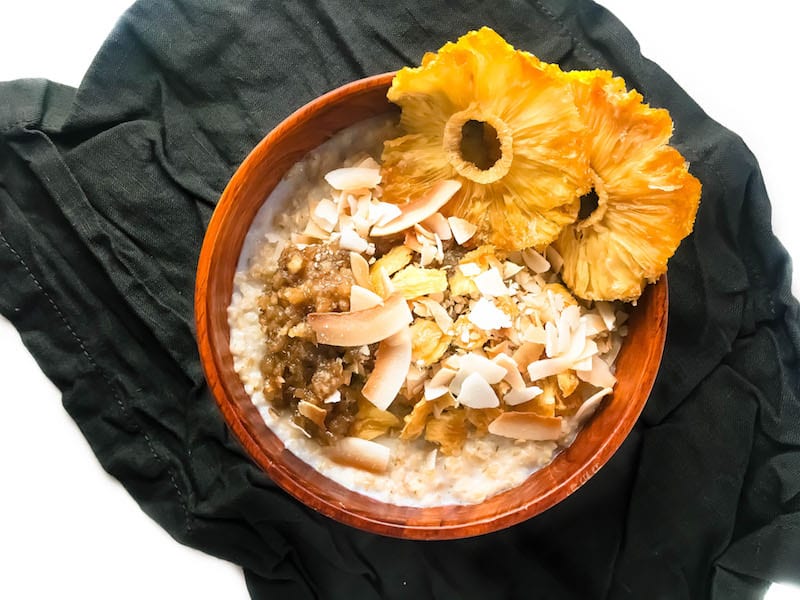 The oats are topped with hemp hearts, toasted coconut flakes, and chopped dried pineapple. Then I made a "caramel" sauce out of dates to add some more sweetness.
Seriously, this bowl of oats is pure tropical bliss.
Since we can't all make it to a beach this week, we can just enjoy a bowl of this tropical steel cut oatmeal and dream. It's not the same thing, but almost…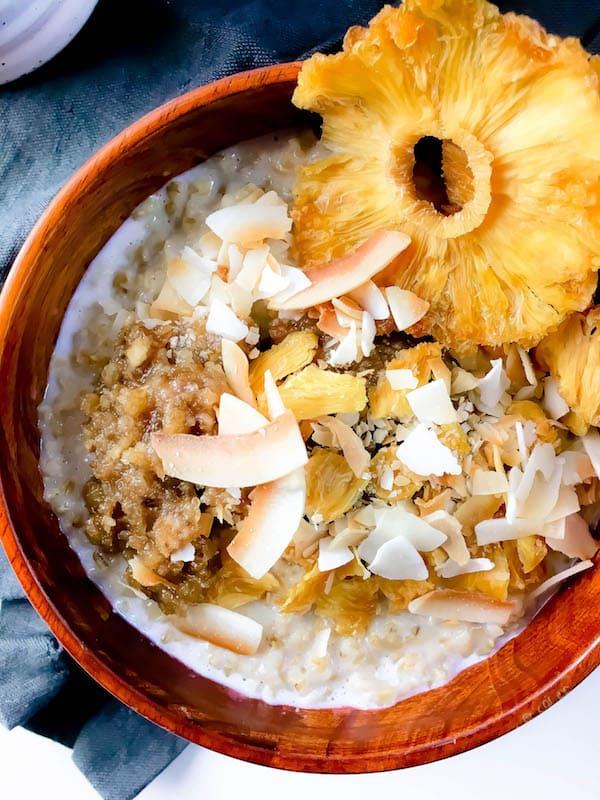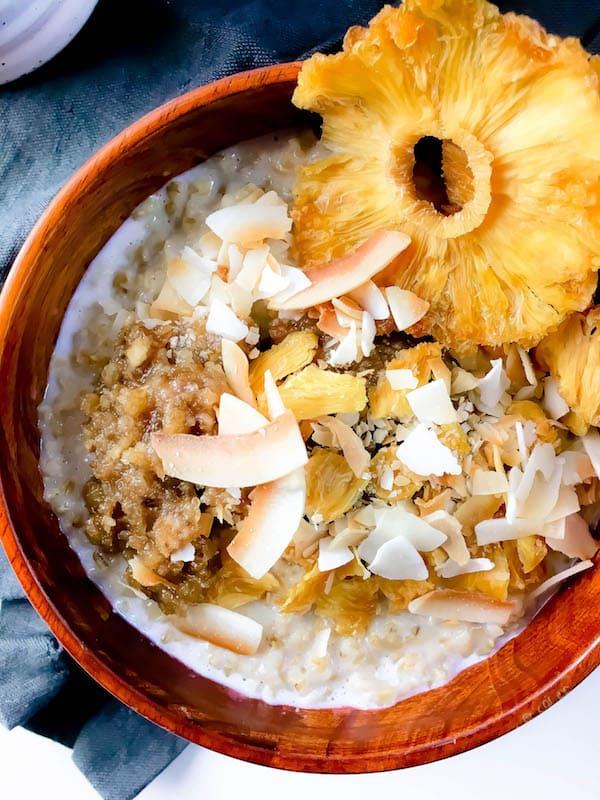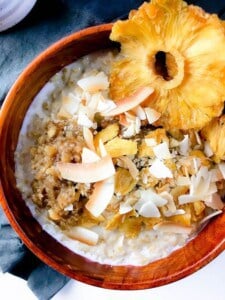 Tropical Steel Cut Oats with Date "Caramel" Sauce (Gluten Free + Vegan)
10 minute breakfast - Tropical Steel Cut Oats topped with toasted coconut, dried pineapple, and a date "caramel" sauce. (GF, Vegan, Refined Sugar Free)
Ingredients
Date Sauce
10

pitted Medjool dates

1

tsp

coconut oil
Instructions
In a small heavy bottom saucepan, bring milk and water to a boil. Add oats and coconut sugar. Stir and reduce heat. Cover and simmer 5-7 minutes (depending how chewy you prefer oats), or cook according to package.

Divide oats into two bowls and top with hemp heart, toasted coconut flakes, dried pineapple, and date sauce.
To make the date sauce, soak dates in 1/3 cup of hot water for 10 minutes. Remove from water and puree with coconut oil in a food processor or blender.
Tried this recipe?
Let us know how it was and tag @bakedambrosia on Instagram