Pumpkin Pie Layer Brownies
Pumpkin Pie Brownies; Super rich and decadent brownies topped with a pumpkin pie layer. Serve them at your Halloween Party or Thanksgiving Dinner!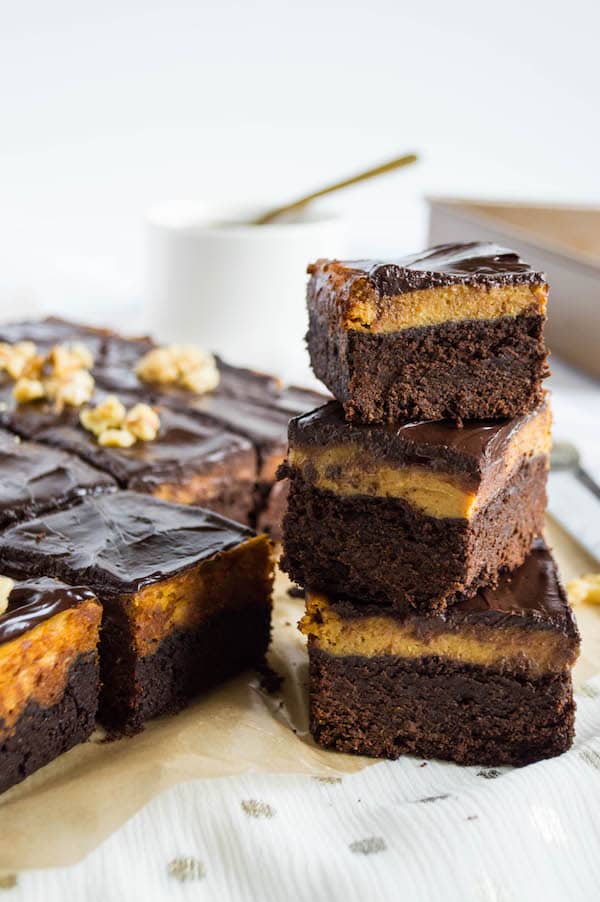 Pumpkin season is here!
Although I eat and make pumpkin desserts and foods all year round, fall is the so-called official pumpkin season. And during this season, I believe in enjoying pumpkin everything to its fullest glory. Sorry for being cliché, but I can't help myself.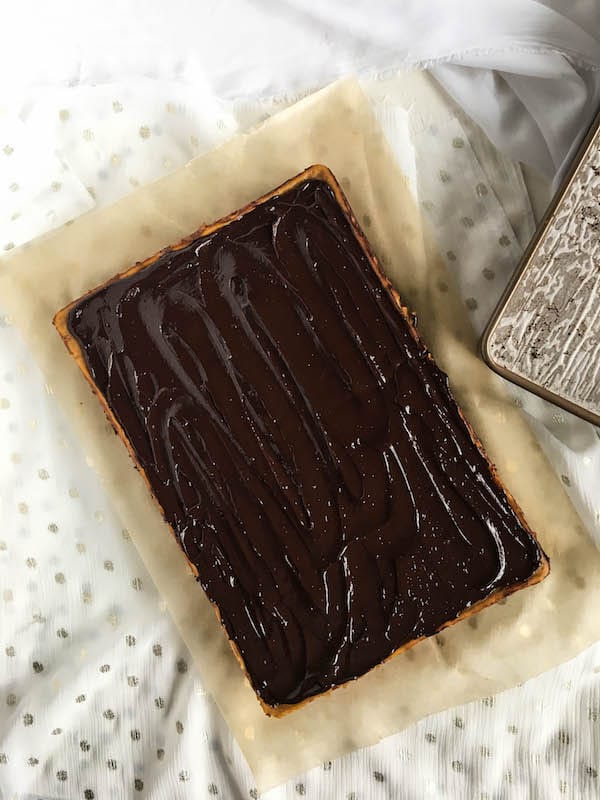 I have tons of pumpkin recipes I want to share with you guys, so deciding which one was going to be my first "pumpkin post" was a pretty difficult decision. But then brownies took over my thought process and there was no turning back.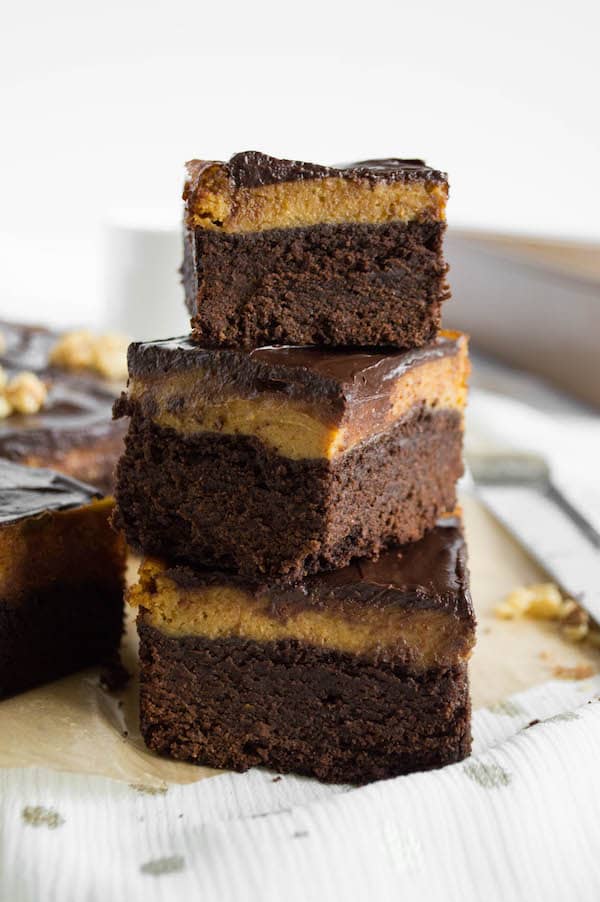 And when I asked everyone in my house if they would prefer a pie or brownies, obviously they chose brownies. Chocolate always wins.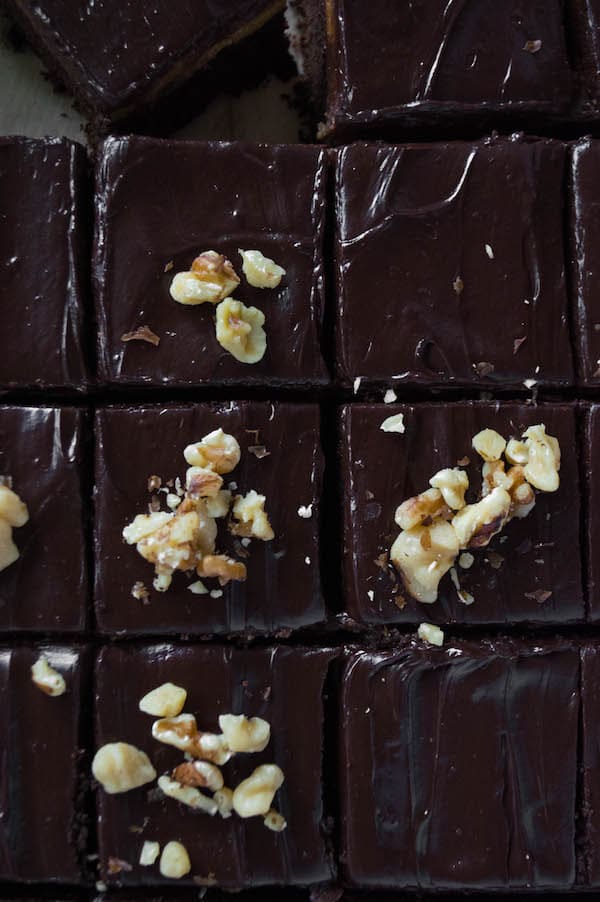 So here's the deal with these Pumpkin Pie Brownies.
They are rich and decadent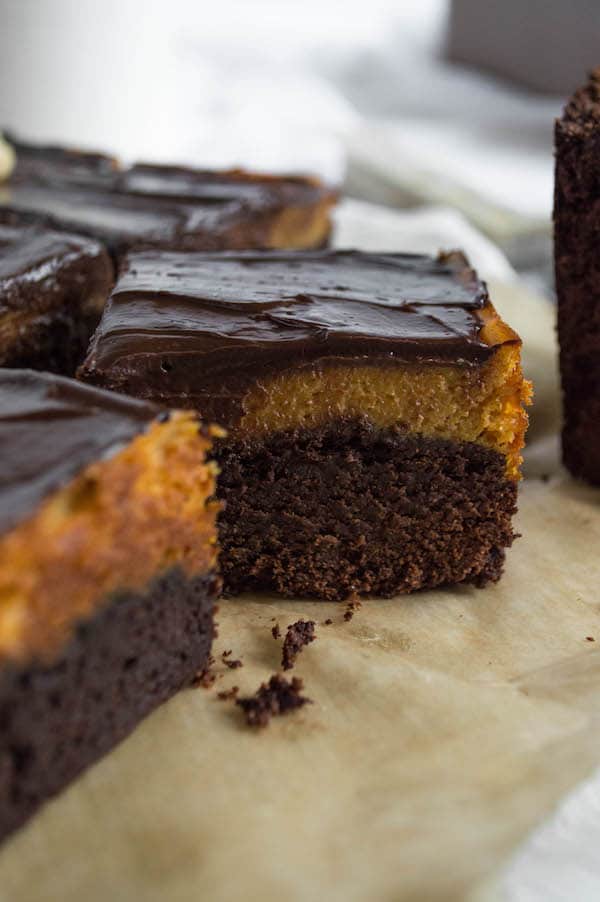 The bottom part is dark chocolate, glorious fudgy brownie. It's exactly the way brownies should be; chewy around the edges, with a rich and gooey inside. Anyone who thinks brownies should be cake-y has it all wrong. Sorry!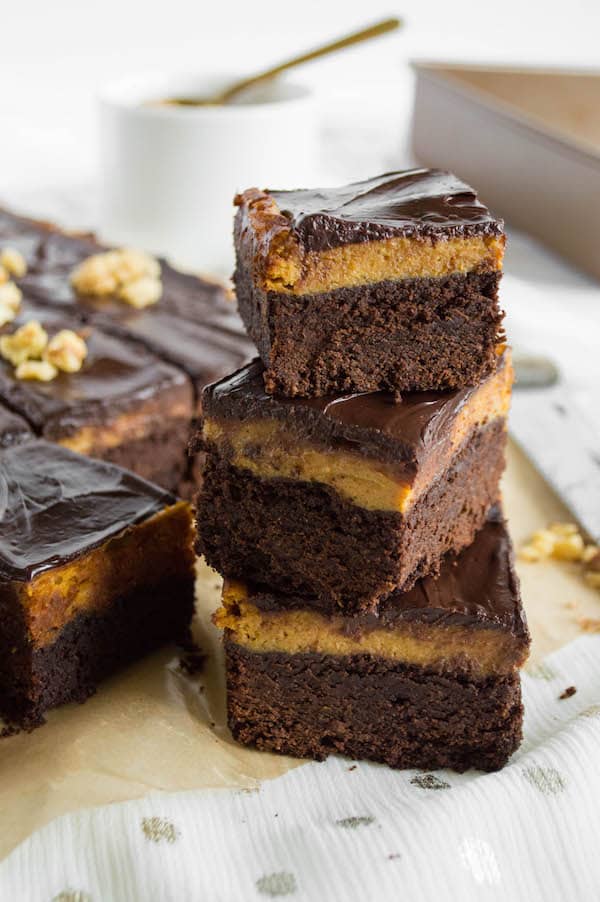 Then there is the pumpkin pie layer. It's the perfect balance of sweetness and pumpkin spice goodness.
And then, because there is no such thing as too much chocolate, I topped off these brownies with a velvety-smooth chocolate ganache.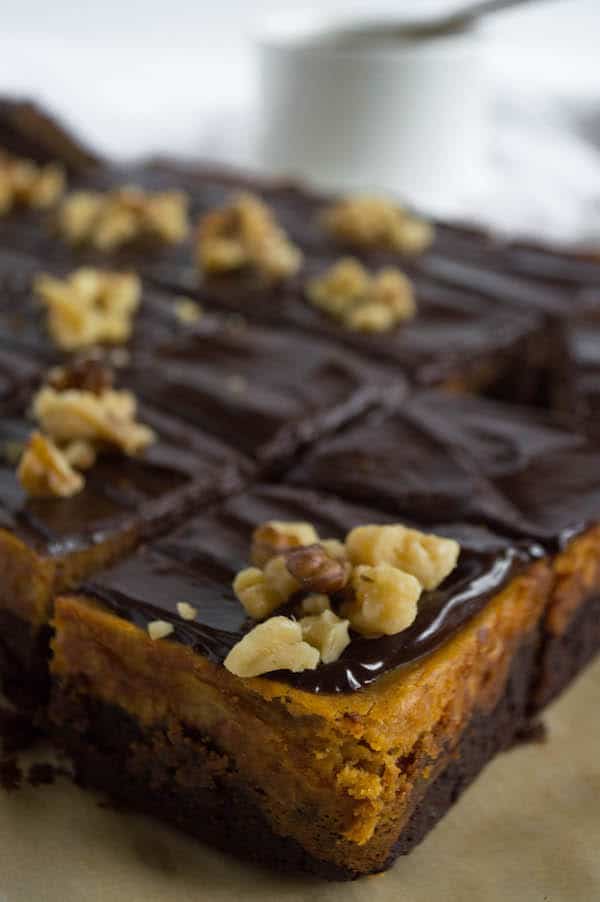 I meant to add walnuts in the brownie layer but totally forgot about them until the brownies were out of the oven. So, I sprinkled some on top for some crunch.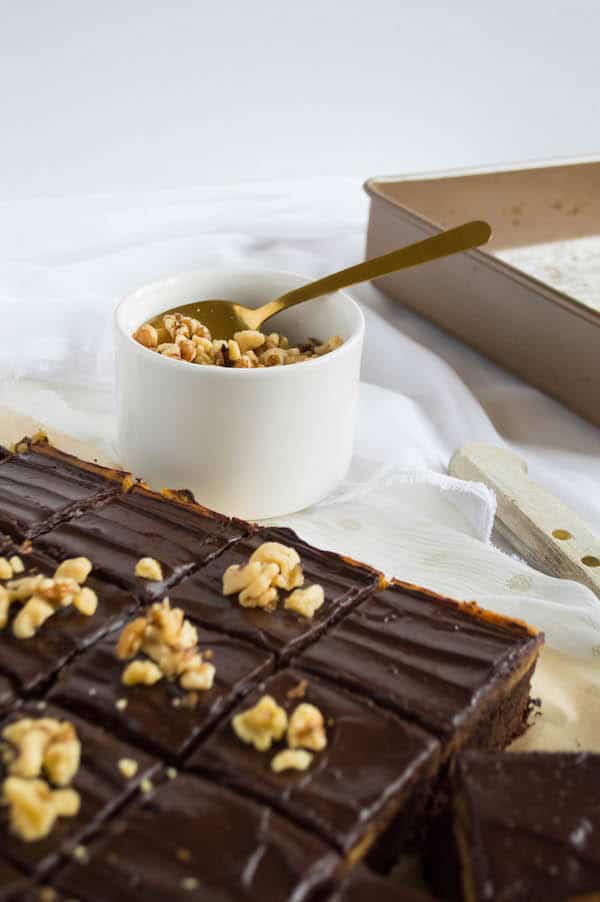 These Pumpkin Pie Brownies will definitely satisfy your fall sweet tooth. Share them with your friends and family, I promise they will love them.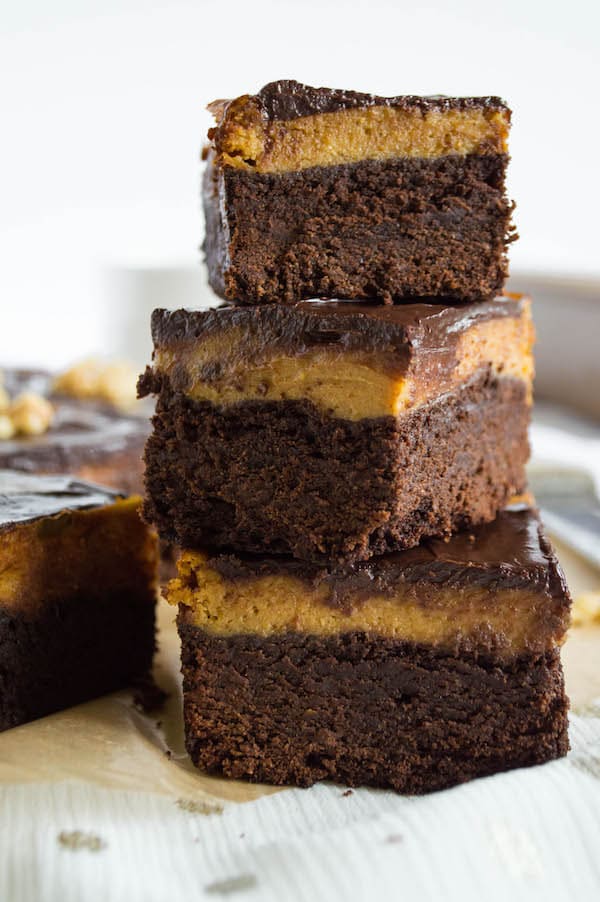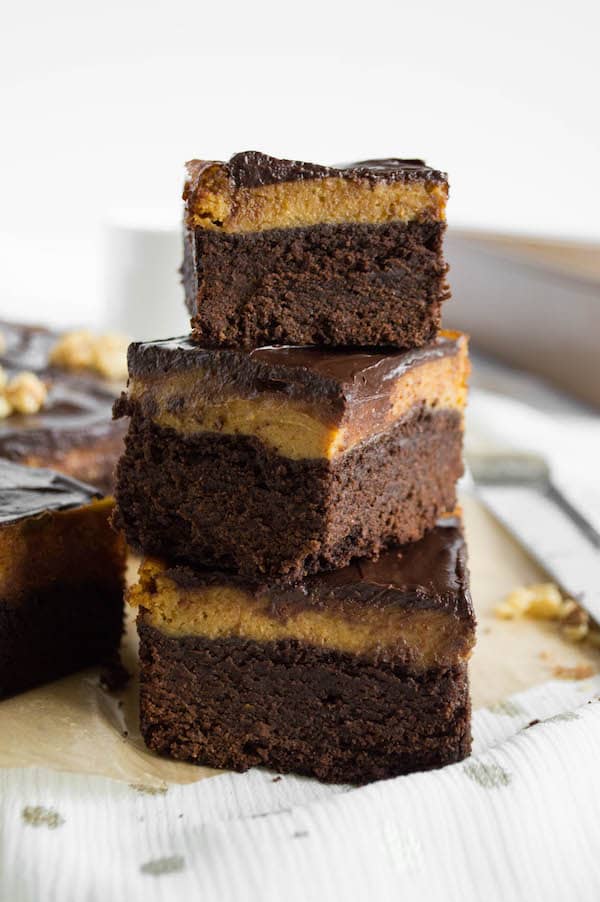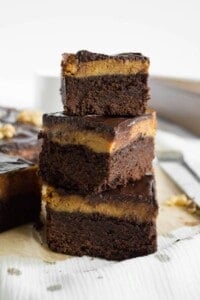 Pumpkin Pie Brownies
Pumpkin Pie Brownies; Super rich and decadent brownies topped with a pumpkin pie layer. Serve them at your Halloween Party or Thanksgiving Dinner!
Ingredients
Brownie Layer
2

sticks unsalted butter

16 tbsp

4

oz

dark chocolate

chopped

1 1/2

cups

sugar

4

large eggs

2

tsp

vanilla extract

1

cup

cocoa powder

1 1/2

cups

flour

1

tsp

baking powder

1/2

tsp

salt
Pumpkin Pie Layer
1

can sweetened condensed milk

1-15

oz

can pumpkin puree

1

tsp

cinnamon

1/2

tsp

ground ginger

1/4

tsp

ground cloves

1/2

tsp

salt

2

eggs
Ganache
10

oz

chopped dark chocolate

2/3

cups

cream
Instructions
Preheat oven to 350°F. Line a 16 x 9 baking pan with parchment paper and lightly grease it.

In a glass mixing bowl, melt the butter and chocolate over a double boiler until smooth. Remove bowl from heat and stir in sugar. Add the eggs and vanilla and whisk until smooth.

In a separate large mixing bowl, combine cocoa powder, flour, baking powder, and salt.

Pour wet ingredients into dry and fold until just combined. Pour the batter into the prepared baking pan and bake 30 minutes.

While brownies are baking, make the pumpkin pie layer.

Combine all ingredients in a blender and blend until smooth. Alternatively, place all the ingredients in a mixing bowl and beat with an electric mixer until all ingredients are combined and smooth.

After 30 minutes, remove brownie layer from oven and pour pumpkin pie layer over top. Immediately place back in oven and bake another 15 minutes.

Remove brownies from oven and allow to cool completely.

Make the ganache by placing the chopped chocolate in a mixng bowl.

Heat the cream in a small heavy bottom pot. It doesn't have to come to a boil, it just has to be really hot (be careful not to scorch the cream!). Once hot, pour the cream over chopped chocolate. Gently stir until chocolate melts and ganache becomes smooth and velvety. Allow to cool about 15 minutes so that ganache is spreadable.

Pour over cooled brownies and spread to cover.
Tried this recipe?
Let us know how it was and tag @bakedambrosia on Instagram