Matcha White Chocolate Lamingtons
Soft and buttery sponge cake is dipped in matcha flavored white chocolate then coated in coconut. These Matcha White Chocolate Lamingtons are a perfect afternoon treat!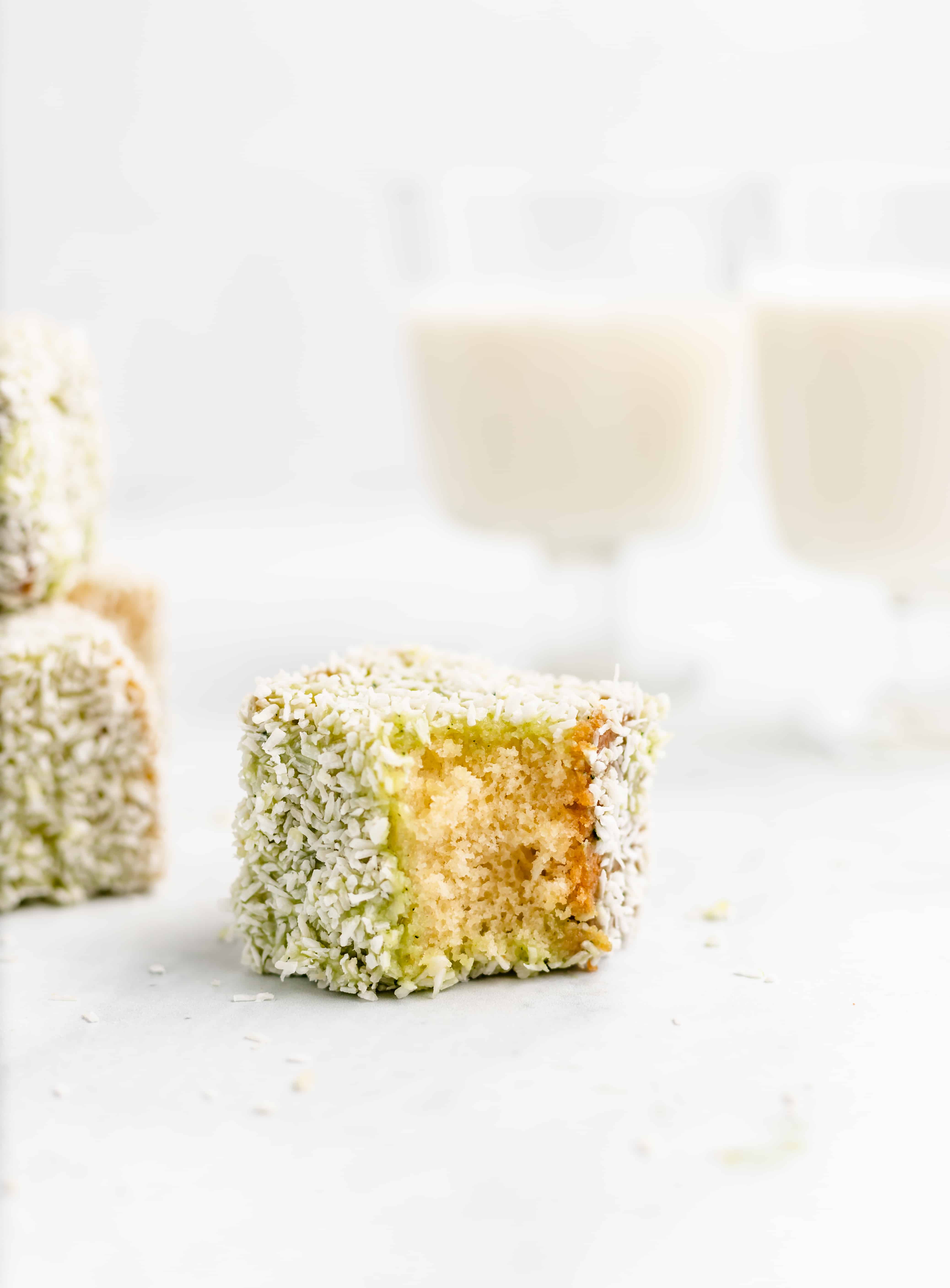 St. Patrick's Day is less than a week away, and these little green cakes are the perfect way to get into the spirit! Matcha White Chocolate Lamingtons! The combination of matcha, white chocolate, and coconut pairs wonderfully with tender butter cake.
What are Lamingtons?
Lamingtons are an Australian dessert made of a butter cake or sponge cake that has been cut into squares. The squares are dipped into a chocolate sauce and then rolled in shredded coconut. Sometimes, a layer of jam or cream is sandwiched in the center.
In this version, I used white chocolate, instead of the traditional cocoa based sauce. I added matcha powder to the white chocolate for a pop of flavor and color.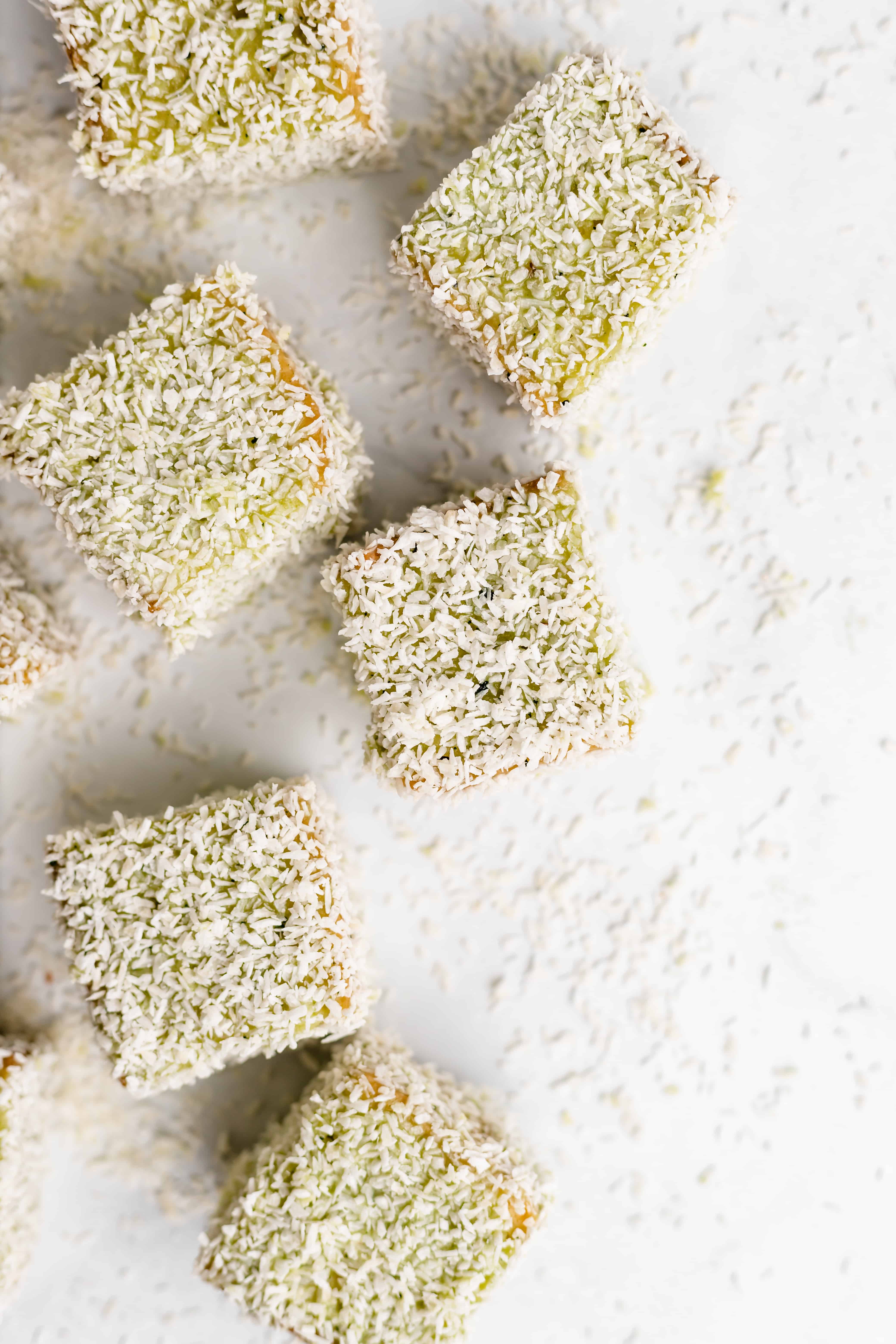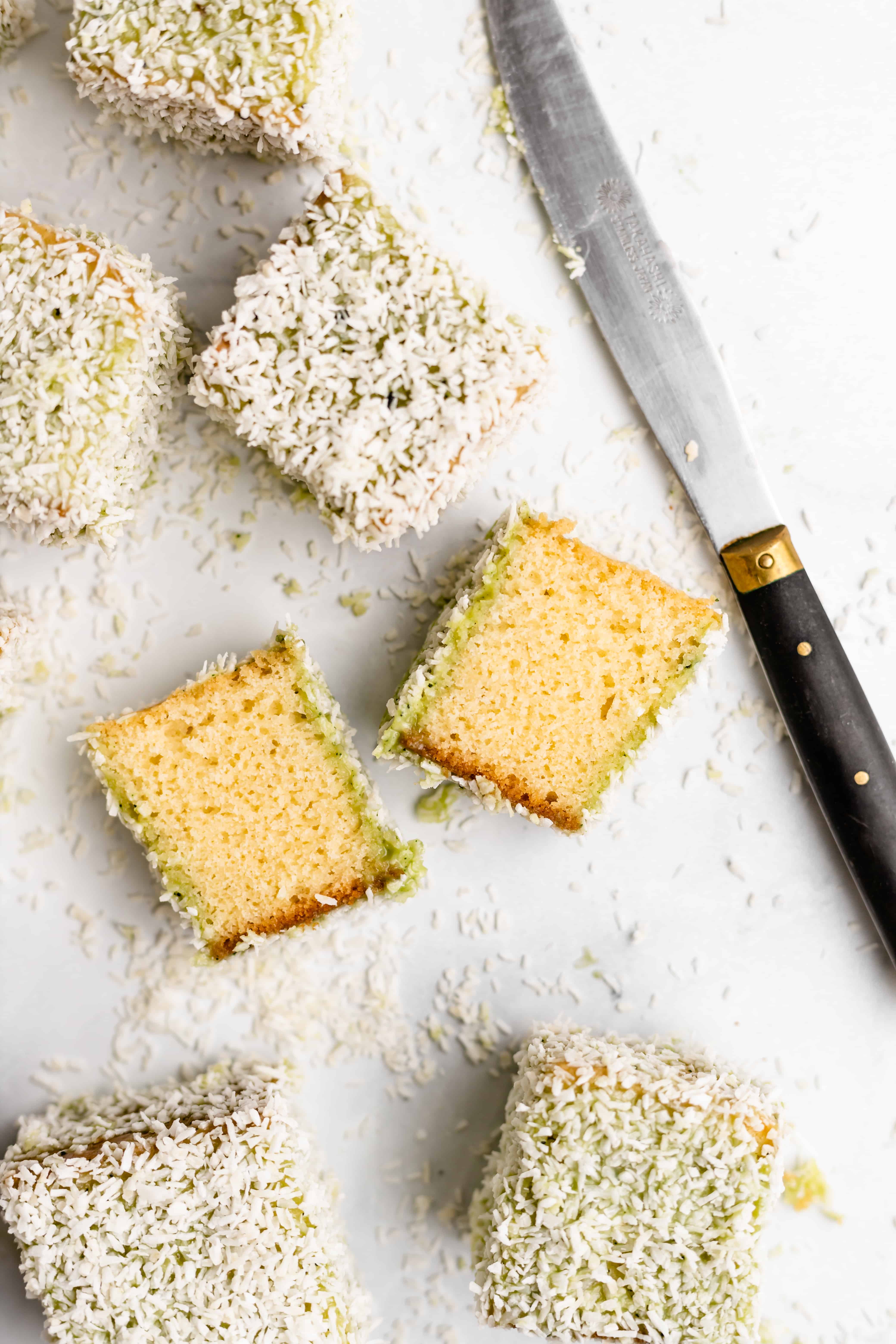 How To Make Lamingtons
Making lamingtons is a lot easier than you might think. The process is a little bit more hands on than a sheet cake, or bars, but it is definitely worth it! To make sure that the coating and dipping process go as smooth as possible, prepare your cake a day ahead. Fresh cake is too soft and delicate which makes it difficult to dip into the white chocolate.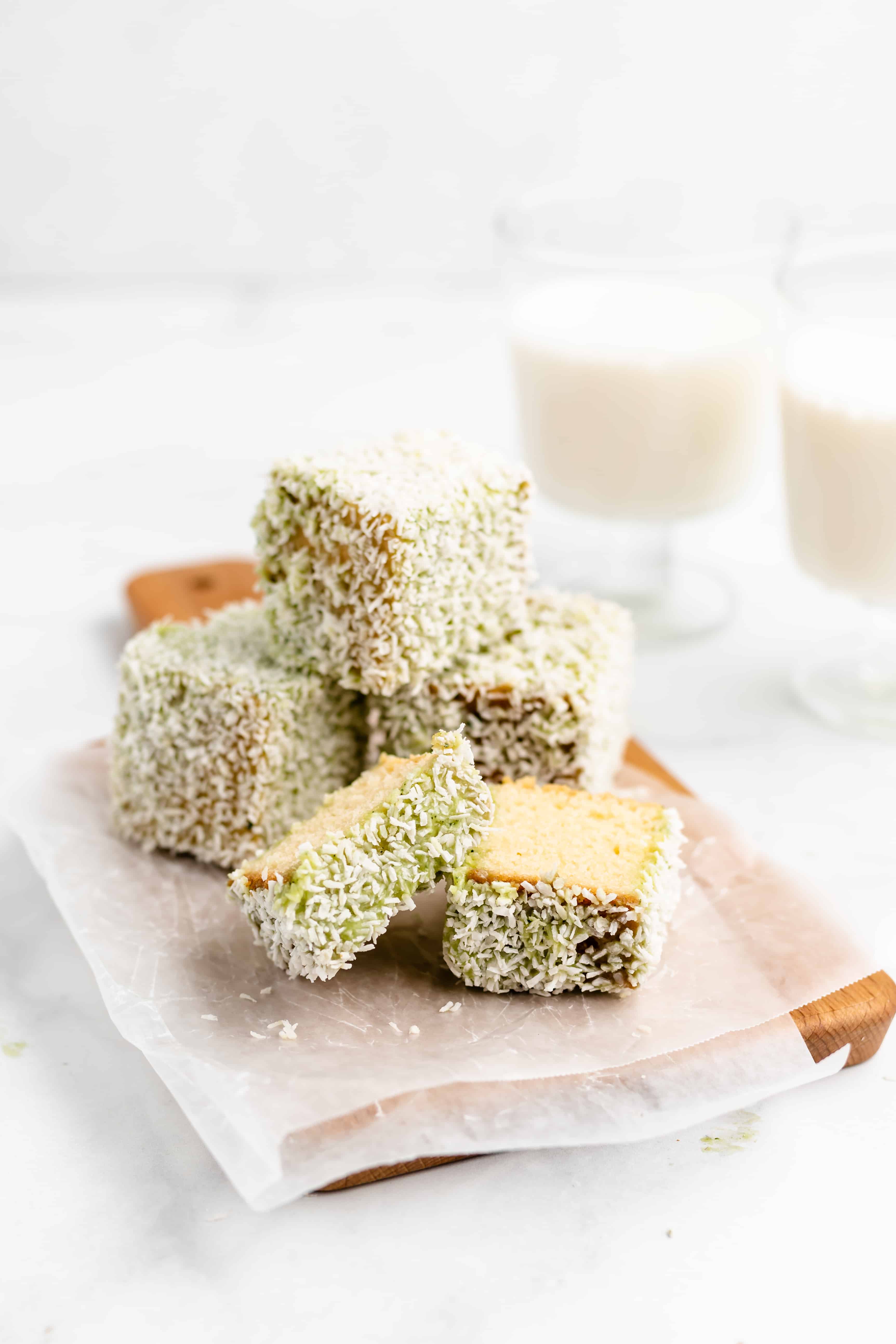 Here are the steps to making Matcha White Chocolate Lamingtons:
make butter cake
cool cake completely, then cover and let sit overnight
cut the day-old cake into squares
make matcha white chocolate sauce
dip squares into white chocolate
toss in shredded coconut
let set and enjoy!

What Kind Of Cake Do I Use To Make Lamingtons?
I like to use a butter cake for Lamingtons. This butter cake recipe is very simple to make. It is made with your classic baking ingredients – butter, sugar, eggs, flour. Because these Lamingtons are dipped in matcha white chocolate, I added a little almond extract and almond flour to make them even more special.
To make the cake, you cream the butter, sugar, eggs, and flavorings. Then sift in the flours. This process produces a moist and tender cake.
These Matcha White Chocolate Lamingtons are a perfect midday treat. The cake is tender and moist and the matcha white chocolate coating is the perfect compliment to the coconut.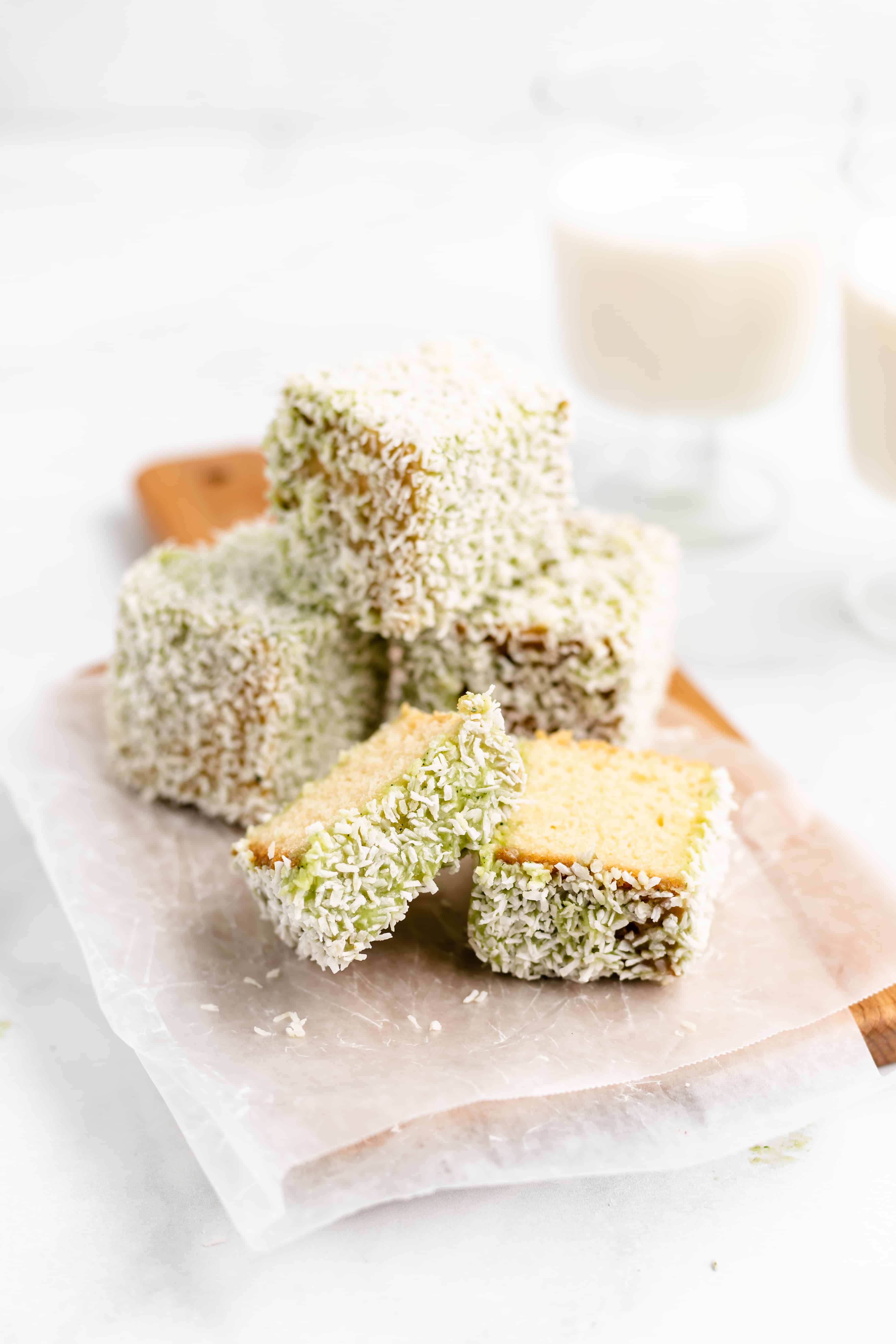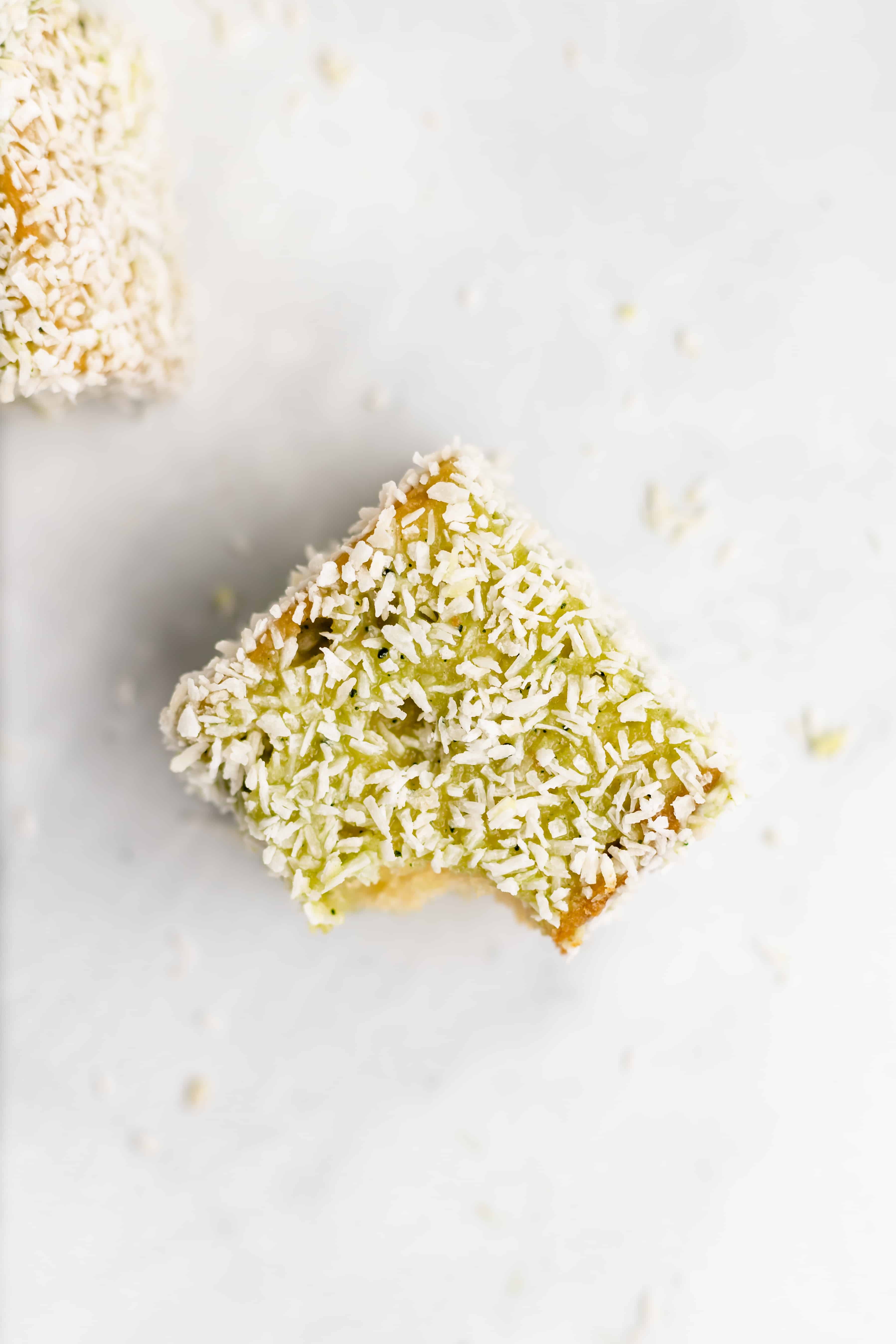 More Recipes You'll Love!
White Chocolate Coconut Almond Cake – an all-time favorite!
Blondies with White Chocolate and Raspberry Frosting – chewy, sweet, and delicious.
Strawberry Swirl Fudge Brownies – decadent, rich, and chocolatey.
No Bake Coconut Passionfruit Bars – made with simple clean ingredients.
Rose and Pink Peppercorn Cake – delicious, unique, and so pretty!
If you make this recipe, take a photo and tag #bakedambrosia on Instagram and Facebook so that I can see your creations and feature them on Instagram! To stay up to date with the latest recipes, follow Baked Ambrosia on Pinterest, Facebook, Instagram, and Youtube. ♡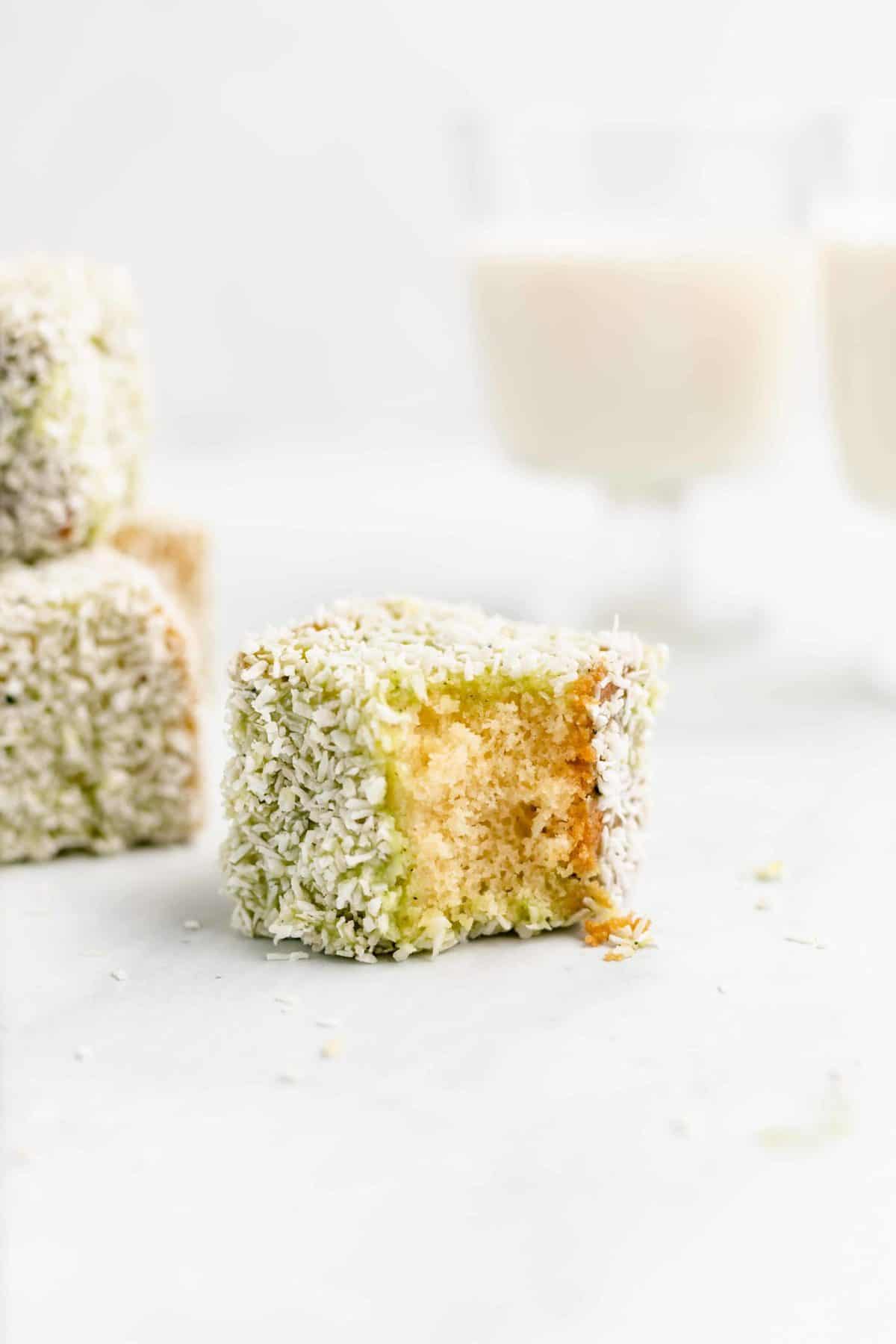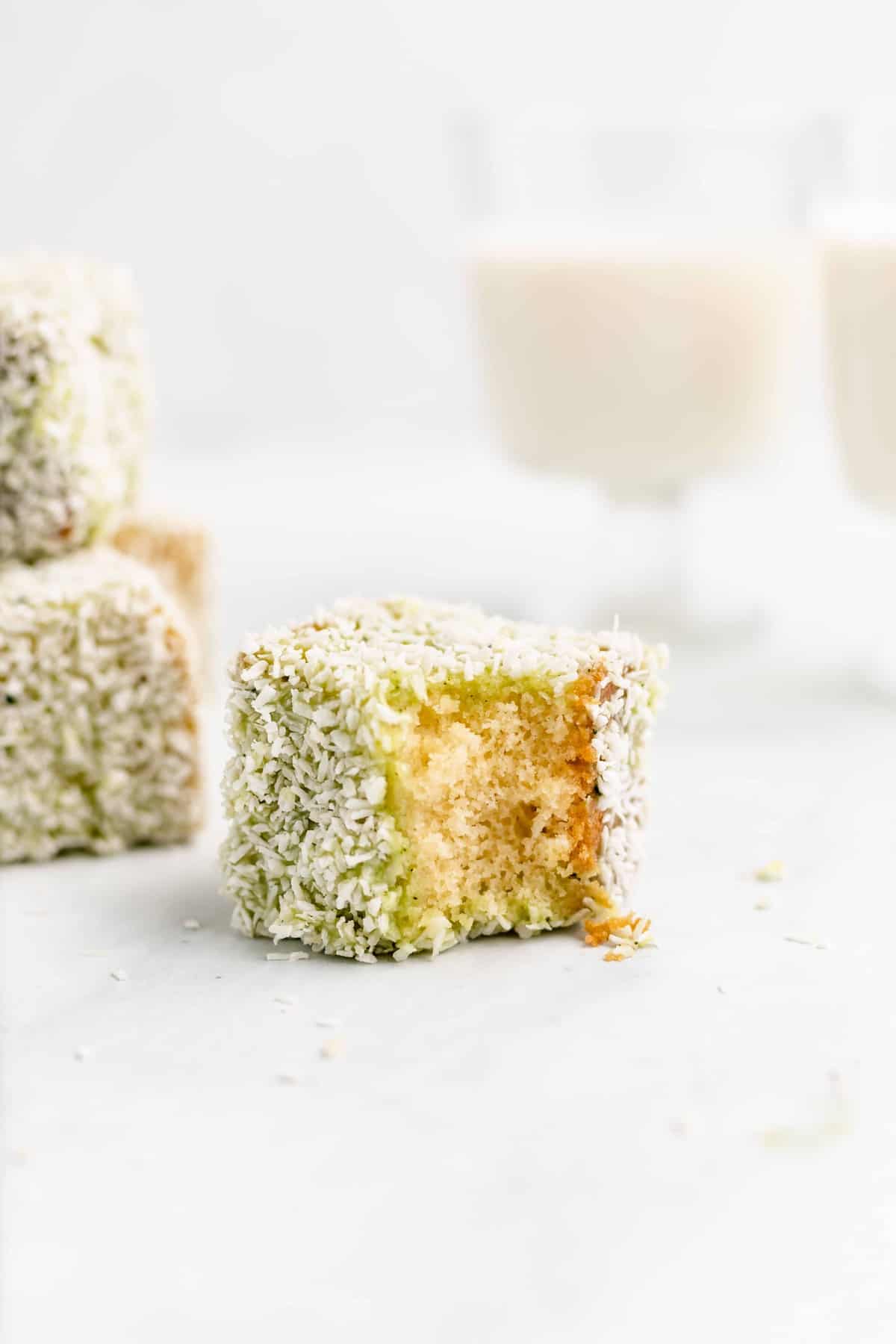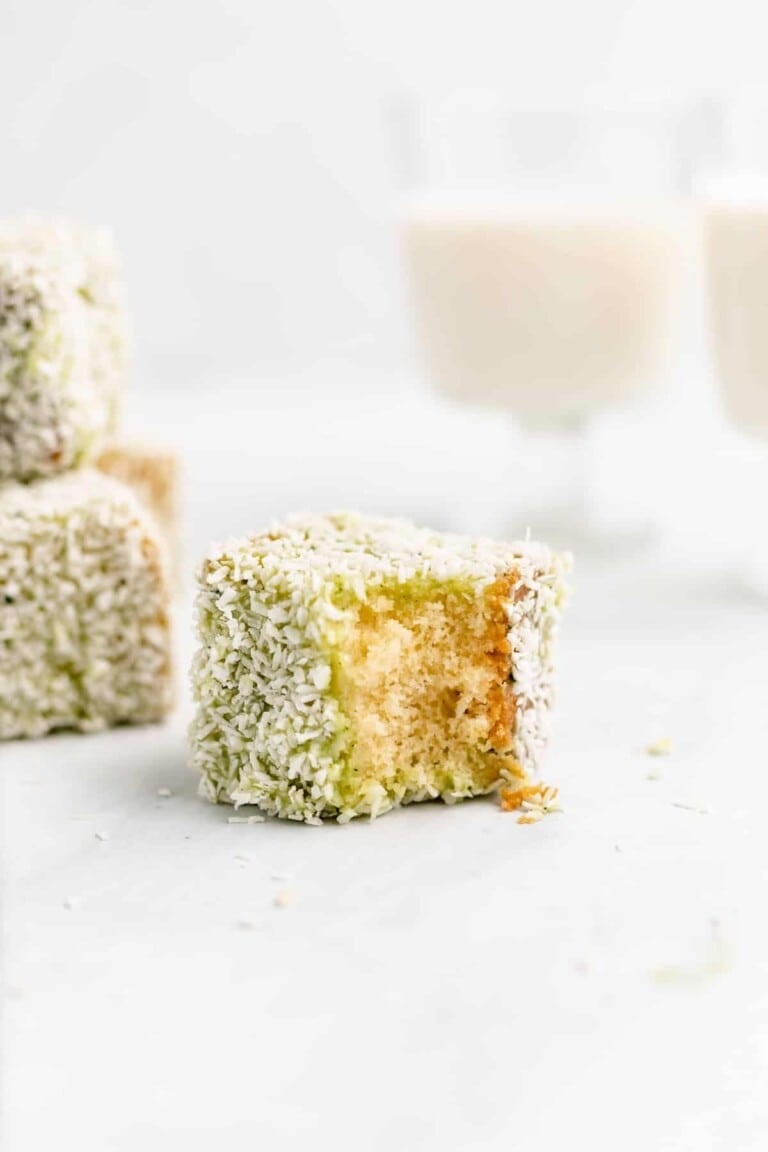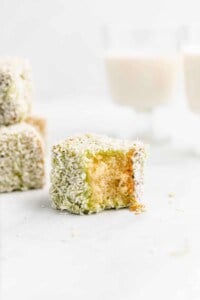 Matcha White Chocolate Lamingtons
Soft and buttery sponge cake is dipped in matcha flavored white chocolate then coated in coconut. These Matcha White Chocolate Lamingtons are a perfect afternoon treat!
Ingredients
1

cup

226 g butter, softened

1

cup

250 g sugar

4

eggs

1

tsp

almond extract

1/2

tsp

vanilla extract

1 2/3

cups

250 g flour

1/2

cup

50 g almond flour

2

tsp

baking powder

1

tsp

salt
Matcha White Chocolate Icing
1/2

cup

125 ml milk

4 1/2

oz

130 g white chocolate, chopped

10 1/2

oz

300 g confectioner's sugar

1

tsp

matcha powder
Coating
3-4

cups

shredded coconut
Instructions
Preheat oven to 350 degrees F. Line an 8 x 8- inch with parchment paper, leaving an overhang for easy removal. Set aside.

In the bowl of a stand mixer fitted with the paddle attachment, beat the butter and sugar on medium speed until light and fluffy. Add eggs, 1 at a time, beating well after each addition. Mix in flavorings.

Sift the flour, almond flour, baking powder, and salt. Add sifted flour mixture into mixing bowl and mix until combines.

Pour the batter into the prepared pan, and bake for for 30-35 minutes, or until a wooden skewer inserted into the center comes out clean.

Remove cake from cake pan and cool on a wire rack completely. Once cake is completely cool, wrap with cling wrap and keep covered overnight.

The next day, cake the cake into 16 squares.

Make Icing: To make the icing, combine all the milk and white chocolate in a medium size saucepan over low heat. Once chocolate is completely melted, remove from heat and mix in confectioner's sugar and matcha powder until smooth.

Assemble the Lamingtons: To assemble the Lamingtons, place the shredded coconut in a shallow bowl. Line a baking sheet with parchment paper and set close by. Working one piece at a time, place one cake square in the icing and coat completely. Using 2 forks, remove it from the icing, letting any excess drip off an quickly transfer it into the coconut. Roll in the coconut to coat completely. Place on parchment lined baking sheet. Repeat with remaining cake squares. Let the Lamingtons set for a 10-15 minutes and enjoy!
Notes
Store Lamingtons in airtight container for 3 to 4 days, or in the freezer for 2 - 3 months. Thaw in the refrigerator overnight before serving.
Tried this recipe?
Let us know how it was and tag @bakedambrosia on Instagram