Chocolate Coconut Caramel Bars
These Chocolate Coconut Caramel Bars have three addicting layers – a chocolate coconut crust, the best coconut "caramel" filling, and a dark chocolate topping! (gluten-free, Paleo + vegan)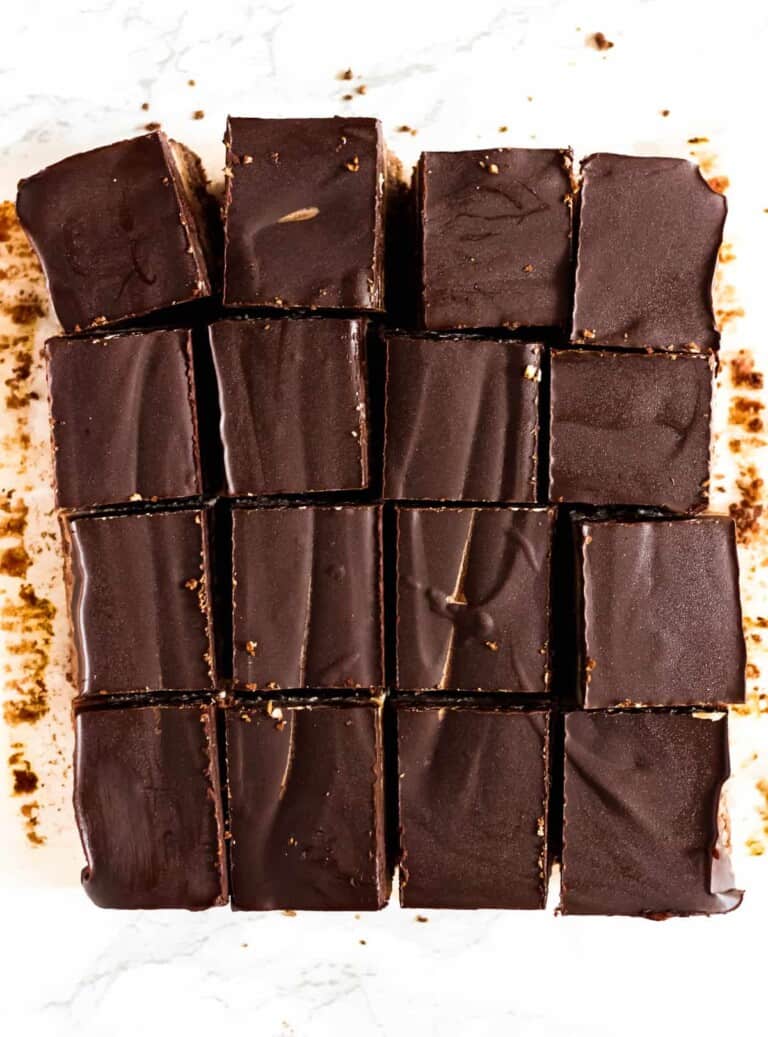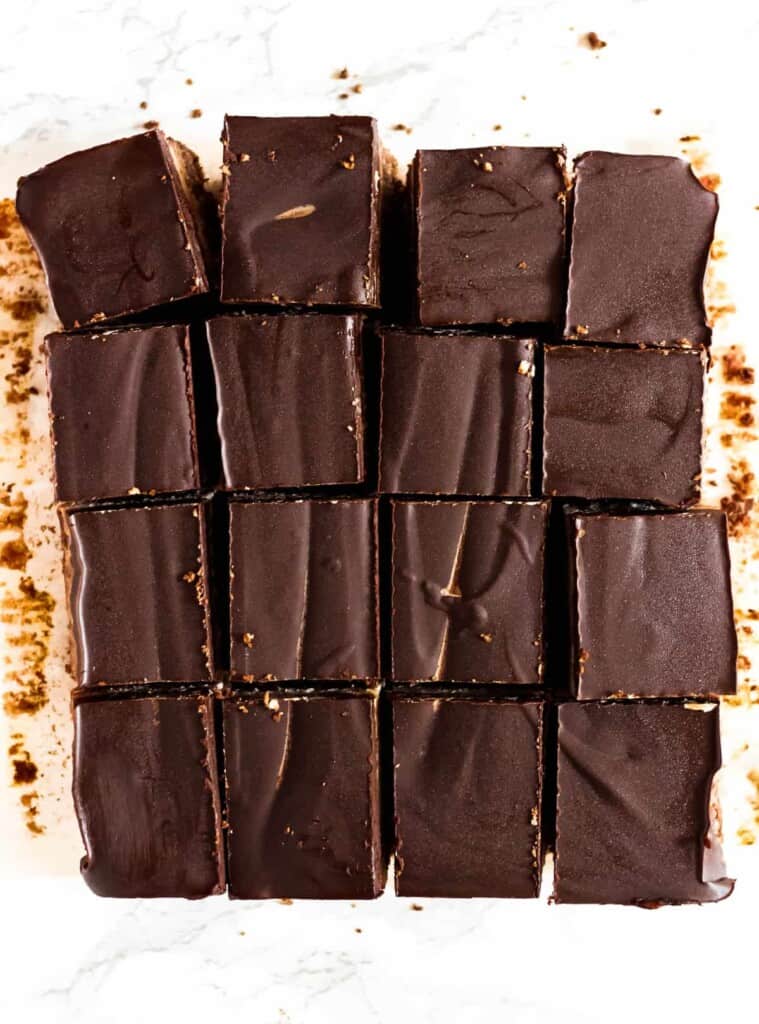 It's Monday … and we need chocolate.
Obviously.
Because the weekend flew by. And its raining in NYC. Plus, if we start the week with chocolate, you know its going to be a good one. Wine would do the trick too, but let's not get crazy, after all it's only Monday.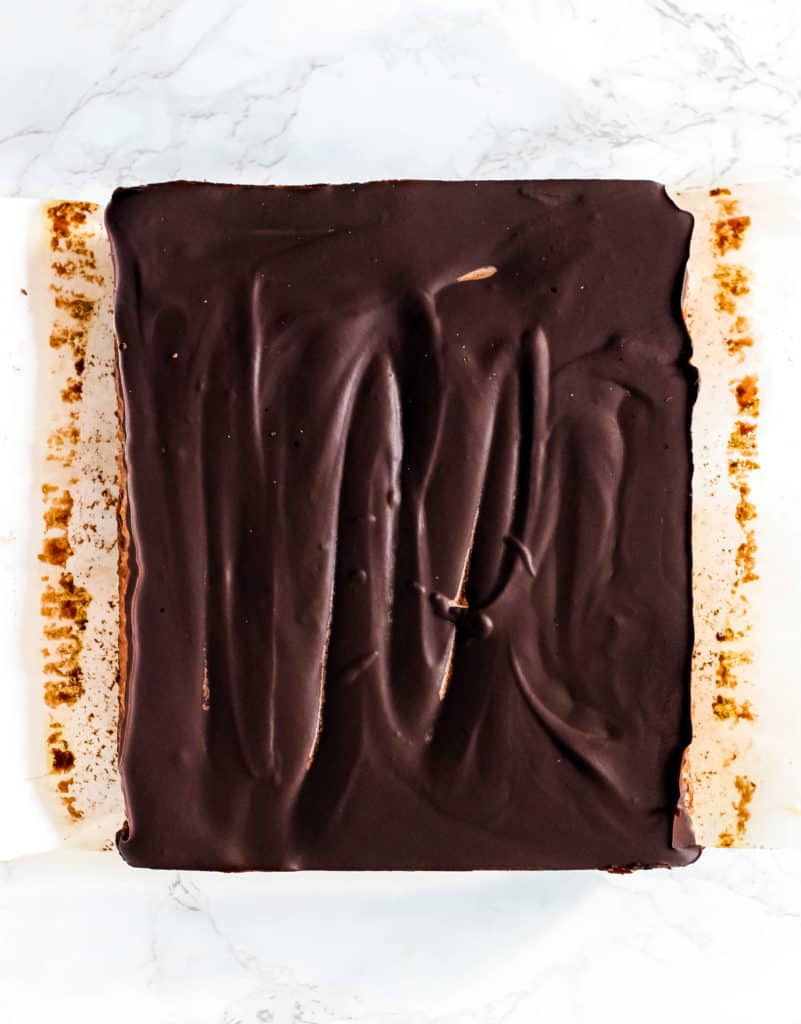 But, if you are feeling a little wild by the end of today, I totally wouldn't be against these bars with a glass of red wine. You know, to unwind a bit.
Ok, so Chocolate Coconut Caramel Bars.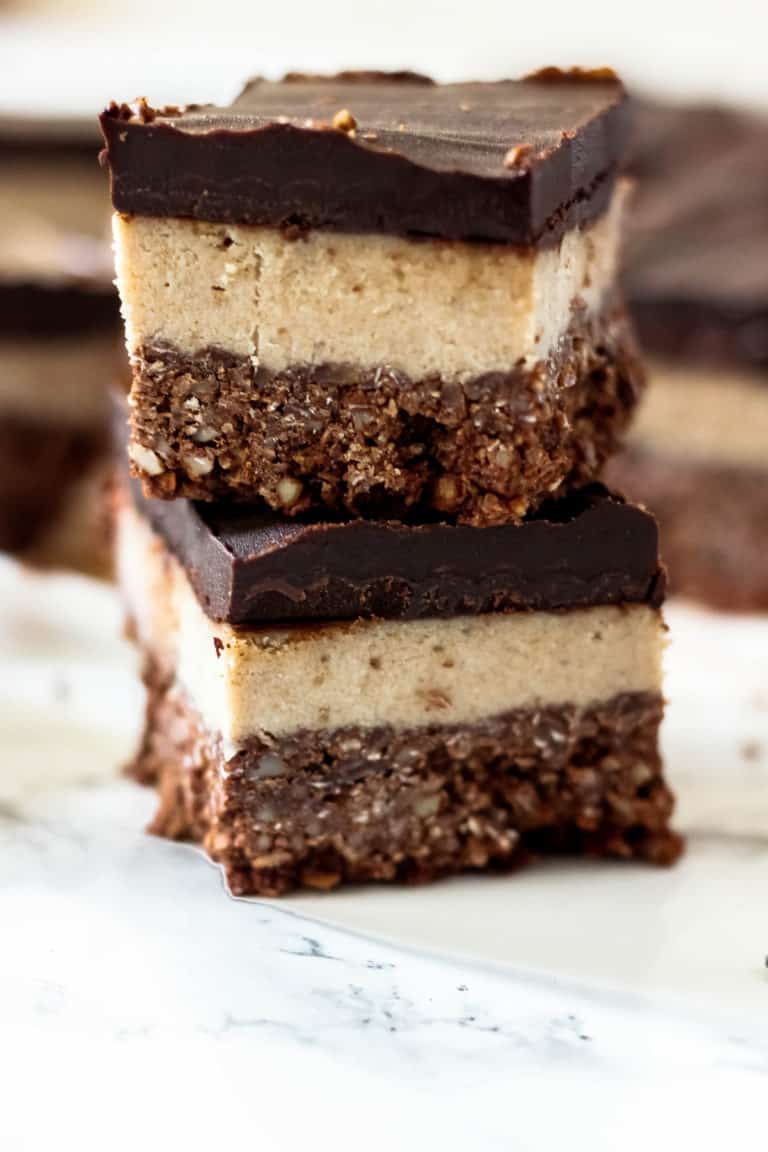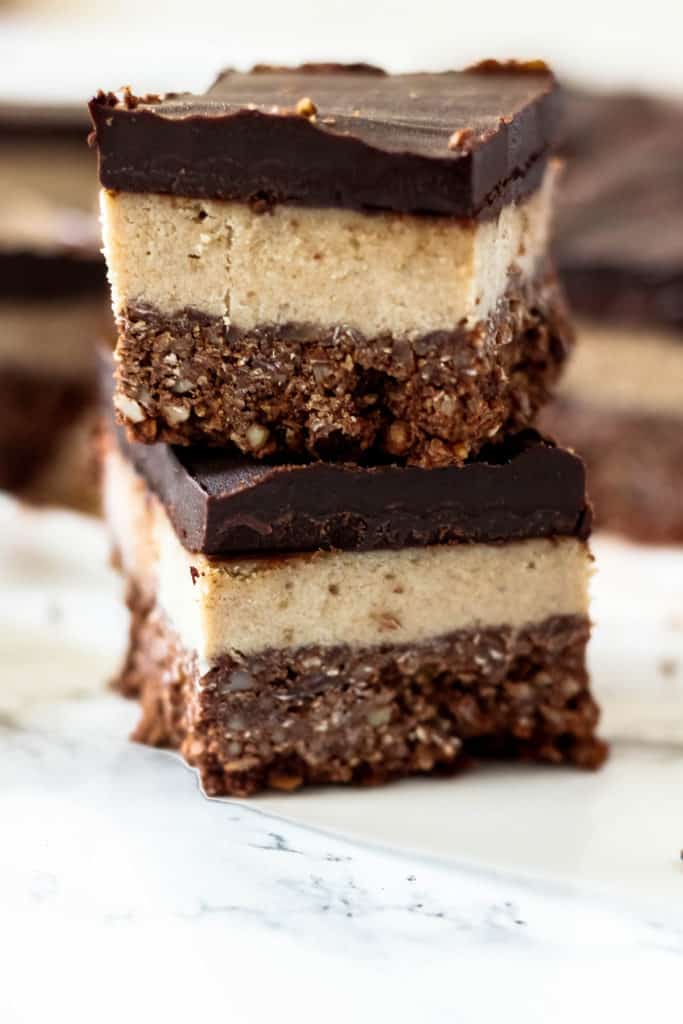 These bars are addicting and pretty much my latest addiction. As if their amazing taste wasn't enough, these bars are sooo easy to make, and they aren't that bad for you.
Let's start with the first layer – a chocolate coconut base made of shredded coconut, almonds, oats, and cocoa powder to make it chocolatey.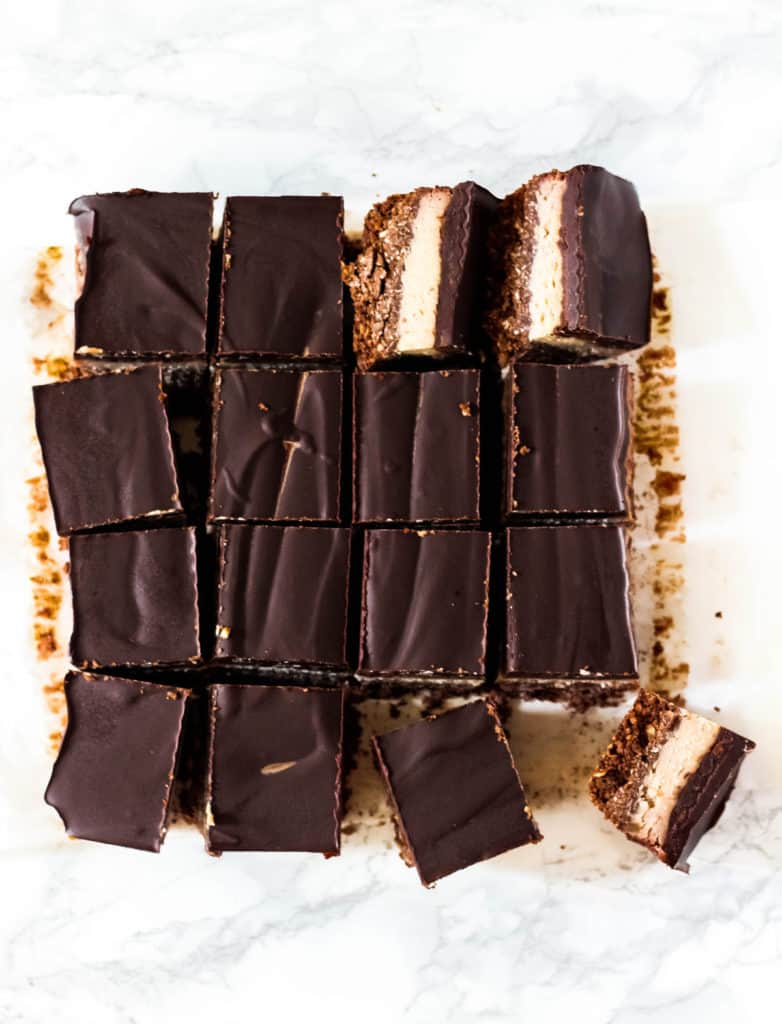 Once the crust is baked, it is topped with the coconut "caramel" filling. The coconut caramel is made out of dates, coconut oil, and coconut cream. You guys, I can literally eat this by the spoonful. It tastes just like caramel but without all the added sugar. The filling bakes until it is set, then the whole thing is topped with melted dark chocolate.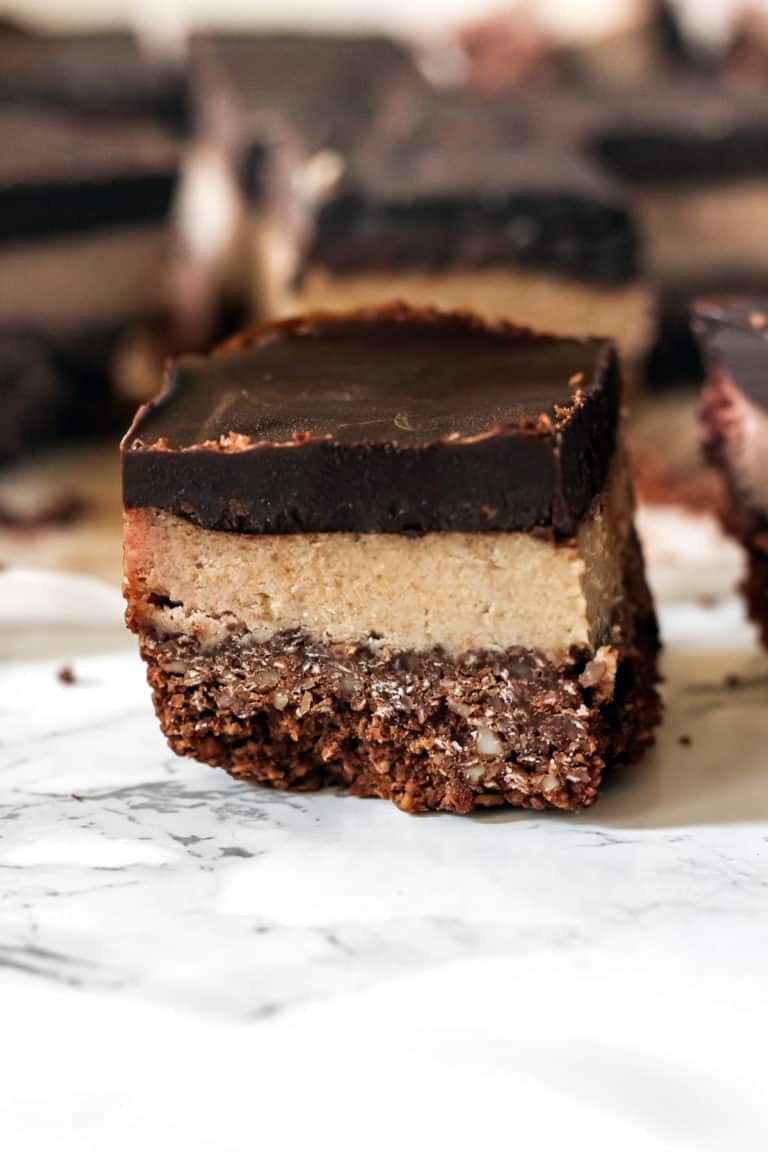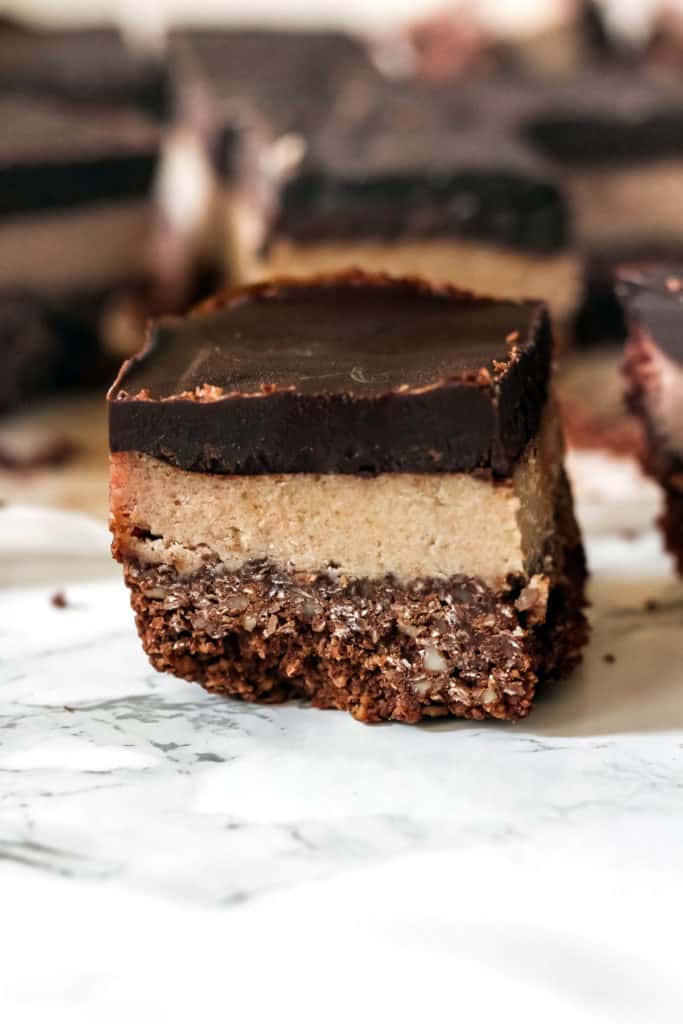 After the bars are completely cooled, they are ready to cut, serve, and be eaten!
These bars are gluten free, paleo, and can be made vegan by using brown rice syrup instead of honey.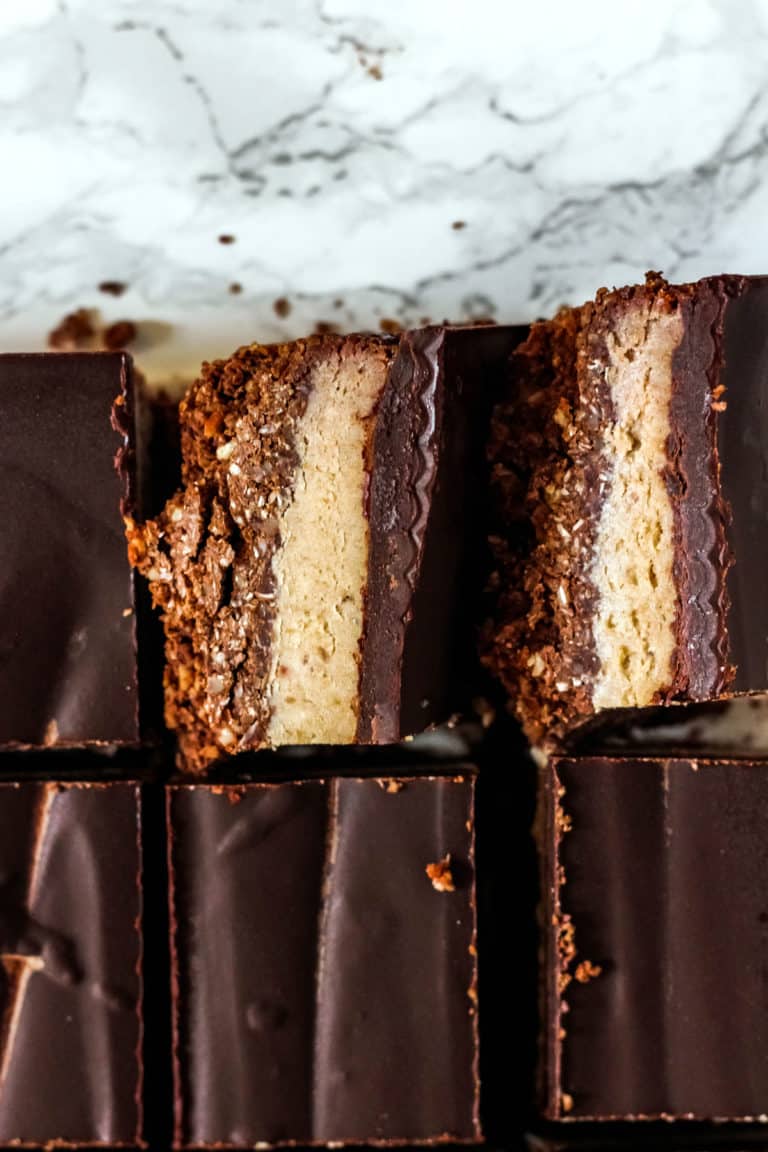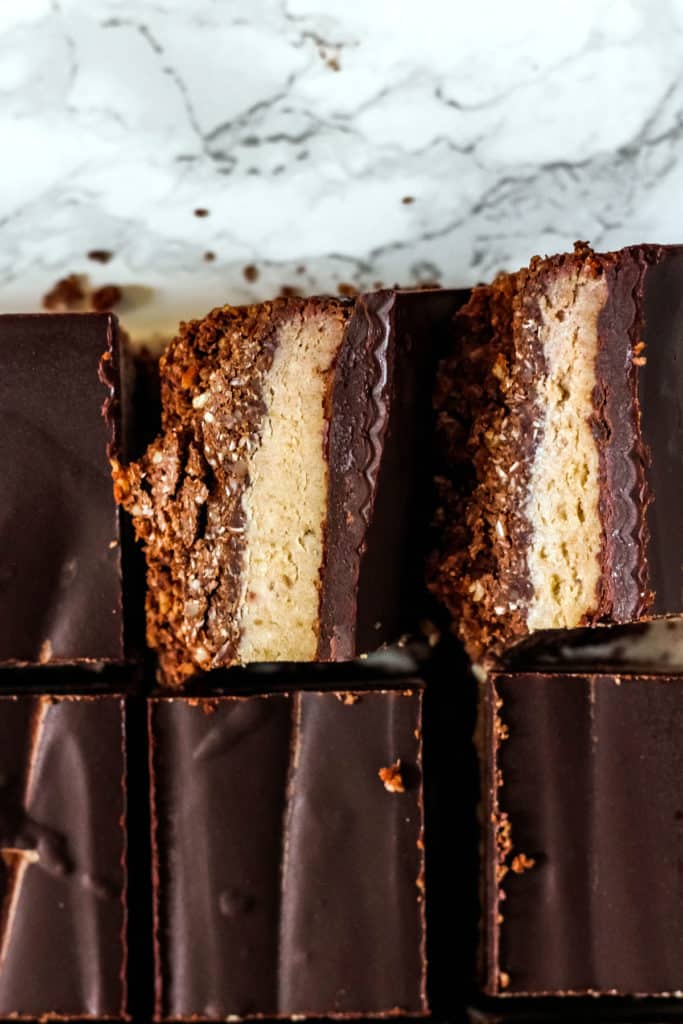 More Recipes You'll Love!
Dark Chocolate Nut Bars – sweetened with dates and loaded with cashews, nut butter, and hazelnuts.
Chocolate Peanut Butter and Banana Bars – the perfect protein-packed snack on the go!
Coconut Passionfruit Bars – so creamy and taste like you are on a tropical island.
Dark Chocolate Tahini Bars – three layers of indulgent goodness.
Coconut, Date, and Puffed Millet Bars – a delicious snack that will keep you satisfied when hunger hits!
If you make this recipe, take a photo and tag #bakedambrosia on Instagram and Facebook so that I can see your creations and feature them on Instagram! To stay up to date with the latest recipes, follow Baked Ambrosia on Pinterest, Facebook, Instagram, and Youtube. ♡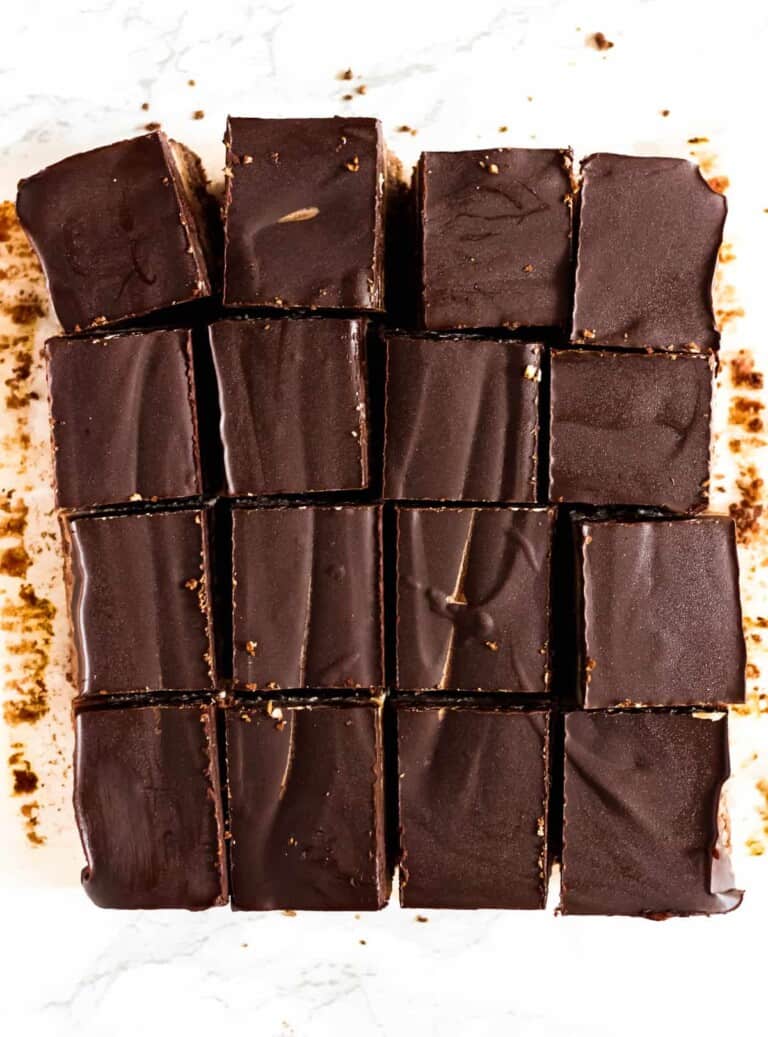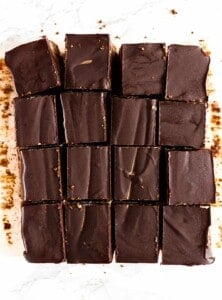 Chocolate Coconut Caramel Bars (Gluten Free, Paleo, Vegan)
These Chocolate Coconut Caramel Bars have three addicting layers – a chocolate coconut crust, the best coconut "caramel" filling, and a dark chocolate topping! (gluten-free, Paleo + vegan)
Ingredients
Base
1 1/2

cups

shredded unsweetened coconut

1 1/4

cups

old fashioned oats

1

cup

almonds

1/2

cup

cocoa powder

1/2

tsp

salt

1/2

cup

melted coconut oil

1

tbsp

vanilla
Filling
25

pitted dates

1 1/2

cups

coconut cream

1/4

cup

melted coconut oil
Topping
200

g

80% dark chocolate

1/4

cup

honey

1/4

cup

coconut oil
Instructions
Preheat oven to 325ºF. Line an 8 x 8-inch pan with parchment paper.

Add shredded coconut, oats, almonds, cocoa powder, and salt to the bowl of a food processor. Process until flour-like consistency. Add melted coconut oil and vanilla. Pulse to combine. Press crust to the bottom of prepared baking pan and bake 10 minutes. Remove from oven and cool slightly.

While the crust is baking, prepare the filling by combining dates, coconut cream, and coconut oil in a food processor. Blend 4-5 minutes until completely smooth and thickened. Spread filling over slightly cooled base and bake 30 minutes. Remove from oven and cool 10 minutes.

In a small saucepan, cook chocolate, honey, and coconut oil until melted and smooth. Pour over cooked filling and let bars set in refrigerator, about 1 hour.

Once bars are completely set, cut and serve!
Tried this recipe?
Let us know how it was and tag @bakedambrosia on Instagram