Best One Layer Chocolate Cake Recipe (Great for kids!)
This one layer moist chocolate cake recipe offers an uncomplicated, kid-friendly approach to baking. This easy-to-follow recipe, using readily available ingredients, results in a rich cake with a moist crumb, complemented by a simple chocolate buttercream frosting. It's a practical and enjoyable option for family baking, casual celebrations, or whenever those chocolate cravings strike.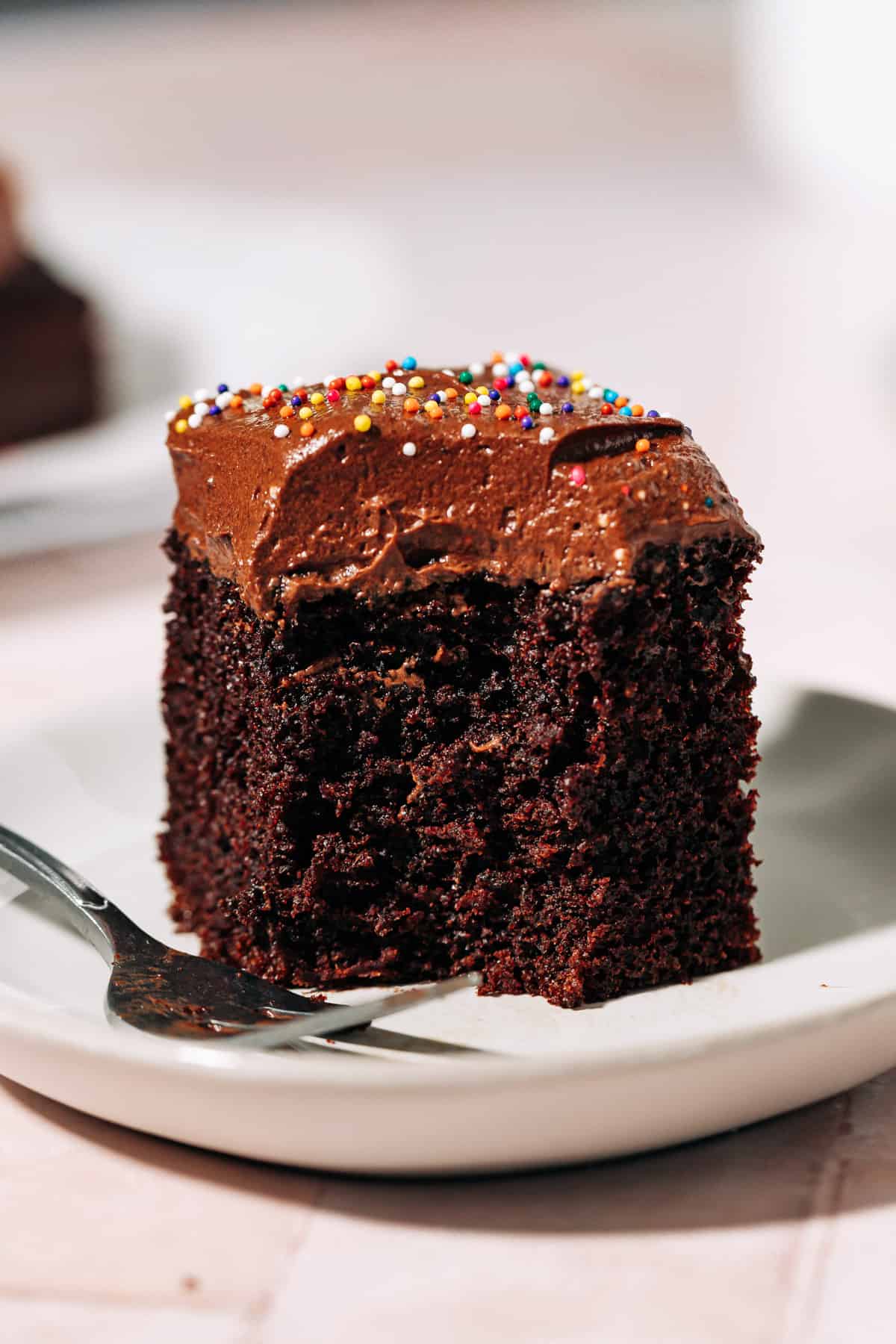 If you're a fan of chocolate cake – and let's be honest, who isn't? – you're in for a treat. This one layer chocolate cake recipe is not only delicious but also straightforward, making it an easy chocolate cake recipe for kids. It offers a wonderful opportunity for your little ones to get in the kitchen, learn a few things about baking, and have fun in the process. This cake recipe is truly the best cake! Plus, it's a single layer cake, so there is no need to worry about stacking cake layers or any fancy decorating.
Why This Recipe Works
You might be wondering: why this particular chocolate cake recipe? Why not a fancy triple-layer cake with glossy ganache or intricate frosting designs? Here's why you'll love this one layer chocolate cake:
Simplicity: A multi-layer cake can be quite a production, especially for the little ones or anyone new to baking. This one layer cake, on the other hand, is straightforward and relatively quick to prepare. It's all about ease and enjoyment without compromising the end result – a rich, moist, and delicious chocolate cake.
Fewer Ingredients: This recipe calls for simple ingredients. It's likely you already have everything you need in your kitchen, making it an easy spur-of-the-moment baking adventure.
Easy to Make: This is a one bowl chocolate cake recipe, which means that there is minimal clean up and equipment involved!
Kid-friendly: The steps are easy to follow and safe for children under adult supervision, making it a fun and educational experience for the whole family.
Versatile: This delicious dessert makes a great birthday cake and is perfect for special occasions.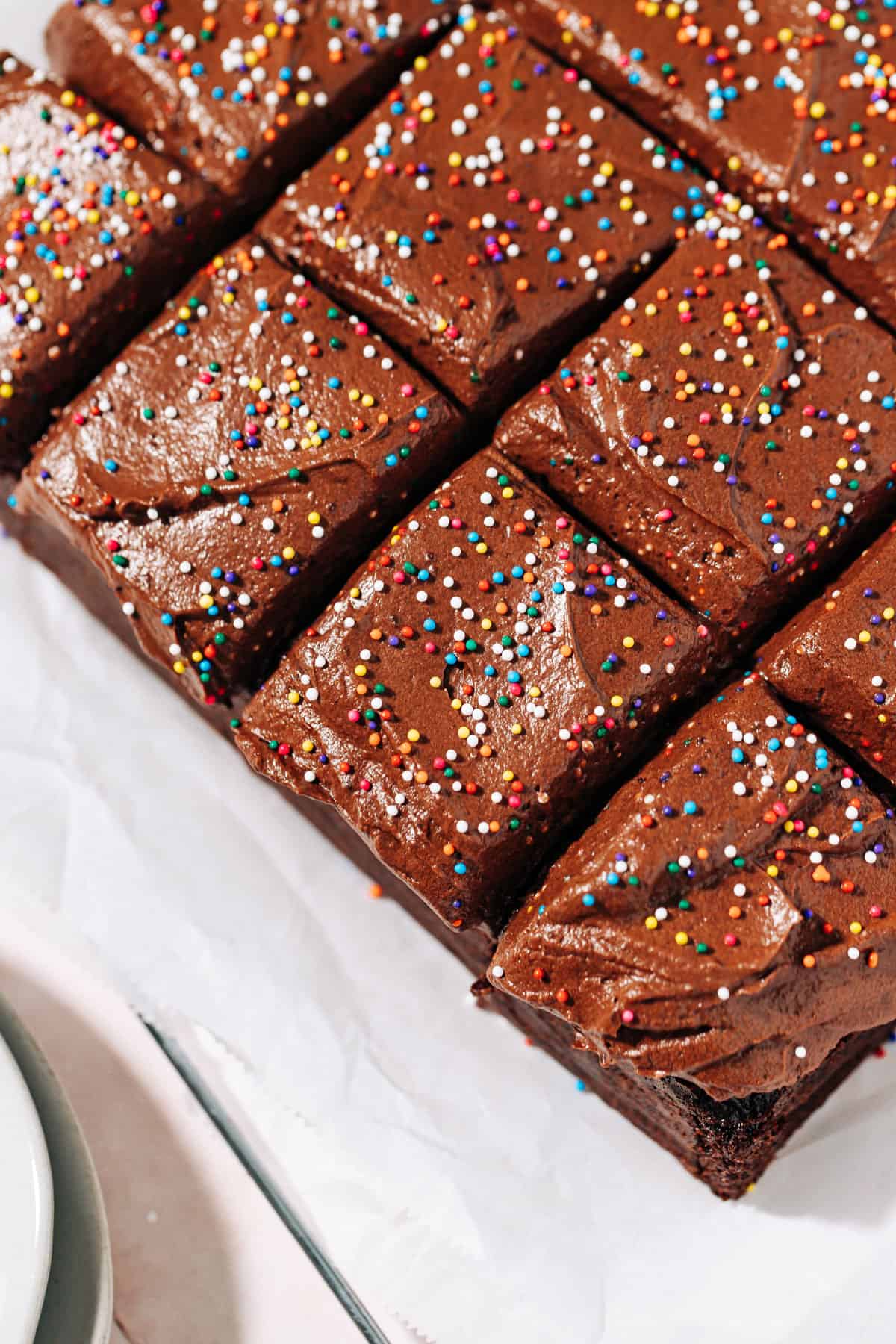 Our Favorite
Cake Recipes
Ingredient Notes
So, what do you need to make this delicious cake? Here's a breakdown of the necessary ingredients – check out the full recipe for ingredient measurements.
Be sure to check out the full recipe for ingredient measurements.
All-purpose flour: This is the foundation of your cake, providing structure.
Unsweetened cocoa powder: For the all-important chocolate flavor.
Sugar: To add the essential sweetness. This recipe calls for granulated and brown sugar. The brown sugar adds extra moistness to the cake.
Baking powder and baking soda: To help your cake rise.
Salt: Just a pinch enhances the other flavors and cuts through the sweetness.
Eggs: Vital for the cake's structure and moisture.
Milk: Helps achieve a soft and tender cake.
Vegetable oil: Another key player in ensuring your cake doesn't dry out.
Vanilla extract: Make sure you use real vanilla extract for the best results.
Espresso powder: Gives the cake a deep chocolate flavor (optional).
Step-by-Step Directions
One of the best things about this homemade chocolate cake recipe is how straightforward the process is. Here is this easy recipe, broken down into simple steps:
Preparation: Begin by preheating your oven to 350°F (175°C). While it's heating, grease and line a 8-inch cake pan with parchment paper.
Wet Ingredients: In a large bowl, whisk together the 'wet' ingredients: eggs, milk, oil, and vanilla extract.
Dry Ingredients: Then, add in the sugars, flour, cocoa powder, baking powder, baking soda, salt, and espresso powder (if using). Mix well until they're just combined. Remember, overmixing can lead to a dense cake, so once you can't see any raw flour or large lumps, it's time to stop.
Baking: Pour batter into the prepared pan. Bake for about 30-35 minutes, or until a toothpick inserted into the center of the cake comes out clean with just a few moist crumbs.
Cooling: Allow the cake to cool in the pan for about 10 minutes before transferring it to a wire rack to cool completely.
Frost: Once the cake is completely cool, spread the chocolate frosting over the top of the cake.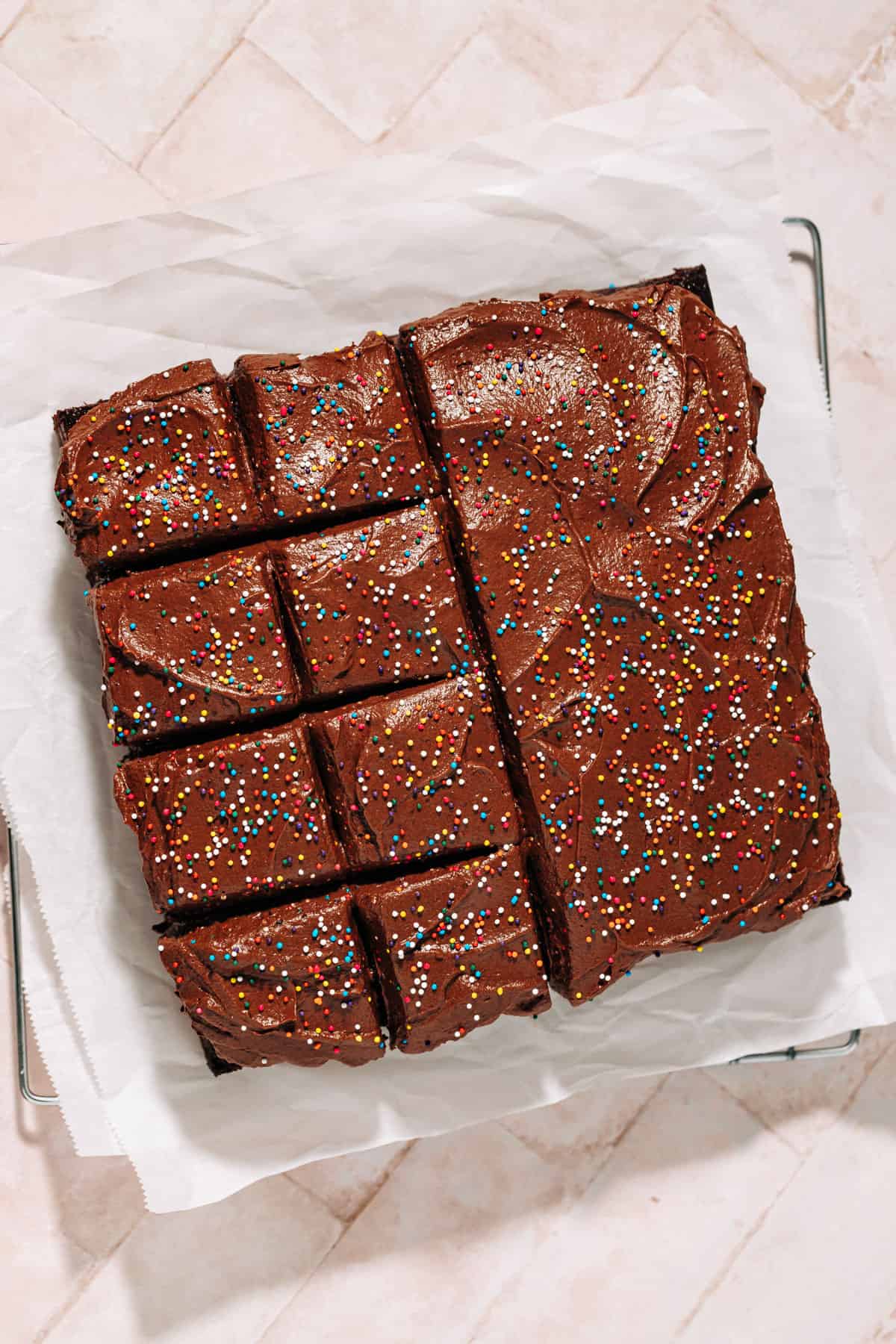 Chocolate Frosting
As delicious as our one-bowl chocolate cake is on its own, topping it with a fluffy, rich chocolate buttercream frosting truly makes this the best chocolate cake recipe. The addition of frosting make this classic chocolate cake ideal for birthday parties and special occasions.
Chocolate Buttercream Ingredients
Unsalted Butter
Dark Chocolate
Cocoa Powder
Powdered Sugar
Salt
Vanilla Extract
Milk
Heavy cream
How to Make Chocolate Buttercream Frosting
In a large mixing bowl, beat room temperature butter until it's creamy and lightened in color.
Gradually add in the powdered sugar, cocoa powder, and salt. Beat on low until everything is incorporated. (the mixture may look dry/lumpy at this point)
Then, add the melted chocolate, vanilla extract, and milk. Increase the speed to medium and beat it for another 1-2 minutes.
Finally add the heavy cream and beat until it's light and fluffy.
Once the cake is completely cool, spread the frosting on top using a spatula or a butter knife to spread it evenly.
Tips for a Perfect Chocolate Buttercream Frosting
Make sure your butter is at room temperature before starting. It should be soft enough to leave an indent when pressed, but not so soft that it's greasy or melting.
If your frosting is too thick, add more milk, a tablespoon at a time. If it's too thin, add more powdered sugar.
For a super smooth frosting, sift your powdered sugar and cocoa powder before adding them to the butter.
Always allow your cake cool completely before you start frosting to prevent it from melting off.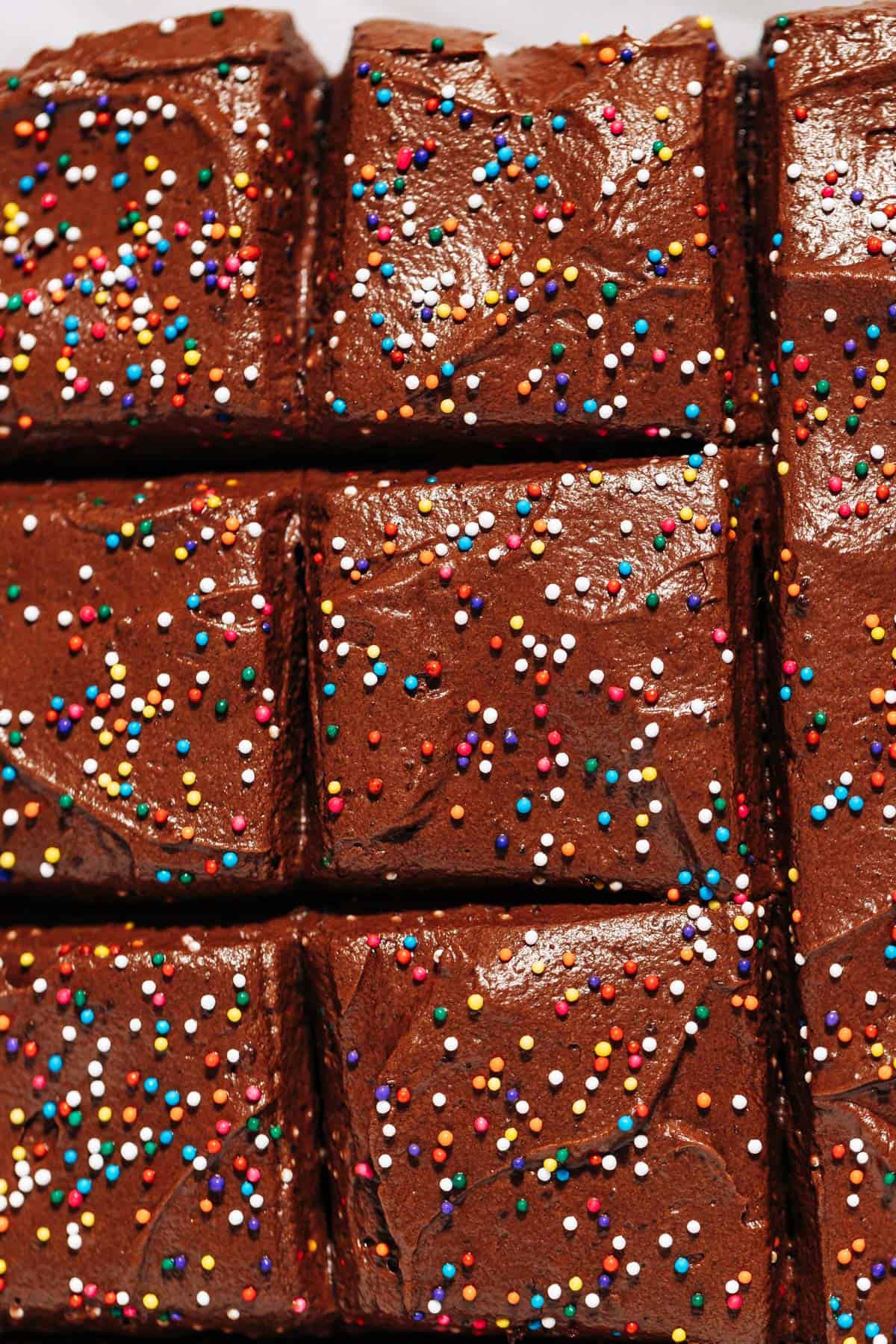 Don't Overmix: Overmixing can make your cake denser as it overworks the gluten in the flour.
Check for Doneness: Ovens can vary, so start checking the cake around the 25-minute mark. A cake tester inserted into the middle of the cake should come out clean when the cake is ready.
Cool Completely: Before you apply any frosting, the cake must be completely cool. Otherwise, the frosting will melt and slide right off. It can be hard to wait, but patience is key!
Chocolate chips: For a deeper chocolate flavor, mix in 1/2 cup of mini chocolate chips into the cake batter.
Cake pans: You can use either a 8-inch square or round cake pan.
Storage: Store the cake in an airtight container in the fridge for up to 3 days.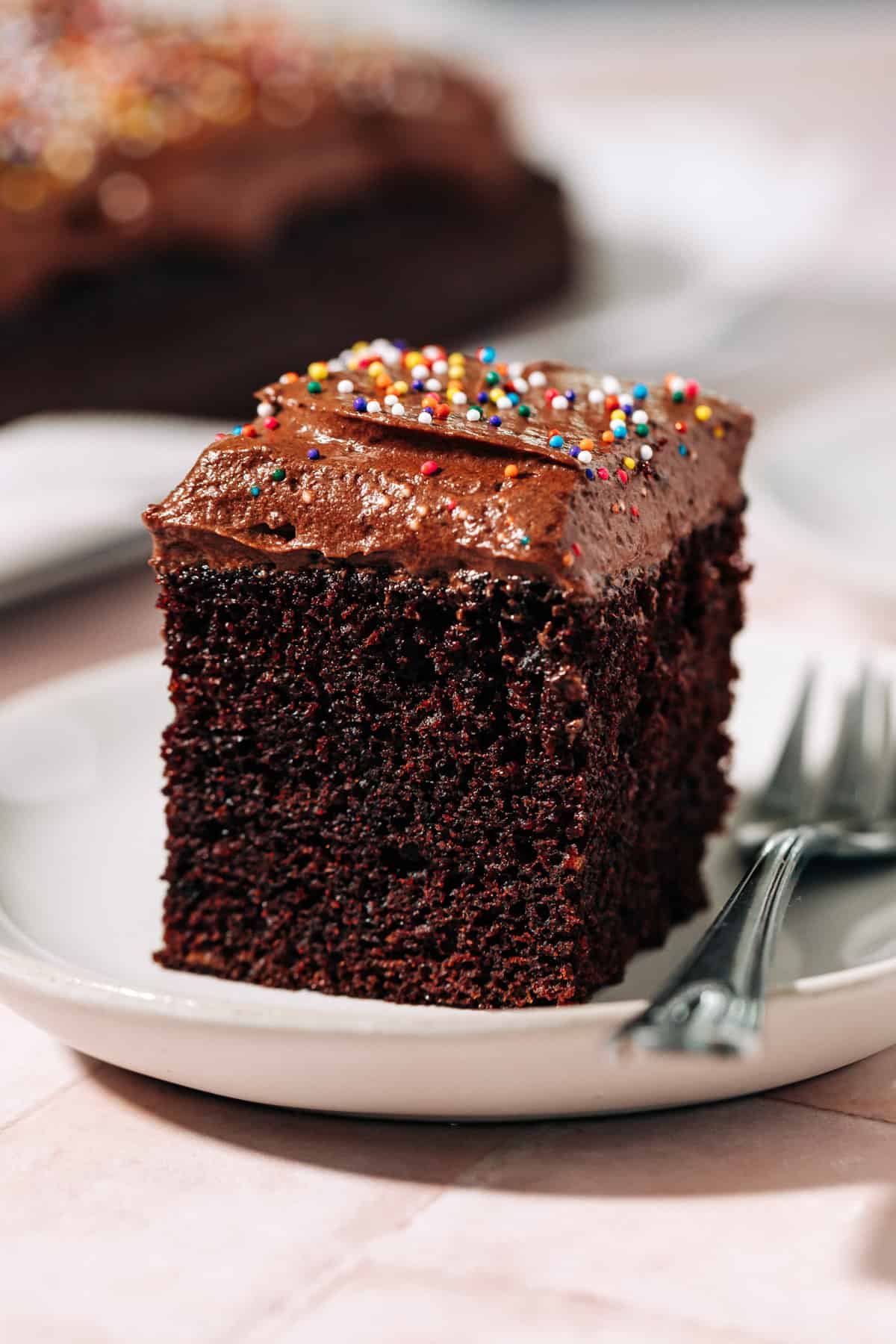 Frequently Asked Questions
Can I add frosting to this cake?
Yes, a simple chocolate buttercream frosting works wonderfully with this cake. You can also top this cake with a chocolate ganache.
Can I turn this recipe into cupcakes?
Absolutely! This cake recipe can be easily converted into chocolate cupcakes. All you need to do is reduce the baking time to about 18-20 minutes.
Can I make this gluten free?
For a gluten-free chocolate cake, replace the flour with a 1:1 all-purpose gluten free baking mix. I have used Bob's Red Mill gluten free all-purpose flour with great results.
How long does chocolate cake last in the fridge?
A properly stored chocolate cake can last in the refrigerator for about one week. It's important to store it in an airtight container or wrap it well with plastic wrap to prevent it from drying out. 
Can I freeze this cake?
Yes, you can. Just ensure the cake is completely cooled before wrapping it tightly and putting it in the freezer. Cake can last up to three months. Just make sure to wrap it well to avoid freezer burn, and give it plenty of time to thaw in the refrigerator before you plan to serve it.
Why is my cake dry?
The most common reason for a dry cake is overmixing the batter and overbaking.
Why is my cake sunken in the middle?
This is usually caused by not baking the cake long enough. Make sure to bake the cake until a toothpick inserted into the center comes out clean.
Why is my cake is cracking?
There are a few different reasons that your cake cracked. Make sure your oven temperature is at the right temperature and place your cake on the middle rack to bake. Another reason you ended up with a cracked cake is that you overmixed the cake batter or added too much of leavening agent.  
What to do with leftover chocolate cake?
There are several creative ways you can use leftover chocolate cake. Cake pops and trifles are two of my favorite ways to use up any leftovers.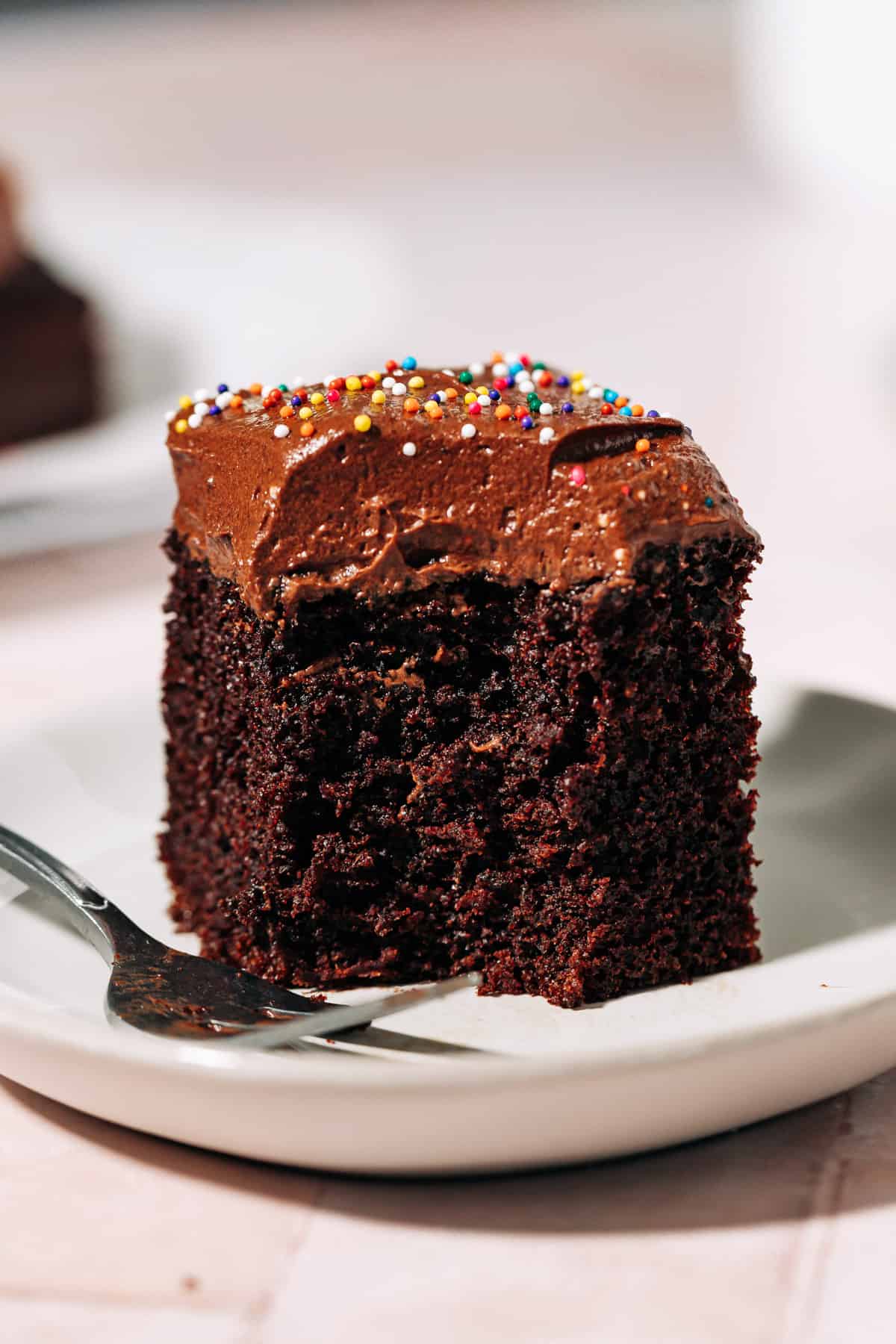 If you make this recipe, take a photo and tag #bakedambrosia on Instagram and Facebook so that I can see your creations and feature them on Instagram! To stay up to date with the latest recipes, follow Baked Ambrosia on Pinterest, Facebook, Instagram, and Youtube. ♡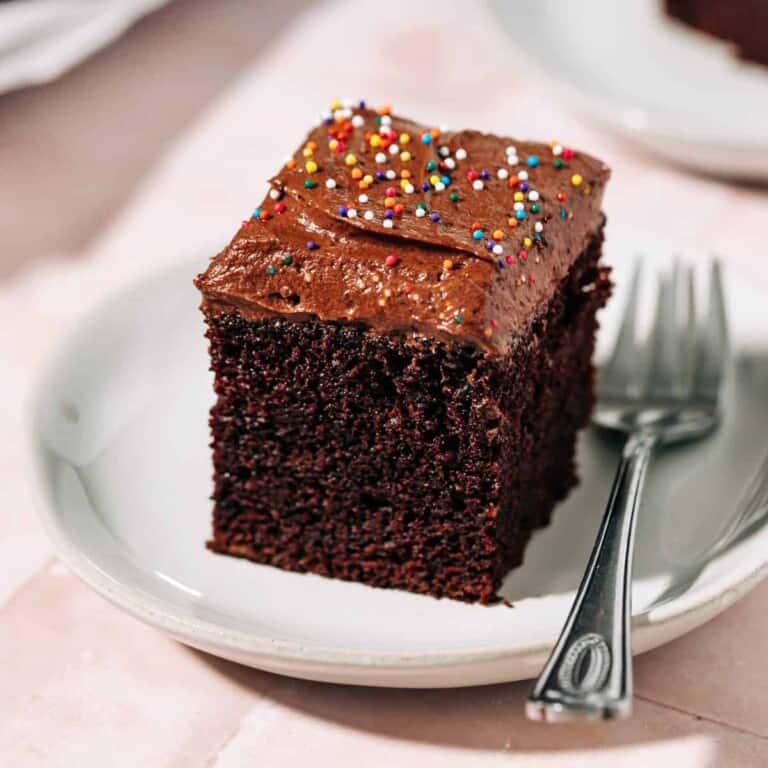 One Layer Chocolate Cake
This easy and delicious chocolate cake recipe is made with simple ingredients and baked in a single layer, making it perfect for baking with kids, celebrations, or whenever a chocolate craving strikes.
Ingredients
Chocolate Cake
4

eggs

1/2

cup

milk

1/3

cup

oil

1

tbsp

vanilla extract

3/4

cup

sugar

1/2

cup

brown sugar

1

cup

all-purpose flour

1/3

cup

cocoa powder

1

tsp

baking powder

1/2

tsp

baking soda

½

tsp

salt

1

tbsp

espresso powder

optional
Chocolate Buttercream Frosting
3 1/2

oz

chocolate (semi-sweet, bittersweet, or dark)

chopped

1/2

cup

butter

room temperature

1 1/2

cups

powdered sugar

1/4

tsp

salt

1/3

cup

cocoa powder

1/3

cup

milk

2

tbsp

heavy cream

1

tsp

vanilla extract

sprinkles

for topping (optional)
Instructions
Preheat oven to 350 degrees F. Prepare an 8-inch square pan by lightly greasing it and lining it with parchment paper. For a thiner cake, use a 9-inch square pan.

In a large bowl, using a whisk the eggs, milk, oil, and vanilla extract until well combined.

Add the sugars and whisk well.

Add in the flour, cocoa powder, baking powder, baking soda, salt, and espresso powder if using. Whisk until smooth and there are no more dry clumps of flour.

Bake for 30-35 minutes, or until a toothpick inserted into the center comes out with just a couple of crumbs. Make sure that you do not over-bake the cake.

Remove cake from the oven and cool in the pan for 10 minutes. Use the parchment paper to lift the cake out of the pan and transfer to a wire rack to cool completely.
Chocolate Buttercream
To make the frosting, melt the chocolate over a double boiler or in a microwave safe bowl, then set it aside to cool down for 5 minutes. In a mixing bowl, beat the butter, powdered sugar, and salt. Add in the melted chocolate and beat to combine. Mix the cocoa powder into the milk, then add it to the rest of the ingredients. Finally, add the cream and vanilla extract and beat until the frosting is smooth.

Once the cake has cooled completely, use a spatula to place a generous amount of frosting on top of the cake and smooth it into an even layer. Top the cake the sprinkles and serve!
Notes
Storage: To store this chocolate cake, cover with a cake keeper or plastic wrap. The cake can be kept on the counter for up to 3 days or in the refrigerator for up to 5 days. When storing frosted cakes in the refrigerator, I always chill them for about 15 minutes to harden the frosting. Then, I loosely cover the cake in plastic wrap or place it in a cake keeper.
Cupcakes: This cake recipe can be easily converted into chocolate cupcakes. Line a 12-cup cupcake pan with liners and fill 2/3 of the way full with the cake batter. Reduce the baking time to about 18-20 minutes.
Gluten Free: For a gluten-free chocolate cake, replace the flour with a 1:1 all-purpose gluten free baking mix. I have used Bob's Red Mill gluten free all-purpose flour with great results.
Nutrition
Serving:
1
slice
Calories:
305
kcal
Carbohydrates:
40
g
Protein:
4
g
Fat:
16
g
Saturated Fat:
7
g
Polyunsaturated Fat:
2
g
Monounsaturated Fat:
6
g
Trans Fat:
0.3
g
Cholesterol:
60
mg
Sodium:
240
mg
Potassium:
158
mg
Fiber:
2
g
Sugar:
30
g
Vitamin A:
288
IU
Vitamin C:
0.01
mg
Calcium:
56
mg
Iron:
2
mg
Tried this recipe?
Let us know how it was and tag @bakedambrosia on Instagram