Original Toll House Chocolate Chip Cookie Recipe
Everybody has a favorite cookie recipe that brings them comfort, and for many, the Toll House Cookie Recipe is that go-to recipe. It's not just a recipe; it's a piece of nostalgia dating back to the Toll House Inn and the culinary brilliance of Ruth Wakefield.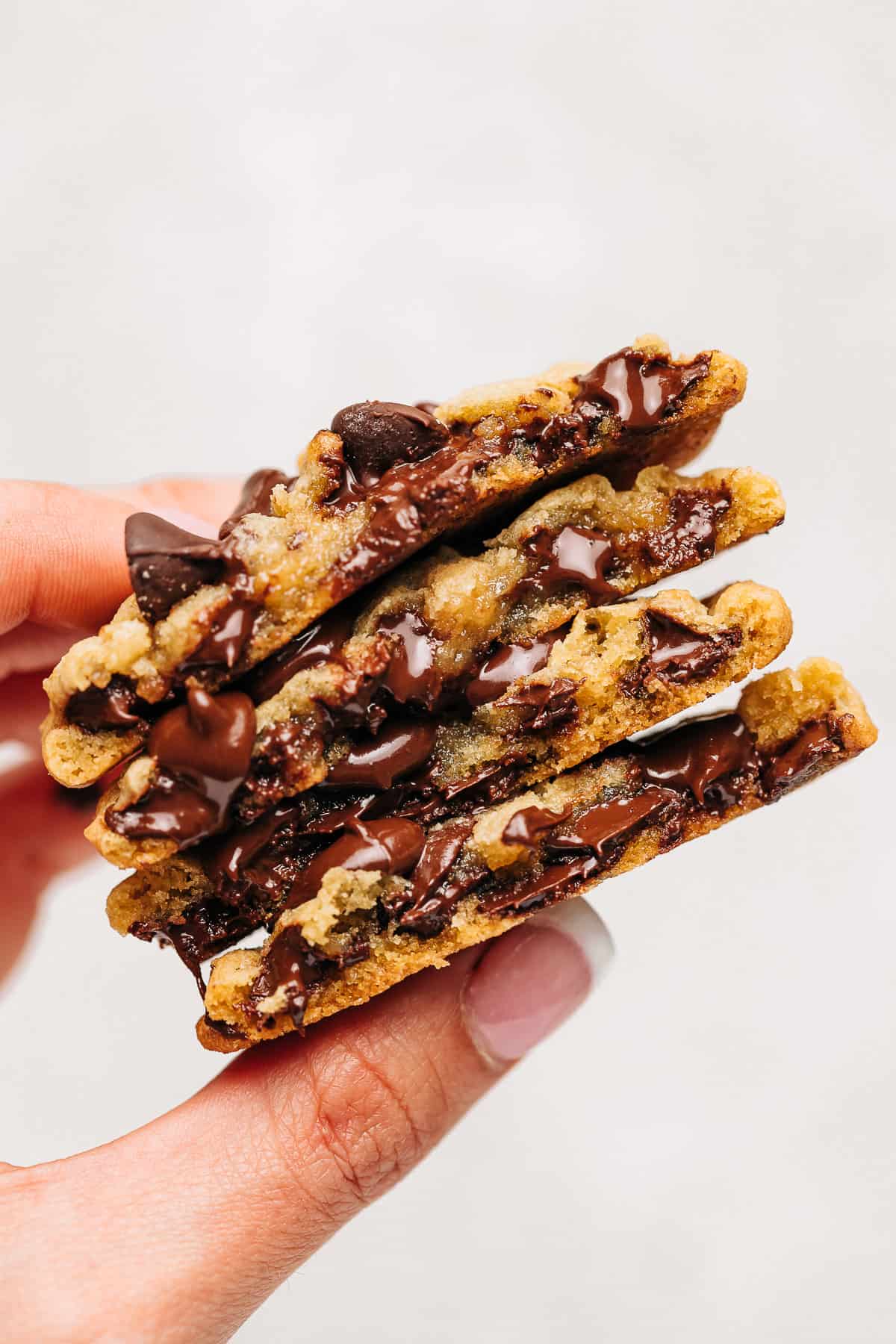 Why This Recipe Works
The Toll House cookie recipe is the original recipe, and it holds its place as the most popular cookie for a good reason. The blend of white sugar and brown sugar in the recipe gives a unique flavor and contributes to the perfect texture – a crispy edge with a chewy center.
The balance between the dry ingredients such as all-purpose flour and baking soda and the wet ingredients including room temperature butter and vanilla extract results in the perfect cookie. The semisweet chocolate chips add the perfect touch, ensuring these are the best chocolate chip cookies you'll taste.
For more chocolate chip cookie recipes, check out these Chocolate Chip Shortbread Cookies, Chocolate Chip Walnut Cookies, and these Peanut Butter Oatmeal Chocolate Chip Cookies.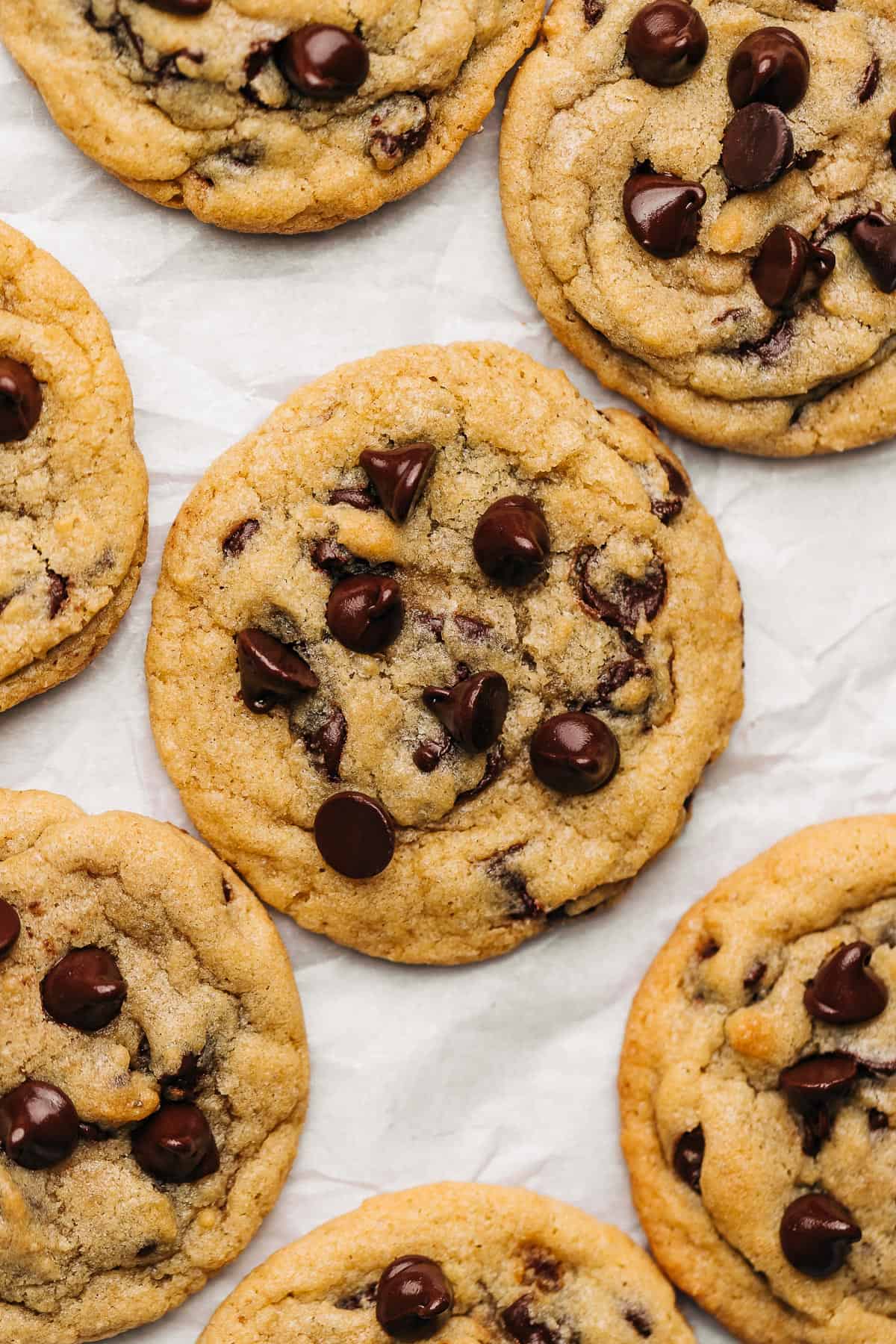 Ingredient Notes
Be sure to check out the full recipe for ingredient measurements.
Brown Sugar: In the Nestle Toll House cookie recipe, the brown sugar contributes to the chewiness and gives a slight molasses flavor.
All-purpose Flour: The backbone of the cookie, all-purpose flour lends structure to our cookies. Be sure to accurately measure using a measuring cup or scale.
Unsalted Butter: Ensure your butter is at room temperature. Cold butter won't mix well, and overly melted butter can lead to flat cookies.
Chocolate Chips: We prefer semisweet chocolate chips, but you can also use white chocolate chips or a mixture of both for variation.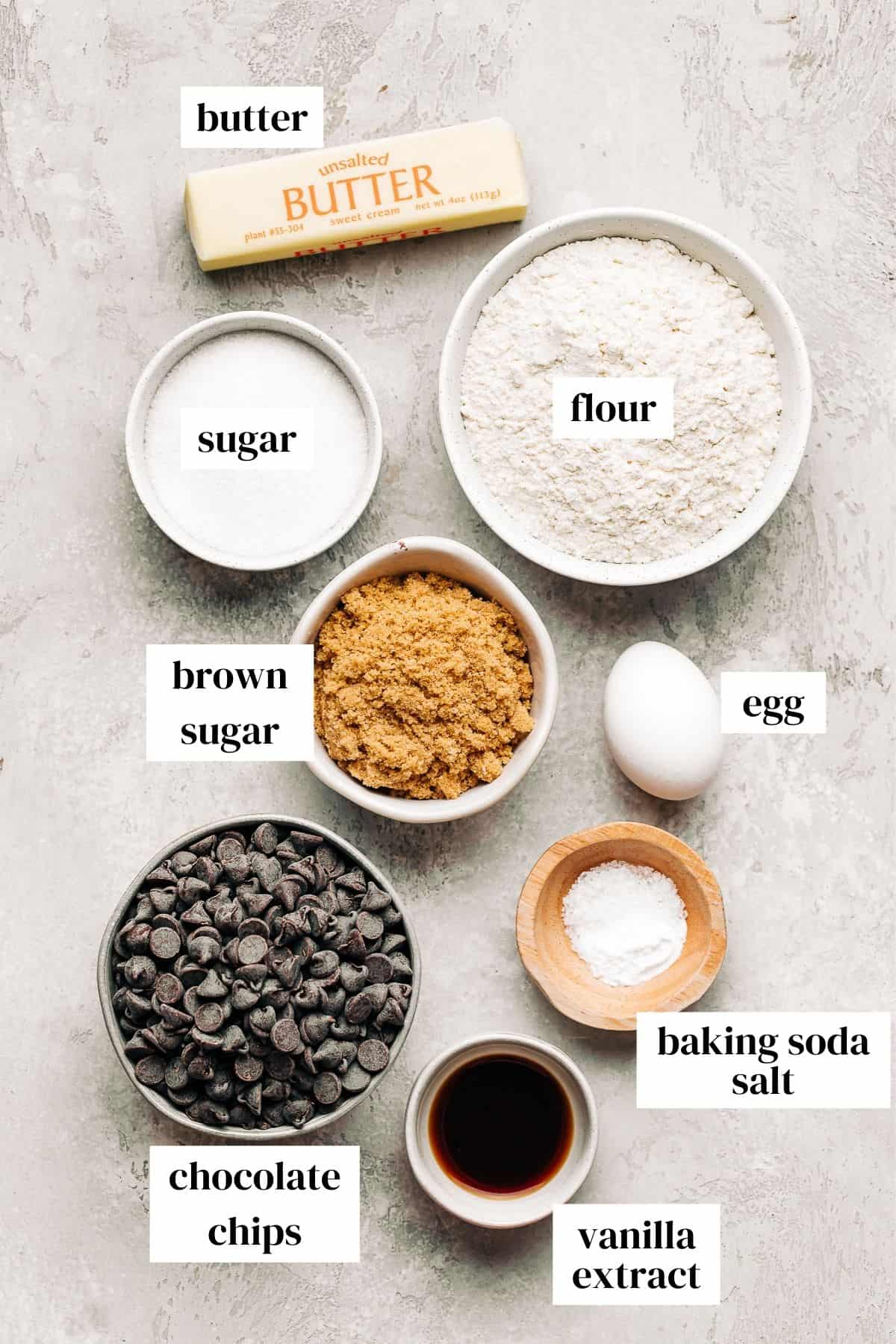 Step-by-Step Directions
Preheat your oven and line a baking sheet with parchment paper.
In a large mixing bowl, cream together the butter, white sugar, and brown sugar until light and fluffy. This is best done with an electric mixer.
Beat in the large eggs one at a time, then stir in the vanilla extract.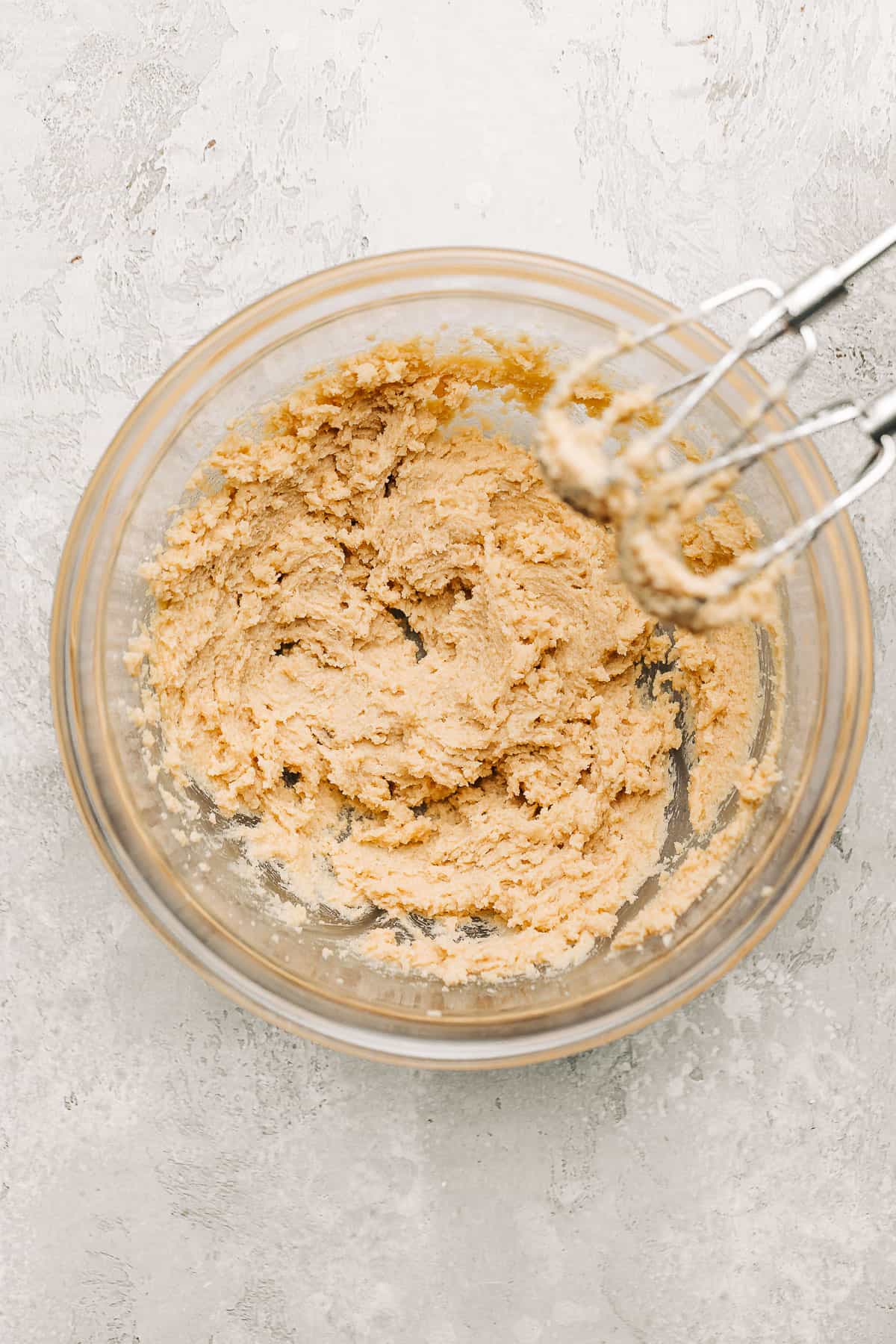 In a large bowl, combine the dry ingredients: all-purpose flour, baking soda, and a teaspoon of salt. Gradually blend in the dry ingredients. Stir in the Nestlé semisweet chocolate chips. If the dough is too stiff, use a wooden spoon.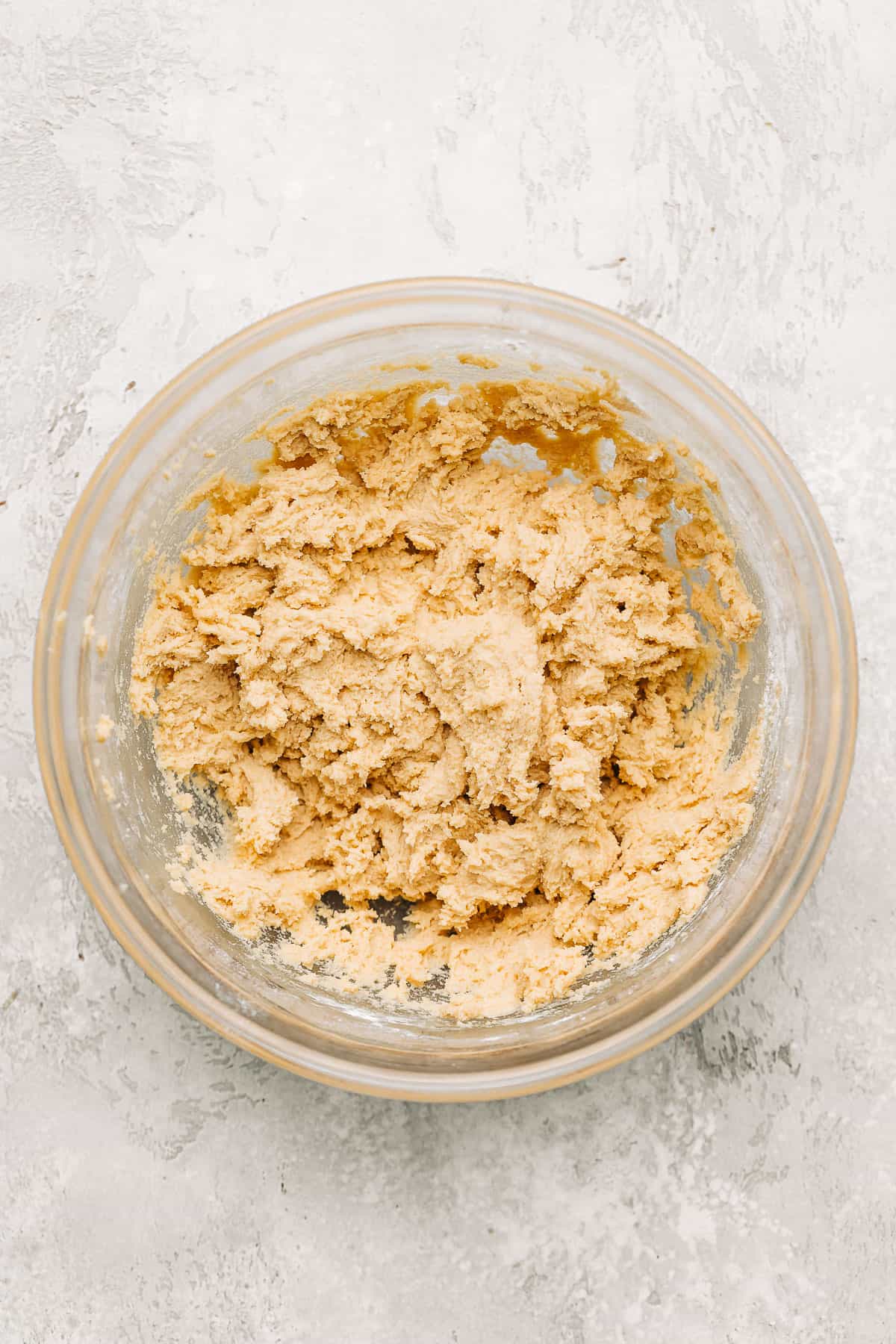 Drop cookie dough balls onto the prepared cookie sheet using a cookie scoop.
Bake until edges are golden brown. Let cool on the baking sheet for 2 minutes before removing to wire racks.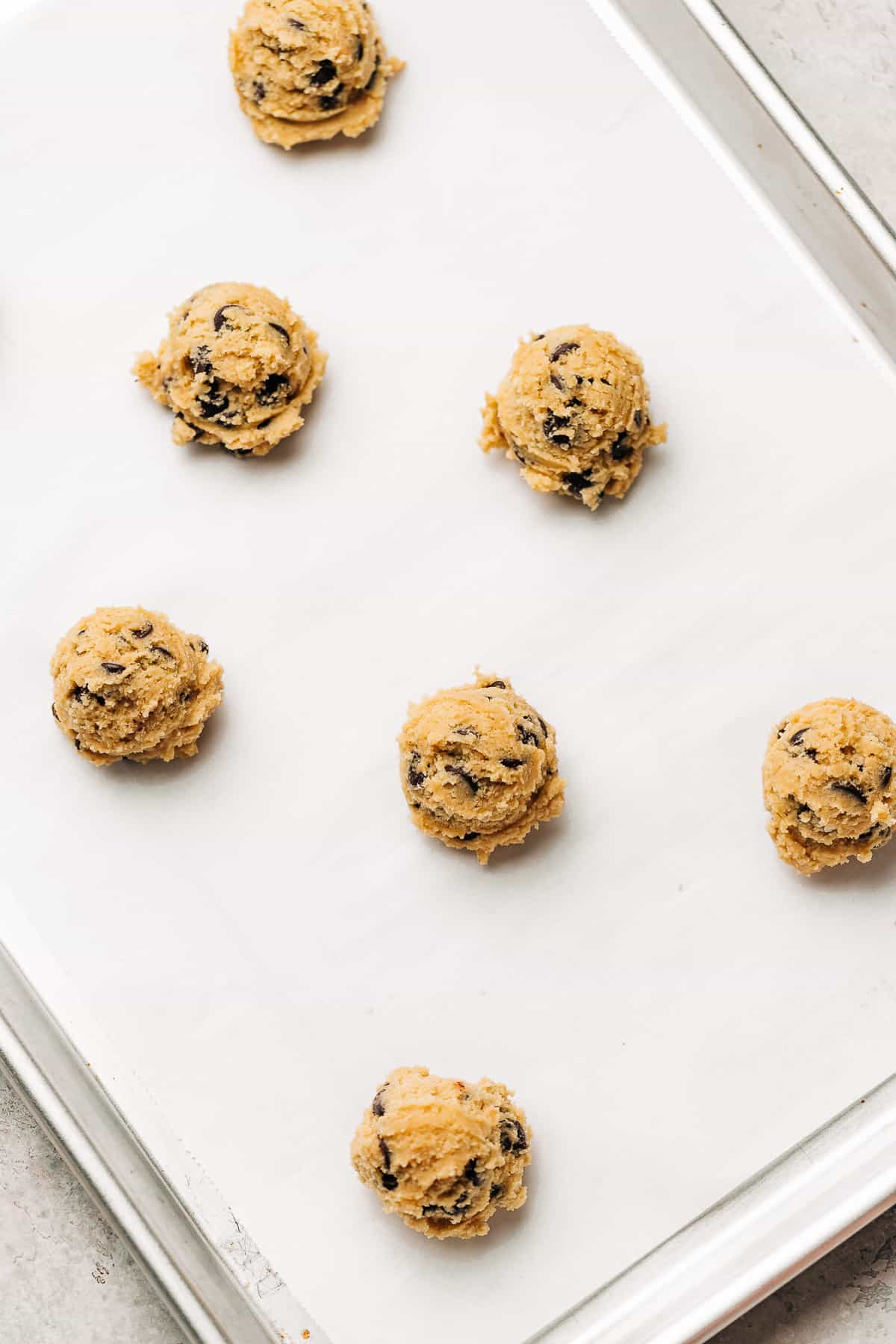 Pro tip: Remember, every oven is different, so keep an eye on your batch of cookies! 
Expert Tips
Avoid overmixing the dough once the flour mixture is added to keep your cookies soft and chewy.
Use an ice pick or similar tool to break a semisweet chocolate bar into small pieces if you do not have chips.
Once baked, store cookies in an airtight container. Place a single layer of parchment paper between each layer of cookies to keep them fresh.
If you have remaining dough, scoop it into balls and freeze. You can bake these directly from frozen; just add a few extra minutes to the baking time.
Frequently Asked Questions
Can I make these Toll House Chocolate Cookies gluten-free?
Yes, you can replace the all-purpose flour with most gluten-free flours or free flour blends. Be mindful that this may alter the texture slightly.
Is it better to use butter or shortening for chocolate chip cookies?

Butter, especially unsalted butter, is the preferred fat for chocolate chip cookies because of its flavor and melt-in-the-mouth quality.
What makes chocolate chip cookies flatten?

Too much spread can be caused by a few different reasons. 

1. The baking temperature was too low
2. Not enough flour
3. Too much sugar
4. Over creaming the butter and sugar
5. Adding too much leavener (baking powder or baking soda)
6. Too much liquid in the dough

To prevent flat cookies, make sure that you measure all of the ingredients accurately and bake the cookies in a preheated oven.
Why are my chocolate chip cookies so hard? 

The main reason chocolate chip cookies are hard is because there is too much flour in the dough. Another reason may be that the cookies are overbaked.
Why did my cookies spread too much?
Your butter might have been too warm, or your flour measurement was off. Make sure your dough balls go onto a cool baking sheet.
Where did the name Toll House cookies come from?
The original chocolate chip cookie is the Toll House cookie. Ruth Wakefield, owner of the Toll House Inn in Whitman, Massachusetts first developed the recipe in the 1930s. The Original Toll House cookies are simple butter cookies consisting of a blend of brown and white sugar with semi-sweet chocolate morsels mixed into the dough. 
In 1939, Ruth Wakefield gave Nestlé the rights to her cookie recipe and the Toll House name for reportedly $1 and a lifetime supply of free chocolate. Since then, every bag of Nestlé Chocolate Chips that is sold in North America has a variation of Ruth Wakefield's original Toll House chocolate chip cookie recipe printed on the back of it. 
How should I store my Toll House cookies?
Store your baked cookies in an air-tight container. They will keep for up to a week, but we doubt they'll last that long!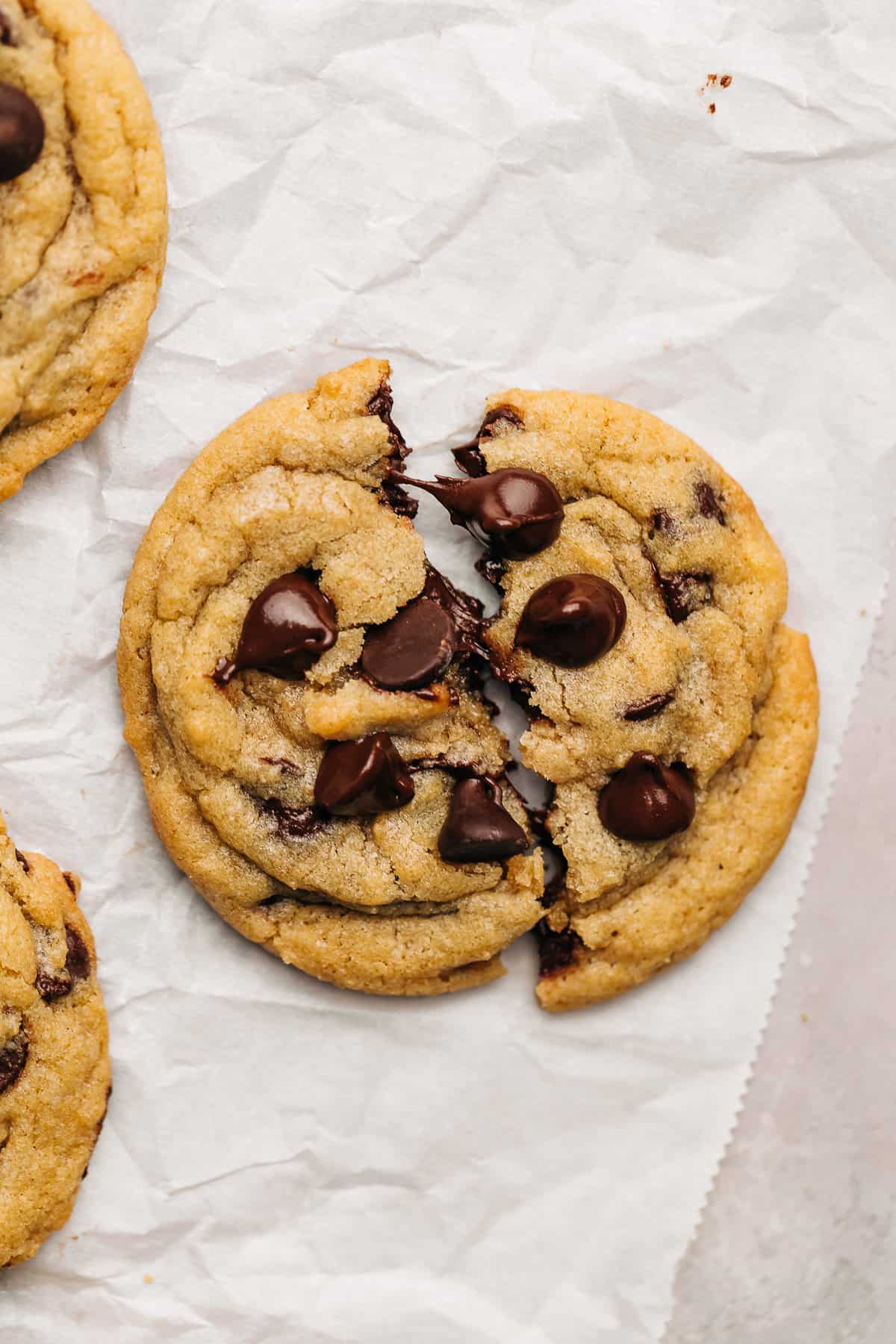 The Toll House cookie recipe is more than just a recipe card for cookies. It's a piece of culinary history from Ruth Wakefield at the Toll House Inn, and every time you bite into one of these classic cookies, you're sharing in that legacy. So next time you're craving something sweet, remember that the perfect chocolate chip cookie recipe is here waiting for you, and nothing pairs better with these chewy cookies than a cold glass of milk. Enjoy!
If you make this recipe, take a photo and tag #bakedambrosia on Instagram and Facebook so that I can see your creations and feature them on Instagram! To stay up to date with the latest recipes, follow Baked Ambrosia on Pinterest, Facebook, Instagram, and Youtube. ♡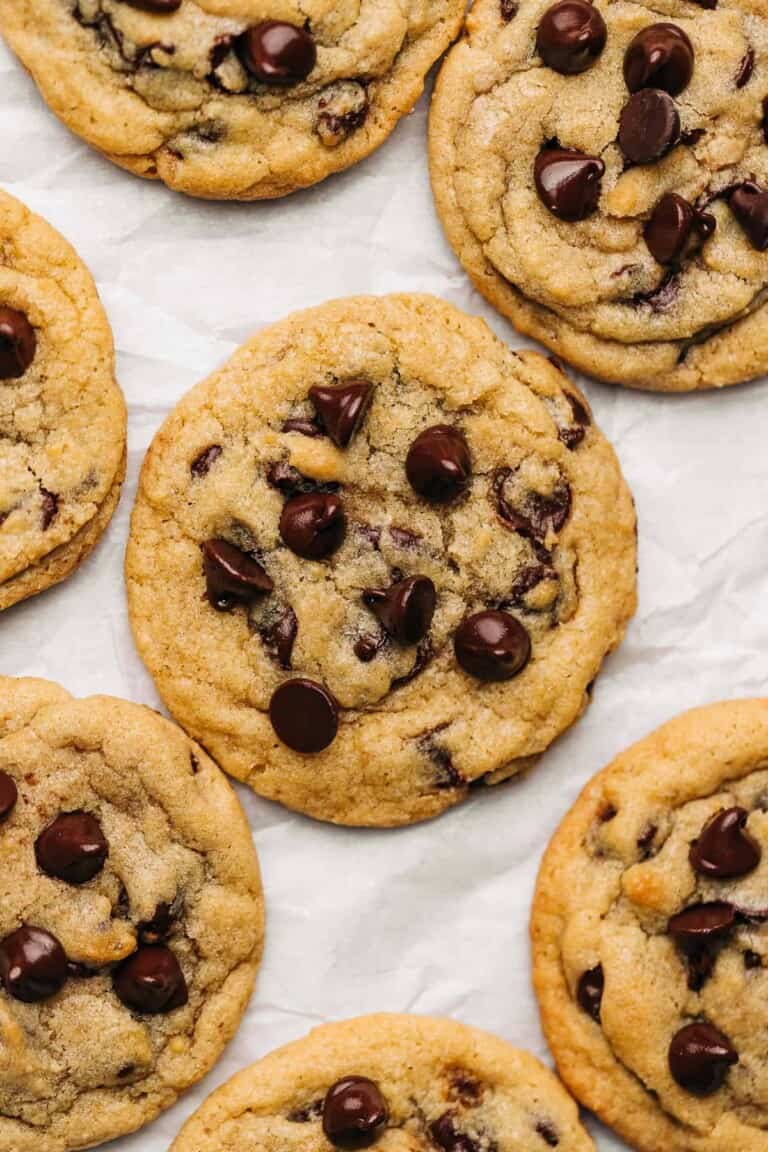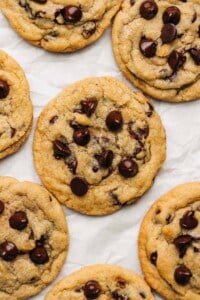 Original Toll House Chocolate Chip Cookie Recipe
The chocolate chip cookie recipe that everybody loves! Learn how to make Classic Toll House Chocolate Chip Cookies from scratch.
Equipment
Kitchen scale

Stand mixer

Cookie coop

Baking sheet
Ingredients
1/2

cup

butter

room temperature

1/2

cup

granulated sugar

1/2

cup

light brown sugar

1

egg

room temperature

1

tsp

vanilla extract

1 3/4

cup

all-purpose flour

1/2

tsp

baking soda

1/2

tsp

salt

2

cups

chocolate chips

or chopped chocolate
Instructions
Preheat oven to 375 degrees F. Line two baking sheets with parchment paper and set aside.

Place the softened butter and sugars in your mixing bowl. Using a stand mixer with the paddle attachment, or a hand mixer, cream the ingredients at low speed. Cream the ingredients until the mixture resembles a smooth paste.

Add the egg and vanilla extract and blend at low speed until combined. 

In a separate bowl, whisk together the flour, baking soda, and salt. Add the flour to the butter mixture and mix until just combined. 

Finally, stir in the chocolate chips until they are evenly distributed throughout the cookie dough. 

Use a medium size cookie scoop to drop 2 tablespoon-sized dough balls onto parchment lined baking sheets. Place the cookie dough balls 2 inches apart (no more than 8 cookies per tray). Bake the cookies in a preheated oven for 10-12 minutes, or until the edges are firm and the centers are slightly underbaked.

Allow the cookies to cool for 5 minutes on the baking sheet before transferring to a wire rack to cool completely. Top the warm cookies with additional chocolate chips and serve!
Notes
Chocolate: While the classic Toll House Cookies are made with Nestle semi-sweet chocolate morsels, you can use any type of chocolate you will like. Dark chocolate, bittersweet, and milk chocolate make great additions. You can also use chopped chocolate rather than chocolate chips.
Adding nuts: If you would like to incorporate nuts into the dough, slightly cut back on the amount of chocolate and replace it with your choice of chopped nuts. My favorites are walnuts or pecans.
Make ahead: The cookies can be shaped and frozen unbaked. Freeze on the baking sheet until solid, then store in a freezer bag. Bake directly from frozen adding 2-3 minutes to the total baking time.f
Storage: Baked cookies can be stored in an airtight container at room temperature up to 5 days or in the freezer for up to 3 months.
Nutrition
Serving:
1
cookie
Calories:
183
kcal
Carbohydrates:
26
g
Protein:
1
g
Fat:
8
g
Saturated Fat:
5
g
Polyunsaturated Fat:
1
g
Monounsaturated Fat:
1
g
Trans Fat:
1
g
Cholesterol:
24
mg
Sodium:
135
mg
Potassium:
24
mg
Fiber:
1
g
Sugar:
17
g
Vitamin A:
154
IU
Calcium:
9
mg
Iron:
1
mg
Tried this recipe?
Let us know how it was and tag @bakedambrosia on Instagram