Healthier Cypriot Keftedes (Meatballs) with Bulgur
Traditional Cypriot keftedes (meatballs) are lightened up by baking instead of frying. Served with bulgur pilaf and Greek yogurt – a delicious meal that the whole family will love!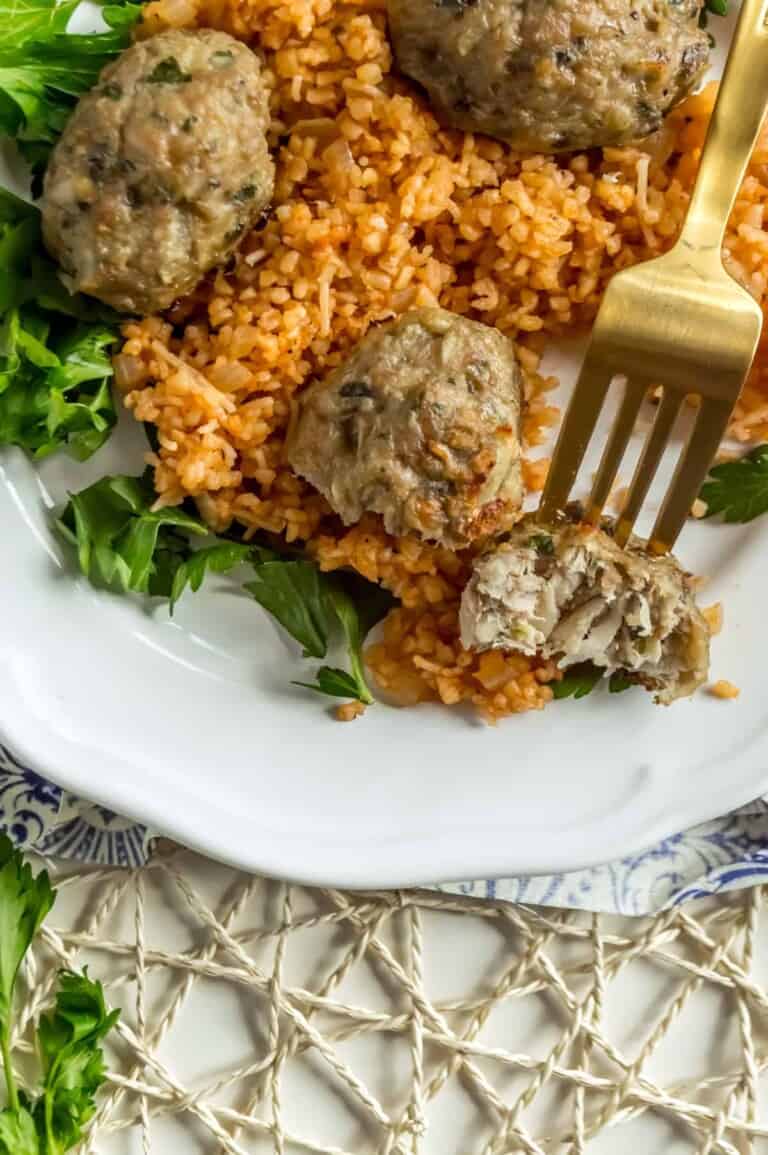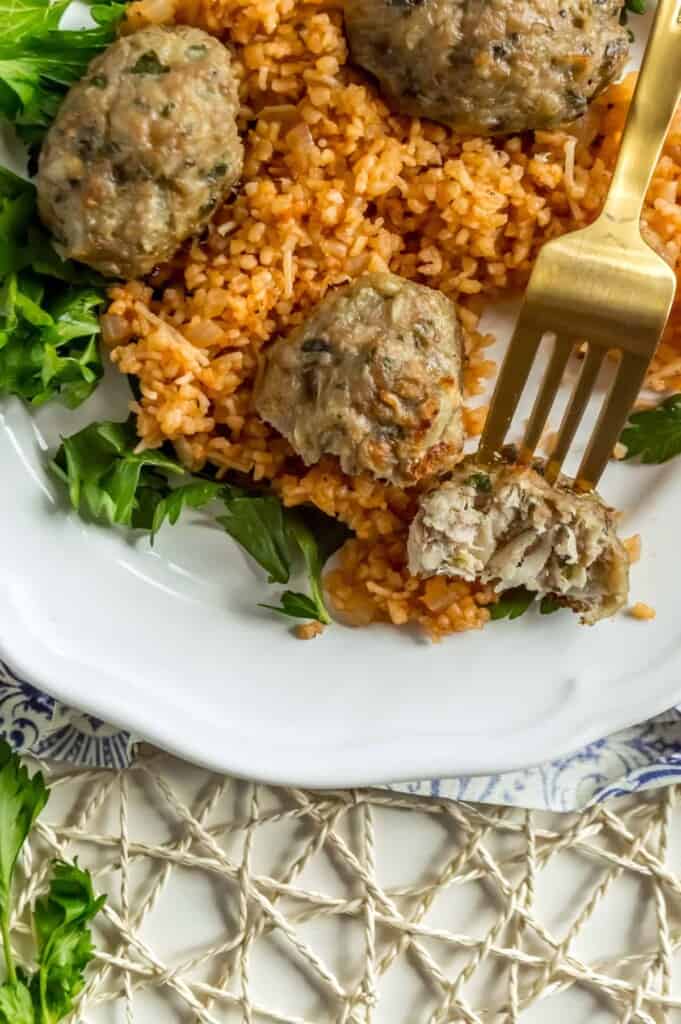 Meatballs are a popular dish all around the world. Every country and culture has their own special way of preparing them. Each country uses different types of minced meat and spices and cooks them in various ways – frying, baking, steaming, or braising in a sauce.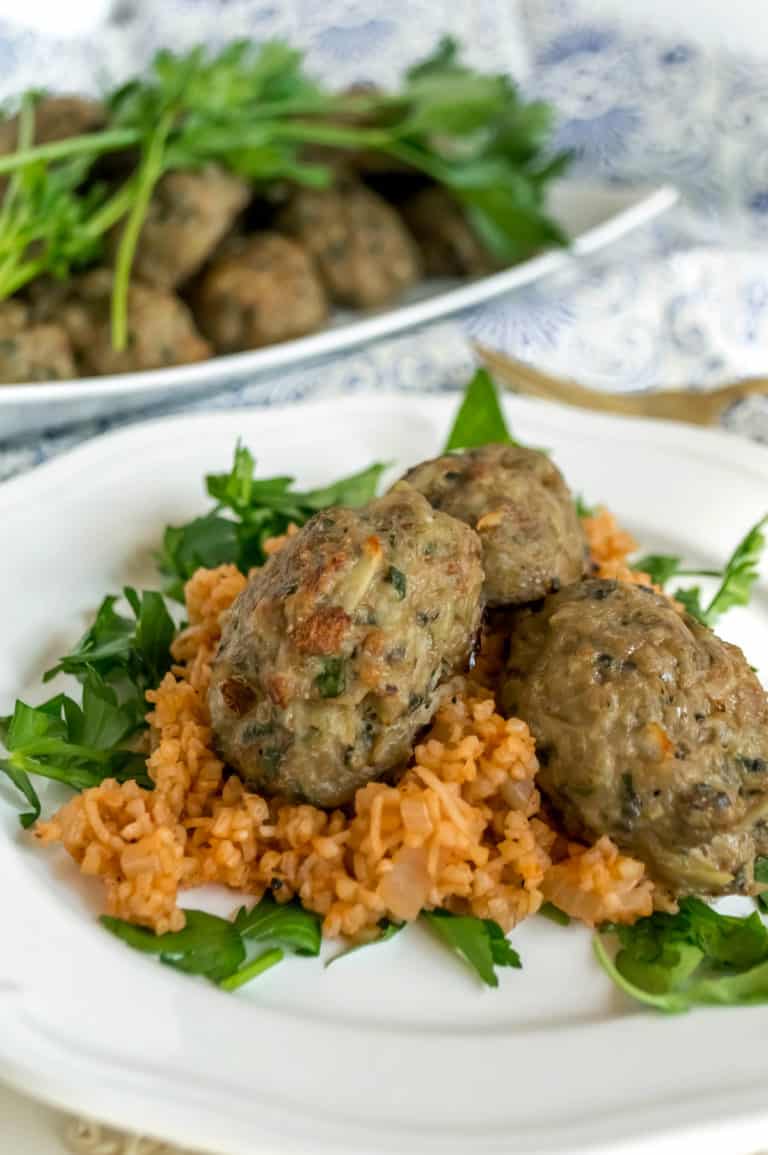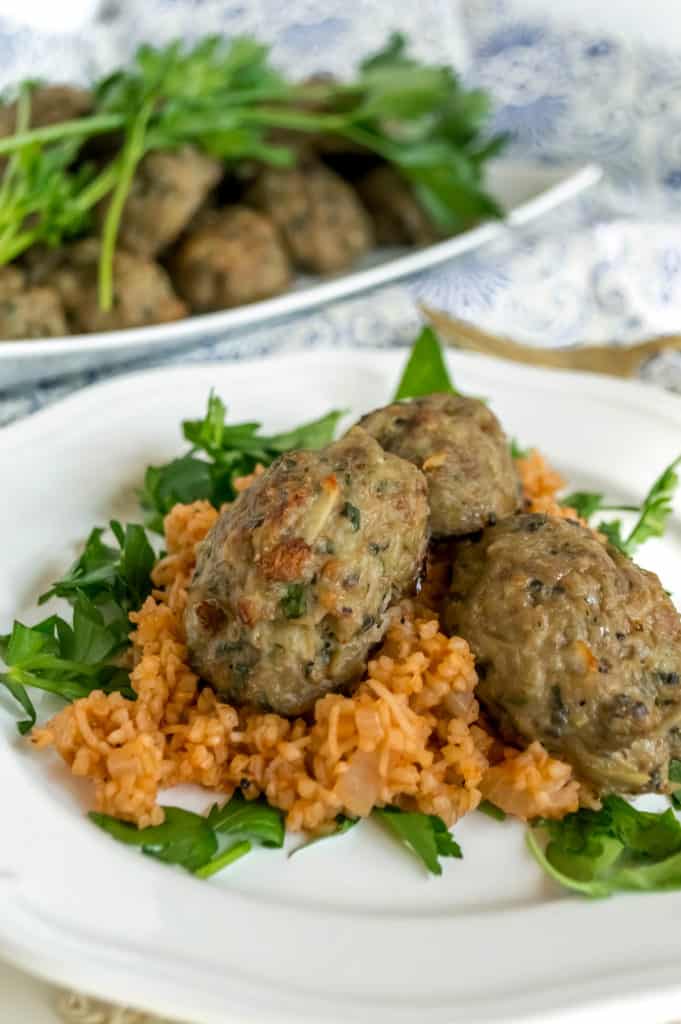 I grew up eating keftedes (the Greek version of meatballs). Every family has their own recipe and the spices change depending on what area of Greece they come from. Greek meatballs are made with beef and use bread soaked in water or milk. They are usually seasoned with oregano and onion or garlic.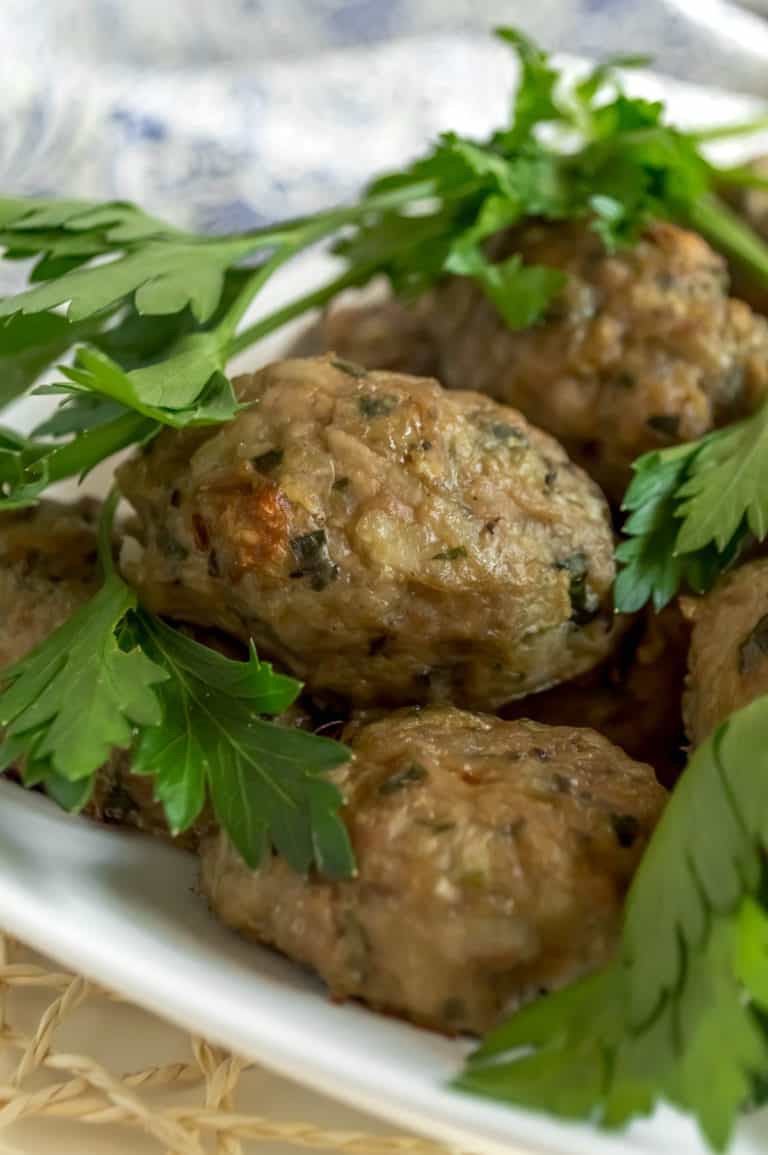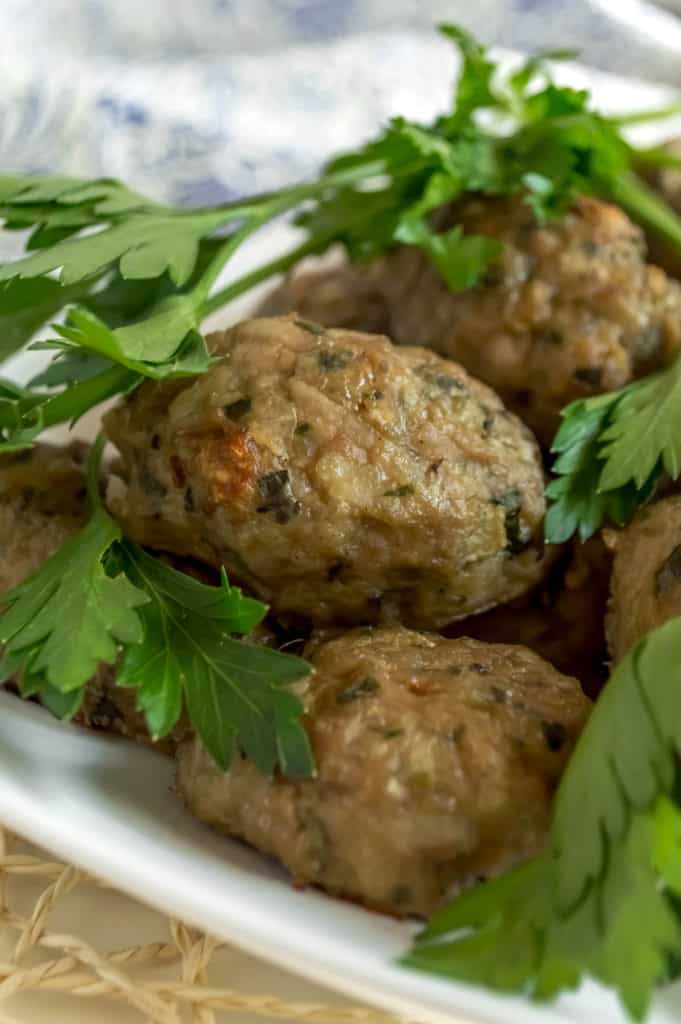 Since my Mom is from Cyprus, whenever she made keftedes, it was usually the Cypriot version. Cypriot meatballs are always made with ground pork (sometimes a mixture of pork and beef is used) and grated potato. They are seasoned with a lot of fresh parsley and the tradition flavors of Cyprus: cinnamon and mint. Traditionally, they are fried which creates a perfect crispiness on the outside and a light and fluffy interior thanks to the grated potato.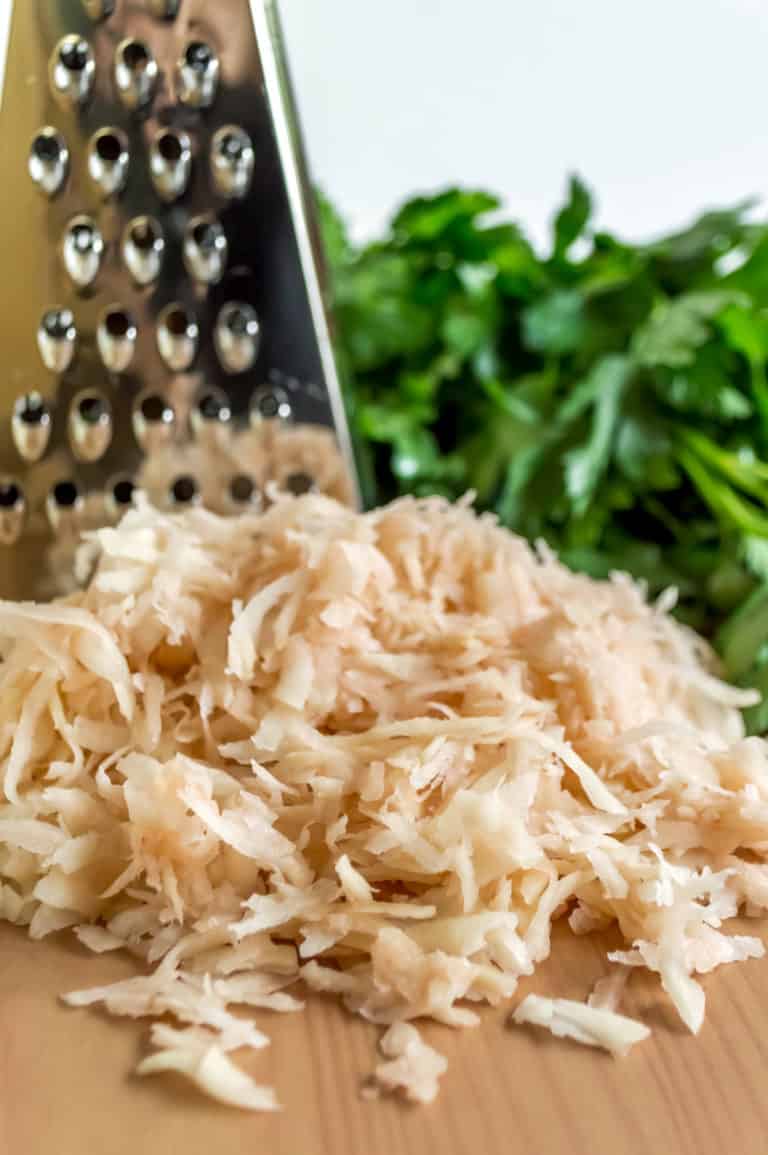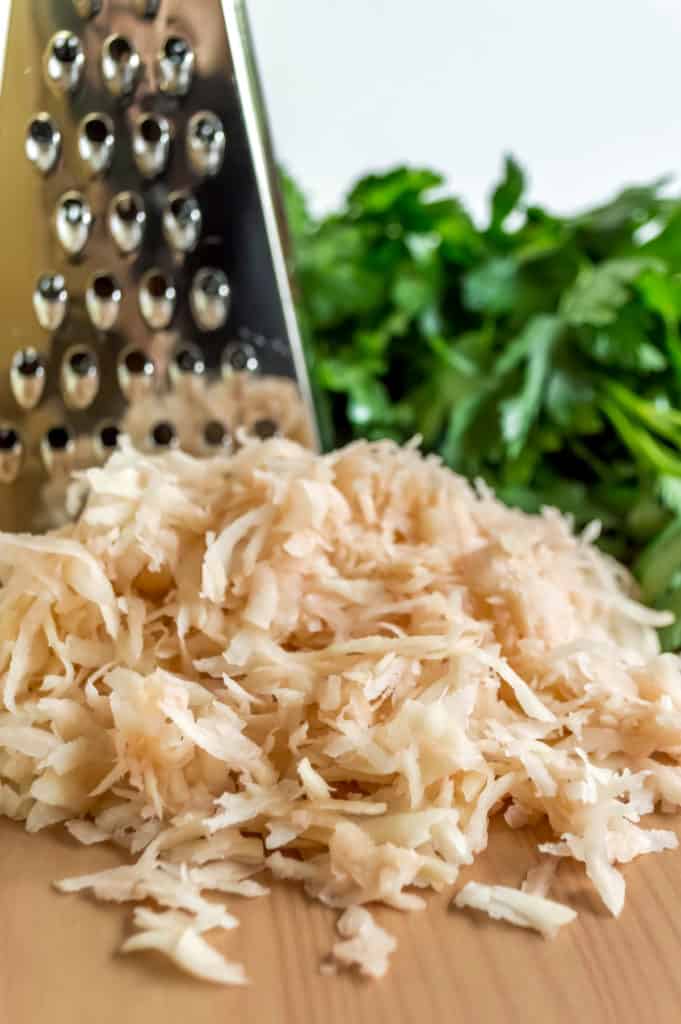 Growing up, keftedes were always a family favorite and a summer staple. They bring back memories of spending my summers in Cyprus as a kid and eating keftedes with yogurt for lunch after a swim at the beach.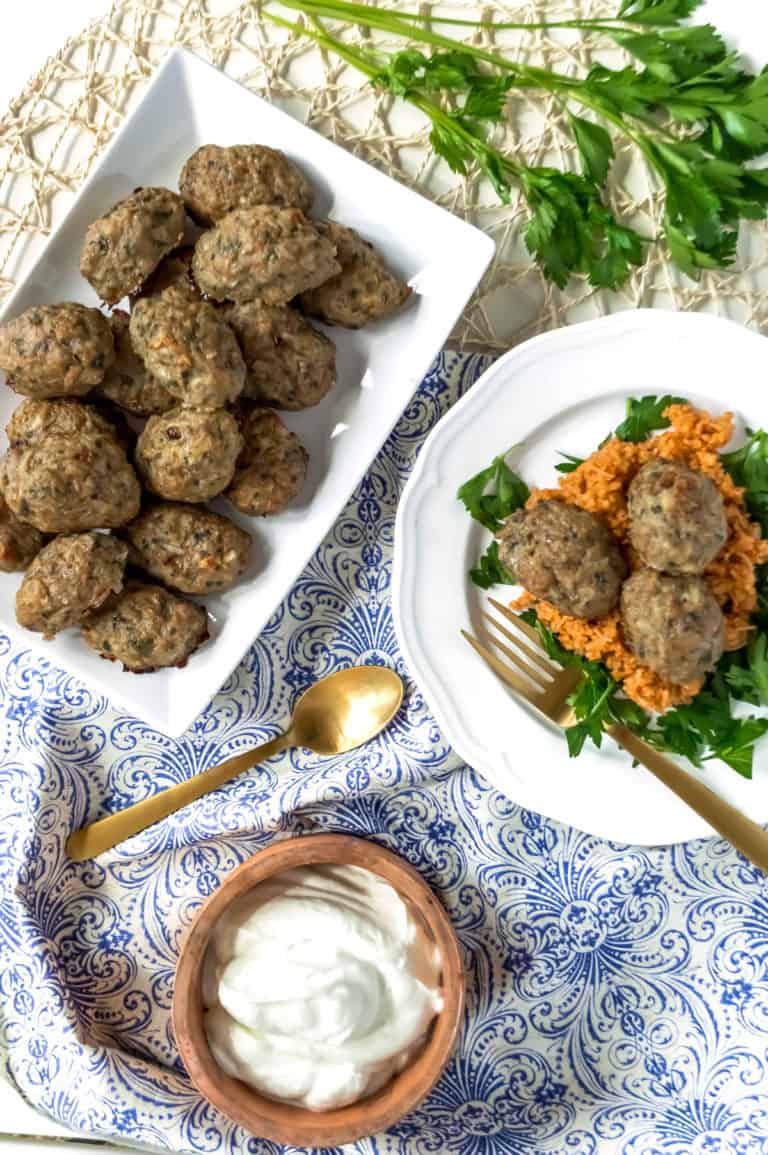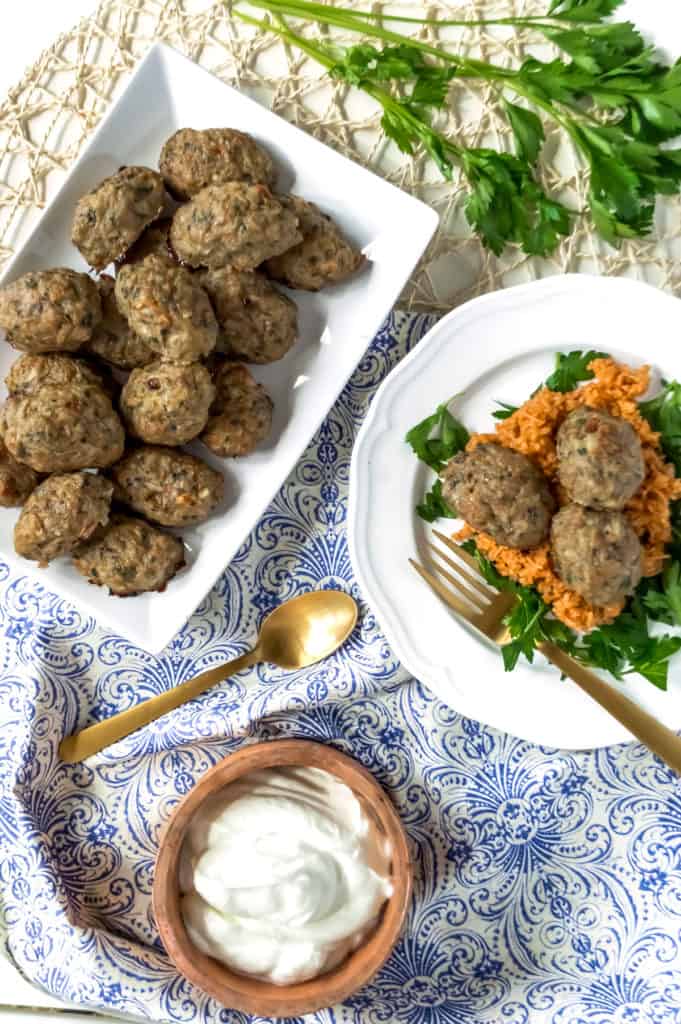 I remember standing in the kitchen with my sisters and cousins impatiently waiting for the keftedes to cook. The whole house full with the most delicious aroma from the fresh herbs. We would grab them from the platter just to "give them a taste" and before we knew it, we each had eaten about 20 meatballs.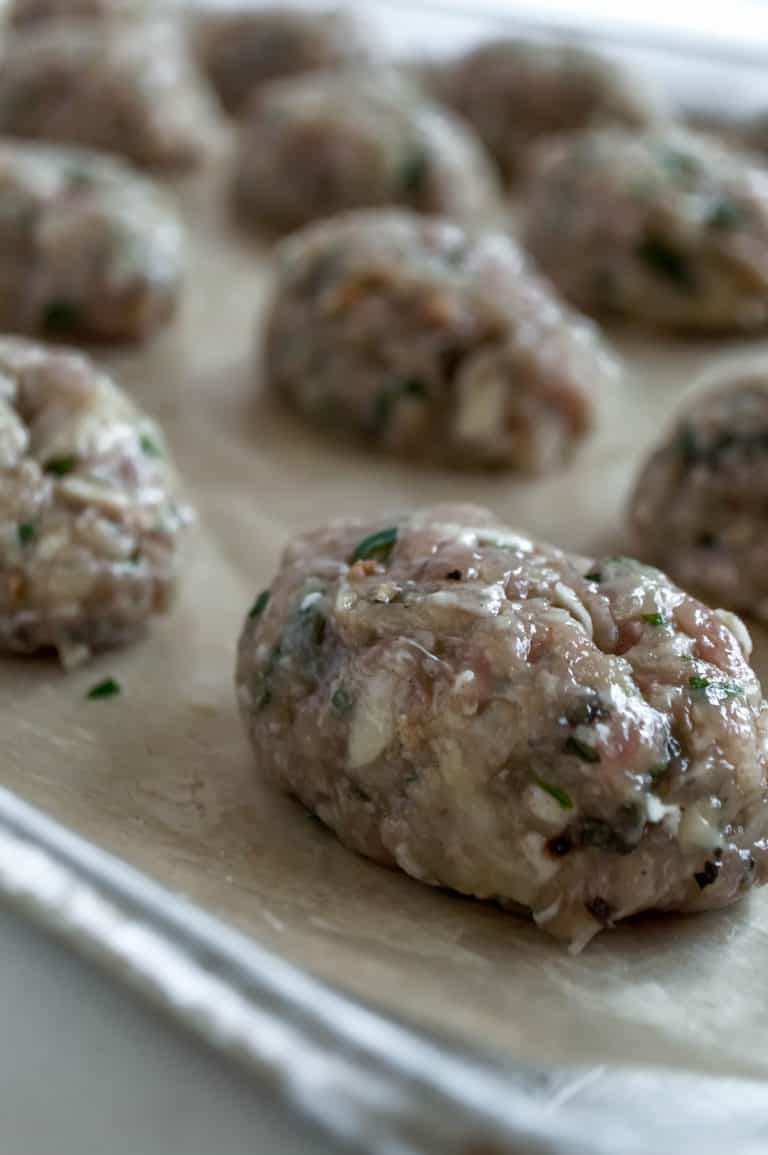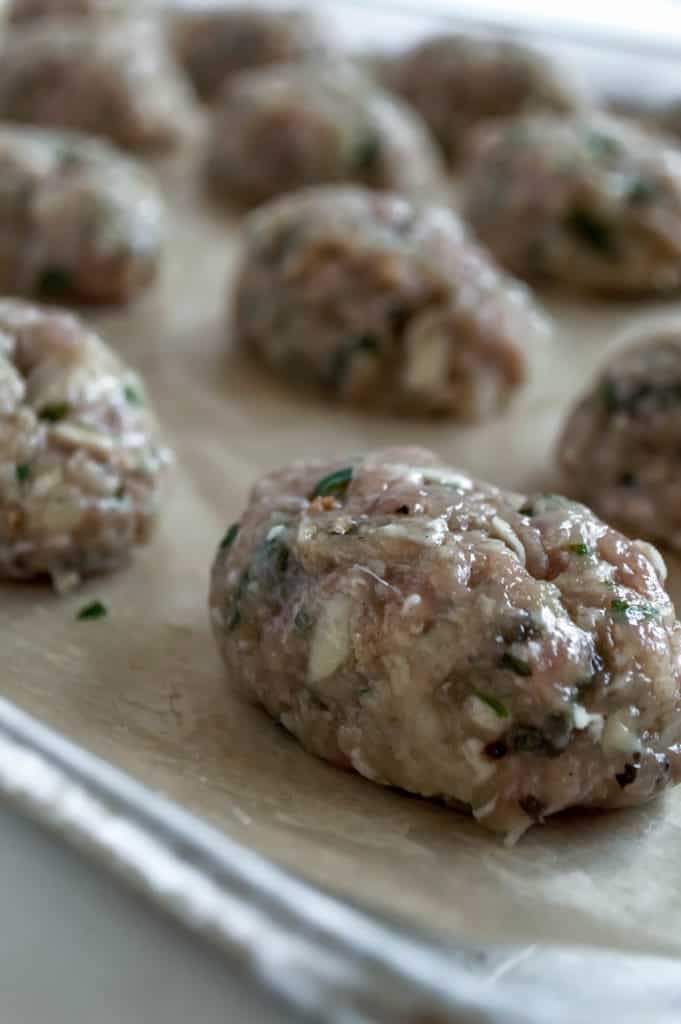 Since they are fried in olive oil, keftedes aren't the lightest option for a summer meal. For as long as I can remember, my mom always cooked health-conscious meals so she usually bakes the meatballs instead of frying them.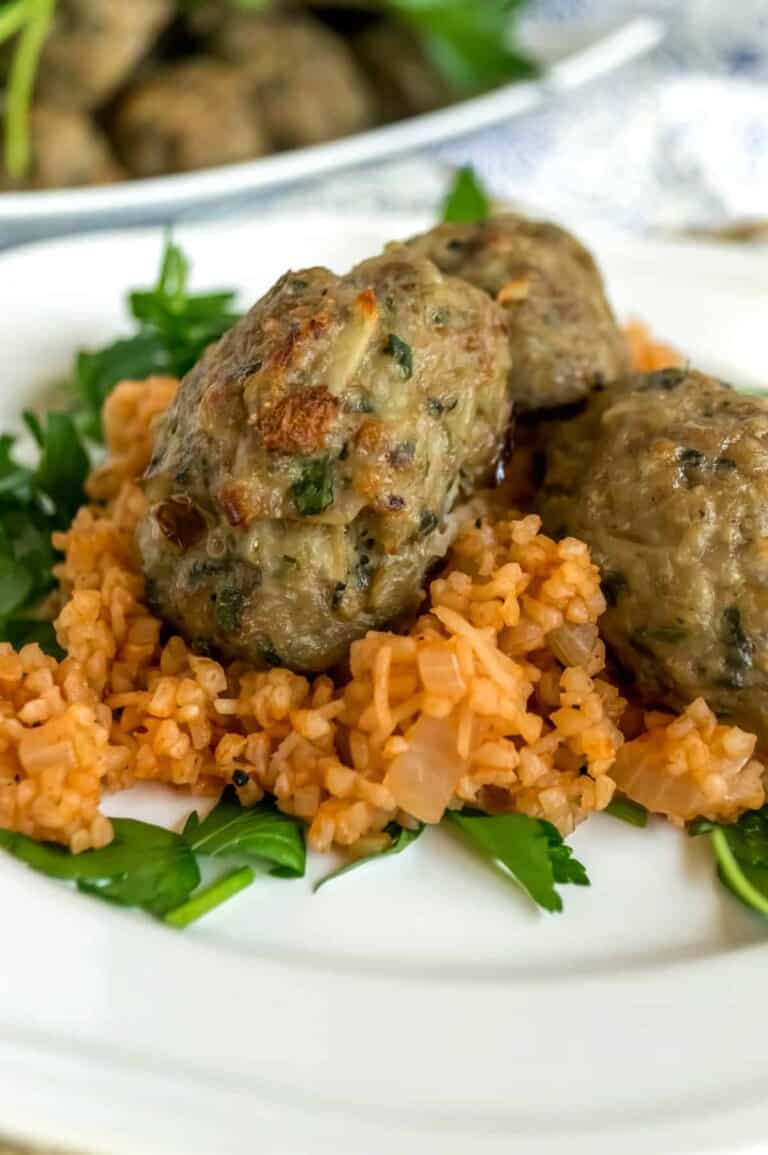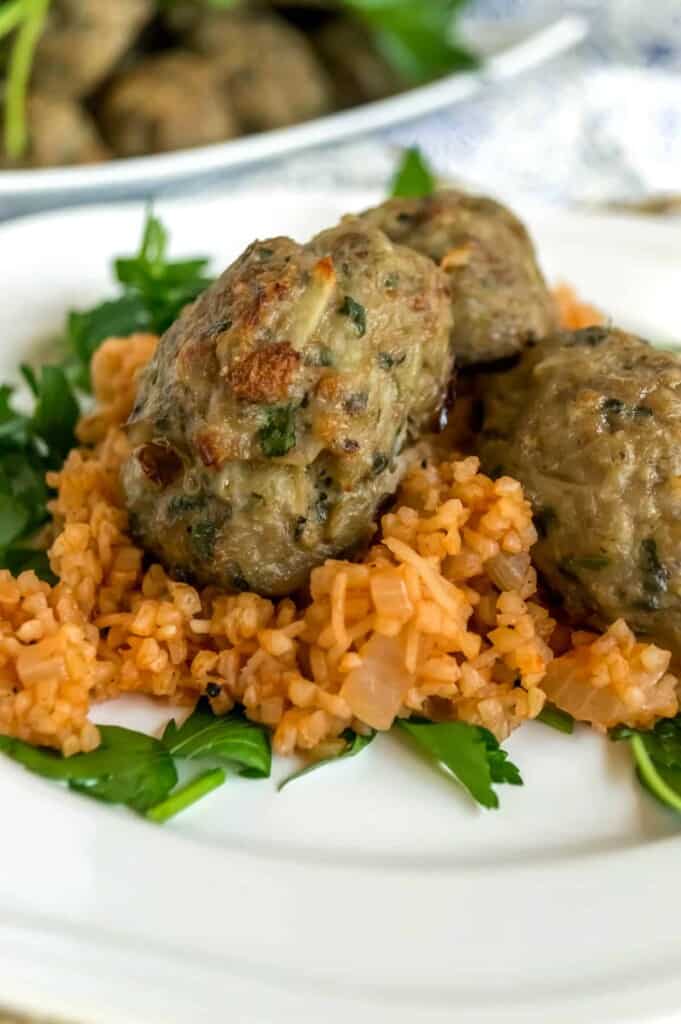 She always makes them with bulgur and serves them with yogurt or lemon. They are also great with tahini and a fresh Cypriot salad. They are best served warm or room temperature but are great cold too.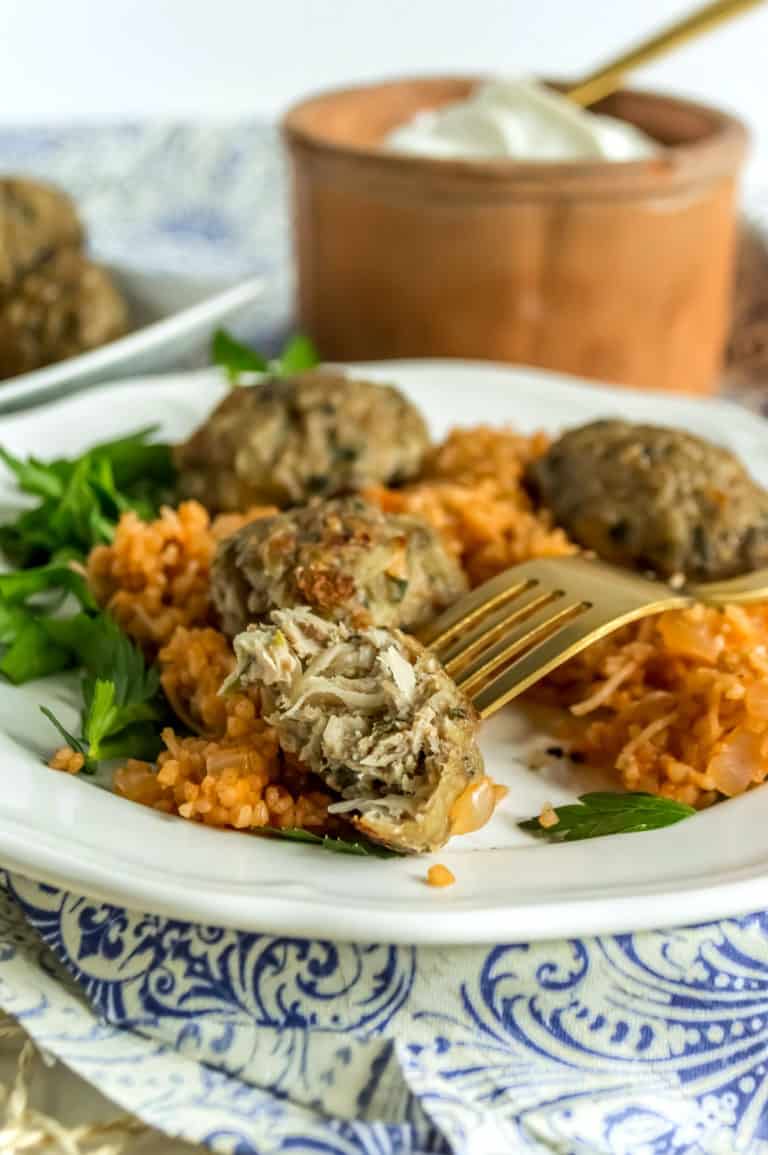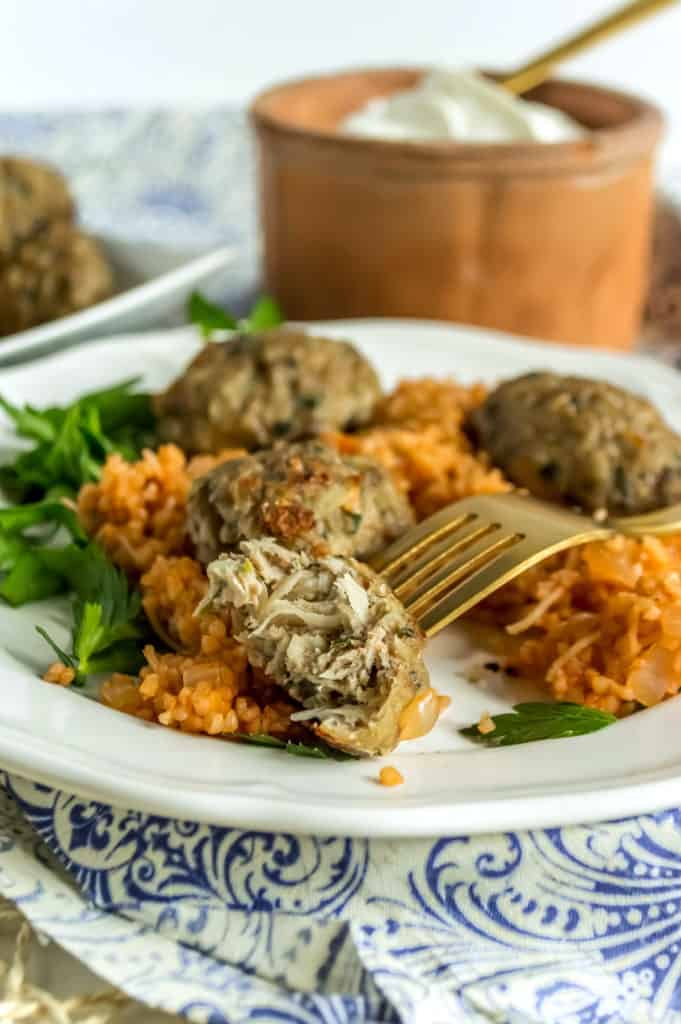 And they make the best midnight snack. No one will notice if a few are missing from the fridge the next day.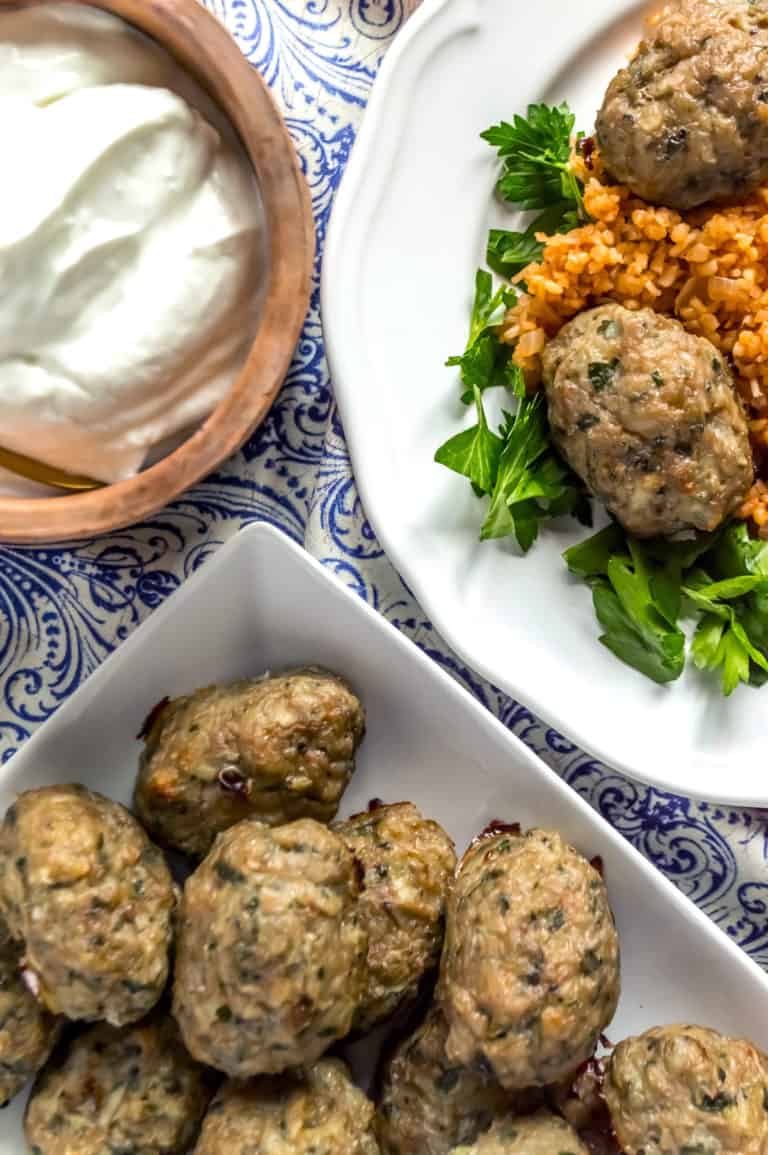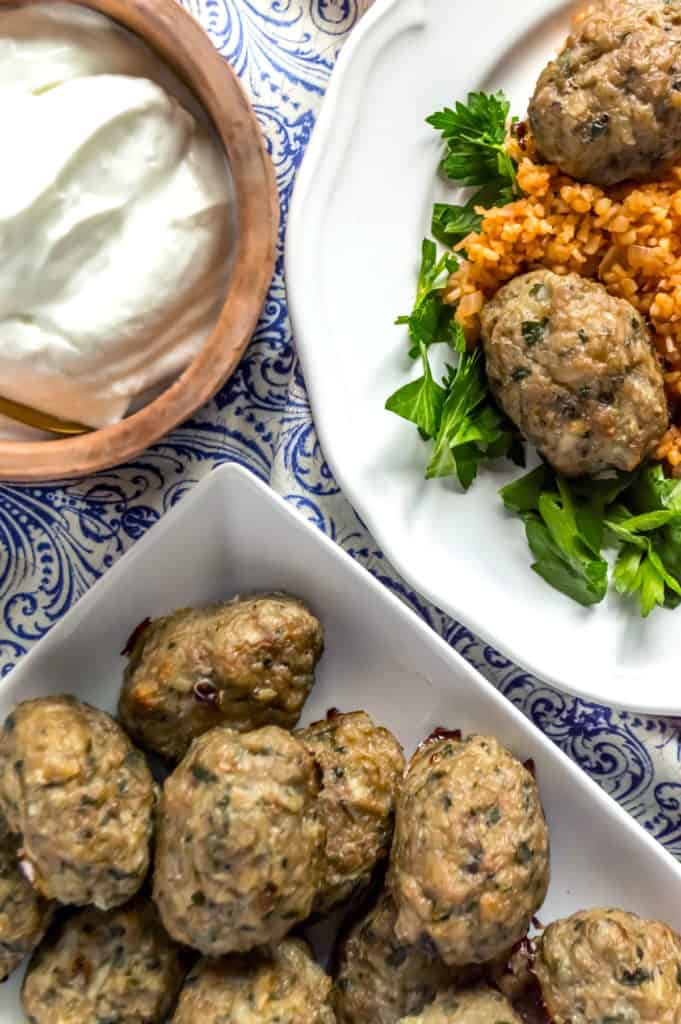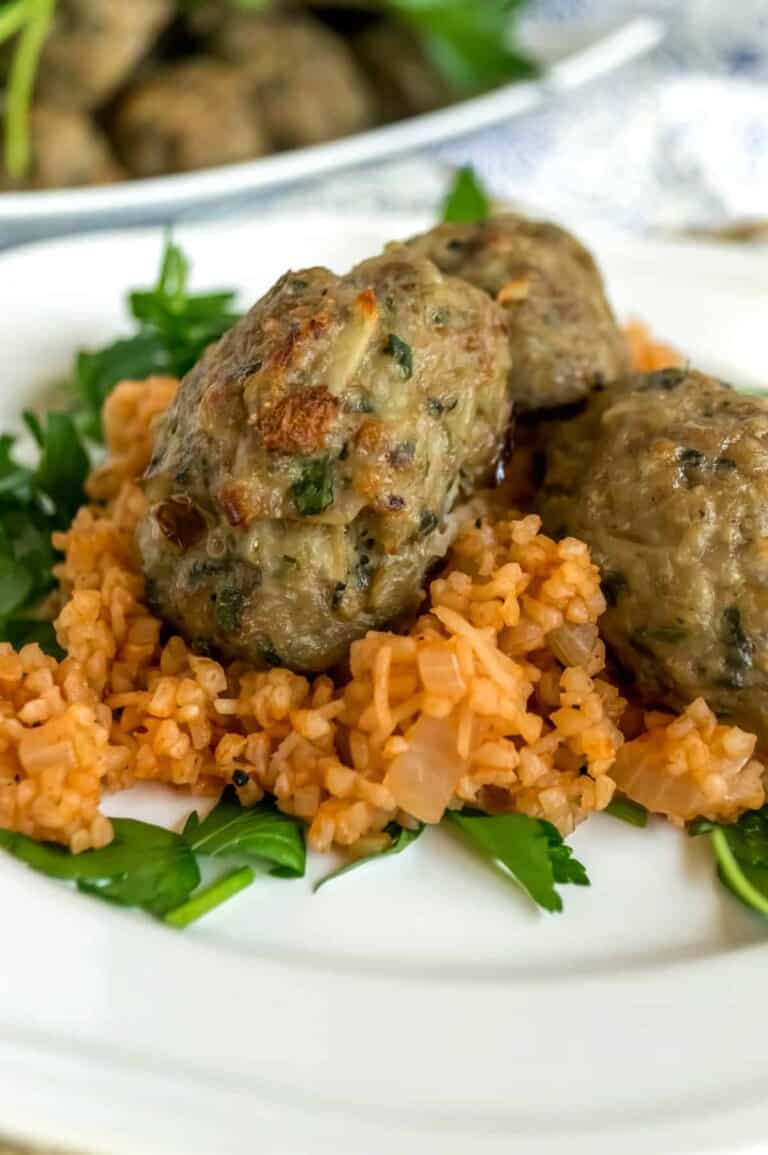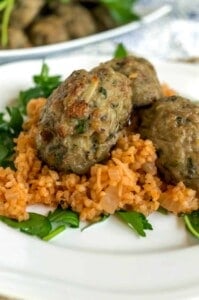 Healthier Cypriot Keftedes (Meatballs) with Bulgur
Ingredients
Keftedes
1

pound

ground pork

1

pound

Russet potatoes

grated (about 3 large)

1

medium onion

grated

1/2

cup

fresh parsley

finely chopped

2

eggs

lightly beaten

3

tbsp

dried mint

3/4

tsp

cinnamon

salt and pepper

1/4

cup

bread crumbs

if mixture is too runny
Bulgur
2

tbsp

olive oil

1

onion

chopped

1

nest fide

or 1/2 cup broken Vermicelli pasta

1 1/2

cups

bulgur

1/2

cup

tomato sauce

2 1/2

cups

water

salt and pepper to taste

Greek yogurt

lemon for serving, optional
Instructions
Preheat oven to 375°F.

Add ground pork, grated potato, grated onion, and chopped parsley to a large bowl. Add eggs, cinnamon, dried mint, salt and pepper. Mix to combine. If mixture is too runny, add bread crumbs.

Form small balls or oval shaped meatballs. Place on a parchment lined baking sheet and bake for 25-30 minutes, or until cooked through.
Bulgur Pilaf
Heat olive oil in a medium size sauce pan over medium heat. Add onion and cook until translucent, about 5 minutes. Add broken fide (or Vermicelli) and cook 1 minute, stirring constantly. Stir in bulgur.

Add tomato sauce, water, salt, and pepper to pot. Stir to combine. Bring the mixture to a boil for 2-3 minutes. Turn off heat, and cover the pot for 15 minutes, until all of the liquid is absorbed.

Serve bulgur with keftedes and Greek yogurt.
Tried this recipe?
Let us know how it was and tag @bakedambrosia on Instagram