Simple and delicious orange flavored cake made healthier with pistachios, Greek yogurt, and topped with pomegranate seeds. Can be served as a coffee cake or after-dinner dessert and stays moist even days after you make it. There are no tricks to making it!
Can you believe it's already February? But really, wasn't it JUST Christmas? When did January fly by and I didn't even realize?
Soooo, now that we have come to terms that it is in fact February, you know what that means … Valentine's Day is just around the corner. It's supposed to be the most romantic time of the year and stuff, but to me it really just gives me an excuse to make a cake, or two, or three. Chocolate is the most obvious flavor for this time of year. Whether you and your lovebug celebrate February 14 as if it were your duty, or you're just happy you have a reason to buy something sweet, it's hard to go through this holiday without thinking of heart-shaped delicious chocolates.
But, I like to be different. Instead of making a molten lava cake or chocolate covered strawberries, I present you this moist and not-overly-sweet Pistachio Orange Pomegranate Cake! What better way to celebrate this day of love with a ruby-red, jewel-like pomegranate seed studded cake?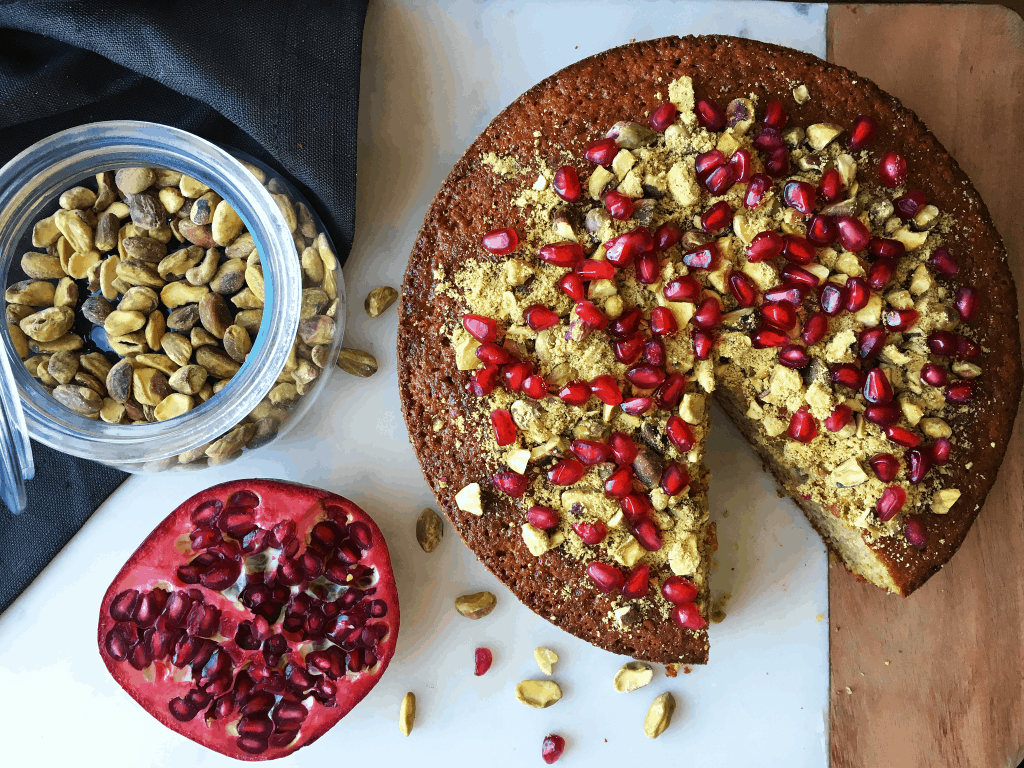 This cake makes a great after-dinner treat, or it can even work well during a romantic brunch with a cup of tea (or a glass of champagne if that's more your style). It is the right balance of simple and sentimental. Orange zest adds brightness and aroma to the cake. The pomegranate jewels make it special and dreamy. This cake isn't over or underdressed. The contrast of the ruby red with the green of the pistachios creates a beautiful topping without any of the hassle or frou-frou of classic frosting. Let's just say, this cake has a "natural glow" that will make a big impression on your date or yourself.
On another note, this cake is actually pretty good for you so you won't feel the guilt that comes along a giant box of assorted chocolates. The truth is, that there is a lot of junk out there; refined sugars, artificial sweeteners, hydrogenated oils, and the list goes on. Usually these ingredients are found in packaged foods (including those drugstore Valentine's Day treats) and should be avoided as much as possible. But, if you are willing to purchase quality, whole ingredients and make a few tweaks, then sweets can be incorporated into a healthy diet.
Instead of butter, I used canola oil and Greek yogurt. Whole-wheat flour is substituted for all-purpose flour. And, even though pistachios are high in fat, they have less calories than any other nut (plus, it's the good fat!), and they are loaded with protein and fiber. Pomegranates also have a pretty impressive nutrient profile; after all, this fruit has been around since ancient times. Pomegranates are loaded with fiber and powerful antioxidants that can reduce the risk of cancer and heart disease, lower blood pressure, and reduce inflammation. FUN FACT: The ancient Greeks believed that Aphrodite, the goddess of love, planted the first pomegranate tree in the island of Cyprus. They are also a symbol of life, rebirth, prosperity, abundance, fertility, and good luck.
So, let's say that this cake is your only Valentine this year. Or, that this cake isn't your only date, but the only one you're actually interested in. One bite of this Pistachio Orange Pomegranate Cake will remind you that there is still some optimism in this world – if not for romance, then for the relaxing summer days when you'll feel as radiant as this cake tastes.
This cake will keep your Valentine's Day exciting and romantic with the strategic addition of pomegranate – and that's just part of the sexiness.
Pistachio Orange and Pomegranate Cake
Simple and delicious orange flavored cake made healthier with pistachios, Greek yogurt, and topped with pomegranate seeds. Can be served as a coffee cake or after-dinner dessert and stays moist even days after you make it. There are no tricks to making it!
Ingredients
½

cup

canola oil

½

cup

Greek yogurt

2% fat

1

cup

organic sugar

zest of 2 large oranges

4

eggs

lightly beaten

½

cups

whole wheat pastry flour

1

teaspoon

baking powder

½

teaspoon

salt

7

ounces

pistachios

deshelled plus 2 tablespoon whole wheat pastry flour

seeds from 1 pomegranate
Instructions
Preheat oven to 350degrees F. Grease a deep 8-inch round cake pan and coat with flour.

Place the pistachios with 2 tablespoon flour in a food processor and pulse until finely ground.

Beat sugar with eggs until light pale, about 3 minutes. Add the oil, yogurt, and the orange zest to the egg mixture and beat together until well blended.

In another mixing bowl, sift the flour, baking powder, and salt. Add the pistachios and whisk until blended. Gently add the dry ingredients to the egg mixture until combined. Pour the batter into the prepared cake and level out.

Place the pan in your preheated oven and bake 50-55 minutes on until a wooden skewer inserted into the middle comes out clean.

Cool the cake in the pan for 10 minutes and then turn out onto wire cooling rack. Let cool completely.

To finish the cake, sprinkle with chopped pistachios and pomegranate seeds.
Nutrition
Serving:
1
/10
Calories:
380
kcal
Carbohydrates:
33
g
Protein:
10
g
Fat:
24
g
Saturated Fat:
3
g
Cholesterol:
84
mg
Sodium:
200
mg
Fiber:
7
g
Sugar:
23
g
Tried this recipe?
Let us know how it was and tag @bakedambrosia on Instagram