15-minute Vietnamese Noodle Salad
An easy to make Vietnamese Noodle Salad with a 5-ingredient dressing and lots of fresh veggies. So flavorful and ready in 15 minutes – it's a total crowd pleaser!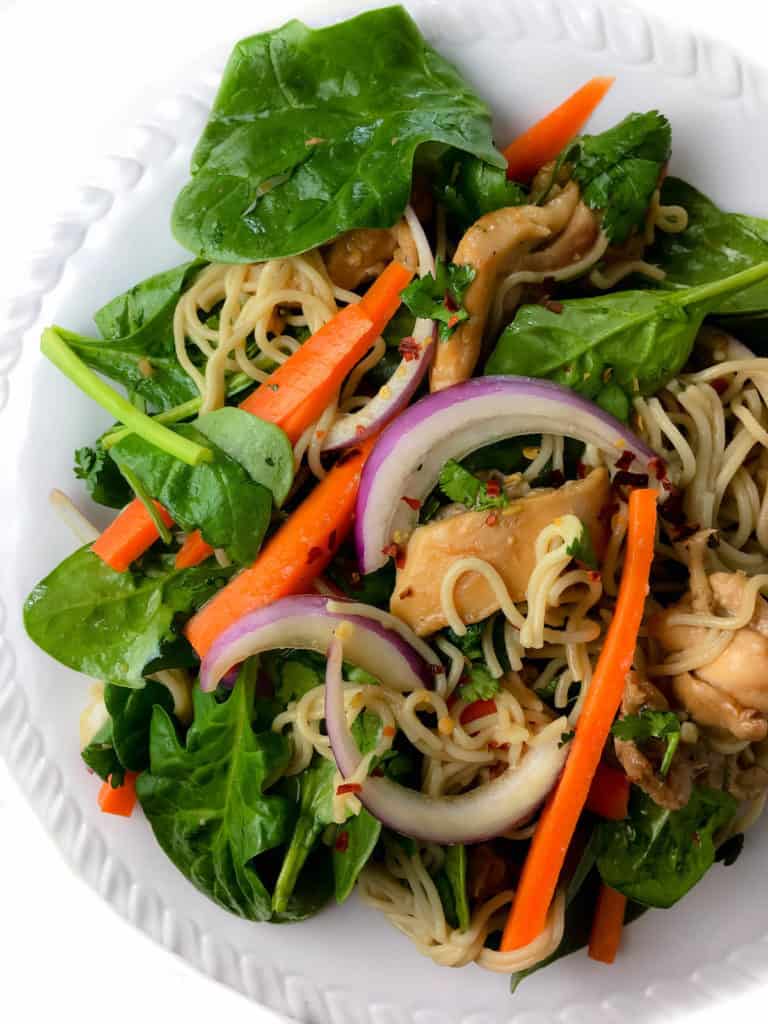 WARNING: this salad will make your taste buds dance. It's sweet and tangy and spicy and salty and crunchy and ridiculously fresh. A major flavor bomb that tastes like a huge plate of spring. Or early summer.
Vietnamese Noodle Salad
This is my version of a Vietnamese Noodle Salad. It is loaded with noodles, stir-fried chicken, spinach, red onion, carrots, and cilantro. It's a complete meal in salad form and I am a huge fan of salads that can double up as meals too, like this Avocado Steak Salad with Poppy Seed Vinaigrette.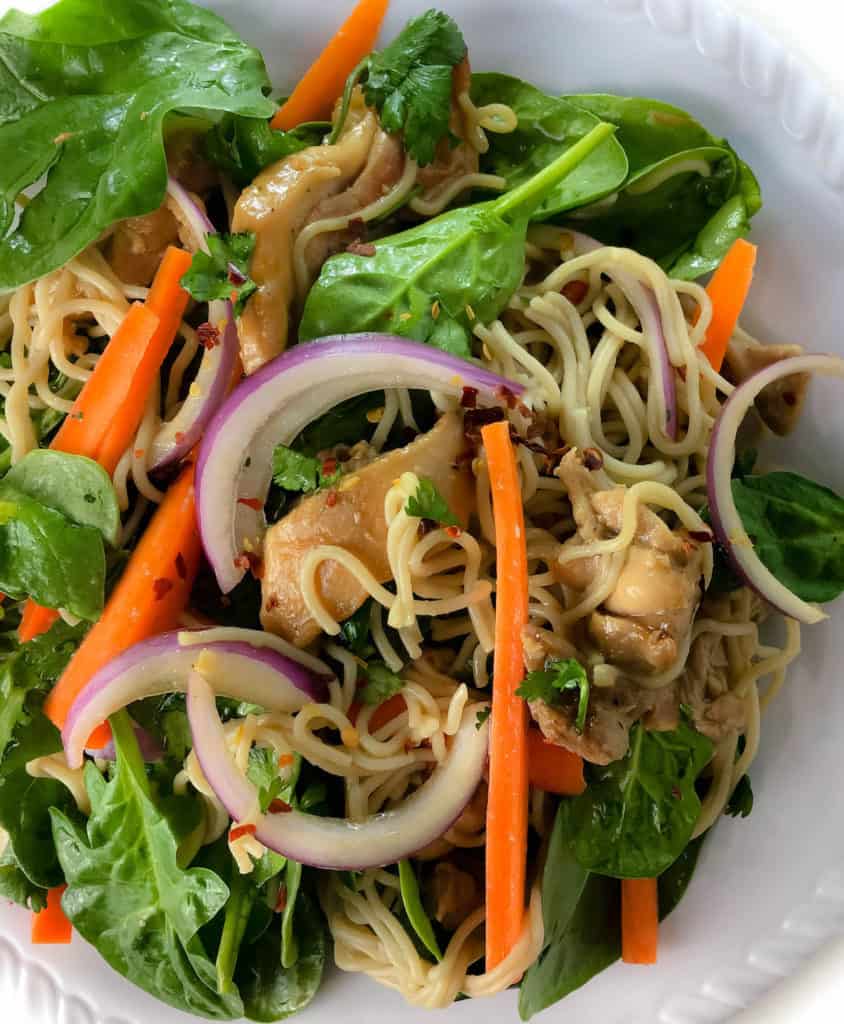 It is also very versatile. You can add or substitute other vegetables based on your preference and what you have on hand. Some ideas are sugar snap peas, red and yellow bell peppers, cabbage, cucumbers, and avocado. You can even throw in some chili peppers if you're feeling a little adventurous. Let your imagination run wild!
It is so fresh and vibrant and healthy and just happens to be gluten free. It truly is a crowd pleaser! It can be eaten warm or cold and can be prepared ahead of time too. Just keep it covered in the refrigerator until you are ready to serve.
This noodle salad is a great food to make for a crowd. Not only is it so delicious, but it is practical, comes together in 15 minutes, and cost efficient as well. You can find lots of fresh seasonal veggies at your local farmer's market or supermarket. Buying what's in season is an easy way to save money on produce. This is when they are most abundant, which makes their price go down. PLUS, fruit and vegetable always taste better when they are in season and local rather than those that spend days in shipping containers coming from thousands of miles away. Here is a great month-by-month look at the best deals on fruits and vegetables.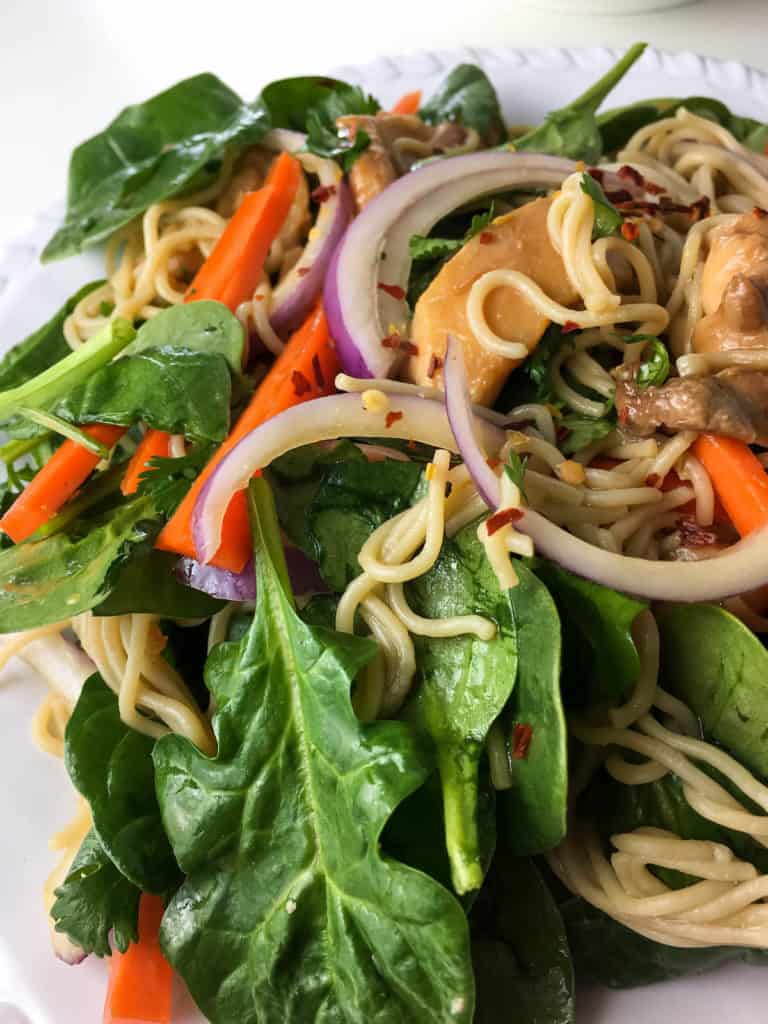 In a world where $1 pizza slices exist, I can see why people get discouraged when they stop by the grocery store to pick up a few staples and end up paying almost $100. My favorite tip on saving money is to purchase groceries at a wholesale price. Thrive Market is an online marketplace that sells wholesome, healthy foods at wholesale prices everyone can afford. They have a HUGE selection of products to choose from – organic, non-GMO, vegan, raw, paleo, gluten free. Whatever your specific needs are, you can find exactly what you are looking for. And, Thrive Market isn't limited to food. You can shop Beauty, Bath, & Body products, Health/Nutrition, Babies/Kids, Home, and even products for your Pets.
Like Costco or Sam's Club, Thrive Market is membership based. Thrive members purchase a membership for $59.95 per year ($5/month) and have access more than 3,000 of the top and new organic, non-GMO, healthy products. You simply browse the website, fill your cart with whatever products you like, and have your order shipped directly to your home.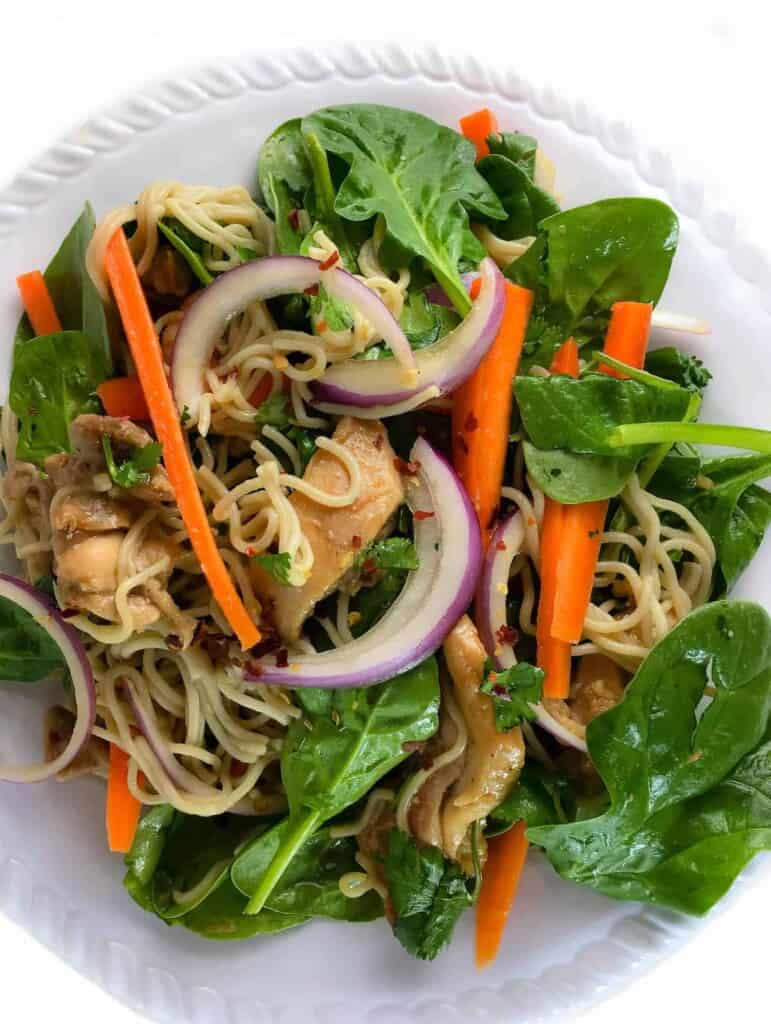 Here is what I purchased from Thrive Market and used in this recipe:
Organic Millet and Brown Rice Ramen Noodles
Organic Tamari Gluten-Free Soy Sauce
Wholesome Organic Cane Sugar
If the membership fee seems like a big commitment, don't worry! You can try out Thrive Market with a free one-month trial before you start paying the annual fee. Start your trial and receive an extra 25% off your first purchase. With your first purchase on Thrive, you'll begin your free 30-day membership trial which you can cancel any time.
Ok, that's it for today. I hope you enjoy this recipe & my money saving tips. Have a great week!
More Salad Recipes You'll Love
Thai Beef Salad– make it a meal or use it in wraps.
Avocado Steak Salad with Poppy Seed Dressing – meet your new favorite salad!
Golden Beet Salad – so easy and fresh.
Roasted Corn and Potato Salad – with a healthy and light olive oil lemon dressing.
If you make this recipe, take a photo and tag #bakedambrosia on Instagram and Facebook so that I can see your creations and feature them on Instagram! To stay up to date with the latest recipes, follow Baked Ambrosia on Pinterest, Facebook, Instagram, and Youtube. ♡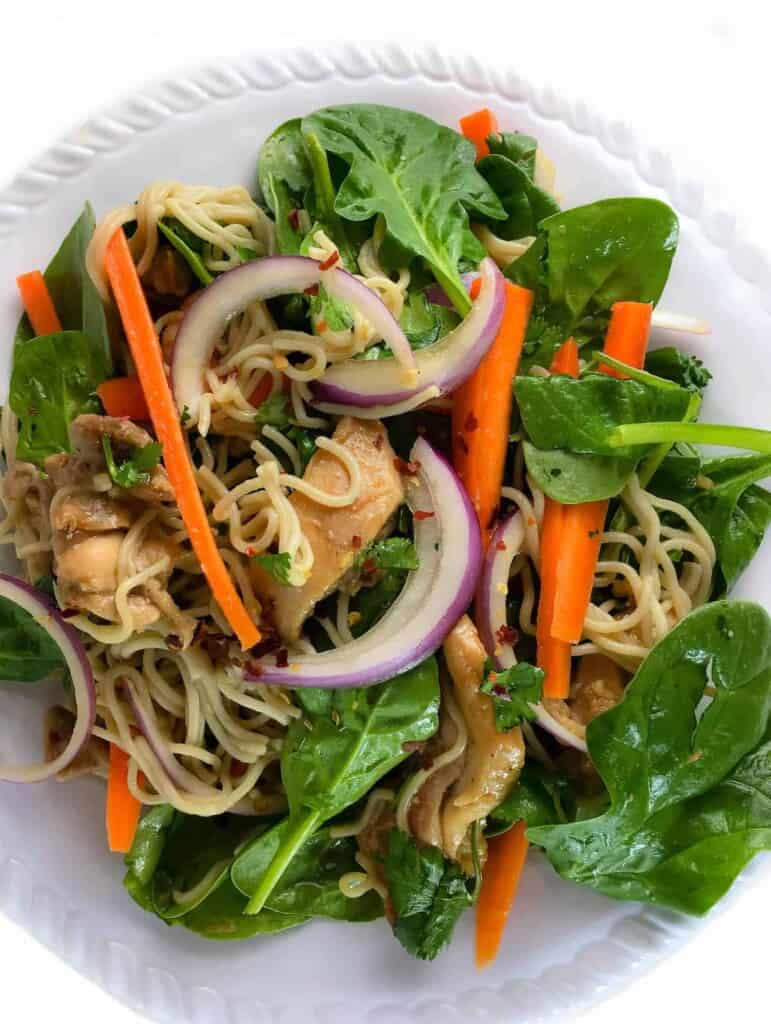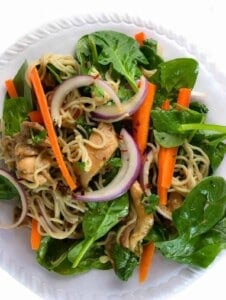 15-minute Vietnamese Noodle Salad
An easy to make Vietnamese Noodle Salad with a 5-ingredient dressing and lots of fresh veggies. So flavorful and ready is 15 minutes – it's a total crowd pleaser!
Ingredients
5

oz

ramen noodles

1/2

thinly sliced red onion

2

limes

divided (3 limes if they don't have a lot of juice)

2

tbsp

soy sauce

divided

2

cloves

garlic

minced

3

tbsp

sugar

divided

1/2

tsp

black pepper

1

lb

chicken thighs

cut into strips

1/4

cup

hot water

1/4

tsp

red pepper flakes

salt to taste

5

oz

baby spinach

2

medium carrots

cut into thin strips

1/2

cup

chopped cilantro

1

tbsp

olive oil
Instructions
Cook noodles according to package. Drain and rinse under cold water. Place in a large bowl and set aside.

Combine the juice of 1 lime, 1 tbsp soy sauce, garlic, 1 1/2 tbsp sugar, and black pepper in a medium bowl. Add chicken thighs and toss to coat with sauce.

Heat 1 tbsp oil in a wok or a skillet over medium/high heat. Add chicken and cook until chicken is done (about 4-5 minutes). Remove chicken from skillet and set aside.

To make the dressing, combine remaining 1 1/2 tbsp sugar with 1/4 hot water in a small bowl. Stir to dissolve sugar. Stir in juice from remaining lime, 1 tbsp soy sauce, and red pepper flakes.

In the large bowl with the noodles, add onion slices, baby spinach, chopped cilantro, carrots, and cooked chicken. Drizzle in dressing and gently toss to combine.

Serve right away or cover and place in refrigerator to serve as a cold salad.
Notes
*TIP: To make onions less mild, placed sliced onion in a bowl with ice water for 10 minutes. Drain and use.
Tried this recipe?
Let us know how it was and tag @bakedambrosia on Instagram
Some of the links above are affiliate links which means if you were to purchase through that link I would receive a small commission at no extra cost to you! Thank you for supporting Baked Ambrosia ♥