Beets are very healthy, naturally sweet, and a colorful addition to any table. Enjoy them in this easy and fresh Golden Beet Salad with white balsamic vinaigrette.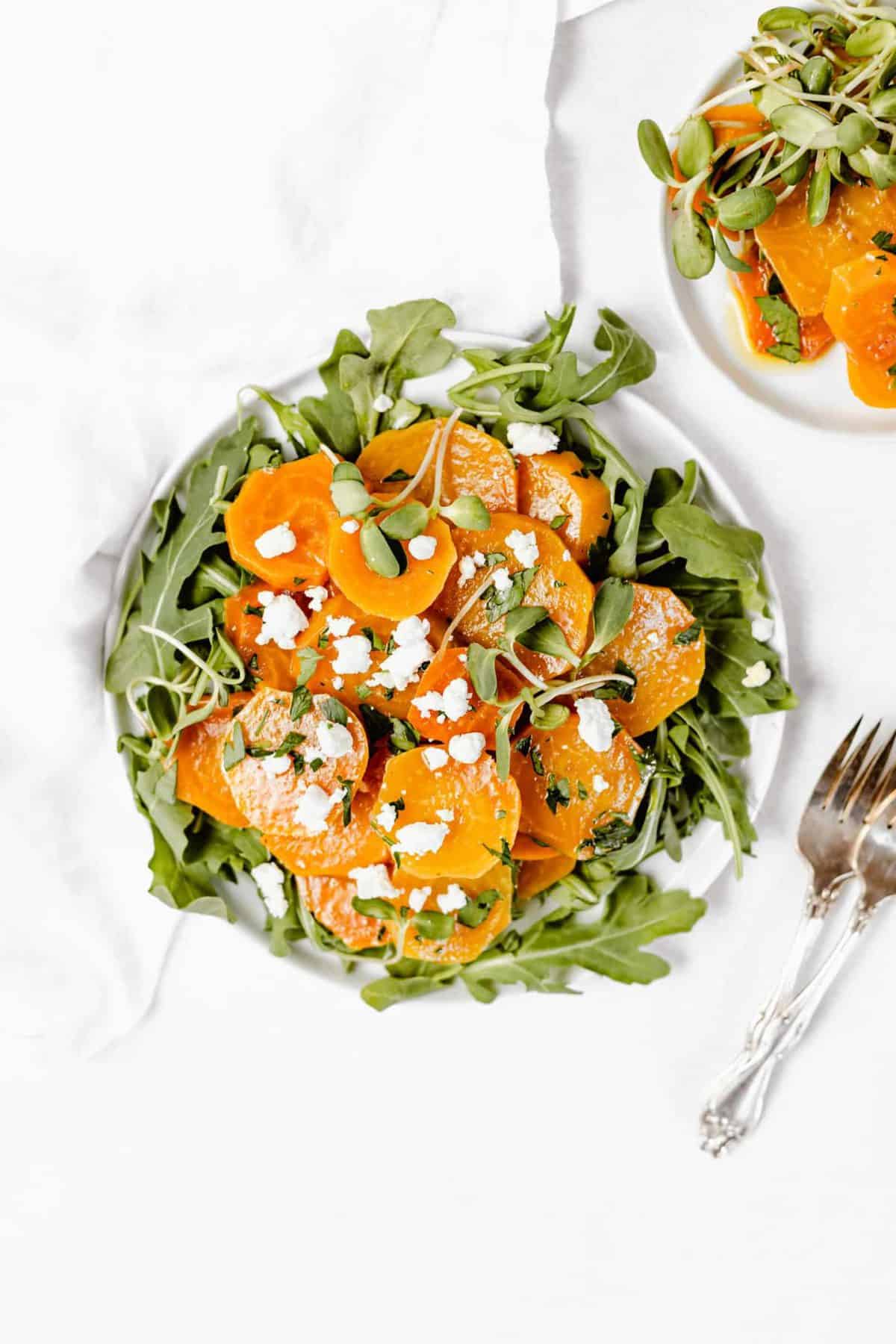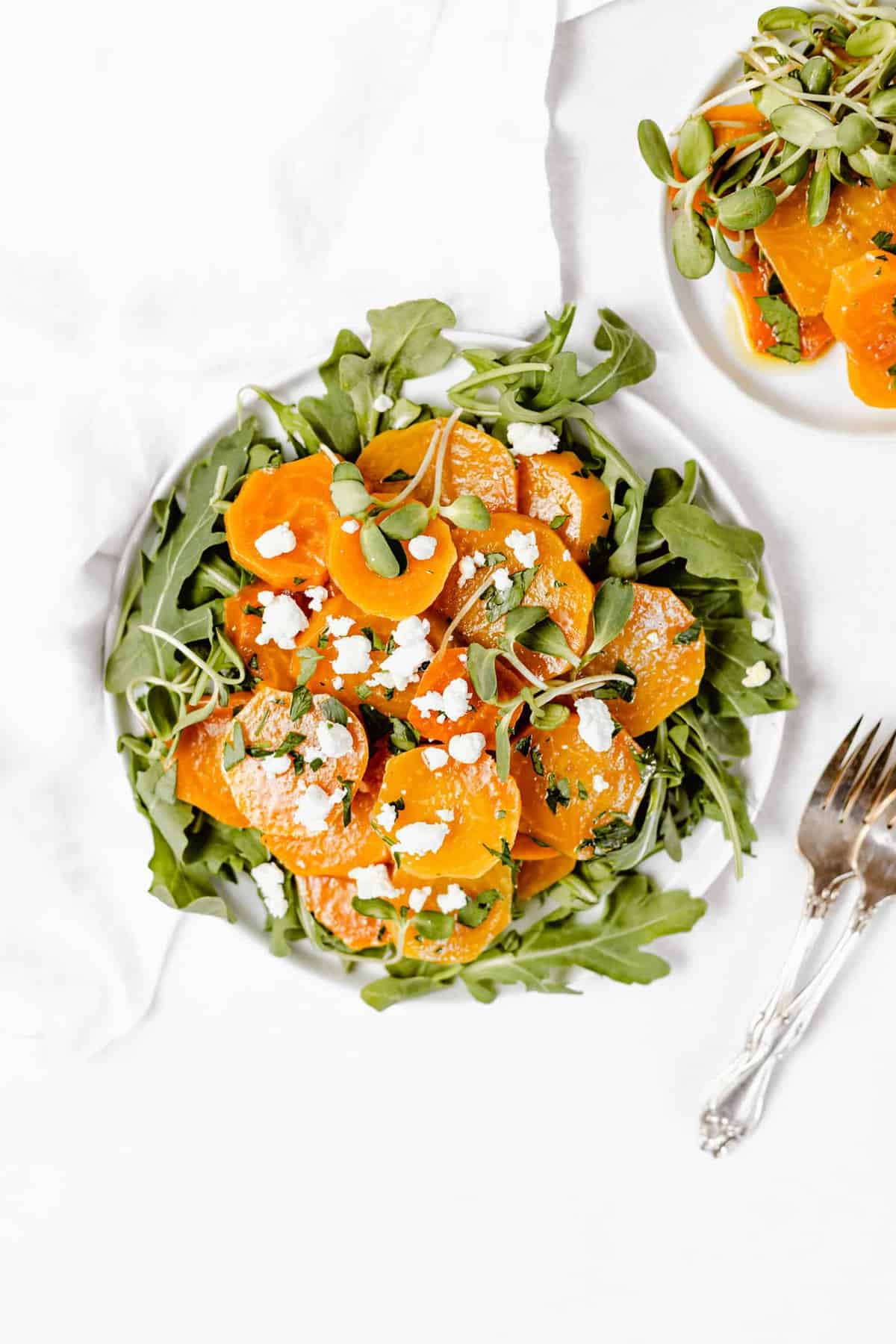 Beets are one of my favorite vegetables at the moment. They come in a wide range of colors and each of these types of beets have a unique taste and sweetness to them. Golden beets are slightly sweeter and a little less "earthy" than traditional red beets. They are also slightly softer and won't stain your whole kitchen. This golden beet salad is so simple to make. It can be served warm or cold. If you prefer a cold salad, it can be prepared a day in advance.
Health Benefits of Golden Beets
Although beets are high in sugar, they are packed with vitamins, minerals, and powerful antioxidants. All beets are great sources of fiber, potassium, iron, and folic acid.
Since Golden beets are orange-yellowish in color, their health benefits are slightly different from red beets. Orange and yellow vegetables contain high levels of vitamin C, vitamin A, beta-carotene, lycopene, flavonoids, and zeaxanthin. They are also packed with antioxidants, so eat up your bright orange and yellow fruits and vegetables!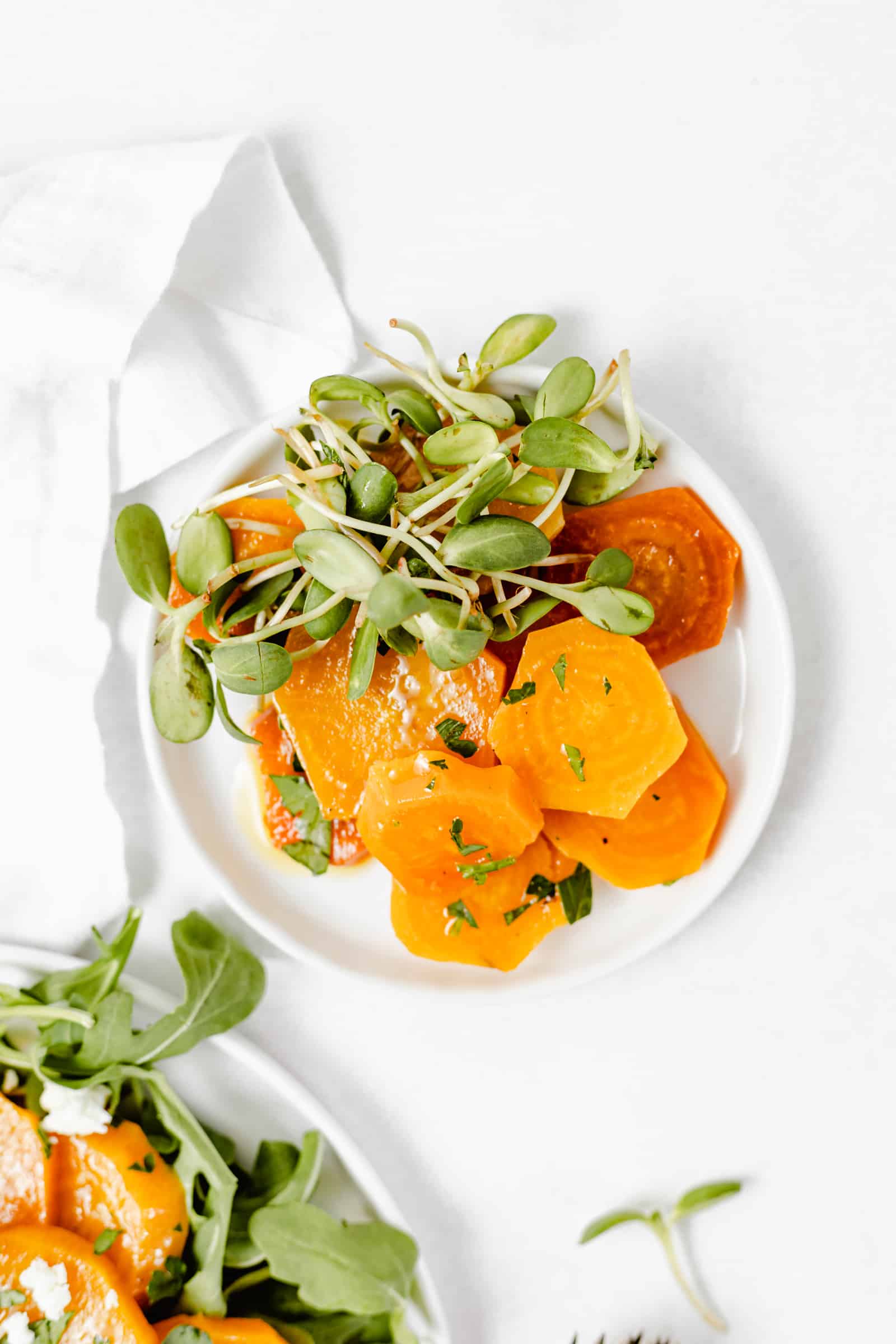 How to Cook Golden Beets
Roasted golden beets are my absolute favorite! I prefer roasting over boiling or steaming because roasting deepens the beets' sweet taste. Here's how its done:
Preheat oven to 400°F.
Cut the leafy tops off and scrub the beets to remove any dirt. Wrap each beat in aluminum foil (small beets can be wrapped together).
Place the wrapped beets on a baking sheet and roast for 50-60 minutes.
Remove the beets from the oven and allow them to cool enough to handle. Gently rub the skin away.
Now the beets are ready to be eaten!
Roasted beets can be refrigerated for up to a week.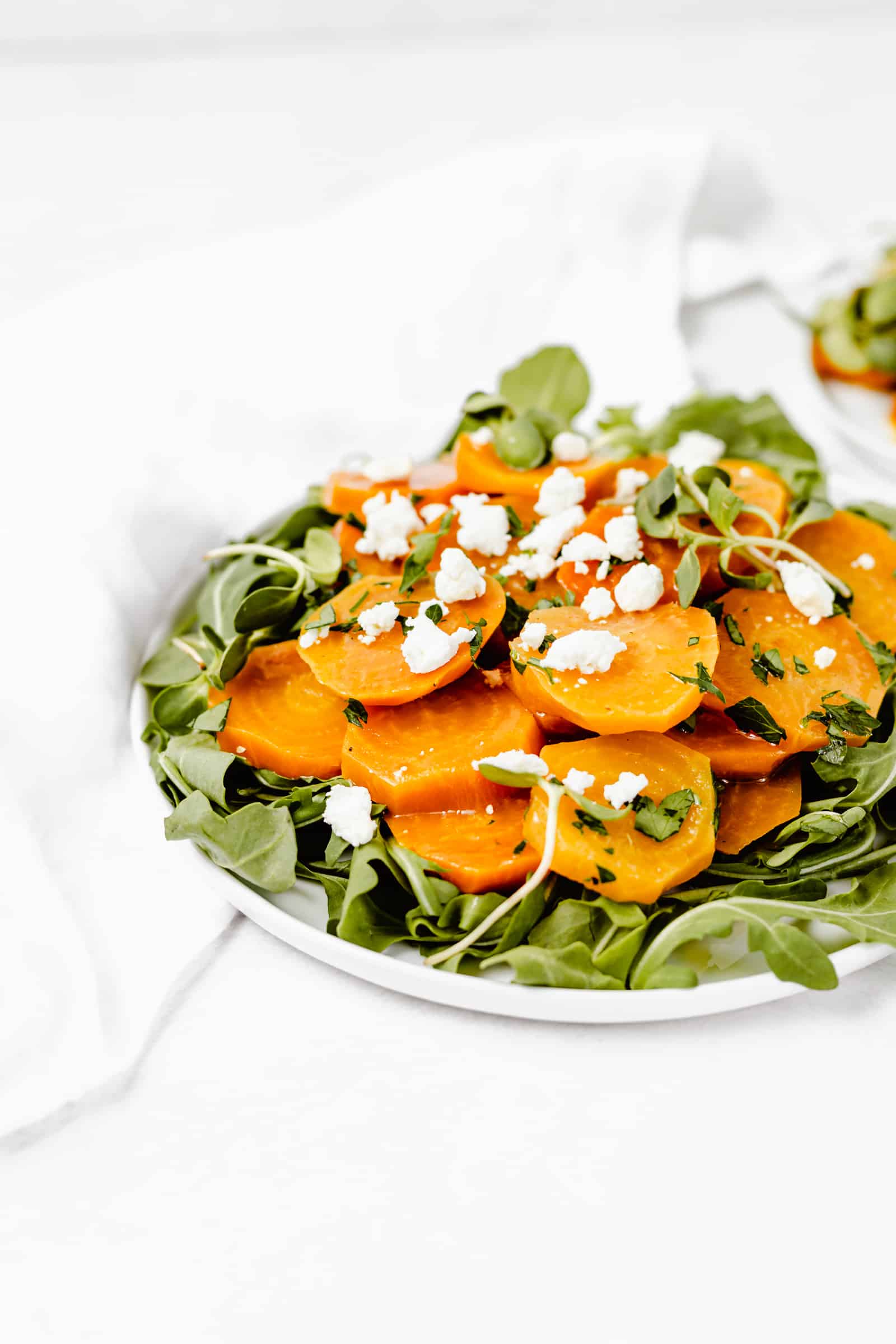 What is White Balsamic Vinegar?
White balsamic vinegar? The process to make both balsamic vinegar and white balsamic vinegar is the same. White grape must is cooked down and then placed in barrels for a few years to develop flavor and color. The only difference is that the must for white balsamic vinegar is pressure cooked which prevents it from browning before it's placed in barrels to age. The taste is slightly milder than the classic balsamic vinegar. I like to use it with lighter color foods to prevent any discoloring.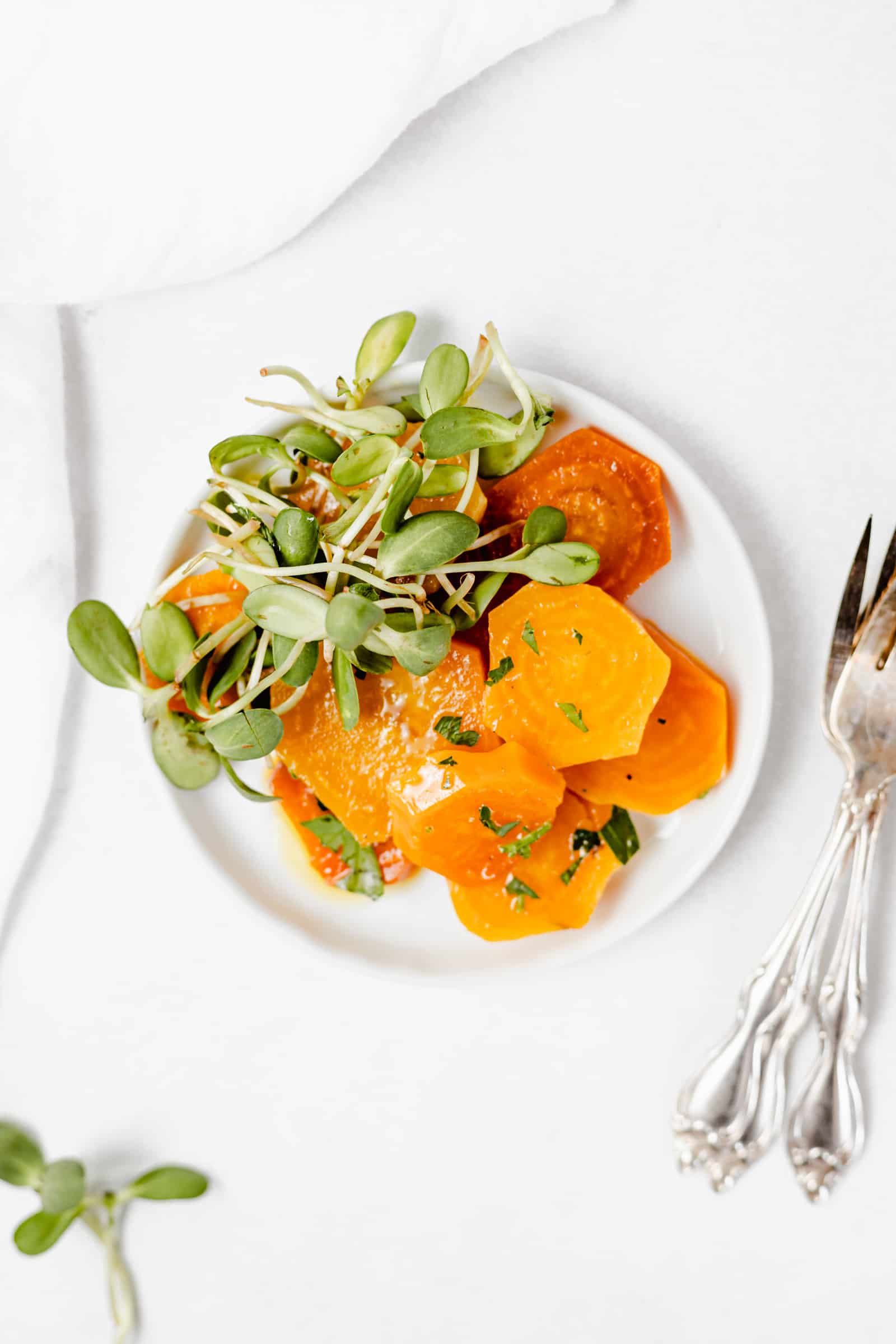 More Recipes You'll Love!
Farro Salad with Blue Cheese Stuffed Olives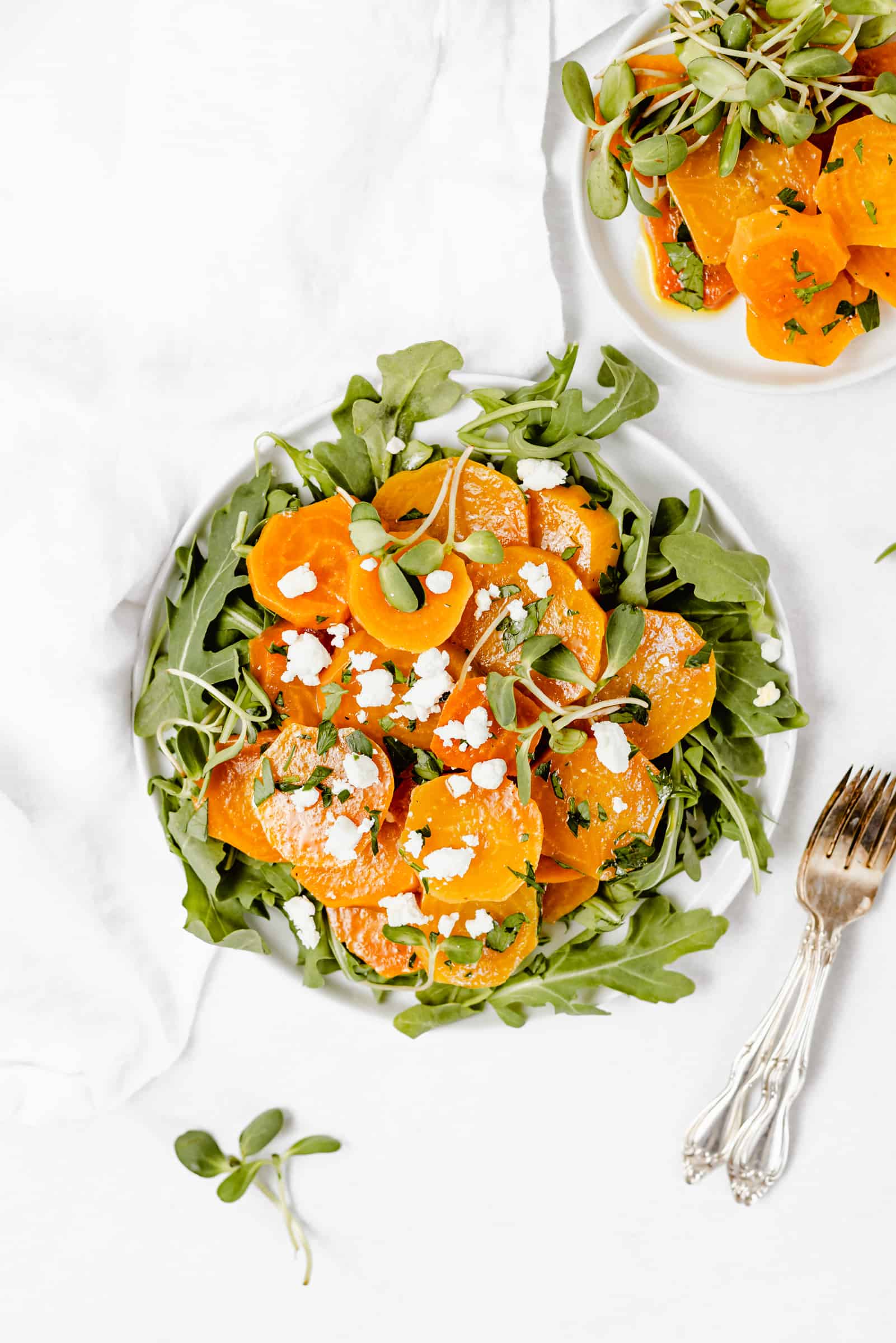 If you make this recipe, take a photo and tag #bakedambrosia on Instagram and Facebook so that I can see your creations and feature them on Instagram! To stay up to date with the latest recipes, follow Baked Ambrosia on Pinterest, Facebook, Instagram, and Youtube. ♡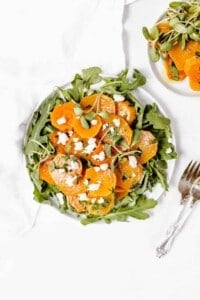 Golden Beet Salad
Beets are very healthy, naturally sweet, and a colorful addition to any table. Enjoy them in this easy and fresh Golden Beet Salad with white balsamic vinaigrette.
Ingredients
4-5

medium size golden beets

1/4

cup

olive oil

2

tbsp

white balsamic vinegar

1/2

tsp

Dijon mustard

1/2

tsp

honey

1/2

tsp

salt

black pepper

to taste

1

tbsp

chopped parsley

arugula

microgreens, goat cheese, optional
Instructions
Preheat oven to 400°F.

Scrub beets to remove all dirt. Pat dry with paper towel. Wrap in aluminum foil and roast in preheated oven for 50 minutes - 1 hour.

Remove beets from oven and let cool enough to handle. Remove skin and slices beets.

In a small mixing bowl, whisk together olive oil, vinegar, Dijon mustard, honey, salt, and pepper.

Pour over slices beets. Toss to combine.

Sprinkle parsley over beets and mix to combine.

Serve warm or cold.

Optional: arrange sliced beets over a bed of arugula. Top with microgreens, crumbled goat cheese, and parsley. Pour vinaigrette over salad and toss to combine.
Notes
*Salad can be prepared a day in advance. Store in refrigerator until ready to eat.
Nutrition
Serving:
1
/4 salad
Calories:
180
kcal
Carbohydrates:
13
g
Protein:
2
g
Fat:
14
g
Saturated Fat:
2
g
Polyunsaturated Fat:
12
g
Sodium:
380
mg
Fiber:
3
g
Sugar:
10
g
Tried this recipe?
Let us know how it was and tag @bakedambrosia on Instagram