Peanut Butter Caramel Millionaire Bars - roasted peanut shortbread topped with 3 layers: peanut butter, salted caramel, & dark chocolate.
This post is sponsored by the National Peanut Board. I received compensation, but all opinions and content are my own.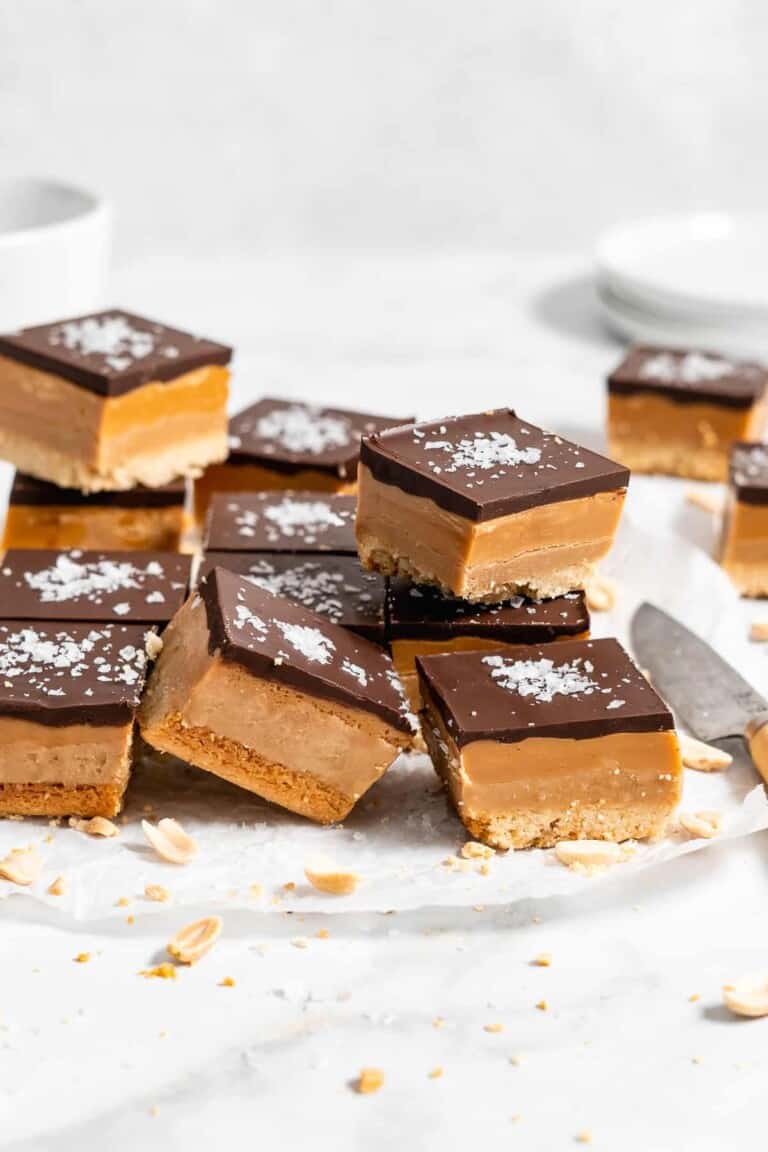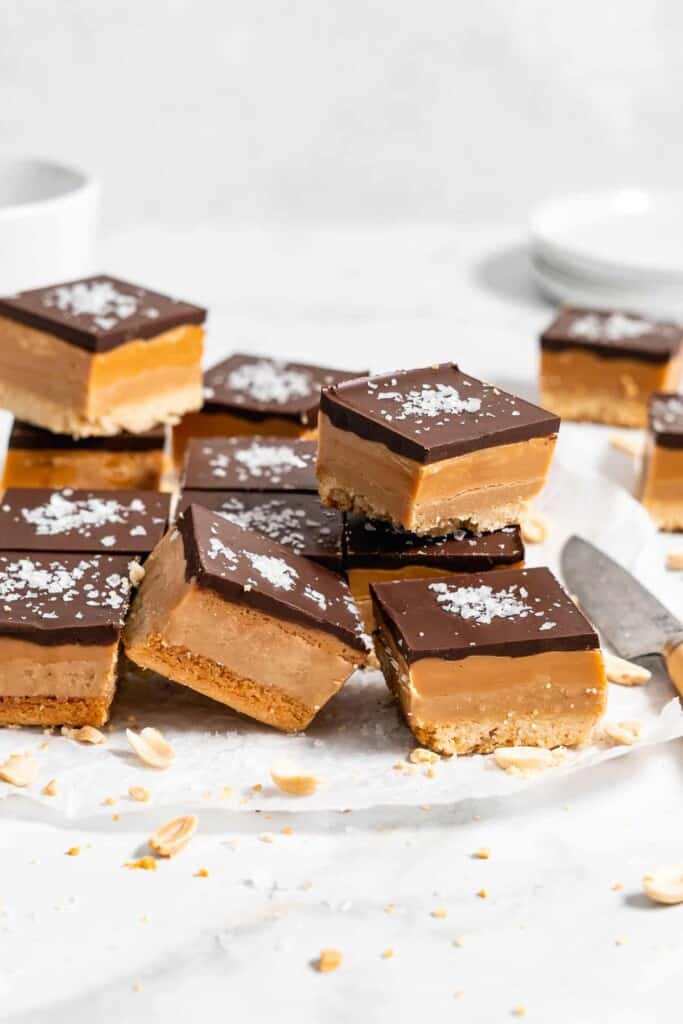 If you ever had a Millionaire Bar, you know how delicious and sinfully addicting they are. Buttery shortbread topped with caramel and chocolate - what's not to love? The only thing that could possibly make them better is adding an extra layer of peanut butter. Surprise!
Peanut butter is one of my all time favorite foods. I eat it practically every day whether it is in my morning oatmeal, in my post-workout smoothie, in a classic PB&J for lunch, or even a spoonful for a quick snack. Not only is peanut butter delicious, but it is also so versatile and affordable! It can be added to meals (hello Thai peanut sauce!) and snacks for a tasty, filling, and nutritious boost. After all, 2 tablespoons of peanut butter provide you with 8 grams of protein!
Adding a peanut butter layer to the classic Millionaire Bar seemed like a no-brainer. There are so many words I could use to describe these Peanut Butter Caramel Millionaire Bars, but if I had to choose one, it would be rich (just as their name suggests!). They are indulgent, but in the best way possible. They are sweet and salty and chewy and crumbly. Plus, these bars are the key to any peanut butter lover's heart!
Here is how these bars break down layer by layer: roasted peanut shortbread base, a peanut butter layer, chewy salted caramel, and dark chocolate.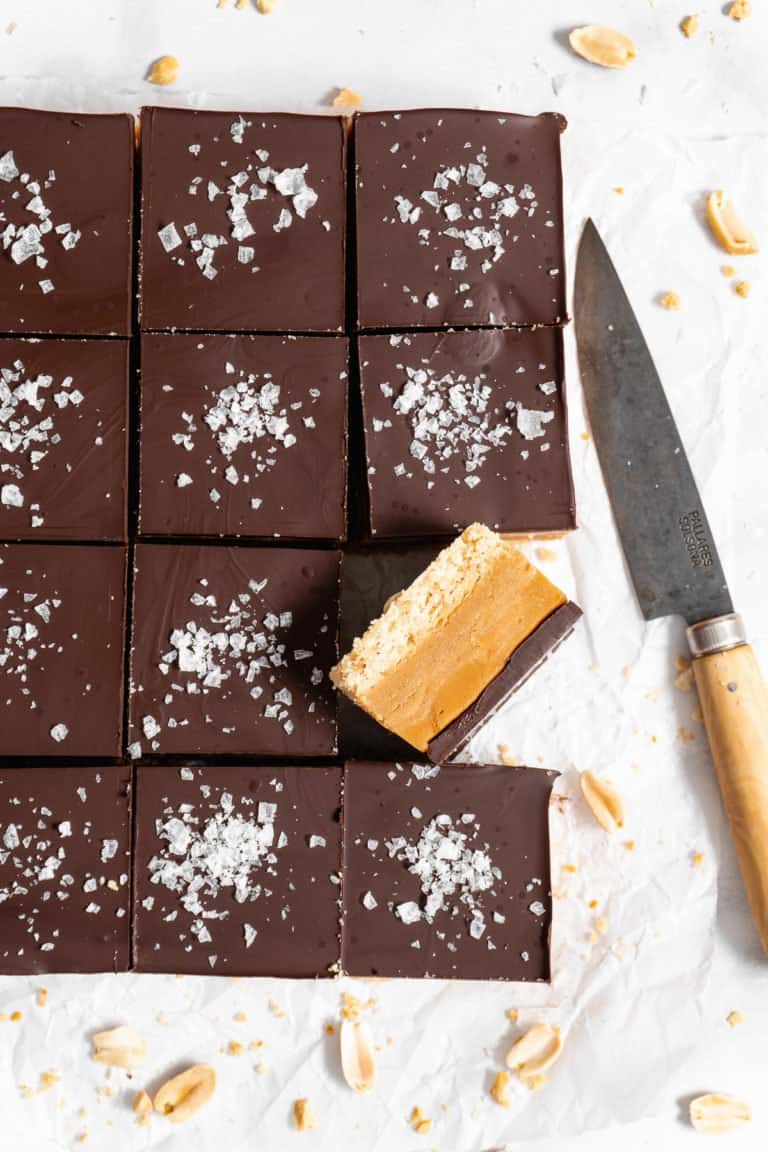 Why you'll love this recipe:
buttery shortbread peanut crust

chewy salted caramel middle

nutty peanut butter

chocolate ganache on top with a sprinkling of coarse salt

perfect for a make ahead dessert and sharing with friends and family
What Will I Need to Make Peanut Butter Millionaire Bars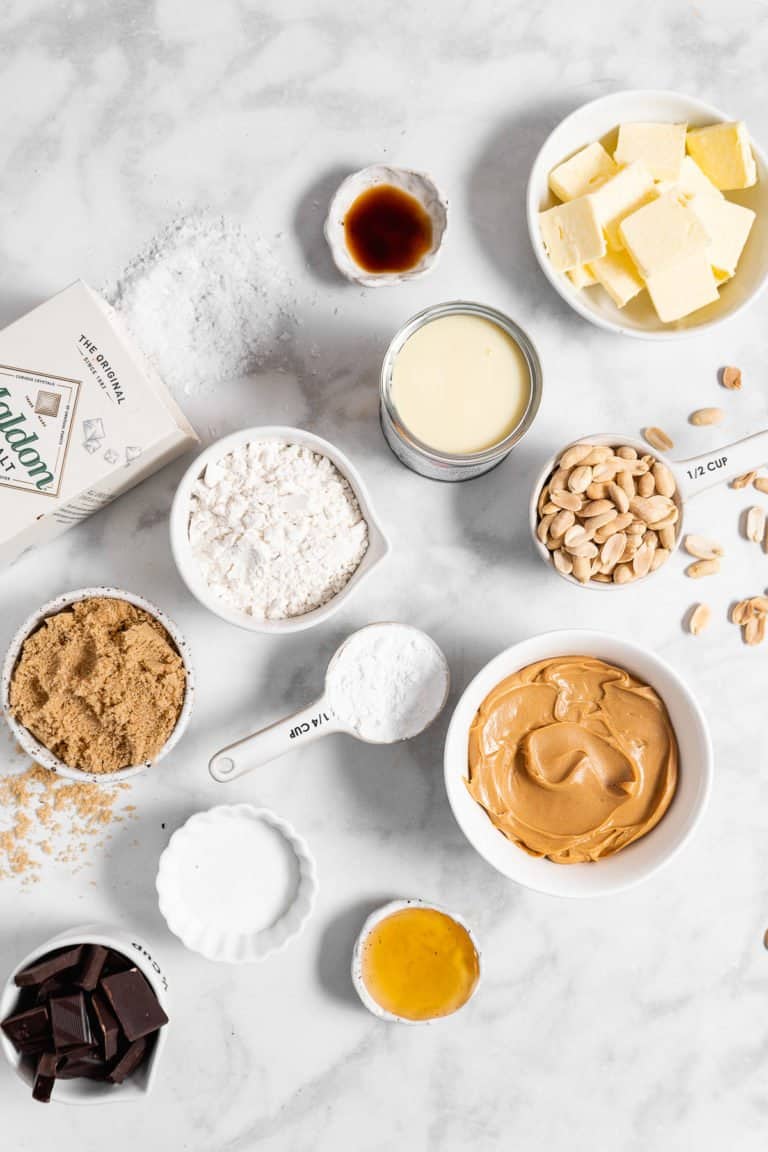 Butter

Confectioner's sugar

Granulated sugar

Vanilla extract

Flour

Roasted unsalted peanuts

Creamy peanut butter

Sweetened condensed milk

Honey

Brown sugar

Dark chocolate

Sea salt
How To Make Peanut Butter Caramel Millionaire Bars
These chewy caramel and peanut butter bars are very easy to make. All you need is a food processor, a saucepan, and a lot of patience while you wait for each layer to cool.
Prepare your baking pan and preheat your oven.

Begin by making the shortbread - simply place all of the ingredients in a food processor and pulse until a sand-like consistency. Press into your prepared pan and bake.
While you wait for the crust to cool, make the peanut butter layer by melting butter and peanut butter in a saucepan. Stir in confectioner's sugar and pour over crust.

Once the peanut butter layer is set, prepare the salted caramel by heating all of the ingredients in a saucepan. Spread over peanut butter and refrigerate.

Finally, melt dark chocolate and spread over salted caramel.

Once the chocolate is set, cut into bars and sprinkle with flaked sea salt!
Tips for Making Millionaire Bars
Plan ahead. This millionaire bar recipe doesn't take a lot of hands on time, but there are several cooling and setting intervals that you will need to prepare for.

Line your pan with parchment paper overhanging the sides and use small clips to hold the parchment in place. This will allow you to easily remove the bars from the pan before cutting.

The shortbread mixture may seem crumbly, but it will come together once it is packed tightly into the bottom of the pan. Don't forget to prick the top of the shortbread with a fork to allow the steam to escape. This will prevent it from puffing up during baking.

Allow the bars to set completely before slicing. Plan at least 5 hours for the bars to set, or preferably overnight.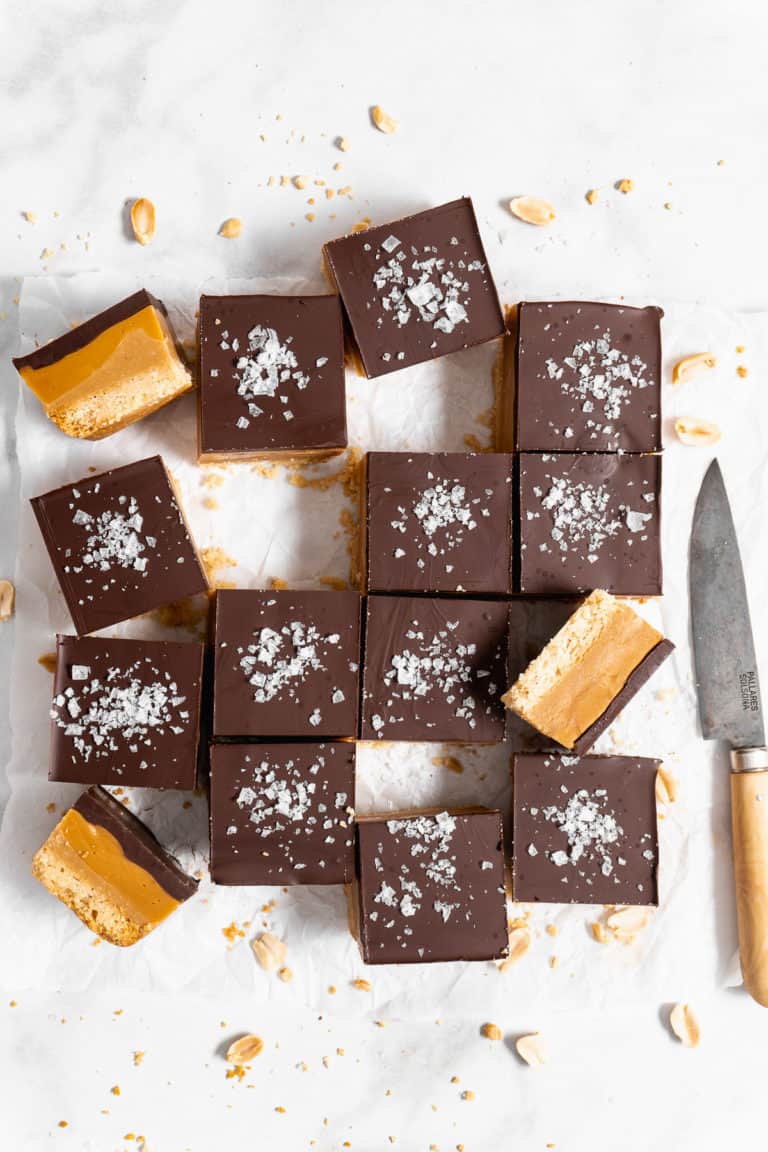 Can you freeze Peanut Butter Millionaire Bars?
These peanut butter millionaire bars freeze really well! Wrap each bar individually tightly with plastic wrap. Store the wrapped pieces in an airtight container in the freezer for up to 3 months.
When you would like to enjoy a millionaire bar, remove it from the freezer, unwrap in and let it thaw at room temperature for 30 minutes-1 hour.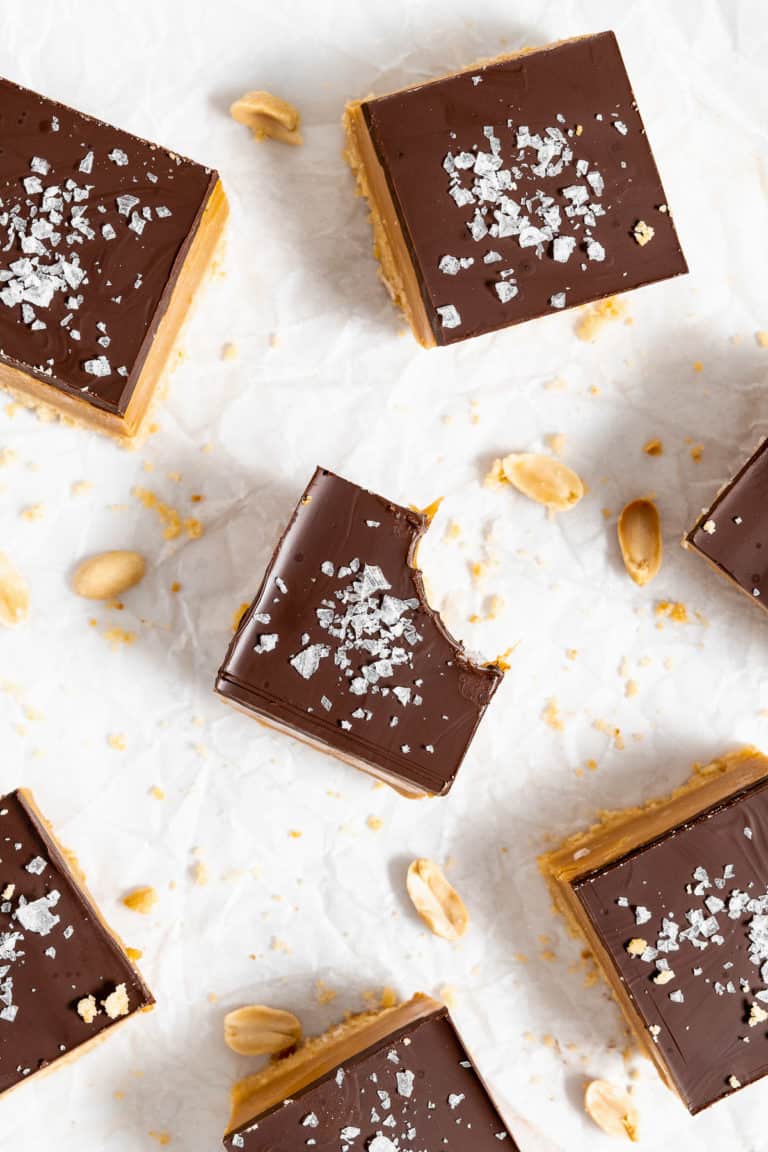 More bar recipes you'll love!
Click here for more delicious peanut butter recipes for every occasion!
If you make this recipe, take a photo and tag #bakedambrosia on Instagram and Facebook so that I can see your creations and feature them on Instagram! To stay up to date with the latest recipes, follow Baked Ambrosia on Pinterest, Facebook, Instagram, and Youtube. ♡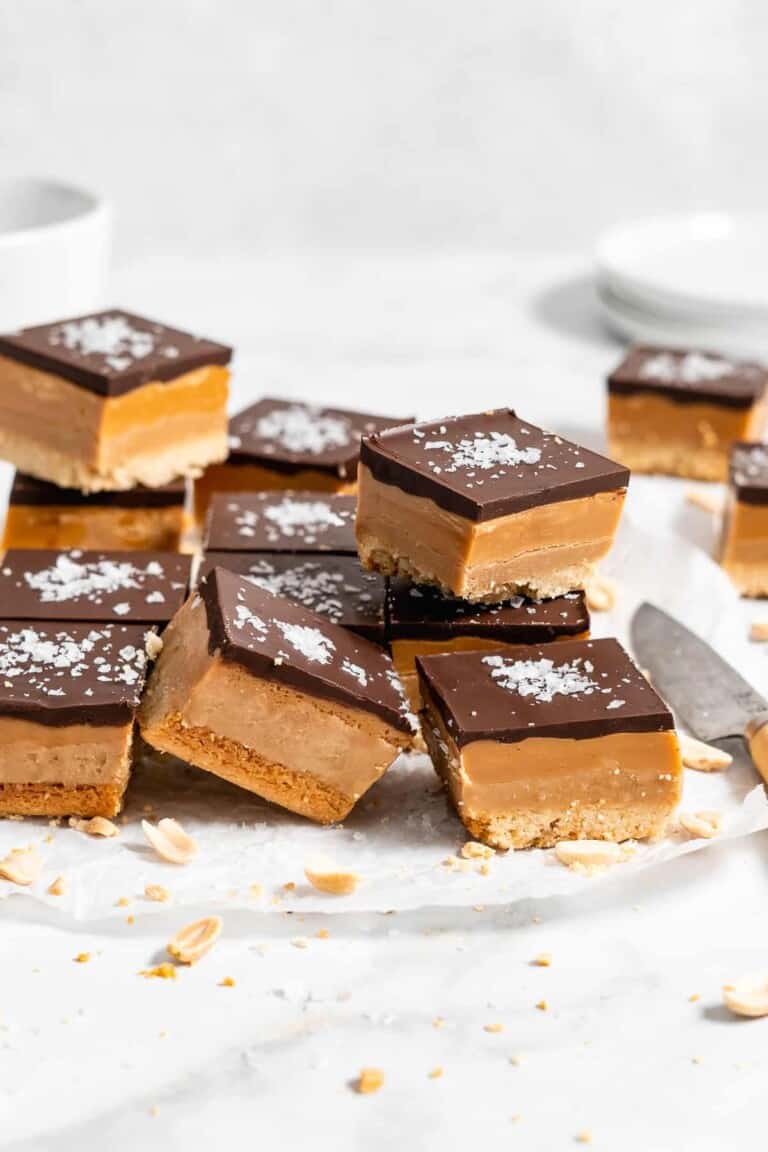 Peanut Butter Caramel Millionaire Bars
Peanut Butter Caramel Millionaire Bars - roasted peanut shortbread topped with 3 layers: peanut butter, salted caramel, & dark chocolate.
Ingredients
Shortbread Layer1 stick

113 g butter, melted½ cup (70 g) roasted unsalted peanuts2 tbsp (25 g) sugar¼ cup (30 g) confectioner's sugar1 cup (120 g) flour¼ tsp saltPeanut Butter Layer½ cup (113 g) butter½ cup (168 g) creamy peanut butter½ cup (120 g) confectioner's sugar1 tsp vanillaSalted Caramel1-14 oz (396 g) can sweetened condensed milk1 stick (113 g) butter½ cup (110 g) light brown sugar2 tbsp (42 g) honey1 tsp sea saltChocolate Topping8 oz (226 g) dark chocolate, chopped1 tbsp oilFlaked sea salt, for topping
Instructions
1. Preheat oven to 350 degrees F. Line an 8 x 8-inch pan with parchment paper. Add peanuts and sugar to the bowl of a food processor. Blitz until peanuts are ground. Add confectioner's sugar, flour, salt, and melted butter. Pulse until a sand-like consistency. 2. Press dough in an even layer into your prepared baking pan. Bake for 20 minutes. Remove from oven and transfer pan to a wire rack to cool completely. 3. While the crust is cooling, make the peanut butter layer by melting butter and peanut butter in a saucepan over medium-low heat. When completely melted and smooth, sift in confectioner's sugar into saucepan. Whisk until smooth. Mix in vanilla. Pour mixture in an even layer over cooled shortbread crust. Refrigerate until set, about 2 hours.4. Once peanut butter is set, prepare the salted caramel. Add sweetened condensed milk, butter, honey, and brown sugar to a saucepan and bring to a boil over low heat. Once boiling, reduce heat to a simmer and continue cooking for 10 minutes, stirring frequently. The mixture will slowly turn into a caramel color and begin to pull away for the sides of the saucepan. After 10 minutes, the mixture will become a golden color. Remove from heat and stir in salt. Pour caramel over set peanut butter layer. Use an offset spatula to smooth into an even layer. Chill until caramel sets, about 2 hours.5. To make the chocolate topping, melt chopped chocolate and oil in a double boiler until smooth. Remove from heat and spread over cooled caramel. Place back in the fridge for the chocolate to harden. 6. Cut into 30 bars, sprinkle with flaked sea salt, and serve!
Notes
Bars will last up to 1 week in an
airtight
container in the fridge or up to 3 months in the freezer.
Nutrition
Serving:
1
bar
Calories:
373
kcal
Carbohydrates:
36
g
Protein:
5
g
Fat:
24
g
Saturated Fat:
12
g
Polyunsaturated Fat:
10
g
Cholesterol:
41
mg
Sodium:
262
mg
Fiber:
1
g
Sugar:
29
g
Tried this recipe?
Let us know how it was and tag @bakedambrosia on Instagram