Passionfruit Mousse Cake – Delicious sponge cake soaked with passion fruit juice, and filled with a light and tangy passion fruit mousse.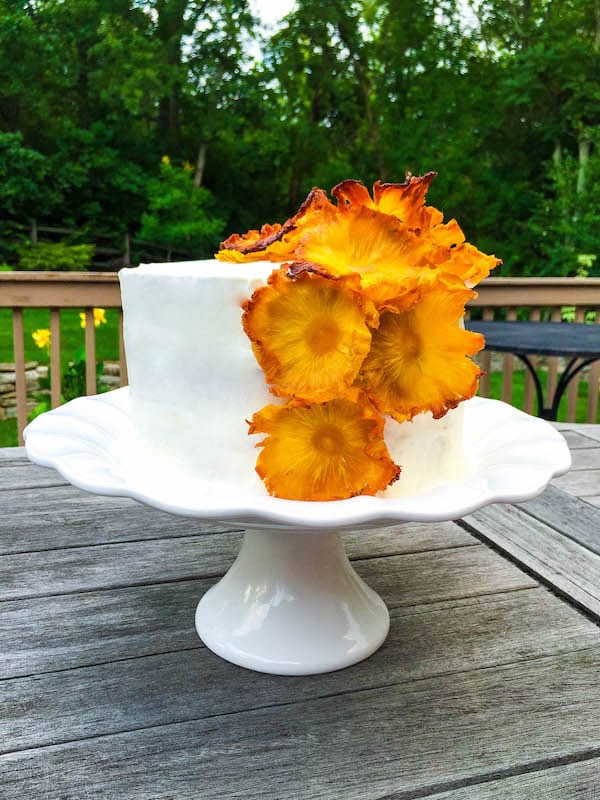 This cake was a special request by my boyfriend. He was coming to visit me in Cincinnati last year and asked for a Passionfruit Cake "just like the one at the Brazilian restaurants".
Challenge accepted.
I had never made Passionfruit Cake, or even tasted one before so I knew this was going to require some research.
After looking through tons of recipes in Portuguese (thank you Google Translator!), I sort of knew what I needed to make.
A traditional Brazilian Passionfruit Cake or "Bolo de Maracujá" consists of a sponge cake that is moistened with passion fruit juice and then topped with a mousse. The cake is frosted with whipped cream and served chilled.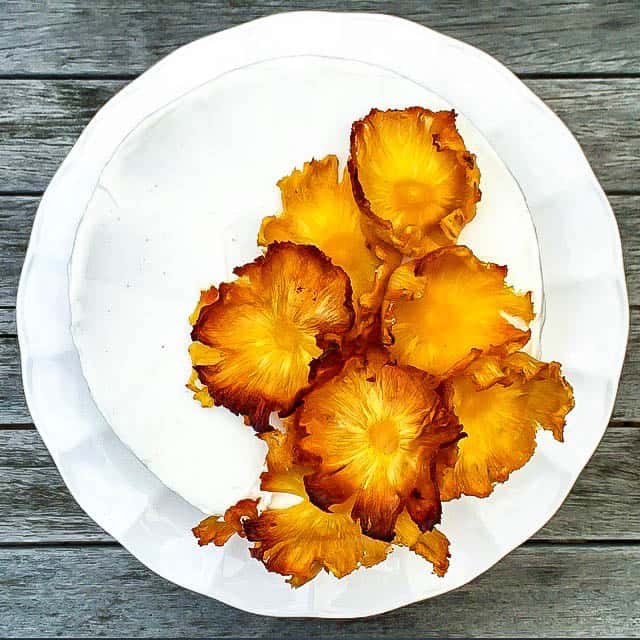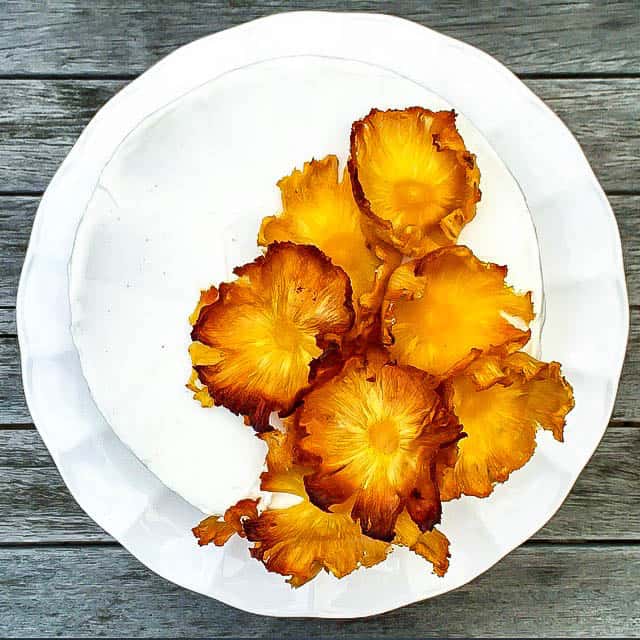 It makes a very delicious dessert that will make you feel as if you are lounging on the sand of Ipanema Beach.
So, I made up a recipe and took a shot at it. My next challenge was find passionfruit in Ohio. I got lucky because I was close to a huge international supermarket called Jungle Jim's. I bought some fresh passion fruits and frozen passion fruit pulp (from the Spanish frozen foods section).
I began making the cake a day before my boyfriend was scheduled to arrive. Even though it has many different components to it, it is actually very simple to make. Before I knew it, the cake was assembled and was chilling in the fridge overnight.
The next morning, I frosted the cake and topped it with pineapple flowers. Instead of whipped cream, I made a meringue frosting because I wanted it to hold onto the cake better.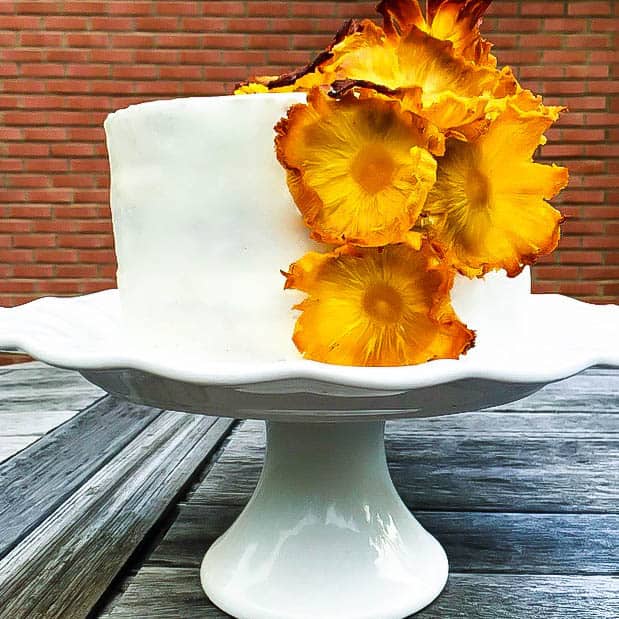 A few hours later, my boyfriend arrived and it was the moment of truth! I cut him a generous slice and waited impatiently as he took his first bite. He devoured the whole slice in 30 seconds, then looked up at me, "Can I have another slice?". After his second slice, he told me that it was just like the Brazilian restaurant's but even better!
Mission accomplished.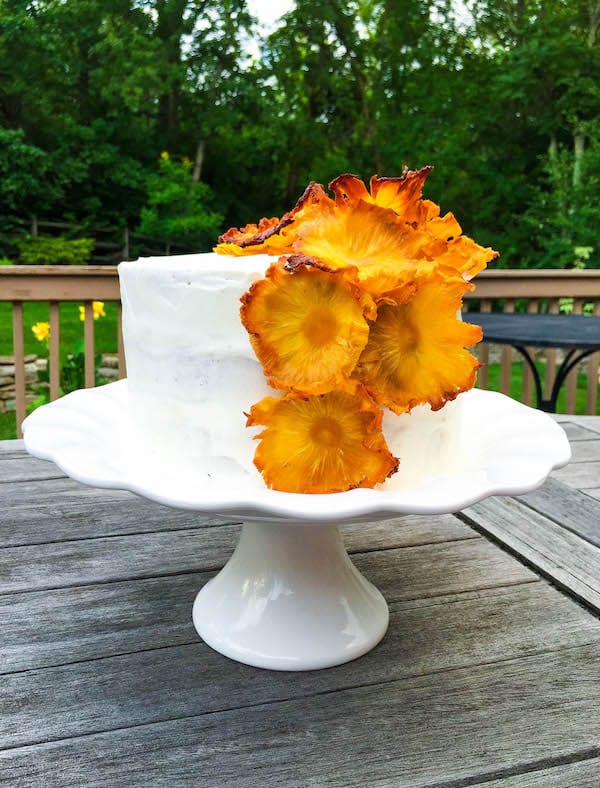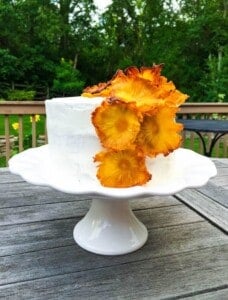 Passion Fruit Mousse Cake
Ingredients
Cake
2

cups

sugar

1

cup

butter

room temperature

4

eggs

3

cups

flour

1

tbsp

baking powder

1/2

tsp

salt

2/3

cup

passion fruit juice

pour fresh juice over sieve to remove seeds and pulp

1/2

cup

mineral water
Mousse
1

envelope gelatin

3

tbsp

water

3

egg whites

1

can sweetened condensed milk

1

cup

passion fruit concentrate

1

cup

heavy cream
Frosting
1

cup

sugar

1/2

cup

water

2

egg whites

2/3

cup

passion fruit juice
Instructions
Cake
Preheat oven to 350°F.

Prepare 3 8-in round cake pans by lightly greasing and flouring them. Set aside.

In the bowl of an electric mixer, beat sugar and butter until light and fluffy.

Add the eggs, one at a time. Continue beating on high speed for about 3 more minutes.

In a separate large bowl, sift together flour, baking powder, and salt.

Reduce speed. Add juice and mineral water.

Gently stir in dry ingredients.

Evenly distribute batter into prepared cake pans and bake 30-35 minutes, or until toothpick inserted into the center comes out clean.

Remove from oven and let cook in pans for 5 minutes. Remove cakes from pans and let cool completely on a cooling rack.
Mousse
In a small bowl, bloom gelatin by sprinkling it over 3 tbsp water. Set aside for 5-10 minutes.

In another bowl, beat egg whites until firm peaks.

In a blender, blend condensed milk and passion fruit concentrate.

Stir in cream and dissolved gelatin.

Transfer to large bowl and fold in egg whites.

Cover and chill in refrigerator until firm.
Frosting
Combine sugar and water in medium heavy-bottomed saucepan.

Simmer without stirring until syrup-like.

In the bowl of an electric mixer, beat egg whites until soft peaks form.

On medium speed, carefully add sugar syrup in a slow steady stream down the side of the bowl.

Beat on high speed until fluffy, light, and cool (about 7 minutes).
Assembly
Line an 8-inch springform pan with plastic wrap or aluminum foil.

Place on cake layer in pan, then brush layer with 3 tbsp of passion fruit juice. Add 1 cup of mousse to layer and spread evenly.

Gently place second layer and repeat process.

Add final layer and brush with remaining passion fruit juice.

Wrap tightly with plastic wrap and refrigerate until set (minimum 2 hours).

Remove from refrigerator, and gently remove from pan.

Cover cake with frosting and serve!

Optional

Add pineapple flowers as a decoration. Instruction can be found

here

.
Tried this recipe?
Let us know how it was and tag @bakedambrosia on Instagram