Easy and delicious homemade traditional Greek Pita Bread – you'll never want to go back to the store-bought version again!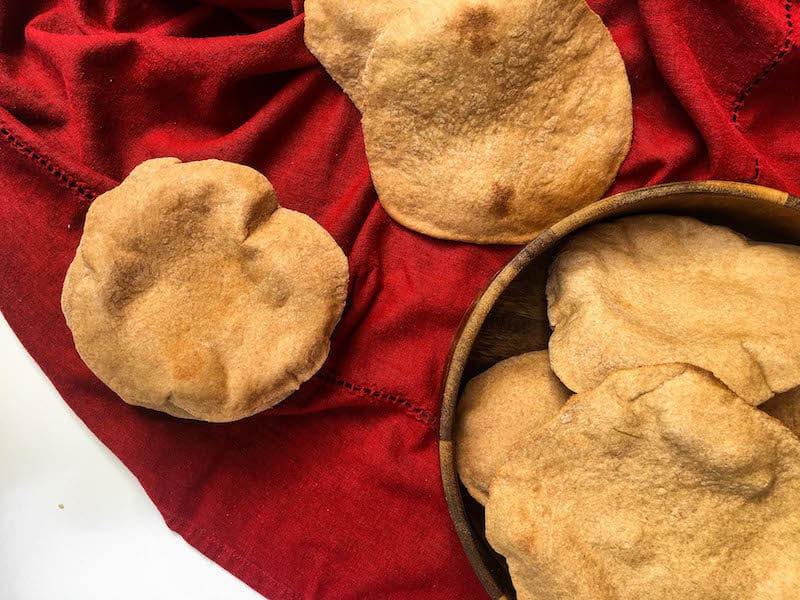 Have you ever wondered how the pocket is formed in pita bread? I mean, how does it even get there?
There's only one explanation.
Magic.
No, really.
Homemade pita is extremely easy to make and surprisingly entertaining to watch puff up in the oven. It's like little clouds of magical dough. Homemade pita isn't comparable to the store-bought version and I can promise you that after you try this easy recipe, you will never want to succumb to the flavorless commercial version again.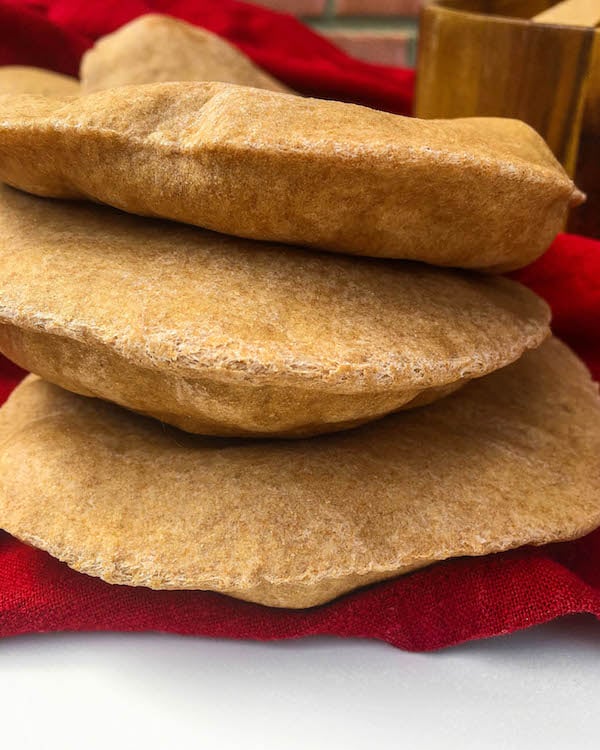 Mine are made with stone ground whole wheat flour but regular unbleached bread flour or all-purpose works just as well. You can even use a mixture of whole wheat and all-purpose flour as long as the total amount of flour stays the same.
The trick to getting the pita to puff up and form the pocket is an extremely hot oven and pan. Like 500°F hot.
The baking is the fun part! Turn on your oven light and watch in awe as flat disks of dough puff up into delicious pita.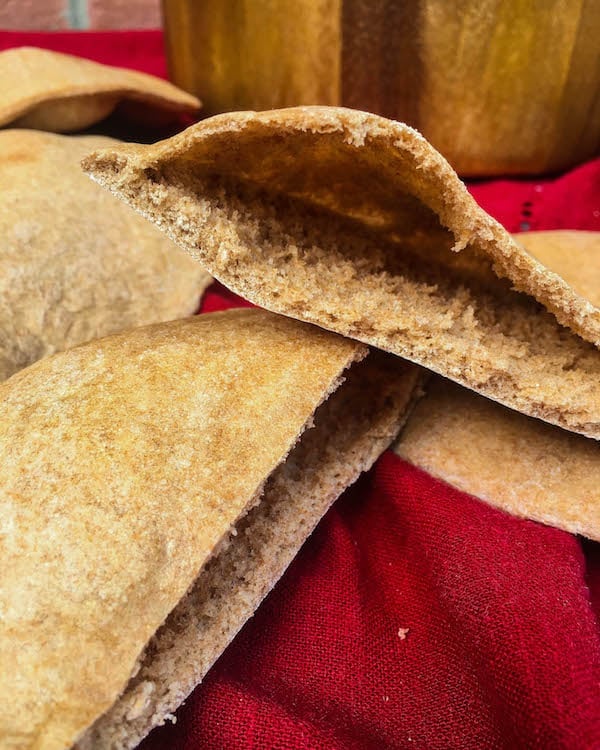 Occasionally you'll have a couple pieces of dough that won't fully puff up, for reasons I can not explain. Don't worry you didn't do anything wrong. It just happens. And when it does, call it a flatbread instead of pita. It's still just as tasty.
I made these pita's to compliment another recipe. A really, really GOOD recipe. But, you'll have to wait until tomorrow for that. Sorry.
In the mean time, make these pita breads and try not to eat them all! You'll be tempted to. But you really should wait and enjoy them tomorrow's recipe.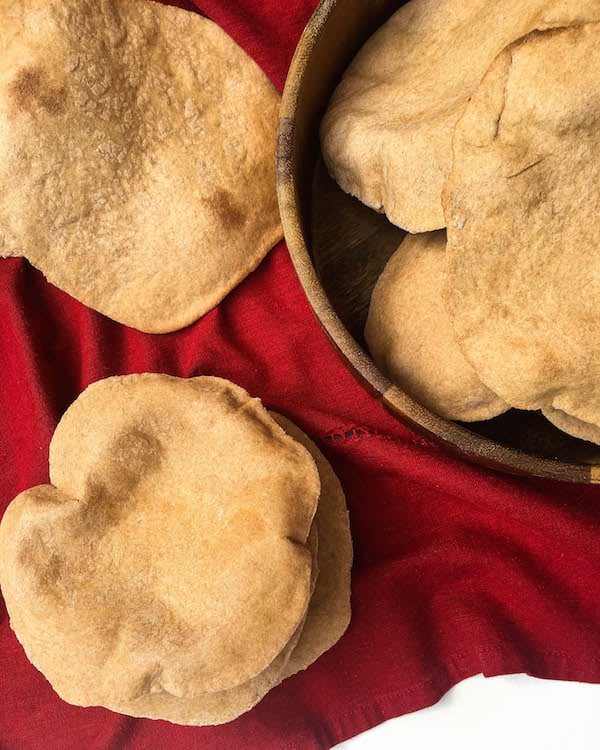 More Recipes You'll Love!
Greek Quesadillas – with spicy yogurt sauce!
Homemade Pita Chips – prepared in just a few minutes.
Healthy Greek Chicken Gyro Platter – with (baked) fries, salad, Greek yogurt, and whole wheat pita bread.
Traditional Hummus (5 ways) – one classic hummus recipe transformed into 4 tasty spreads.
Greek Chicken Rice Bowl – served with a fresh and vibrant salad and delicious tzatziki!
If you make this recipe, take a photo and tag #bakedambrosia on Instagram and Facebook so that I can see your creations and feature them on Instagram! To stay up to date with the latest recipes, follow Baked Ambrosia on Pinterest, Facebook, Instagram, and Youtube. ♡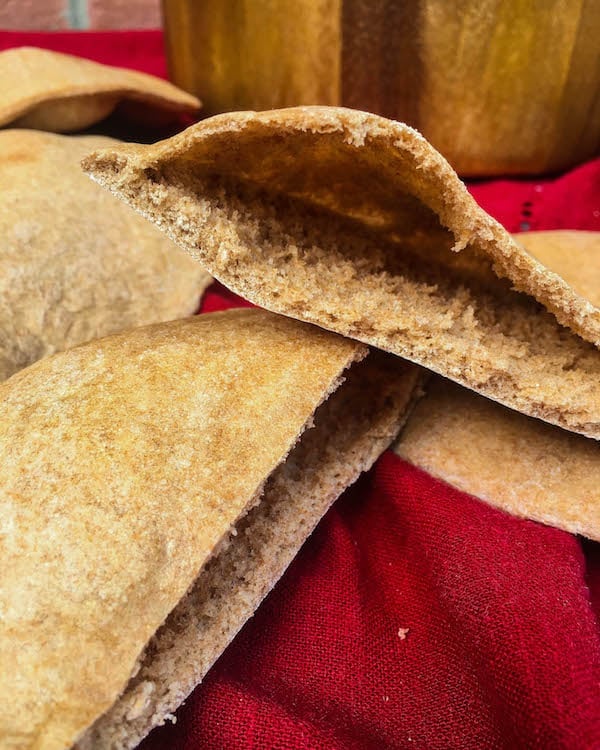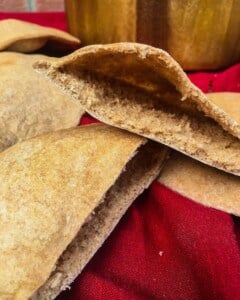 Homemade Pita Bread
Easy and delicious homemade traditional Greek Pita Bread – you'll never want to go back to the store-bought version again!
Ingredients
1

tsp

dry instant yeast

10

fluid oz lukewarm water

1

tsp

sugar

1

tsp

olive oil

3 1/3

cups

stone ground whole wheat flour

18 oz

1

tsp

salt
Instructions
Place yeast, water, and sugar into bowl of electric mixer or large mixing bowl and stir gently.

Add olive oil, flour, and salt. Mix to combine.

With the dough hook, knead 5-7 minutes on low speed. Alternatively, knead by hand until dough is smooth.

Cover bowl with plastic wrap and place a towel over the top. Let rise in a warm place until double in size (about 1 hour).

Once dough has doubled, divide into 8-10 pieces. Form each piece into a ball and allow to rest 15 minutes.

After 15 minutes, roll each ball into a flat circle approximately 6 inches in diameter. Rest flattened dough for 15 minutes.

While dough is resting, place an empty baking pan in oven and preheat oven to 500ºF.

Place 2-4 dough circles onto preheated baking pan and bake 2-3 minutes. Flip the pita and bake for another 1-2 minute, or until lightly golden. Repeat with remaining dough.

Transfer hot pita breads onto a plate and cover immediately with a dry kitchen towel to keep them soft.
Tried this recipe?
Let us know how it was and tag @bakedambrosia on Instagram